Sluitingsprijs Oostmalle (Gazet van Antwerpen Trofee Veldrijden #8) - C1
Oostmalle, Belgium, February 22, 2009
2008 results Results Past Winners
Nys ends season with a bang
By Brecht Decaluwé
ven Nys (Landbouwkrediet-Colnago) wins in Oostmalle, Belgium
Photo ©: Cyclingnews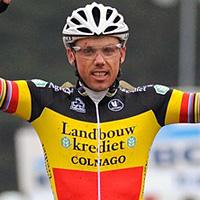 Sven Nys won the last cyclo-cross race of the season today in Oostmalle, Belgium. Once more the Belgian Champion battled with World Champion Niels Albert, who stumbled and took a dive into the sand on the last lap.
"It was a beautiful race," Nys said. "It's was an awkward way to lose out on the victory for him but I couldn't wait at that stage of the race."
It was Nys' seventeenth win of the season and it also gave him the overall win in the Gazet van Antwerpen Trophy.
Albert recovered for second ahead of Sven Vanthourenhout, Kevin Pauwels and Bart Wellens. Much further back, 2000 World Champion Richard Groenendaal ended his career with a nineteenth place.
Nys in control
Nys and Albert were clearly a level stronger than the opposition. Early on the duo allowed the presence of Vanthourenhout but he lost contact as soon as the two champions started launching their accelerations.
Richard Groenendaal (AA Drinks Cycling Team)
Photo ©: Cyclingnews

Neither Nys nor Albert was able to ride alone in front. They eventually entered the last lap riding together. Nys took the initiative and put the pressure on Albert, who managed to keep his composure. Everybody at the finish was expecting a sprint, but Nys entered the runway of the military airport alone.
In the final corners, the riders had to get off their bikes in a right-hand corner and that's where Albert made a crucial error. The 23-year-old Belgian threw his right leg over his bike towards the left where his foot was still clicked into the pedal.
"I wanted to be close on Nys' wheel at that corner, but I don't know what I did," Albert said. "Suddenly my handlebars turned and I was thrown over the bike into the sand. It would've been a sprint in which I had a little advantage since I was riding on slicks."
Vanthourenhout dropped Pauwels during the last moments of the race. "Those two clearly were the strongest riders at the end of the season. Early on I was able to keep up with them, but I didn't fancy their accelerations and paced myself in order not to lose out on a podium spot," he said.
Wellens had a terrible start, but he pulled himself back to fifth place. It was enough to ensure his second place in the Gazet van Antwerpen Trophy ahead of Zdenek Stybar, who finished sixth in Oostmalle.
Photography
For a thumbnail gallery of these images, click here
Images by Cyclingnews
Results
1 Sven Nys (Bel) Landbouwkrediet-Colnago                              1.01.07
2 Niels Albert (Bel) BKCP - Powerplus                                    1.18
3 Sven Vanthourenhout (Bel) Sunweb-Projob                                1.22
4 Kevin Pauwels (Bel) Fidea Cycling Team                                 1.26
5 Bart Wellens (Bel) Fidea Cycling Team                                  1.30
6 Zdenek Štybar (Cze) Fidea Cycling Team                                 1.33
7 Bart Aernouts (Bel) Rabobank
8 Erwin Vervecken (Bel) Revor-Jartazi Continental Team
9 Eddy van IJzendoorn (Ned) AA Drink - BeOne
10 Rob Peeters (Bel) Landbouwkrediet-Colnago                             1.41
11 Dieter Vanthourenhout (Bel) BKCP - Powerplus                          1.45
12 Gerben de Knegt (Ned) Rabobank                                        1.49
13 Thijs Al (Ned) AA Drink - BeOne                                       1.55
14 Jan Verstraeten (Bel) KDL Trans NV                                    2.41
15 Ben Berden (Bel) Revor-Jartazi Continental Team                       2.46
16 Marco Bianco (Ita) L Arcobaleno Carraro Team
17 Lars Boom (Ned) Rabobank
18 Klaas Vantornout (Bel) Sunweb-Projob                                  2.50
19 Richard Groenendaal (Ned) AA Drink - Be One                           2.52
20 Wilant van Gils (Ned) Pro Cycling Team ZZPR.nl-Destil-Merida          3.48
21 Christian Heule (Swi) RendementhypoCycling Team                       4.11
22 Tom Van Den Bosch (Bel) Rendement Hypo Cyclingteam VZW
23 Bart Verschueren (Bel) Revor-Jartazi Continental Team                 4.16
24 Roy Van Heeswijk (Ned) Sint Oedenrode                                 4.24
25 Jan Soetens (Bel) Revor-Jartazi Continental Team                      5.08
26 David Willemsens (Bel) Revor - Jartazi Cycling Team
27 Stijn Huys (Bel) Palmans-Cras                                         5.57
28 Patrick Van Leeuwen (Ned) Het Snelle Wiel                             6.04
29 Mike Thielemans (Bel) Team-Thielemans & Co                            6.08
30 Mariusz Gil (Pol) LKS Pom Strzelce Krajenskie                         6.18
31 Tim Van Nuffel (Bel) Rendement Hypo Cyclingteam VZW                   6.36
32 Sten Raeymakers (Bel) Cyclingteam Oost-West                           7.37
33 Ken Smets (Bel) Kon. W.C. Steeds Vooraan - Kontich
34 Bram Wind (Ned) GRC Jan Van Arckel
35 Freddy De Meester (Bel) Rijschool Ah - Gentse Vs
36 Jochem Danckaers (Ned) Veloclub De Westhoek

U 23

1 Tom Meeusen (Bel) Fidea Cycling Team                                  52.02
2 Jim Aernouts (Bel) BKCP - Powerplus
3 Kenneth Van Compernolle (Bel) Sunweb-Projob
4 Vincent Baestaens (Bel) Fidea Cycling Team
5 Philipp Walsleben (Ger) Team BKCP-Power Plus
6 Mitchell Huenders (Ned) CT Team Lowik Meubelen
7 Quentin Bertholet (Bel) Fidea Cycling Team
8 Kevin Cant (Bel) AVB - Cycling Team
9 Jan Denuwelaere (Bel) Rendement Hypo Cyclingteam VZW
10 Ramon Sinkeldam (Ned) Rabobank
11 Dave De Cleyn (Bel) AVB - Cycling Team
12 Lukáš Kloucek (Cze) Sunweb - Projob Cycling Team
13 Gianni Denolf (Bel) BKCP - Powerplus
14 Kristof Cop (Bel) AVB - Cycling Team
15 Ruben Veestraeten (Bel) AVB - Cycling Team
16 Jonathan Bervoets (Bel) Heylen Meubelcentrale Zlwc St.Tru
17 Kevin Eeckhout (Bel) Sunweb-Projob
18 Robert Gavenda (Svk) Fidea Cycling Team
19 Thomas Vernaeckt (Bel) Sunweb-Projob
20 Edwin Arts (Ned) RTC Buitenlust
21 Zeb Willems (Bel) AVB - Cycling Team
22 Sven Beelen (Bel) Easypay Cyclocross Team
23 Dries Dewit (Bel) Scott USA Cycling Team
24 Kobus Hereygers (Ned) Weijrijders
25 Geert Van Der Horst (Ned) WTC Woerden
26 Stijn Mortelmans (Bel) Palmans-Cras
27 Tom Desmet (Bel) Asfra Racing Team
28 Kenny Maes (Bel) De Toekomstvrienden Baal
29 Bart Barkhuis (Ned) Assen
30 Wim Thijs (Bel) Edegem Bicycle Club V.Z.W.
31 Thomas Boeckx (Bel) Edegem Bicycle Club V.Z.W.
32 Vincent Van Hooste (Bel) Asfra Racing Team

Women

1 Marianne Vos (Ned) DSB Bank Ladies Cycling-Team                36.13
2 Daphny van den Brand (Ned) ZZPR.nl-Destil-Merida
3 Sanne Cant (Bel) A.D.S. Selle Italia Guerciotti
4 Sanne van Paassen (Ned) ZZPR.nl-Destil-Merida
5 Saskia Elemans (Ned) Team Flexpoint
6 Joyce Vanderbeken (Bel) J&G Cycling Team
7 Reza Hormes-Ravenstijn (Ned) ZZPR.nl-Destil-Merida
8 Nikki Harris (GBr) Sprinters Malderen
9 Nicolle De Bie-Leyten (Bel) AVB - Cycling Team
10 Loes Sels (Bel) Topsport Vlaanderen-Thompson Lad
11 Katrien Pauwels (Bel) Empella Czech Team
12 Arenda Grimberg (Ned) Team Ton Van Bemmelen Sports-Merida
13 Lana Verberne (Ned)
14 Christine Vardaros (USA) Vanderkitten
15 Katrien Vermeiren (Bel) Emversport International C. T. Vzw
16 Ellen Van Loy (Bel) Emversport International C. T. Vzw
17 Dorien Raeymaekers (Bel) Emversport International C. T. Vzw
18 An Van Den Bergh (Bel) Atletiek Hulshout ARB Sport VZW
19 Jo Blanchaert (Bel) Wielerteam Morel - Vandeputte Vzw
20 Sharon Defoor (Bel) Asfra Racing Team
21 Maaike Lanssens (Bel) WC De Molenspurters Meulebeke
22 Sandie Verriest (Bel) Asfra Racing Team


Past Winners
2008 Niels Albert (Bel) Palmans-Cras
2007 Niels Albert (Bel) Palmans-Collstrop
2006 Gerben De Knegt (Ned) Rabobank
2005 Sven Nys (Bel) Rabobank
2004 Richard Groenendaal (Ned) Rabobank
2003 Ben Berden (Bel) Vlaanderen-T Interim
2002 Arne Daelmans (Bel) Vlaanderen-T-Interim
2001 Bart Wellens (Bel) Spaar Select
2000 Arne Daelmans (Bel)
1999 Sven Nys (Bel)
1998 Arne Daelmans (Bel)
1997 Paul Herijgers (Bel)
1996 Paul Herijgers (Bel)