Wissahickon Cross - C2
Philadelphia, Pennsylvania, USA, October 19, 2008
Main Page Results Overall standings Previous Race Next Race
Race 2 - October 19: UCI Elite Women
Van Gilder takes first UCI victory
By Kirsten Robbins in Ludwig's Corner, Pennsylvania
Laura Van Gilder (C3 Sollay.com) wins
Photo ©: Todd Leister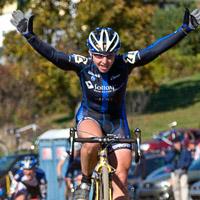 After a road career encompassing more than 300 victories, Laura van Gilder (C3-Sollay) captured her first UCI cyclo-cross win at the Wissahickon Cross held in Ludwig's Corner, Pennsylvania. Van Gilder used her tactical smarts and quick sprint to power away from a lead group of four women in the final sprint. She took the win ahead of Deidre Winfield (Velo Bella-Kona) and Rebecca Wellons (Ridley Factory Team).
Nothing in 'cross comes easy and neither did Van Gilder's victory. She took her tactical experience from road racing and applied them to the technically demanding 'cross circuit giving her a slight edge over her worthy opponents. "I don't always get to show that sprint," said Van Gilder, who impressed most of the elite men's field who were watching as she blasted past them towards the finish line.
"But it was so nice to be competitive with the girls who were here," she continued. "It was tactical and a great field so it was a fun race and very animated. I come from a lot of pressures during the road season and I know there are a lot of great riders here. So I just come here with out lofty goals - wanting to do my best."
Wissahickon Cross was held on the 33-acre Ludwig's Corner Horse Show and Country Fair Grounds. The course was designed around a 2.9km circuit of thick grass with some gravel roadways and a sandy section. The addition of a grassy cork-screw, a sand pit, off camber corners and one-set of barriers located on the steep grass run-up made up for the lack of terrain variation.
Event sponsor Victory Brewing Company, a micro brewery located in nearby Downington, strategically positioned their beer tent at the top of the steep run up where riders from the elite men's field were spotted veering off course for a cold drink.
Rebecca Wellons (Ridley Factory Team)
Photo ©: Todd Leister

Four riders separated themselves from the women's field through the grassy switchbacks located with in the first 200 metres of the circuit. Much like the previous day's Granogue Cross event, Winfield dominated the first position with a quick pace that caused the field to shatter from behind. The four leaders included Van Gilder, Winfield, Wellons and Maureen Bruno Roy (Seven Cycles).
"I knew her sprint was coming, I just didn't know when," said Winfield. "I assumed the front position and I let up a little on the last lap to try to conserve for the end. I don't feel comfortable riding in fourth wheel and I think being in first position means I can go my own pace and pick my own lines better - My legs felt great and I was hoping my pace would mean some riders would drop off pace."
Winfield held her front position for the entirety of the event. The high speed through the technical sections caused van Gilder to stretch the elastic band off that back of her group on several occasions but as the race progressed so did her technical skill.
"I've had a lot of guidance from my boyfriend and my training partner and I think it just starts to sink in," said Van Gilder, regarding her steady progression of cyclocross skills. "In one cross race you get numerous opportunities to improve. I evaluated my weakness each lap and then also thought about the places where I could make my move - and sprint."
Kathy Sherwin (Velo Bella - Kona)
Photo ©: Todd Leister

With two laps remaining, Winfield held a fast tempo on the front uncontested by her break away companions. Behind her, Van Gilder gained the confidence and skills needed to pursue second wheel. Given her insurmountable knowledge of being in the right position at the right time meant that with only one lap to go, van Gilder's odds at victory grew in her favour.
"It's what I like about cross," continued Van Gilder. "Either you have to constantly be thinking or you need to be making the right moves every second in all the technical sections. It's so mentally engaging that I find it really great."
With one kilometre to go, Van Gilder took the front position before the steep run up and led the group onto the pavement with 250 meters to go. Even though she was well-known for her sprint prowess, she admitted that she did not think she had it won until she crossed the line.
"Honestly, I don't ever discount any competitor," said Van Gilder. "The time that you throw your arms up too soon is the time that you lose the race."
Photography
For a thumbnail gallery of these images, click here
Images by Todd Leister/leister.smugmug.com
Results

1 Laura Van Gilder (C3 Sollay.com)                             43.35
2 Deidre Winfield (Velo Bella - Kona)                           0.02
3 Rebecca Wellons (Ridley Factory Team)                         0.03
4 Maureen Bruno Roy (MM Racing P/B Seven Cycles)                0.06
5 Kathy Sherwin (Velo Bella - Kona)                             0.50
6 Josie Jacques-Maynes (Specialized/Kmc Pb Cal Giant)           1.08
7 Barbara Howe (Velo Bella)                                     1.13
8 Anna Milkowski (Velo Bella-Kona)                              1.58
9 Arley Kemmerer (Hub Racing)                                   2.13
10 Kristin Gavin (Human Zoom/Pabst Blue Ribbon)                 2.22
11 Nikki Thiemann (Human Zoom Pabst Blue Ribbon)                2.31
12 Amy Wallace (Rgm Watches - Richard Sachs - Boathouse Inc)    3.26
13 Lauri Webber (Secret Henry's Team)                           3.59
14 Alie Kenzer (Rgm Watches - Richard Sachs - Boathouse Inc)    4.01
15 Kristine Church (Human Zoom/ Pabst Blue Ribbon)              4.05
16 Elizabeth Harlow (C3-Sollay.com)                             4.23
17 Heidi Von Teitenberg (C3-Sollay.com)                         4.38
18 Beth Mason (C3-Sollay.com)                                   4.46
19 Kristy Swope (Eps/Css/Riptide Cycling)                       5.17
20 Diane Grim (C3-Sollay.com)                                   5.37
21 Megan Bilodeau (Hup United)                                  5.49
22 Jill Waggett (Guy's Racing)                                  6.53
23 Tara Parsons (Crca)                                          8.53
DNF Julie Kuliecza (Alan North America Cycling)                     
DNF Kathleen Billington (Connecticut Coast Cycling)