Granogue Cross - C1
Wilmington, Delaware, USA, October 18, 2008
Main Page Results Overall standings Previous Race Next Race
Race 2 - October 18: UCI Elite Women
Winfield triumphs in final sprint
By Kirsten Robbins in Wilmington, Delaware
Deidre Winfield (Velo Bella – Kona)
Photo ©: Todd Leister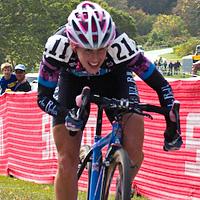 The women's event in Wilmington came down to a tactical sprint finish that saw Deidre Winfield (Velo Bella-Kona) take the victory ahead of team-mate Kathy Sherwin. The pair used tactical smarts to play out their success ahead of breakaway companion in third place Maureen Bruno-Roy (MM Racing/Seven Cycles).
"Mo was great on the run up and would gap me every time by riding it," said Winfield, who found Bruno-Roy to be a formidable opponent. "But it was better to have two of us Velo Bellas there than just one. I had to be conservative in the twists and Kathy and I had to just try to wear her out as best we could."
Some say the first lap of a 'cross race is the most important aspect of the entire race. A saying that holds true for the Granogue event due its technical course design. Held on the private property of the DuPont Family Estate, the grounds encompass 400 acres of rolling green and wooded single track, classic terrain to North West Delaware. The course was 2.7km, featuring off-cambre hills, gravel sections, high-speed plunges, technical cornering and a steep run up. "Really, the start here means everything," said Rebecca Wellons, who finished just off the podium in fourth place after a bobble on the first lap. "If you lose one or two seconds it's just so hard to make that back up on this kind of course."
The women's race started with blazing speed and a selection including Winfield, Sherwin and Bruno-Roy was solidified before the end of the first lap. Behind in leaders, Wellons and Josie Jacques-Maynes (Specialized) were the closest hopefuls to regain contact. Notable rider, Laura Van Gilder (C3-Sollay.com) is currently leading Mid Atlantic Cyclo-Cross Series (MAC). Van Gilder made her debut on the 'cross scene in September, after a stellar road career. However, a first lap mechanical set her back several places and could not be regained.
After a strong start, Deidre Winfield (Velo Bella – Kona)
Photo ©: Todd Leister

"I'm still learning the sport," said Van Gilder excited about the new challenges cyclo-cross adds to her off-season. "I really like this sport and I'm still trying to figure out which areas and types of terrain I do well at. For now, I'm having a lot of fun doing this."
As the race progressed, Winfield and Bruno-Roy continued to put pressure on one another over the steep run ups and off cambre corners. "Mo was much faster than I was on the run up and she was able to ride it," said Winfield. "But I held steady at the front to give my team-mate a chance to catch back on." Sherwin found herself falling off pace through the more challenging technical sections but used her power to catch up with the leaders on the flats and down hills. "I definitely struggle with the technical sections - I consider myself a well-versed yo-yo," said Sherwin, who competes with a wrist brace due to a previous accident. "But, I never, never give up."
As the trio made their way onto the lengthy pavement section that led to the finish line, Bruno Roy noted her lack of tactical knowledge needed to outsmart the Velo Bella pair in the sprint. "It was better for me to stay on one of their wheels through the pavement," said Bruno-Roy regarding the strong headwind.
"Dede and Kathy were really working together on the last lap and I had to take a risk and try and go for it. I slipped out on one of last corners and then wound up having to go into a three up sprint - tactics and sprinting are weaknesses of mine and a challenge, especially since I don't normally road race."
Photography
For a thumbnail gallery of these images, click here
Images by Todd Leister/www.leisterimages.com
Results

1 Deidre Winfield (Velo Bella - Kona)                          44.31
2 Kathy Sherwin (Velo Bella - Kona)                             0.01
3 Maureen Bruno-Roy (MM Racing p/b Seven Cycles)                    
4 Rebecca Wellons (Ridley Factory Team)                         0.30
5 Barbara Howe (Velo Bella)                                     1.09
6 Josie Jacques-Maynes (Specialized/KMC pb Cal Giant)           1.21
7 Laura Van Gilder (C3 Sollay)                                  1.36
8 Anna Milkowski (Velo Bella-Kona)                              2.25
9 Kristin Gavin (Human Zoom/Pabst Blue Ribbon)                  2.37
10 Amy Wallace (RGM Watches, Richard Sachs, Boathouse Inc.)     3.12
11 Lauri Webber (Secret Henry's Team)                           3.20
12 Nikki Thiemann (Human Zoom Pabst Blue Ribbon)                3.21
13 Libbey Sheldon (Tokyo Joe's)                                 3.51
14 Heidi Von Teitenberg (C3-Sollay.com)                         5.08
15 Julie Kuliecza (ALAN North America Cycling)                  5.26
16 Kristine Church (Human Zoom/ Pabst Blue Ribbon)              5.48
17 Beth Mason (C3-Sollay.com)                                   6.01
18 Elizabeth Harlow (C3-Sollay.com)                             6.24
19 Jill Waggett (Guy's Racing)                                      
20 Alie Kenzer (RGM watches, Richard Sachs, Boathouse Inc)      6.41
21 Diane Grim (C3-Sollay.com)                                   7.22
22 Megan Bilodeau (Hup United)                                  7.45
23 Kristy Swope (EPS/CSS/Riptide Cycling)                       8.00
24 Kathleen Billington (Connecticut Coast Cycling)              8.19
DNF Arley Kemmerer (Hub Racing)                                     
DNF Alicia Hamblen (RGM watches, Richard Sachs, Boathouse)                  
DNS Jennifer Maxwell (USA)