Kansai Cyclo-cross - C2
Yasu-City, Shiga, Japan, November 23, 2008
National champion conquers "Sandy Hell"
By Kei Tsuji
The podium, champion on the top.
Photo ©: Kei Tsuji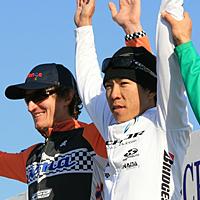 Six-time Japanese national champion Keiichi Tsujiura (Bridgestone-Anchor) took maximum advantage of the sole opportunity to score UCI points on home soil at the Kansai 'cross at Lake Biwa, the largest lake in Japan. The course of the Miami Beach is fully covered with sand, and called "Suna Jigoku (Sandy Hell)". The 400-meter-long beach section was the decisive point of the race.
Tsujiura wasn't the only star on the line, as the presence of Americans Barry Wicks (KONA) and Adam McGrath (Van Dessel) made the race more exciting.
Soon after the start, Tsujiura jumped away and an expert rider Masanori Kosaka (Suwako Racing Team) chased him down. Wicks tried hard to close the gap to the front two after suffering an unlucky puncture in opening laps. The tall Kona rider caught Tsujiura finally, but the white national champion jersey powered through the sandy section, leaving the rest behind.
As others struggling on the sand, Tsujiura showed his form and soloed to victory. Now he's ready to defend his title in the National Championship which will be held in December 14 in Nagano. Wicks finished second, and another US rider Adam McGrath finished fourth, after battling with Yu Takenouchi (Trek) for best U23 rider.
Photography
For a thumbnail gallery of these images, click here
Images by Kei Tsuji
Results
1 Keiichi Tsujiura (Jpn) Bridgestone-Anchor      59.28
2 Barry Wicks (USA) KONA                          0.26
3 Masanori Kosaka (Jpn) Suwako Racing Team        1.14
4 Adam McGrath (USA) Van Dessel                   2.12
5 Atsushi Maruyama (Jpn) Suwako Racing Team       2.36
6 Yu Takenouchi (Jpn) TREK                        2.57
7 Kazuya Nakayama (Jpn) Suwako Racing Team        4.45
8 Katsunori Irie (Jpn) Shimano Drinking           5.13
9 Shinya Ikemoto (Jpn) Wakokiki Tamura club       5.16
10 Masahiko Mifune (Jpn) Matrix-Powertag          5.39
11 Darren Reid (Aus) O-TRICK RIDLEYBIKE JAPAN     5.45
12 Seigo Yamamoto (Jpn) kai-racing                6.05
13 Hikaru Kosaka (Jpn) Suwako Racing Team         6.06
14 Kazuya Okazaki (Jpn) Meitanhompo-GDR           6.07
15 Shintaro Nakama (Jpn) Team Ridley jp           6.59
16 Yuichi Sawada (Jpn) Team Cycle Mind            7.59
17 Masashi Matsui (Jpn) Shimano Drinking          9.03
18 Yudai Izawa (Jpn) Bee Club R.T                 9.30