Gazet Van Antwerpen Trofee Veldrijden - GP Van Hasselt - C2
Belgium, November 22, 2008
Main Page Results Overall standings Previous Race
Race 3 - November 22: Elite Men
Wellens wins in the cold while Nys struggles
By Brecht Decaluwé
Former world champ Bart Wellens (Fidea)
Photo ©: Cyclingnews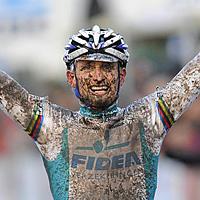 Bart Wellens (Fidea) grabbed his first victory of the season in Hasselt, Belgium during the third race of the Gazet van Antwerpen trophy. Thirty year-old Wellens exploited the bad luck of Belgian champion Sven Nys (Landbouwkrediet) and the absence of both world champion Lars Boom and UCI-leader Niels Albert to win ahead of team-mate his Kevin Pauwels and Rob Peeters.
Erwin Vervecken won the sprint for fourth place ahead of Nys and Bart Aernouts. Dutchman Gerben de Knegt was the first non-Belgian in seventh place. Despite his fifth place, Nys becomes the new leader in the GvA trophy as former leader Boom wasn't present in Hasselt.
Wellens took a great start in Hasselt and led the peloton through the first muddy sections of the city park. For some reason the Belgian dropped back, but when he noticed that Nys wasn't having his most lucky day Wellens took the race into his own hands and nabbed the win as a result.
"This feels very, very good although I was struggling big time," Wellens said. "I only started to believe in the victory on the last lap as I wasn't feeling too well. When Nys collided with Stybar I though I had to try anyway. I had doubts about my chances when I noticed that Peeters and Nys managed to come back despite my efforts in front. Still I decided to accelerate, and the others seemed to be in some sort of problems," Wellens explained.
After a good start I dropped back because I used tyres without too much grip as I figured we would be running on the worst sections of the course. It turned out that the whole course was slippery, so I had to change. Once I changed bikes I didn't get back into my rhythm right away, but from then on I only got better," Wellens said.
Wellens is now in second place in the overall classification of the GvA trophy, at only six points from Belgian champion Nys. The former leader, Lars Boom, did not race because of a kidney infection.
Three happy riders on the podium:
Photo ©: Cyclingnews

"It's still a long season, especially if you think about what happened with Niels Albert and Lars Boom, but if I can remain getting good results then a good overall classification will follow just like that," Wellens said.
Wellens was able to exploit the bad luck Sven Nys ran into on Saturday afternoon. The Belgian champion got stuck in some wiring after colliding with Czech champion Zdenek Stybar, and after making an impressive comeback, Nys punctured right after coming out of the pits.
"A fifth place isn't good enough for me," Nys said, "but I went through a lot of things today, some of which were my own fault, though. After that first problem with the wiring I was struggling to get back into my rhythm as I had given a lot to get some points at the intermediate sprint. I figured I had to rest to make sure I had something left in the finale. Eventually I made it back to the front quite easily but then I punctured ten metres after the pit. Maybe it wasn't my day today," he concluded.
How it unfolded
Sven Nys (Landbouwkrediet)
Photo ©: Cyclingnews
Among the riders lining up at the start in Hasselt the main absentees were Niels Albert and world champion Lars Boom. As the temperature was only four degrees Celsius, the riders looked cold ahead of the fourth edition of the park 'cross in Hasselt. Bart Wellens got away unusually well with Sven Nys and Thijs Al on his wheel.
Nys and Al took over from Wellens and they quickly gathered a gap over a group of Fidea riders with Wellens, Zdenek Stybar and Kevin Pauwels behind them. The latter was the only one who could bridge up with the leaders before the end of the first lap; eleven riders were trailing by at least seven seconds.
With more riders coming back, Nys decided to accelerate again, allowing only Pauwels to follow him. Pauwels took three points at the intermediate sprint after two laps with Nys settling for two. Further back Wellens grabbed the sole point that was left. Wellens launched a comeback together with Czech champion Stybar, and the two managed to reach the front of the race in the third lap.
Suddenly the race situation changed completely as Belgian champion Nys collided with Czech champion Stybar. Wellens and Pauwels took over the lead with four laps to go, while a huge group of eleven riders chased at eleven seconds. Nys' teammate Rob Peeters took the initiative and led this peloton through the first corners.
Fidea riders Petr Dlask and Stybar let Peeters go on his own and they offered the lead in the chasing group to veteran Richard Groenendaal. With three laps to go, Peeters was trailing Pauwels and Wellens by six seconds, Groenendaal was ten more seconds back while Nys led the main chasing group at twenty seconds from the two leaders.
Sven Nys and Kevin Pauwels
Photo ©: Cyclingnews

Nys started his comeback when the snow started to come down, and steamed forward like a rocket. Nys didn't need a lot of time and with two laps to go the Belgian champion had closed the twenty seconds gap on his own, making it two Fidea and two Landbouwkrediet riders up front.
While Wellens gave all he had on front of this group, Nys was struggling to get away from the last position in this lead group around Wellens' teammate Pauwels. Peeters got stuck in the sand pit and was passed by Nys, but then the latter punctured. Since the pit was one and a half kilometres away Nys was dropped for good.
Going into the ultimate lap Nys trailed Wellens and Peeters by fifteen seconds. It was all over for Landbouwkrediet when Peeters missed a corner and got caught up in an advertising banner. Wellens could smell the victory and he powered away from his tired teammate Pauwels towards his first victory of the season. When Nys finally reached the pit, he was caught by the main chasing group that was led by Gerben De Knegt.
Photography
For a thumbnail gallery of these images, click here
Images by Cyclingnews.com
Results
1 Bart Wellens (Bel) Fidea Cycling Team                               58.05
2 Kevin Pauwels (Bel) Fidea Cycling Team                               0.10
3 Rob Peeters (Bel) Landbouwkrediet - Tönissteiner                     0.24
4 Erwin Vervecken (Bel) Fidea Cycling Team                             0.30
5 Sven Nys (Bel) Landbouwkrediet-Tönissteiner                          0.40
6 Bart Aernouts (Bel) Rabobank                                         0.45
7 Gerben de Knegt (Ned) Rabobank
8 Petr Dlask (Cze) Fidea Cycling Team
9 Richard Groenendaal (Ned) AA Drink - Be One
10 Wilant van Gils (Ned) Pro Cycling Team ZZPR.nl-Destil-Merida
11 Thijs Al (Ned) AA Drink - BeOne                                     0.59
12 Zdenek Stybar (Cze) Fidea Cycling Team
13 Radomír Šimunek (Cze) Palmans - Cras                                1.37
14 Dieter Vanthourenhout (Bel) Palmans - Cras                          2.17
15 Thijs Van Amerongen (Ned) Van Vliet EBH Elshof
16 Ben Berden (Bel) Revor Cycling Team
17 Jan Verstraeten (Bel) Sunweb Projob Cycling Team
18 Tom Van den Bosch (Bel) Rendementhypo Cycling Team
19 Nico Berckmans (Bel) DCM-GB Vorselaar Cycling Team                  3.10
20 Davy Commeyne (Bel) Revor Cycling Team                              3.21
21 Marco Bianco (Ita) L´Arcobaleno Carraro Team
22 David Willemsens (Bel) Revor Cycling Team                           4.10
23 Tim Van Nuffel (Bel) Easypay Cyclocross Team                        4.20
24 Jimmy Tielens (Bel) Team Mega Saeco - Heist o/d berg                5.07
25 Ian Field (GBr) Hargroves Cycles                                    6.54
26 Roy Van Heeswijk (Ned)                                              7.20
27 Gusty Bausch (Lux) VC Diekirch                                      7.37
28 Mariusz Gil (Pol)                                                   9.05
 
One lap behind
29 Jerry Kallenfels (Ned) Easypay Cyclocross Team
30 Ken Smets (Bel)
 
Two laps behind
31 Mark Cotton (GBr)
32 Steven De Schoesitter (Bel) Rudyco Cycling Team
 
Four laps behind
33 Jochem Danckaers (Bel)
 
General classification after three races
 
1 Sven Nys (Bel) Landbouwkrediet-Tönissteiner                             96 pts
2 Bart Wellens (Bel) Fidea Cycling Team                                   90
3 Rob Peeters (Bel) Landbouwkrediet - Tönissteiner                        78
4 Lars Boom (Ned) Rabobank                                                74
4 Bart Aernouts (Bel) Rabobank
6 Kevin Pauwels (Bel) Fidea Cycling Team                                  71
7 Niels Albert (Bel) Palmans - Cras                                       64
8 Richard Groenendaal (Ned) AA Drink - Be One                             62
9 Zdenek Stybar (Cze) Fidea Cycling Team                                  59
10 Thijs Al (Ned) AA Drink - BeOne
11 Gerben de Knegt (Ned) Rabobank
12 Dieter Vanthourenhout (Bel) Palmans - Cras                             48 pts
13 Petr Dlask (Cze) Fidea Cycling Team                                    46
14 Tom Van den Bosch (Bel) Rendementhypo Cycling Team                     37
15 Wilant van Gils (Ned) Pro Cycling Team ZZPR.nl-Destil-Merida
16 Ben Berden (Bel) Revor Cycling Team                                    36 pts
17 Jan Verstraeten (Bel) Sunweb Projob Cycling Team                       35
19 Thijs Van Amerongen (Ned) Van Vliet EBH Elshof                         31
20 Davy Commeyne (Bel) Revor Cycling Team                                 30
21 Klaas Vantornout (Bel) Sunweb Projob Cycling Team                      27
22 Radomír Šimunek (Cze) Palmans - Cras
23 Erwin Vervecken (Bel) Fidea Cycling Team
24 Sven Vanthourenhout (Bel) Sunweb Projob Cycling Team                   26 pts
25 Nico Berckmans (Bel) DCM-GB Vorselaar Cycling Team                     24
26 Marco Bianco (Ita) L´Arcobaleno Carraro Team                           23
27 David Willemsens (Bel) Revor Cycling Team                              22
28 Enrico Franzoi (Ita) Liquigas                                          20
29 Christian Heule (Swi) Rendementhypo Cycling Team                       18
30 Tim Van Nuffel (Bel) Easypay Cyclocross Team                           16
31 Jonathan Page (USA) Planet Bike                                        14
32 Wesley Van der Linden (Bel) Sunweb Pro Job                             11
33 Mariusz Gil (Pol)                                                       9
34 Ian Field (GBr) Hargroves Cycles                                        8
35 Oscar Vazquez (Spa)                                                     7
36 Jimmy Tielens (Bel) Team Mega Saeco - Heist o/d berg
37 Martin Zlámalík (Cze) Prodoli Racing Team                               6 pts
38 Gusty Bausch (Lux) VC Diekirch                                          5
39 Roy Van Heeswijk (Ned)
40 Pieter Ghyllebert (Bel) Topsport Vlaanderen                             4 pts
41 Magnus Darvell (Swe) Rietumu Bank-Riga
42 Carlos Hernandez                                                        3 pts
43 Stijn Huys (Bel) Palmans Cras
44 Steven De Schoesitter (Bel) Rudyco Cycling Team                         2 pts
45 Jerry Kallenfels (Ned) Easypay Cyclocross Team
46 Andre Sutton (Can) Hardcore Cycling Club                                1
47 Ken Smets (Bel)
 
Intermediate sprint classification

1 Lars Boom (Ned) Rabobank                                                 6 pts
2 Sven Nys (Bel) Landbouwkrediet-Tönissteiner                              5
3 Kevin Pauwels (Bel) Fidea Cycling Team                                   3
4 Niels Albert (Bel) Palmans - Cras
5 Bart Wellens (Bel) Fidea Cycling Team                                    1