Dutch Cyclo-cross Championships - CN
Sint Michielsgestel, Netherlands, January 5-6, 2008
2007 Results Results Past winners
Results
Day 2 - January 6: Elite Men, Junior Men, Masters
Boom defends title on Groenendaal's home turf
By Brecht Decaluwé
Lars Boom (Rabobank) raises his arms in victory
Photo ©: AFP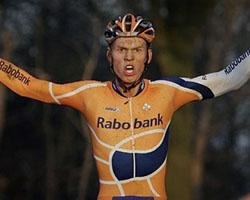 Rabobank's young star Lars Boom extended his reign as Dutch cyclo-cross champion after a tactical race in Sint-Michielsgestel, home town of Richard Groenendaal. The latter was Rabobank's cyclo-cross star for many years, but moved to AA-drinks this year after the rise of Boom.
Both riders featured in a five-man group that quickly distanced the competition on a flat and fast course. The other contenders for the title were ex-mountain biker Thijs Al, Wilant Van Gils and Boom's team-mate Gerben De Knegt. The five men bombarded each other with accelerations but no big gaps were created.
Eventually the decisive move was made in the last lap as Boom powered into the lead and was first into the last bend before the finish. Boom created a small gap on Al, and the U23 world time trial champion kept this small gap until the finish line. Al was second and Groenendaal third.
The 22 year-old was happy with his win under difficult conditions. "Last year I was still an U23 rider that, out of the blue, wanted to challenge the big guys," said Boom. "This year I'm a professional rider as well, so I was expected to do well.
"It wasn't easy as a lot of people were supporting Richard [Groenendaal] in his home race. I was tense but in a good way, because I knew I was good. There were a lot of people, which makes it a lot of fun to race here, and they saw an exciting race. Luckily for me I could make the difference at the end of the race and grab the title again.
"I wasn't surprised by Al," Boom said when asked about Thijs Al who rode a strong race. "I knew that it would be between the five of us to challenge for the win today. Normally I'm a little better, but as everybody is focused on the national championships, they're able to ride a level higher than in a normal race."
Photography
For a thumbnail gallery of these images, click here
Images by AFP Photo
Elite Men

1 Lars Boom (Rabobank)
2 Thijs Al (BeOne-Chain Reaction Cycles)
3 Richard Groenendaal (AA Sports Drinks)
4 Gerben de Knegt (Rabobank)
5 Wilant Van Gils (ZZPR.nl-Destil-Merida)
6 Eddy van Ijzendoorn (Palmans-Cras)
7 Roy Van Heeswijk (WV Schijndel)
8 Bart Dirkx (TWC Het Snelle Wiel)
9 Matthijs Wagenaar (MBC Bar End)
10 Daan De Jonge (Davitamon-Lotto - VC Ardennes)
11 Harm Bronkhorst (HSK Trias)
12 Jean-Pierre Leyten (TWC Het Snelle Wiel)
13 Patrick Van Leeuwen (TWC Het Snelle Wiel)
14 Peter Van Den Heuvel (RTC Buitenlust)
15 Bjorn Hoeben (WV de Jonge Renner)
16 Micha De Vries (WTC Woerden)
17 Roel Van Houtum (TWC Het Snelle Wiel)
18 Axel Bult (RTV Oldenzaalse WCL)
19 Patrick De Laat (F.M.C. The Whoopers)
20 Frank Van Grootel (RTC Buitenlust)
21 Joost Spring in't Veld (Uithoornse WTC)
22 Rik Adriaans (TWC Het Snelle Wiel)
23 Jelmer Pietersma (BeOne-Chain Reaction Cycles)
24 Tom Hoekman (RTV Oldenzaalse WCL)
25 Jan-Albert Krans (WV WoonExpo Kapenga)
26 Guus Magielse (Stevens/JvR de Batauwers)
27 Tino Haakman (West Frisia)
28 Jeroen Janssen
29 Arnaud Van Leest (ZRTC Theo Middelkamp)
30 Richard Calis (GWC de Adelaar)

Day 1 - January 5: Women, U23 Men, Amateurs
Elite Women

1 Mirjam Melchers (Team Flexpoint/WV de Meteoor)                           42.40
2 Daphny Van Den Brand (ZZPR.nl-Destil-Merida/RWC Ahoy)                     0.25
3 Saskia Elemans (Team Flexpoint/WV de Meteoor)                             0.30
4 Marianne Vos (Team DSB Bank/Team Brabant 2000)                            0.48
5 Sanne Van Paassen (Team DSB Bank/RTC Buitenlust)                          1.37
6 Reza Hormes (ZZPR.nl-Destil-Merida/MTB Licht Verzet)                      1.58
7 Arenda Grimberg (Team Ton Van Bemmelen Sports-OdySis/RCMD de Coureur)     3.00
8 Linda Van Rijen (Team DSB Bank/WV 't Luchtschip)                          3.24
9 Loes Markerink (Team Flexpoint/CRT Raalte)                                3.45
10 Abke Francissen (Team Brabant 2000)                                      3.46
11 Suzanne De Goede (Equipe Nürnberger Versicherung/LRTV Swift)             4.10
12 Ilona Meter (W.V. Eemland)                                               5.14
13 Esther Kortekaas (RTV de Bollenstreek)                                   5.40
14 Daisy Van Der Aa (Team DSB Bank/RTV Oldenzaalse WCL)                     5.55
15 Anouk Kesseleer (F.M.C. The Whoopers)                                    5.56
16 Eefje Ottevanger (TWC Het Snelle Wiel)                                   6.45
17 Imke Hartogs (W.V. Eemland)                                              6.46
18 Kirsten Peetoom (Restore Cycling)                                        6.47
19 Anne Eversdijk (RCMD de Coureur)                                         7.05
20 Lucinda Brand (RSC de Zuidwesthoek)                                      7.06
21 Monique Zeldenrust (MBC Bar End)                                         7.07
22 Hielke Elferink (HWV de Tubanters)                                       7.30
23 Anja Reinders (GRTC Excelsior)                                           7.35
24 Monika Heuveling (RETO)                                                  8.08
25 Monique Van De Ree (Cyclo Cross Team Stevens Metec/RSC de Zuidwesthoek)
26 Dyonne Dekkers (TWC Het Snelle Wiel)
27 Linda Kroes (NWV Groningen)
28 Karin Groen (Mountainbike ver. Havelte)
29 Kim Jorink (HWV de Tubanters)
30 Henrieke Blonk (WTC Woerden)
31 Ingrid Bosscha (Mountainbike ver. Havelte)
32 Esther Olthuis (HWV de Tubanters)
33 Kristel Verkooijen (WV Breda-Knooppunt)
34 Mieke Troost (Dirty Hill ATB)
35 Margriet Engelsma (NWV Groningen)
DNF Harriette Pennings (F.M.C. The Whoopers)

U23

1 Boy van Poppel (Rabobank/WV de Jonge Renner)             52.19
2 Thijs van Amerongen (RTV Vierakker-Wichmond)              0.01
3 Mitchell Huenders (Hoornse Ren en Toerclub)               0.05
4 Ramon Sinkeldam (Rabobank/ZWC D.T.S.)                     0.15
5 Ivar Hartogs (GRC Jan van Arckel)                         0.35
6 Twan van den Brand (UWTC de Volharding)                   0.46
7 Rik van Ijzendoorn (Palmans-Cras/JvR de Batauwers)        1.13
8 Hans Becking (MBC Bar End)                                1.26
9 Remco Broers (WV 't Luchtschip)
10 Jerry Kallenfels (Willebrord Wil Vooruit)                2.39
11 Koen van Grootel (RTC Buitenlust)                        2.47
12 Jorn van Veen (AWV de Zwaluwen)                          2.49
13 Jordy van Erp (WV Schijndel)                             3.06
14 Kobus Hereijgers (FCC de Weirijders)
15 Edwin Arts (RTC Buitenlust)                              3.17
16 Julian van Dijk (WV Noord-Westhoek)                      3.25
17 Jeroen Dekkers (RTC Buitenlust)                          4.29
18 Nieck Busser (TML Dommelstreek)                          4.31
19 Thijs van de Berg (WV Schjindel)                         4.33
20 Mark Smit (TML Dommelstreek)                             5.11
21 Willem Schwaner (WTC Woerden)                            5.36
22 Richard Sleumer (AWV de Zwaluwen)                        5.39
23 Jan Verhaegh (RTC Buitenlust)                            6.19
24 Erwin Waenink (RTC de Stofwolk)                          6.25
25 Frank Sikking (UWTC de Volharding)                       6.31
26 Ferdi Gerritse (JvR de Batauwers)                        6.49
27 Jake Griffin (Sinnige Bouw Wielerteam)                 1 lap
28 Koen Verburg (WV Schijndel)
29 Pieter Homan (WV Alcmaria Victrix)
DNF Geert van der Sanden (WV Schijndel)
DNF Savié van Horik (WTC Woerden)
Past winners
Men

2007 Lars Boom (Rabobank)
2006 Gerben De Knegt (Rabobank)
2005 Richard Groenendaal
2004 Richard Groenendaal
2003 Richard Groenendaal (St. Michielsgestel)
2002 Gerben De Knegt (Goirle)
2001 Richard Groenendaal (Rabobank)
2000 Richard Groenendaal

Espoirs/U23

2007 Thijs van Amerongen 
2006 Lars Boom
2005 Lars Boom
2004 Lars Boom
2003 Thijs Verhagen (Erp)
2002 Thijs Verhagen (Erp)
2001 Wilant van Gils
2000 Wilant Van Gils

Women

2007 Daphny Van Den Brand ZZPR.nl
2006 Daphny Van Den Brand ZZPR.nl
2005 Daphny Van Den Brand
2004 Mirjam Melchers
2003 Daphny Van Den Brand (Zeeland)
2002 Daphny Van den Brand (Zeeland)
2001 Daphny van den Brand
2000 Daphny van den Brand

Juniors

2007 Ramon Sinkeldam
2006 Boy Van Poppel
2004 Thijs van Amerongen
2003 Lars Boom (Vlijmen)
2002 Lars Boom (Vlijmen)
2001 Lars Boom
2000 Jehan De Bont	


Past winners by Mario Stiehl, www.world-of-cycling.com