Czech Republic Cyclo-cross Championships - CN
Mnichovo Hradiště, Czech Republic, January 5, 2008
2007 Results Results Past winners
Stybar slides to second title
By Brecht Decaluwé
Zdenek Stybar (Fidea Cycling Team)
Photo ©: Jan Nemec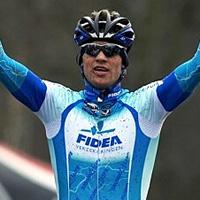 Zdenek Stybar (Fidea Cycling Team) recaptured the Czech Cyclo-cross Champion title after a battle with Radomir Simunek (Palmans-Cras) on Sunday. The Fidea-rider converted his favourite role into a second national title, joining that which he claimed in 2005. Another favourite for the win was Radomir Simunek, who tends to ride well on icy courses. Unsurprisingly those two riders rode together for most of the race until Stybar attacked Simunek in the penultimate lap, before going on to win the race by 25 seconds.
With 20 year-old Lukás Kloucek (Selle Italia Guerciotti) in third place there were three young riders on the podium, with Stybar being 22 years old and Simunek being 24. Last year's champion Petr Dlask (Fidea Cycling Team) made his comeback after a serious knee injury, but he lacked the race rhythm to provide any threat for the young guys in front of him.
How it unfolded
A peloton of 49 riders started in Mnichovo Hradištì and among them were the two favourites Stybar and Simunek. The 2600 metre-long course was frozen and turned out to be very slippery, resulting in a lot of crashes throughout the race.
During the first lap a leading group of six riders was formed with Stybar, Simunek, Kloucek, Martin Bina, Zdenek Mlynar and Kamil Ausbuher. Stybar and Simunek did most of the work in this group and during the second lap Stybar attacked the group. He managed to create a gap of 10 seconds on the chasers, where Simunek was the strongest rider.
Simunek left the others behind and went in search of Stybar. After a crash from the leader, Simunek managed to join Stybar in the lead and the duo remained together for most of the race.
In the penultimate lap Stybar attacked Simunek, managing to stay on his bike in the tough conditions and create a safe gap. At the finish Stybar was 25 seconds ahead of Simunek, while 20 year-old Kloucek finished as third at more than a minute behind the winner.
Photography
For a thumbnail gallery of these images, click here
Images by Jan Nemec/www.mtbs.cz
Results
Elite Men

1 Zdenek Stybar (Cze) Fidea Cycling Team          1.03.30
2 Radomír Simunek (Cze) Palmans-Cras                 0.25
3 Lukás Kloucek (Cze) Selle Italia Guerciotti        1.00
4 Zdenek Mlynár (Cze) Max Cursor                     1.11
5 Kamil Ausbuher (Cze) Easypay Cyclocross Team       1.28
6 Martin Bína (Cze) Top Ten Factor Teplice           2.00
7 Jan Chrobák (Cze) Johnson Controls AS              2.04
8 Ondrej Bambula (Cze) Cyklo Team Budvar Tábor       2.07
9 Petr Dlask (Cze) Fidea Cycling Team                3.05
10 David Menger (Cze) Cyklo Team Budvar Tábor        3.20
11 Lukás Príhoda (Cze) Klub Cyklistiky Hlinsko       4.09
12 Emil Hekele (Cze) Team Zokof                      4.18
13 Martin Nemecek (Cze) Radland Kärnten                  
14 Jirí Polnický (Cze) Empella Czech Team            5.08

One lap behind

15 Filip Eberl (Cze) Scott Scania Team Kolín             
16 Michal Vlcek (Cze) KC Kooperativa SG Jablonec n.N     
17 Jaroslav Musil (Cze) Cyklo Team Budvar Tábor          
18 Stanislav Bambula (Cze) Cyklo Team Budvar Tábor       
19 Tomás Podrazil (Cze) TJ Sokol Holé Vrchy              
20 Martin Hunal (Cze) SP Pelhrimov Velosport             
21 Václav Hlavác (Cze) Scott Scania Team Kolín           
22 Michal Benda (Cze) Scania Apache Team                 
23 Tomás Nový (Cze) Cyklo Team Budvar Tábor              
24 Petr Vachek (Cze) Poštovní Sporitelna - Marin Team    
25 David Kasper (Cze) RBB Invest Jindr. Hradec           
26 Michal Kohoutek (Cze) TJ Lokomotiva Beroun            
27 Petr Kincl (Cze) Johnson Controls AS                  
28 Petr Linhart (Cze) TJ Sokol Holé Vrchy                

Two laps behind

29 Daniel Novotný (Cze) Max Cursor                       
30 Marek Farkas (Cze) TJ Lokomotiva Beroun               
31 Tomás Havelka (Cze) TJ Lokomotiva Beroun              


Past winners
Men

2007 Petr Dlask (Fidea Cycling Team)
2006 Petr Dlask (AVB)
2005 Zdenek Štybar (G.S.Mercedes-Benz Selle Italia)
2004 Kamil Ausbuher (Cyklo Team Budvar Tábor)
2003 Petr Dlask (Author Praha)
2002 Jiri Pospisil (Author)
2001 Petr Dlask
2000 Petr Dlask

U23 Men

2004 Martin Zlámalík
2003 Martin Bína (Author Praha)
2002 Martin Bína (Budvar Tábor)

Past winners by Mario Stiehl, www.world-of-cycling.com