USGP of Cyclocross #6 - Portland Cup - C2
Portland, Oregon, USA, December 7, 2008
Main Page Results Overall standings Previous Race
Race 4 - December 7: Elite Men
Trebon's tall order in Portland
By Laura Weislo in Portland, Oregon
The elite mens' series podium
Photo ©: Mitch Clinton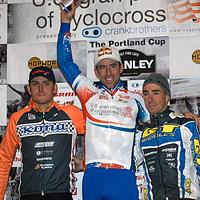 Kona's Ryan Trebon made up for a disappointing race on Saturday to grab an emphatic solo victory in the US Gran Prix of Cyclo-cross finale. Trebon rode a flawless race through the thick, soupy mud formed by earlier heavy rains in Sunday's Portland Cup, beating Todd Wells (GT) and Saturday's winner Tim Johnson (Cannondale/Cyclocrossworld.com).
Trebon had spent the previous day locked in a tactical battle with Johnson and his teammate Jeremy Powers until two slips opened the door for the pair to ride away. According to Trebon, it wasn't as if he rode a flawless race today. "I had a couple of little small mistakes. I actually didn't make that many yesterday - just two small ones at the worst possible part of the race. Today was way different than yesterday."
While the rain stopped falling before the start of the men's race, the course still had the same thick, soupy mud that the women enjoyed. "Yesterday was much more tactical. Today, it was so muddy it was easy to lose 10 seconds in one section with one bad line. I just kept pedalling hard the whole time. The mud makes the races slower and it's hard the whole time - there isn't really any drafting."
The Kona rider makes his home in Oregon, and was able to enjoy the support of the home crowd which seemed drawn to the race because of the foul weather, rather than in spite of it. "I've won a few big races this year, but I like winning in Portland, it's fun for me."
Wells made a big improvement over yesterday's fifth place finish, putting his technical skills from years of mountain biking to good use in the slick conditions.
"Today's race started out pretty good - I had a much better start than yesterday. I was with Ryan when we gapped Timmy a little bit," Wells explained. He stayed with Trebon coming into the fourth lap until the hammer dropped. "Ryan hit it pretty hard on the pavement, and he was looking for me to pull through after he nailed it, and I was going as hard as I could just to stay on his wheel.
"When we hit the dirt, he kept going the same speed we were going on the pavement, and there's less drafting and I couldn't follow him - he just took off."
Wells spent the rest of the race working hard to maintain his lead over Johnson as Trebon added another ten seconds to his advantage each lap.
"Out here in this mud anything can happen. There were some sections I was bobbling on, and then I ended up getting better at them later on. I'd make a bobble, Tim would close, then I'd hit a section clean and get a small gap. We just went back and forth," Wells explained.
Johnson agreed with that assessment, saying, "I think the last 40 minutes we were probably within 10 seconds the entire time. Every time I'd gain I would make a mistake or if he'd pull it out he'd make a mistake and I'd close. A race like this, that's pretty much how it goes."
After taking the win on Saturday, Johnson had to put in quite a bit of effort just to make the podium today. "Ryan was flying, Todd had a really good day, I had a couple of crashes but I was at my limit the whole day. I went pretty much as hard as I could go."
How it unfolded
Ryan Trebon (Kona)
Photo ©: Mitch Clinton

Andy Jacques-Maynes (California Giant Berry) took the hole shot, but it was Johnson who lit up the race with a powerful surge on the first run-up early in the opening lap. His move drew the attention of Wells, who quickly came through to get on the US champion's wheel, dragging Johnson's teammate Jeremy Powers along for the ride.
"Any time you race with the mud like this, it's an advantage to hit the nastiest stuff first, because if you can clean it and the guys behind you have a hard time, that could be the race right there," Johnson explained. "I took the first lap as hard as I could, and I was joined by Ryan, Todd and Jeremy."
Trebon eased into fourth wheel, and spent the remainder of the lap watching and waiting for his chance to pounce. "I was able to bring it back pretty easily," Trebon said of Johnson's attack. "The first lap I just kind of wanted to see how the lines were. I wasn't going to ride flat out - it's easy to make a mistake, so it's better to be a little more conservative and dial in the course. Because it changed between the pre-ride and the start of the race. I wanted to see what everyone else was doing and then give it a go."
That opportunity came on the third lap, when Trebon laid down a probing attack on the run-up that put Johnson immediately on the defensive. With Powers having an off day, Johnson could only rely on the help of Wells to try to bring the man known as 'tree farm' back. The three came back together, but by the end of the lap, Johnson had ceded second position to Wells and was falling back.
Trebon dug the knife in deeper on the fourth lap, putting in another acceleration as he and Wells exited the paved section, and by the end of the lap had opened up more than a ten-second lead on Wells. He then piled on his advantage throughout the remainder of the race, finishing with ample time to wipe the mud from his face and savour the cheers of his home town crowd.
Behind, Johnson dug deep and came within ten seconds of Wells but wasn't able to close down the gap and had to settle for third; the consolation prize was the overall series win - not bad, and a first in his career.
Tim Johnson (Cyclocrossworld/ Cannondale)
Photo ©: Mitch Clinton
For Wells, the second place maintained his standing in the USGP series, which leaves one last goal which all of the top three riders share - the US National Championships in Kansas City, Missouri next weekend. Wells won that title in 2001 and '05, and while he hopes to complete the hat-trick, he said he's not giving up on his first love, mountain biking.
"Mountain biking is my thing - 'cross is awesome, it's growing in the US, but I'm a mountain biker," Wells said. The Olympian began racing in March, and is looking forward to having a break after a taxing season.
"It's been a long season - every year I have pretty much the same number of races, but with the Olympic year all the races were much more important. There was so much pressure, and there was so much travel - with the World Cups we were in South America, Europe, Australia, China - all over. The travel is probably the hardest part.
"Nationals will be it for me, and then I'll take a little vacation before hitting the first World Cup in April."
Johnson, another two-time US champion, will also end his season after the championships, leaving Trebon to carry the mantle to Europe. He leaves the Tuesday after Nationals to take on the next World Cups and a race program not yet finalised. "We're still negotiating as to which races we'll do over the holidays. Then we'll head to Spain in January for a few weeks of training before Worlds."
Photography
For a thumbnail gallery of these images, click here
Images by Mitch Clinton/www.clintonphoto.com
Images by Tim Gasperak/www.gasperak.com
Results

1 Ryan Trebon (USA) Kona                                                     1.03.07
2 Todd Wells (USA) Team Gt                                                      0.31
3 Timothy Johnson (USA) Cyclocrossworld Cannondale                              0.41
4 Jeremy Powers (USA) Cyclocrossworld Cannondale                                2.15
5 Troy Wells (USA) Team Clif Bar                                                3.14
6 Barry Wicks (USA) Kona                                                        3.22
7 Andy Jacques-Maynes (USA) California Giant Berry Farms/Specialized            3.42
8 Nicholas Weighall (USA) Rad Racing/Hagens Berman                              4.08
9 Daniel Summerhill (USA) Team Clif Bar                                         5.01
10 Dan Timmerman (USA) Reynolds/Swan Cycles                                     5.32
11 Chance Noble (USA) California Giant                                          5.46
12 Chris Sheppard (Can) Santa Cruz/Giro/Easton/                                 5.57
13 Carl Decker (USA) Giant                                                      6.09
14 Adam Mcgrath (USA) Vandessel                                                 6.15
15 Solomon Woras (USA) Vanilla                                                  6.40
16 Joachim Parbo (Den) Ccv Leopard Cycles                                       6.52
17 Shannon Skerritt (USA) Vanilla Bicycles                                      7.15
18 Kevin Hulick (USA) Vanilla Bicycles                                              
19 Gian Dalle Angelini (USA) Team Redline                                       7.40
20 Justin Robinson (USA) California Giant Berry Farms/Specialized                   
21 Molly Cameron (USA) Vanilla Bicycles!                                        7.43
22 Brett Luelling (USA) Capitol Subaru Cycling                                  8.11
23 Bjorn Selander (USA) Ridley Factory Team                                     8.12
24 Mitchell Peterson (USA) Monaviecannondale.Com                                8.32
25 Kevin Bradford-Parish (USA) Redline Bikes                                    8.43
26 Spencer Paxson (USA) Team S&M/Kona                                               
27 Sean Babcock (USA) Team S&M                                                  8.48
28 Drew Mckenzie (Can) Straight Up Cycles/Argon18                               9.35
29 Jeremy Ferguson (USA) California Giant Berry Farms/Specialized                   

Behind one lap

30 Russell Stevenson (USA) Redline Bikes                                            
31 Steve Fisher (USA) Rad Racing Nw                                                 
32 Jason Sager (USA) Monavie/Cannondale                                             

Behind two laps

33 Dave Hackworthy (USA) Ridley Factory Team                                        
34 Kristopher Holden (USA) Vertical Earth/Rotor                                     
35 Ben Popper (USA) Hrs / Rock Lobster                                              
36 Joseph Brenner (USA) Eschelon Elite                                              
37 Ryan Iddings (USA) Lapierre Usa                                                  
38 Christopher Parrish (USA) Hagens Berman Cycling                                  
39 Justin Finn (USA) Spooky Bikes                                                   

Behind three laps

40 Joshua Berry (USA) Team Bode                                                     
41 Andrew Llewellyn (USA) Calistoga Racing Team                                     
42 Mitchell Hoke (USA) Clif Bar Development Cross Team                              
43 Nathan Bannerman (USA) Bicycle Centres - Collision 1                             
44 Steven Hunter (USA) Veloshop                                                     
45 David Yeater (USA) River City Bicycles                                           
46 Evan Plews (USA) Capitol Subaru Cycling/Scottusa                                 
47 Scott Carlile (USA) Tai Cycling/Hammer Nutrition                                 

Behind four laps

48 Benjamin Dodge (USA) Sugarcrm                                                    
DNF Jesse Anthony (USA) Team Jamis Bikes                                            
DNF Matt Shriver (USA) Uci Ct: The Jittery Joes Pro Cycling Team                    
DNF Christopher Jones (USA) Sonic/Louis Garneau/ Jittery Joes                       
DNF Erik Tonkin (USA) Kona                                                          
DNF Braden Kappius (USA) Clif Bar Development Cross Team                            
DNS Alex Howes (USA) Clif Bar Development Cross Team                                
DNS Colin Cares (USA) Clif Bar Development Cross Team                               
DNS Conor Mullervy (USA) Clif Bar Development Cross Team                            
DNS Kevin Mullervy (USA) Clif Bar Development Cross Team                            
DNS John Flack (USA) Valley Athletic Club                                           
DNS Mark Blackwelder (USA)                                                          
DNS Zachary Daab (USA) Hup United                                                   
DNS Benjamin Thompson (USA) Sunnyside-Cannondale                                    
DNS Ryan Weaver (USA) River City Bikes                                              

USGP Final standings (Provisional)

1 Tim Johnson (Cyclocrossworld.com/Cannondale)  207
2 Ryan Trebon (Kona)                            191
3 Todd Wells (GT)                               186