Azencross Loenhout (Gazet van Antwerpen Trofee Veldrijden #5) - C1
Loenhout, Belgium, December 30, 2008
Main Page Results Overall standings Previous Race Next Race
Race 3 - December 30: Women
Van den Brand exploits Vos' salto
By Brecht DecaluwÚ in Loenhout, Belgium
Daphny Van den Brand (ZZPR.nl)
Photo ©: Cyclingnews.com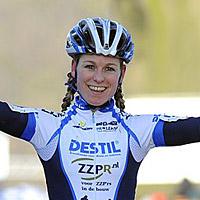 Daphny van den Brand sneaked away with her fifth win at the Azencross in Loenhout after the lead group of four top favourites split apart in the final lap. Marianne Vos (Team DSB Bank) took herself out of contention for the win by doing a salto, a flip through the air, in the last lap. Shortly thereafter, World Champion Hanka Kupfernagel lost her rhythm on the washboard while Katie Compton (Spike) found herself sitting too far back in the group to stick with Van den Brand in the end.
"It's been a while since my last victory here [2004] so it was about time to win again," Van den Brand smiled. "Finally my form gets going. I scheduled my season differently this year and I should be in top form at the world championships," Van den Brand said.
"After the washboard section, I went to the front. I knew I had to try something in the next technical zone in order to avoid the sprint. I went hard through the corners and suddenly I heard the speaker shouting something about Vos. I didn't dare to look, but a few moments later I saw that there was a gap," winner Van den Brand said.
Compton had the best view on the action behind Van den Brand during the last lap, and she explained to Cyclingnews what happened. "Actually it looked quite funny," she said while having trouble not laughing. "Vos went over the handlebars while Hanka got by, but then she crashed a little later. That's when I took off," Compton explained how she got her second place in Loenhout. Yet, the US National Champion didn't feel like the race was a tough one. "It felt like a slow race to be honest."
Rachel Lloyd (Cal Giant Berry)
Photo ©: Cyclingnews.com

Vos sat perfectly on the wheel of Van den Brand, but her mistake cost her victory in Loenhout. "I jumped back on the bike after the stairs but couldn't get hold of the bike," Vos explained how she ended up making a spectacular salto in the finale of the race in Loenhout. "After that, Hanka hit the washboard too hard, and I could not get past her again."
Before that spectacular last lap, the speed in the leader's group had dropped and as a result, riders like Rachel Lloyd, Wendy Simms and Melchers were able to catch up.
Simms was one of the first to get dropped in the finale when her chain snapped. The Canadian champion was forced to run back the opposite way toward the pit in order to get a new bike. "It made more sense to run back," Simms said. "At the start I was just off the back and before making it to the front, I had been dangling a bit. Rachel [Lloyd] took up the chase and got us back, but in the end it was clear that the top-four controlled the race," Simms said.
Photography
For a thumbnail gallery of these images, click here
Images by Cyclingnews.com
Results
1 Daphny van den Brand (Ned) ZZPR.nl-Destil-Merida                37.07
2 Katherine Compton (USA) Spike                                    0.04
3 Marianne Vos (Ned) DSB Bank                                      0.05
4 Hanka Kupfernagel (Ger) Itera-Stevens                            0.06
5 Rachel Lloyd (USA) California Giant Berry Farms/Specialized      0.07
6 Mirjam Melchers (Ned)                                            0.10
7 Nikki Harris (GBr)                                               0.47
8 Pauline Ferrand Prevot (Fra)                                     0.53
9 Georgia Gould (USA) Luna                                             
10 Pavla Havlikova (Cze)                                           0.55
11 Saskia Elemans (Ned)                                                
12 Gabriella Day (GBr)                                                 
13 Wendy Simms (Can) Kona                                          0.56
14 Sanne Cant (Bel)                                                1.38
15 Sue Butler (USA) Monavie-Cannondale                             1.39
16 Arenda Grimberg (Ned)                                           1.43
17 Helen Wyman (GBr)                                               1.56
18 Mika Ogishima (Jpn)                                             2.02
19 Joyce Vanderbeken (Bel)                                         2.22
20 Ayako Toyooka (Jpn)                                             2.29
21 Natasha Eliott (Can)                                            2.32
22 Tessa van Nieuwpoort (Ned)                                      2.33
23 Nicolle De Bie-Leyten (Bel)                                     2.34
24 Laure Werner (Bel)                                                  
25 Gertie Willems (Bel)                                            2.35
26 Cynthia Huygens (Fra)                                               
27 Lucinda Brand (Ned)                                                 
28 Kirsten Peetoom (Ned)                                           2.36
29 Sophie de Boer (Ned)                                            2.39
30 Nancy Bober (Bel)                                               2.43
31 Katrien Pauwels (Bel)                                               
32 Loes Sels (Bel)                                                 2.50
33 Susanne Juranek (Ger)                                           3.32
34 Christine Vardaros (USA)                                        3.33
35 Elke Riedl (Aut)                                                3.34
36 Nikoline Hansen (Den)                                           3.49
37 Reza Hormes-Ravenstijn (Ned)                                    4.04
38 Vicki Thomas (Can)                                              4.08
39 Francis Keizer (Ned)                                            4.20
40 Monique van de Ree (Ned)                                        4.27
41 Anja Nobus (Bel)                                                4.28
42 Kristien Nelen (Bel)                                            4.32
43 Iris Ockeloen (Ned)                                             4.33
44 Ilse Vandekinderen (Bel)                                        4.49
45 Katrien Van Looy (Bel)                                          4.54
46 Lana Verberne (Ned)                                                 
47 Dorien Raeymaekers (Bel)                                        4.55
48 Marjolein Claessen (Ned)                                        5.38
49 Patsy Larno (Bel)                                               5.48
50 Katrien Vermeiren (Bel)                                         6.18
51 Anouk Rockx (Ned)                                               6.21
52 Kim Van Renterghem (Bel)                                        6.45
53 Zuzana Vojtasova (Svk)                                          7.30
54 Aline Parsy (Fra)                                                   
55 Maaike Lanssens (Bel)                                               
56 Sharon Defoor (Bel)                                                 
57 Jorinda de Heer (Ned)                                               
58 Thamara Pijpers (Ned)                                              
 
Elite women standings after 1 race
 
1 Daphny van den Brand (Ned) ZZPR.nl-Destil-Merida                   25 pts
2 Katherine Compton (USA) Spike                                      22
3 Marianne Vos (Ned) DSB Bank                                        19
4 Hanka Kupfernagel (Ger) Itera-Stevens                              17
5 Rachel Lloyd (USA) California Giant Berry Farms/Specialized        16
6 Mirjam Melchers (Ned)                                              15
7 Nikki Harris (GBr)                                                 14
8 Pauline Ferrand Prevot (Fra)                                       13
9 Georgia Gould (USA) Luna                                           12
10 Pavla Havlikova (Cze)                                             11
11 Saskia Elemans (Ned)                                              10
12 Gabriella Day (GBr)                                                9
13 Wendy Simms (Can) Kona                                             8
14 Sanne Cant (Bel)                                                   7
15 Sue Butler (USA) Monavie-Cannondale                                6
16 Arenda Grimberg (Ned)                                              5
17 Helen Wyman (GBr)                                                  4
18 Mika Ogishima (Jpn)                                                3
19 Joyce Vanderbeken (Bel)                                            2
20 Ayako Toyooka (Jpn)                                                1