USGP#4 - Mercer Cup #1 - C2
Trenton, New Jersey, USA, November 18, 2007
Trebon sweeps Mercer Cup
By Kirsten Robbins in Trenton, New Jersey
Two for two, Ryan Trebon (Kona-Yourkey.com) wins Sunday's race for a clean sweep.
Photo ©: Todd Leister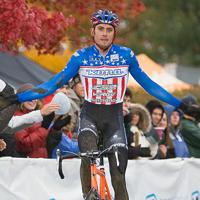 It might not have been a good day for golf, but it was a great day for cyclo-cross under the early morning snow and the late afternoon rain in New Jersey, USA. Ryan Trebon (Kona-YourKey.com) brought this technical game to the fourth US Grand Prix of Cyclo-cross round's wet and slippery circuit, riding into his second solo victory and taking over the USGP series lead.
The US national champion put a stamp on the event's most aggressive rider classification, relentlessly attacking his nearest competitor Tim Johnson (Cyclocrossworld/Leer/Cannondale). Erring on the side of caution third placed Jeremy Powers (Cyclocrossworld) demonstrated a consistent ride over the risky terrain.
"I wasn't worried about the weather today because I'm a pretty good bike handler," said Trebon. "Everyone seems to think I can't ride my bike in the mud, but I've raced a lot of stuff in Europe like this and have gotten some good results. I was pretty comfortable out there today even though the conditions were getting worse as the race went on. "
How it unfolded
Barry Wicks was the first to hit the bike pit after an unexpected crash out of the first corner, warning the other anxious players to use caution under the slick conditions. Several key riders were caught up behind the accident, but once the chaos settled down a group of six emerged from the thickened sand pit ahead of all the rest.
Geoff Kabush (Maxxis / Litespeed) takes a tumble
Photo ©: Todd Leister

The Cyclocrossworld duo, Johnson and Powers, led the way, gaining a small amount of distance over Jeff Kabush (Maxxis), Todd Wells (GT), Jesse Anthony (Jamis), Craig Adam (Giant) and Trebon.
Trebon worked his way to the front of the chasing rotation, but a few powerful efforts on the pedals was enough for him to leap across to the two escapees, leaving the others to fight for fourth place. As the laps progressed the weather conditions deteriorated. To the advantage of both Trebon and Johnson, the pair used their superb technical skills to push one another harder. Trebon gained metres over Johnson through the sand pit and Johnson gained it back through the twist and turns that made up the challenging circuit.
Both riders entered the pits on occasion to restart the slosh-fest with a clean machine, but with four laps to go Trebon exited the sand pit 20 bike lengths ahead of Johnson. "Even though I lost the USGP lead, I was very impressed with how Ryan was racing today," said Johnson, a rider acclaimed for his technical skill over snow and rain.
Through the sand pit at Mercer County Park
Photo ©: Russ and Nancy Wright

"Typically the slimier it gets the easier time I have to hold on to him and even attack him," added Johnson. "Today he was riding great and he won the race straight up, which is a great way to win. As always Ryan has more horsepower than I do. I felt like I had pretty good legs but overall he's got another gear on me that I don't have. All those times I had to claw my way back because he'd gap me with his horsepower."
Several seconds back, Powers watched the two leaders duke it out to the end. His smooth riding style carried him though the turns, riding the same speed as his team-mate ahead. "I was just riding my own race while they were riding theirs and I have to say it was an exciting one," said Powers, who said he's taken a week off to prepare for the second half of his 'cross season in Europe.
The conditions even had Tim Johnson (C'dale / Leer / Cyclocrossworld)
Photo ©: Todd Leister

The race for fourth place heated up when Kabush worked his way back in contention after an earlier crash set him back. The three powerhouses tried desperately to shed one another until each were spread equal distances apart with Wells in the lead.
With three laps to go Johnson surprised the crowd when he caught and passed Trebon, who was swapping bikes in the pit. "The course was so slimy that I ran mud tires, but they work so well that they start to flick up the mud and grass and sand into the frame and parts so the bike gets heavy which is why I had to change it," said Trebon. "I never felt uncomfortable going to the pit when I did and I knew I could close the distance to Tim once I saw him pass me."
Side-by-side with two laps to go, each rider took turns giving their best effort to out match the other and in the end it was Trebon's unforgiving horsepower that ended Johnson chances at victory. "Its just a different type of racing," said Trebon. "You had to know where to dig deeper and where it was safe to put the power down.
"I was just taking it easy and not pushing the limit too much in places that were dangerous," he added. "I know I had a little more power on the straight aways and the hills than Tim might have. I conserved where I had to and put pressure on where I knew I could make time on Tim - that's racing."
Photography
For a thumbnail gallery of these images, click here
Images by Russ and Nancy Wright/www.abbiorca.com
Images by Todd Leister/www.leisterimages.com
Images by Fj Hughes/www.fhughesphoto.com
Images by Dennis Smith/dennisbike.com
Images by Dave McElwaine/www.trailwatch.net
Results
Elite Men
 
1 Ryan Trebon (Kona-YourKey.com)                                                   56.57
2 Tim Johnson (C'dale/Leer/cyclocrossworld)                                         0.26
3 Jeremy Powers (cyclocrossworld.com)                                                   
4 Todd Wells (GT)                                                                   1.21
5 Geoff Kabush (Maxxis/Litespeed)                                                   1.25
6 Jesse Anthony (Jamis Bicycles)                                                    1.50
7 Adam Craig (Giant)                                                                2.10
8 Troy Wells (Team Clif Bar Cyclocross)                                             2.35
9 Joachim Parbo (CCV Cicli Protek Team)                                             2.40
10 Tristan Schouten (Planet Bike)                                                   2.47
11 Matthieu Toulouse (Maxxis/Litespeed)                                             3.08
12 Chris Sheppard (Santa Cruz/CMG Mortgage)                                         3.13
13 Bjorn Selander (Ridley Factory Team)                                             3.16
14 Adam McGrath (Maxxis/Litespeed)                                                  3.24
15 Barry Wicks (Kona-YourKey.com)                                                   3.29
16 Jamey Driscoll (FiordiFrutta Elite Cycling Team)                                 3.50
17 Davide Frattini (Colavita/sutter home presented by Cooking light)                3.56
18 Matt Kraus (RGM WATCHES - RICHARD SACHS)                                         4.00
19 Nicholas Weighall (Rad Racing NW)                                                4.34
20 Matt White (FiordiFrutta)                                                        4.40
21 Adam Myerson (Nerac Pro Cycling)                                                     
22 Chance Noble (California Giant Berry Farms/Specialized)                              
23 Justin Robinson (California Giant Berry Farms/Specialized)                       4.50
24 Mark McCormack (Clif Bar)                                                            
25 Mitchell Peterson (Mona Vie)                                                         
26 Brady Kappius (CLIF BAR DEVELOPMENT CYCLOCROSS TEAM)                             5.59
27 Ryan Leach (GPOA-Cannondale)                                                         
28 Jerome Townsend (Ridley Factory Team)                                                
29 Brent Prenzlow (ALAN NORTH AMERICA CYCLING TEAM)                                     
30 Daniel Coady (We Love Bicycles)                                                  6.17
31 Nicholas Keough (Jittery Joes/Sonic Cyclocross)                                  6.29
32 Bryan Fawley (Bicycle Sport Shop)                                                6.46
33 Donald Reeb (CMG Racing/ Giant)                                                  7.09
34 Chris Horner                                                                     7.20
35 Carson Miller (Fred Meyer/Northwest Adventure)                                   7.26
36 Stephan Kincaid (EKRacing/Rite Aid Pro Cycling)                                  7.45
37 Derrick St John (The Cyclery)                                                    7.52
38 John Stevens (Barbasol)                                                          8.07
39 Aaron Oakes (Van Dessel)                                                         8.08
40 John Burns (Bikeman.com)                                                         9.15
41 Bill Elliston (EK Racing / Fuji)                                                10.16
42 Ryan Larocque (Team Bicycle Alley)                                                   
One lap down
43 Chad Berg (Redline Bicycles)                                                         
44 David Hackworthy (Ridley)                                                            
45 Ethan Gilmour (Jittery Joe's/Sonic Cyclocross)                                       
46 Chris Peterson (Mona Vie)                                                            
DQ Danny Summerhill (CLIF BAR DEVELOPMENT CYCLOCROSS TEAM)                              
 
2/3 Men
 
1 Patrick Bradley (Cape Atlantic Racing/Team Beacon)                               35.25
2 John Brewer (Squadra Coppi/IM SAAB)                                               0.06
3 Eric Linder (Hunt Valley Bikes / Marathon Roofing)                                    
4 Ethan Townsend (C3- Sollay.com)                                                   0.11
5 Jeff Bahnson (C2S/Henry's Bikes)                                                  0.13
6 Dusty Labarr (Joe's Bike Shop)                                                    0.34
7 Matt Budd (NYC Velo)                                                                  
8 Marc Bavineau (Essex County Velo)                                                     
9 Michael Mihalik (Beaver Valley Velo)                                              1.00
10 Mike Kuhn (VistiPA.com/Cadence Cycling and Multisport Centers)                   1.06
11 Jim Mudd (Hunt Valley Bicycles/Marathon Roofing)                                 1.10
12 Kenny Ambach (Cyclonauts Racers/Zanconato Custom Cycles)                         1.13
13 Jeremy Dunn (Cambridge Bicycle presented by Igleheart Frames)                    1.21
14 Chad Culbertson (CRCofA / BM&G-Pete's Bikes)                                     1.28
15 Pierre Vanden Borre (Hup United)                                                 1.31
16 Cary Fridrich (Cambridge Bicycle presented by Igleheart Frames)                  1.34
17 Marc Vettori (C3-Sollay.com !)                                                   1.45
18 Daniel Brill (Cape Atlantic Racing/Team Beacon)                                  1.50
19 Charlie Rey (carlheart)                                                              
20 Michael Lynch (Cape Atlantic Racing/Team Beacon)                                 2.07
21 Joshua Jamner (HUP United/Colby College Cycling)                                 2.15
22 Christopher Bailey (Boston Road Club)                                                
23 Mark Matson (Kona Bicycles)                                                      2.20
24 Andrew Crooks (NYC Velo)                                                         2.26
25 Joseph Hu (Quaker City Wheelmen/Breakaway Racing)                                2.32
26 Cam Mancuso (ACT)                                                                    
27 Mike Zanconato (Hup United/Zanconato Custom Cycles)                                  
28 Joel Moats (Yellow Breeches Racing)                                                  
29 Mark Romanovsky (Pawling Cycle and Sport)                                            
30 Scott Brooks (NEBC/Cycle Loft/Devonshire Dental)                                     
31 Waldek Stepniowski (Luna Women's MTB Team)                                           
32 Conrad Tufte (Funky Talk)                                                        2.46
33 Bruce Freehoff (Cape Atlantic Racing/Team Beacon)                                2.52
34 Ken Gallardo (Peninsula Velo/Kondra Systems)                                         
35 James Perren (Breakaway Racing/QCW)                                              2.58
36 Erik Kristiansen (Skylands Cycle)                                                    
37 Sean Sullivan (Mavic Support)                                                        
38 Mark Vareschi (Rutgers University Cycling Team)                                  3.06
39 Christopher Pagoda                                                               3.14
40 Andrew Logiudice (Skylands Cycling)                                              3.22
41 Ian Mathias (Hunt Valley Bicycles / Marathon Roofing)                            3.26
42 Bob Biese (Team Vortex)                                                              
43 Mark Pohndorf (Colavita Racing)                                                  3.43
44 Jason Parkin (CRCA/Blue Ribbon-Translations.com)                                 4.03
45 Michael Jenks (Highland Park Hermes)                                             4.16
46 C Greg Robidoux (International Bicycle Center)                                   4.30
47 Michael Berlinger (Mavic Support)                                                4.46
48 Michael Jernigan (ProGraphics Cycling)                                           4.54
49 Henry Temper (FSUS)                                                                  
50 John Berlinger (Mavic Support)                                                   5.06
51 Tom Mains (Van Dessel Factory Team)                                              5.16
52 Peter Baimonte (Brooklyn Velo Force)                                             5.26
53 Todd Peterson (Team Bulldog/Campmor)                                             5.42
54 Mark Bowman (South Mountain Cycles)                                              5.57
55 Kevin Kuzas (Guy's Racing)                                                       6.07
56 Silas Anthony (Cyclocrossworld.com)                                              6.20
57 Joe Mulligan (Montclair Bikery)                                                  6.25
58 Erik Mitchell (Quaker City Wheelmen/Team Breakaway)                              7.31
59 Tom Beuthe                                                                       8.20
60 Theo St. Pierre (CYCLES GLADIATOR)                                               8.33
 
Juniors 17-18
 
1 Luke Keough (CLNoonan Coast to Coast KAM)                                        34.12
2 Steve Fisher (Rad Racing NW)                                                      0.29
3 Gavin Mannion (Hot Tubes Junior Development Team)                                 0.48
4 Eric Emsky (Rad Racing NW)                                                        0.56
5 Jacob Rathe (Redline)                                                             1.03
6 Zach McDonald (Oh Boy Oberto/Redline)                                                 
7 Clayton Omer (Papa Johns Racing Team)                                             1.22
8 Andrew Llewellyn (Papa Johns Racing Team)                                         1.27
9 Jeremy Ferguson (Team Spine)                                                      1.34
10 Simon Lambert Lemay (Hottubes cycling)                                           1.43
11 Andrew Barker (CLIF BAR DEVELOPMENT CYCLOCROSS TEAM)                             1.47
12 Nathan Brown (Hot Tubes Development Team)                                        1.54
13 Ian Terry (Rad Racing NW)                                                        2.04
14 Cody Cox (CLIF BAR DEVELOPMENT CYCLOCROSS TEAM)                                  2.32
15 Stephen Koelbl (Blue Competition Cycles)                                         3.32
16 Connor Oleary (Mona Vie/Cannondale)                                              4.58
17 Zac Felpel (Red Rose Rockets)                                                    5.16
18 James McCabe (Colavita Racing/Efinger Sporting Goods)                            7.49
 
Masters 35+
 
1 Michael Wissink (SPECIALIZED)                                                    43.24
2 Kevin Hines (Corner Cycle)                                                        0.11
3 Richard Feldman (Durance Cycleworks - Lehman Brothers)                            0.17
4 Todd Hoefer (California Giant Berry Farms/Specialized)                            0.22
5 Will Black (KCCX / Verge)                                                         0.29
6 Normon Thibault (Frontrunners)                                                    0.27
7 Jeff Weinert (Giant)                                                              0.36
8 Gannon Myall (California Giant Berry Farms/Specialized)                           1.27
9 Joseph Ruggery (Freddie Fu Cycling Team)                                          1.48
10 Jonny Bold (Corner Cycle)                                                        1.56
11 Steve Proulx (Stevens Cross)                                                         
12 Jon Gallagher (Cole Sport)                                                       2.03
13 Dave Weaver                                                                          
14 Greg Ferguson (Fort Factory Team)                                                    
15 Kristopher Auer (C3-Sollay.Com)                                                      
16 Gerry Pflug (Freddie Fu Cycling Team)                                            2.12
17 Sean Kelsey (Evolution Racing)                                                       
18 Mark Kutney (Van Dessel Cycles)                                                  2.17
19 Mike Hebe (Meredith Group-GPOA-Cannondale)                                       2.22
20 Scott Bradway (Team S&M)                                                         2.32
21 Robert Campos (HVC/Jessies)                                                      2.36
22 Richard McClung (Hagens-Berman LLP Cycling)                                          
23 Troy Kimball (Westwood Velo)                                                         
24 Marc Boudreau (Stevens Cross)                                                        
25 Brant Hornberger (BikeReg.com)                                                       
26 Glenn Turner (Human Zoom / Pabst Blue Ribbon)                                        
27 Ralf Warmuth (Westwood Velo)                                                     3.05
28 Matthew Myette (Zanconato Custom Cycles)                                         3.09
29 Andy Gorski (NetApp - Viner p/b kinetic-koffee.com)                              3.23
30 Matt Jordan (HRS Rock Lobster)                                                   3.28
31 Joshua Liberles (Colavita New Mexico)                                            3.32
32 Joseph Piccillo (Evolution Racing)                                               3.39
33 Kelly Cline (Wissahickon)                                                        3.45
34 Doug Karet                                                                       3.51
35 Dag Selander (Ridley Factory Team)                                               3.58
36 Judd Milne (Squadra Coppi/IM Saab)                                               4.03
37 Chris Facas (Westwood Velo/Trade Manage Capitol)                                     
38 Brian Wieczorek (Freddie Fu Cycling Team)                                        4.07
39 Carlos Matias Mendigochea (Kahala-La Grange Westwood)                                
40 Jeff Herring (Team Cycle)                                                            
41 Charles Chichester (Century Road Club of America)                                4.43
42 Sean Whittmer (Pilchuck Cycling Club)                                            4.53
43 Chip Sovek (Potomac Velo Club)                                                   5.22
44 Raymond Zeimet (Cycle Sports/Zaveta Construction)                                5.28
45 Charles Erndl (Human zoom cycling)                                               5.53
46 Michael Birner (All American Bicycle Center)                                     6.07
47 Todd Kruger (Hermes)                                                             6.13
48 Paul Nyberg (Horst-Benidorm-Property Research Corp.)                             6.39
49 Barry Holman (Team Fuji)                                                         7.13
50 Charles McDaniel (Secret Henrys Team)                                            7.45
51 Paul Schoening (Ridley Factory Team)                                             8.22
52 Dan Coleman (Colavita Racing)                                                    8.56
53 Jay Downs (Fort Factory Team)                                                    9.18
54 Werner Freymann (Easy Riders Cycling)                                            9.22
One lap down
55 John Riedel (Indy Fab/Challenge)                                                     
 
4 Men
 
1 Carl Hesselein (Revolution Bikes)                                                26.06
2 Sam Dodge (Stage 1 / fusionTHINK)                                                 0.30
3 Dan Reid (The Spoke)                                                              0.54
4 Joseph Solomon (Stage 1 Cycling)                                                  1.04
5 David Swanson (Summit Velo)                                                       1.23
6 Scott Struve (Stage 1 / fusionTHINK)                                              1.28
7 Frederick Klenk                                                                   1.32
8 Matthew Hennessy (Team BBC)                                                       1.37
9 Steve Schwarz (Kuhl Cycling Team)                                                 1.38
10 Jason Eicholtz (Bike & Blade)                                                        
11 William Cukierski (Rutgers University Cycling Team)                              1.55
12 Richard Kassan (Rutgers University Cycling Team)                                 2.04
13 Vinnie Galatro (Keltic Construction)                                             2.06
14 Andrew Forron (Bianchi Mid Atlantic)                                             2.09
15 T C Crawford (Team Marty's)                                                      2.11
16 Joseph Zorn Iii (Christiana Care PT+ / FSVS)                                     2.14
17 Barrett James (Philly Cyclismo)                                                  2.17
18 Syd Lea (T.E.A.M. Fuji)                                                          2.21
19 Geoffrey Heintz (The Children in the Shoe)                                       2.23
20 Ed Krall (Indiana Regional Medical Center)                                       2.26
21 Mike Reardon (Columbus Bike Racing Team)                                             
22 Andrew Eckstein                                                                  2.29
23 Carey Jackson Yonce                                                              2.34
24 Lars Jacobsen (Skylands Cycling)                                                     
25 Chad Casselman (NY Velocity/CRCA)                                                    
26 Jamie Bock (south mountain cycles)                                               2.42
27 Lorey Twyman (Hub Racing)                                                            
28 Heath Kneller (SMC)                                                              2.50
29 Eloy Anzola (Kissena Cycling Club)                                               2.56
30 Ben Dailey (Brooklyn Velo Force)                                                 3.09
31 Marc Gravatt (Bicycle Depot)                                                     3.13
32 Keith Plunkett (South mountain cycles)                                           3.17
33 Norman Brach (C3-Sollay.com)                                                         
34 Kevin Dillard (C3-Sollay.com)                                                    3.21
35 Erik Peterson (Cambridge/Igleheart)                                              3.26
36 Ed Kallatch (Bayside Velo/ Bike Doctor)                                          3.28
37 Chris Fleckner (Halters Cycles)                                                  3.35
38 Mark Fitzwater (secret henry's team)                                             3.43
39 Jay Mongillo (CCC / Keltic Construction / Zanes Cycles)                          3.50
40 Greg Hoffman (Bike Doctor)                                                           
41 Christopher Dietrich                                                                 
42 Fred Brown (Halters Cycles)                                                      4.00
43 Michael Fennell (YSG - Rocket Racing)                                            4.16
44 John Linvill (Main Line Cycling - BiKyle)                                        4.22
45 Eric Krone (Guy's Racing Club)                                                   4.24
46 Sean O'Brien (3D Racing)                                                         4.37
47 Christopher Stine (Cedar Bike)                                                   4.47
48 Christophe Jammet (CRCA/ NYVELOCITY)                                                 
49 Alexander Barry                                                                      
50 Hans Kneller (south mountain cycles)                                             4.56
51 Ed Moran (Maverick Fab)                                                          5.10
52 Jason Gay (Brooklyn Velo Force)                                                  5.11
53 Todd Moyer (No Budget Racing)                                                    5.42
54 Patrick Leonard (Evolution Racing)                                               5.49
55 Dave Baumgardner (Tri-State Velo)                                                6.45
56 Frank J. Schlipf Iii (Guy's Racing Club)                                         6.52
57 Robert Sands (Evolution Racing)                                                  6.54
58 Phillip Esempio (Kelly Benefit Strategies/LSV Amateur Racing)                    7.11
59 Laurence Etgen (Christ Punches)                                                  7.22
60 Brian McKinney                                                                   7.41
61 Patrick McCue (Minuteman Road Club)                                              8.54
62 Gary Snyder                                                                      9.12
63 Man Yeung Chung (Rutgers Cycling)                                                9.29
64 Joe Favara (Hampton Velo)                                                       10.30
65 Stephen Gualano                                                                 11.54
One lap down
66 Warren Maruca                                                                        
 
Masters 45+
 
1 Christopher Long (Independent Fabrication/Gotham)                                36.49
2 Mark Gunsalus (Bikebarnracing.com)                                                    
3 Jeffrey Craft (Lake Effect Cycling Team)                                          1.21
4 Paul Nyberg (Horst-Benidorm-Property Research Corp.)                              1.50
5 Vin Mancuso (ACT/skylands cycling)                                                    
6 Larry Kaufman (Van Dessel Factory Team)                                           1.56
7 Matt Baroli (Giant)                                                                   
8 Geoffrey House (Housatonic Wheel Club)                                            2.23
9 David Lowe (Human Zoom/Pabst Blue Ribbon)                                         2.43
10 Mark Featherman (Guy's Racing)                                                   2.45
11 Albert Greene (Yellow Breeches Racing)                                           3.15
12 Scott Wilson (Evolution Racing)                                                  3.28
13 Karl Kensinger (NCVC/Inova Health System)                                            
14 Kevin Breckenmaken (Yellow Breeches Racing)                                      4.12
15 Ned Connell (Van Dessel Factory Team)                                                
16 James Perren (Breakaway Racing/QCW)                                              4.24
17 Paul Wahner (Well Adjusted Racing/Wahner Chiropractic)                               
18 David Troop (First State Velo Sport)                                             4.34
19 Dennis Smith (Henry's Bikes)                                                     4.46
20 Gary Wolff (Team Maxxis)                                                         5.08
21 Theo Kindermans (cyclocrossworld.com)                                            5.34
22 Jim Bernstein (Mambo Kings Racing)                                               5.43
23 Kenneth Hamel (AFD/BIKEMAN.COM)                                                  5.52
24 Donald Catlin (Tokeneke Road Club)                                               6.01
25 Terry Fina                                                                       6.24
26 Louis D'Amelio (Van Dessel Factory Team)                                         7.06
27 Dusan Strika (Kissena Cycling Team)                                              7.12
28 Lauri Webber                                                                     7.37
29 Charles Crocco Jr (Team Somerset)                                                7.53
30 Mike Jinks (BIKEWORKS RACING)                                                        
31 Scott Demarzio (Velocity Sport/ CC Evesham)                                          
32 Christopher Vegh                                                                     
33 James Innes (Guy's Racing)                                                           
 
Masters 55+
 
1 Fred Wittwer (Van Dessel Factory Team)                                           39.43
2 Jerry White (Essex County Velo)                                                   3.07
3 Richard Sachs (RGM WATCHES - RICHARD SACHS)                                       3.21
4 Nunzio Dibiasi (Yellow Breeches Racing)                                           4.03
5 Rob Lea (T.E.A.M. Fuji)                                                               
6 James Carlson (Potomac Velo Club)