USGP#3 - Mercer Cup #1 - C2
Trenton, New Jersey, USA, November 17, 2007
Gould takes USGP lead
By Kirsten Robbins in Trenton, New Jersey
Georgia Gould (Luna) dominated the elite women's field
Photo ©: Todd Leister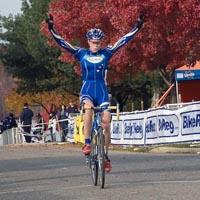 After double seconds at the opening two USGP series rounds Georgia Gould (Luna) helped herself to the top spot on the podium and claimed the prestigious series lead at round three's Mercer Cup. Gould ran away from her stiff competition through the ankle deep sand pit, holding a lead of over 30 second from second placed Lyne Bessette (Cyclocrossworld) and an additional 10 seconds over team-mate Katrina Nash (Luna).
"Its not often we get such a long sand pit but I liked it because the run wasn't very long," said the new USGP leader. "I tried to stay on the gas the whole time and not let up at all because it was really hard out there, flat a lot of wind and not much recovery."
How it unfolded
The predicted riders emerged out of the Selle Italia Swirl, a circular twist over a small hill forcing riders to use what ever technical ability they had to stay with the riders like Gould, Bessette and Canadian national champion Wendy Simms (Kona), Alyson Sydor (Rocky Mountain) and Rachel Lloyd (ProMan). The leading ladies put on a highly anticipated showdown for their east coast 'cross fans.
A large elite women's field rocket under
Photo ©: Todd Leister

Sydor, a former world mountain bike champion, hit the sand and nearly cleared it to the end with Bessette and Gould in tow. The top three positions on the podium looked to be sewn up, but Gould's winning attack on the third run through the sand shattered the small leading group into irreparable pieces.
"Confidence was really important in a race like this," said Gould. "You have to be aggressive the whole time, go fast around the corers and if you let off the gas at any point the gaps will open. So confidence was definitely a key factor."
Gould admitted that she enjoyed the mix of strong riders, a product of the growth of women's racing in the US. "I think having a strong field is making the racing really great for all the American and Canadian women," said Gould. "For us to be able to race each other here without feeling like we have to go over to Europe to get some good racing."
Bessette gave Gould a run for her money, closing in on her several times before the elastic band finally broke. "I wanted to see how I could get through the corners on my own in the first lap," said Bessette, referring to her enormous effort on lap one. "Georgia is riding very strong and obviously stronger than I was on this course today. She is such a great mountain biker that all the little things added up, like corners, she gains tiny gaps because she is so smooth. I closed a lot of little gaps to her today but after that I was getting tired."
Georgia Gould (Luna) led from
Photo ©: Russ and Nancy Wright

The courageous Katrina Nash worked her way over the course with ease and then back into contention for a podium placing. "I had the front group of girls in sight," said Nash, who started from the fourth row. "You know, going into the race I knew I was at a disadvantage being so far back. But I went into it thinking just race fast, take risks and see how far you can get."
Nash flew through Simms, Lloyd and Sydor, but was 10 seconds shy of making contact with Bessette on the finishing lap. "I had to patient because there were a large group of people in front of me," she explained. "The good thing about the course was that there were sections that were wide open and great for passing people. Once I got around everyone I just kept chasing and it worked out great."
Gould noted her surprising lead over some of the greatest cyclists in North America. "I was surprised to have opened a gap on the others and I know that it's really hard to chase when it's windy and the course is hard," said Gould. "Its hard for everyone so I decided to just get that little gap right away and really ten seconds isn't that much if you have some mechanical trouble."
Photography
For a thumbnail gallery of these images, click here
Images by Russ and Nancy Wright/www.abbiorca.com
Images by Todd Leister/www.leisterimages.com
Images by Fj Hughes/www.fhughesphoto.com
Images by Action Images/actionimages.cc
Images by Dave McElwaine/www.trailwatch.net
Results
Elite Women
 
1 Georgia Gould (Luna)                                                        38.34
2 Lyne Bessette (cyclocrossworld.com)                                          0.34
3 Katerina Nash (Luna)                                                         0.42
4 Alison Sydor (Rocky Mountain Haywood)                                            
5 Rachel Lloyd (Proman/Paradigm)                                               0.46
6 Sue Butler (River City Bicycles)                                             1.47
7 Amy Dombroski (Velo Bella - Kona)                                            1.53
8 Kerry Barnholt (Tokyo Joes / Van Dessel)                                     2.02
9 Wendy Simms (Kona-YourKey.com)                                               2.08
10 Barbara Howe (Velo Bella Kona)                                              2.09
11 Kelli Emmett (Giant Bicycles)                                               2.14
12 Wendy Williams (River City Bicycles)                                        2.16
13 Shelley Olds (California Giant Berry Farms/Specialized)                     2.21
14 Maureen Bruno Roy (IF/Wheelworks/SRAM presented by General Catalyst)        2.33
15 Natasha Elliott (Stevens Cross)                                             2.36
16 Anna Milkowski (Velo Bella-Kona)                                            2.39
17 Kathy Sherwin (Velo Bella - Kona)                                           2.41
18 Sarah Kerlin (HRS/ Rock Lobster)                                            3.42
19 Josie Beggs (California Giant Berry Farms/Specialized)                      3.59
20 Rebecca Wellons (Ridley Factory Team)                                       4.03
21 Melodie Metzger (California Giant Berry Farms/Specialized)                  4.05
22 Kristi Berg (Redline Bicycles)                                              4.13
23 Sally Annis (NEBC/CycleLoft/Devonshire Dental)                              4.42
24 Melanie Swartz (Velo Bella - Kona)                                          4.48
25 Anne Schwartz (flying rhino cycling club)                                   5.19
26 Carolyn Popovic (Team CICLE)                                                5.35
27 Jennifer Tilley (Velo Bella/Kona)                                           5.46
28 Kristen Kelsey (Evolution Racing)                                           6.01
29 Jennifer Maxwell (TEAM KENDA TIRE)                                          6.16
30 Dorothy Wong (TeamCICLE presented by Clif Bar/Voler)                        6.19
31 Melody Chase (Velo Bella - KONA)                                            6.25
32 Vicki Thomas (Stevens Cross)                                                6.27
33 Amy Wallace (RGM WATCHES - RICHARD SACHS)                                   6.34
34 Megan Elliott (Indiana Regional Medical Center)                             6.36
35 Stephanie White (Velo Bella/Kona)                                           6.38
36 Libbey Sheldon (Tokyo Joe's)                                                    
37 Kristine Church (Human Zoom/ Pabst Blue Ribbon)                             6.46
38 Kathryne Carr (Joe's Garage)                                                7.07
39 Lisa Vible (C3-Sollay.com)                                                  7.31
40 Arley Kemmerer (Hub Racing)                                                 7.32
41 Jennifer Stebbins (Workers Comp Solutions/Everactive)                       8.46
 
One lap down
 
42 Beth Mason (C3-Sollay.com)                                                      
43 Pauline Frascone (Independent Fabrication/Kempner)                              
 
3/4 Women
 
1 Nikki Thiemann (Human Zoom Pabst Blue Ribbon)                               28.09
2 Jill Waggett (Guy's Racing)                                                  0.29
3 Elizabeth Cash (Colavita New Mexico)                                         0.40
4 Allison Snooks (Landrys Bicycles)                                            1.09
5 Stacey Moseley (Yippee/DAS)                                                  1.15
6 Cecelia Pleva (CRCA/Radical Media)                                           1.17
7 Jessica Kates (Keltic Construction)                                          1.19
8 Kristy Swope (CSE / CSS / Riptide Cycling)                                   1.25
9 Jenny Simpson (The Cyclery)                                                  1.27
10 Tara Parsons (crca)                                                         1.48
11 Kim Dubeck (Beans Bikes)                                                    1.53
12 Christina Tamilio (Minuteman Road Club/Landry's Bicycles)                       
13 Rozanne Puleo (Cambridge Bicycle/Igleheart Frames/LUNA)                     2.05
14 Kathrin Schumacher (CRCofA / BM&G - Pete's)                                 2.16
15 Janel Demeter (Guy's Racing)                                                2.24
16 Sarah Hart (Hup United)                                                         
17 Caroline Gaynor (CRCA/Sanchez-Metro)                                        3.04
18 Elizabeth White (NEBC/Cycle Loft/Devonshire Dental)                         3.16
19 Karen Tourian (Guy's Racing)                                                3.43
20 Liz Seward (CRCA/Third Nature)                                                  
21 Tracy Lee (T.E.A.M )                                                        3.50
22 Bianca Grecu (Human Zoom/Pabst Blue Ribbon)                                 4.25
23 Kerry Combs (Hup United/Zanconato Bicycles)                                 4.30
24 Dirib Peterson (NCVC Indva)                                                 4.35
25 Diane Vettori (C3-Sollay.com)                                               4.49
26 Anne Rock (Sturdy Girl Cycling)                                             5.41
27 Kyra Kenwood (Carl Hart / GSBC)                                             9.38