Middelkerke - C2
Middelkerke, Belgium, December 29, 2007
2006 Results Results Past Winners
Nys wins as opposition drops off
Last minute participation results in podium for Page
By Brecht Decaluwé in Middelkerke, with additional reporting from Gregor Brown
Sven Nys (Rabobank)
Photo ©: Gregor Brown / Cyclingnews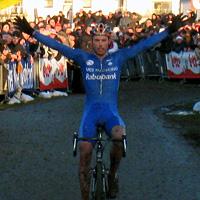 Sven Nys (Rabobank) won his third victory in Middelkerke, Belgium, after a demonstration of how to ride in the mud. A cold wind tortured the 44 riders and the large number of spectators who showed up at the Belgian Coast. After a rainy night, the sand had turned into heavy mud and that wasn't what the riders wanted in the middle of this busy racing week.
Four men separated themselves from the bunch after the first couple of laps. UCI-leader Sven Nys, Belgian champion Bart Wellens (Fidea Cycling Team ) and the Sunweb-Projob team-mates Sven Vanthourenhout and Jonathan Page, all of whom got a good gap on French champion Francis Mourey (Française des Jeux) and Gerben De Knegt (Rabobank).
Bad luck then decided the race as every rider but Nys dropped off the front after a flat tyre. Eventually Nys cruised to his 16th victory of the season with a minute on the first chasers. It was the number two finisher from the US National Championships who showed up first after Nys, with Page beating Nys's team-mate De Knegt after an acceleration in the sand
"We had to search a lot to find the right track on this course with a lot of rocks hidden under the mud. Once I had a safe route I kept using it every lap to avoid flat tyres," Nys said how he was spared from bad luck today. "Actually I had a flat tyre early on in the race which was in my favour. We had a good leading group but the opposition dropped away one by one," said Nys about how the race developed.
Last year Bart Wellens won the race near the North Sea while Nys wasn't present. "I couldn't turn up because of a cold," said Nys. "This year I wanted to give something back to all these fans. And no, it's not possible for me to take a day off," Nys pointed out that he's always going for it, even at the smaller races.
The crowds
Photo ©: Gregor Brown / Cyclingnews

The man in second position couldn't hide his relief. After a terrible start to his season Page is bouncing back with his first European podium of the season. "I'm no longer used to this, just like that man next to me," Page nodded to Nys, who has captured his 16th victory of the season. The Belgian could appreciate the humour from that American joker.
"Seriously, it's a relief for me," Page reflected on his performance. "I knew it was possible and I finally put a race together, even after a flat tyre threw me out of the leading group." It's the third time in a row that Page finishes on the podium in Middelkerke after a third place in 2005 and a second place in 2006. "[It's] unbelievable [that] I had to fight to get in this race," Page said with regard to the organizers who didn't want to give him a contract to start in Middelkerke. "It's true that I hadn't been riding well this season, but this course suits me so well."
Gerben De Knegt was another relieved finisher today with his third. He was the second Rabobank rider on the podium. "Bad luck has spoiled my season more than enough," said De Knegt of his racing in late 2007. "With my bad luck this season I feared that something would go wrong in the last lap, but apparently I was spared today," De Knegt smiled. The Dutchman lost the battle for second place when Page attacked as De Knegt changed bikes. "I changed bikes every lap and I realized too late that I would have to pit again if I took that corner as usual before the pit. It doesn't matter really. I'm more than happy with this third place. Now I know that a top-five is possible if I'm spared from bad luck."
How it unfolded
Jonathan Page (Sunweb Pro Job)
Photo ©: Gregor Brown / Cyclingnews

The 44 riders got started on a long road against the strong wind near the coast. It was Klaas Vantornout who stormed into the mud first, followed by Jonathan Page, Sven Vanthourenhout and the surprising Anders Klinkby. Page converted his good start into a leading position throughout the first lap with Vantornout dropping back quickly. In the second lap a bunch of riders separated themselves from the rest with Page still there, together with Nys, Jan Soetens, Francis Mourey, Sven Vanthourenhout and Bart Wellens. The latter immediately jumped away in front and the Sunweb riders Vanthourenhout and Page followed by the Belgian champion. Sven Nys, the last rider who could bridge up toward the leaders.
Just before halfway Page lost contact with the leaders after a flat tyre; he dropped back in a group with Thijs Al, Rob Peeters, Mourey and Gerben De Knegt. One lap later Wellens punctured in the front group and fell behind. The Belgian champion lost a lot of time, too. Then, as fate would have it, the final rider in the company of Nys, Sven Vanthourenhout, also dropped away in front one lap later with a flat tyre.
Nys didn't wait for anybody to come back and he developed a safe gap on the chasers. The first riders behind Nys were De Knegt, Page and Sven Vanthourenhout but the latter couldn't stay with them for long. Behind them Wellens was coming back to the first chasing group. Further back Al had a gap on young Rob Peeters; the Landbouwkrediet rider fought a duel with Mourey and managed to drop the French champion with two laps to go.
Francis Mourey (Française des Jeux)
Photo ©: Gregor Brown / Cyclingnews

Nys had more than a minute on the first chasing group with De Knegt and Page. Those two were under attack from Wellens and Sven Vanthourenhout, a pair who united forces in the ultimate laps.
In the last lap Nys had time to greet the fans while Page got rid of De Knegt in the pit box. The Dutchman changed bikes as usual while Page powered away. In the following sandy stretch, Page was able to stay upright while De Knegt got stuck for a moment.
Nys worked his way to his third victory in Middelkerke while Page took second one minute behind the UCI-leader; the former US national champion had ten seconds on De Knegt. Belgian champion Wellens disposed of Sven Vanthourenhout for fourth place half a minute behind Page. Peeters, Al, Soetens and Mourey finished within each other's reach. Marco Bianco closed down the top-10 more than a minute behind Mourey.
An anonymous place in the results for Peter Van Santvliet didn't bother the Belgian amateur champion. Van Santvliet rode the last race of his career in Middelkerke and he was welcomed on the podium, together with the top-three of the day, Nys, Page and De Knegt.
Photography
For a thumbnail gallery of these images, click here
Images by Gregor Brown / Cyclingnews
Results

Elite and U23 men

1 Sven Nys (Bel) Rabobank                                    1.04.21
2 Jonathan Page (USA) Sunweb Pro Job                            0.58
3 Gerben De Knegt (Ned) Rabobank                                1.07
4 Bart Wellens (Bel) Fidea Cycling Team                         1.35
5 Sven Vanthourenhout (Bel) Sunweb Pro Job                      1.48
6 Rob Peeters (Bel) Landbouwkrediet - Tönissteiner              1.55
7 Thijs Al (Ned) BeOne CRC Team                                 2.04
8 Jan Soetens (Bel) Jartazi Promo Fashion                       2.17
9 Francis Mourey (Fra) Française des Jeux                       2.21
10 Marco Bianco (Ita) Arcobaleno Carraro                        3.39
11 Jan Verstraeten (Bel) Sunweb Pro Job                         4.12
12 David Willemsens (Bel) Sunweb Pro Job                        4.44
13 Davy Commeyne (Bel) Palmans-Cras                             4.58
14 Klaas Vantornout (Bel) Fidea Cycling Team                    5.05
15 Kay Van Den Brande (Bel) Palmans-Cras                        5.07
16 Nico Clarysse (Bel) Cycling Team Oost-West                   5.29
17 Paul Oldham (GBr)                                            5.35
18 Davy Coenen (Bel) 2Mega Saeco Heist                          5.43
19 Jimmy Tielens (Bel) 2 Mega Saeco - Heist o/d berg            5.58
20 Ben Berden (Bel) Revor Cycling Team                          6.19
21 John Gadret (Fra)                                                
22 Sébastien Ninard (Fra)                                       7.12
23 Peter Van Santvliet (Bel) AVB/USspa.be Cycling               8.03
24 Anders Klinkby (Den)                                         8.15

One lap behind
25 Steven Decaluwé (Bel) Sunweb Pro Job                             
26 Nico Kuypers (Bel)                                               
27 Sven Renders (Bel)                                               
28 Robert Gavenda (Svk)                                             
29 Steve Gruwier (Bel) VZW Wielerclub Onder Ons Parike              

Two laps behind
30 Geert Wellens (Bel) AVB/USspa.be Cycling                         
31 Robin Seymour (Irl)                                              
32 Keith Murray (GBr)                                               

Three laps behind
33 James Vanlandschoot                                              
34 Valentijn Ponseele (Bel) WC De Molenspurters - Meulebeke         
35 Laurent Moulin (Bel)                                             
36 Mark Cotton (GBr)                                                
37 Roger Aiken (Irl)                                                

Four laps behind
38 Johan Myngheer (Bel) VC De Zilverbergvrienden - Rumbeke          
39 Sjef De Wilde (Bel)                                              
40 Regis Floghimont (Bel)                                           
41 Frederik Decaesteker (Bel)                                       
42 Philip Roche (Irl)                                               
43 Dries Cauwelier (Bel) Cycling Team Cauwelier Roeselare           
44 Nathan Weighjtmann (USA)                                         
 
All stars

1 Mario De Clercq (Bel)                                        12.12
2 Marc Janssens (Bel)                                           0.08
3 Ronny De Vos (Bel)                                            0.15
4 Paul De Brauwer (Bel)                                         0.25
5 Freddy De Meester (Bel) Rijschool AH - Gentse Velosport       0.33
6 Nico Mattan (Bel)                                             1.39
7 Danny De Bie (Bel)                                            1.47
8 Eric De Vlaeminck (Bel)                                       2.03
9 Paul Herygers (Bel)                                               
10 Norbert Dedeckere (Bel)                                          
11 Freddy Deschacht (Bel)                                           
12 Roland Liboton (Bel)                                             
13 Bert Vermeire (Bel)                                              
14 Antoine Vanneste (Bel)                                           
 
Juniors

1 Vinnie Braet (Bel)                                           38.08
2 Angelo De Clercq (Bel)                                        0.26
3 Zico Waeytens (Bel)                                           0.29
4 Niels Wytinck (Bel)                                           0.58
5 Guillaume Van Keirsbulck (Bel)                                1.01
6 Rudy Kowalski (Fra)                                           1.38
7 Jeffrey Depuydt (Bel)                                         1.58
8 Sylvester Sioen (Bel)                                         2.47
9 Yannick Pauwels (Bel)                                         2.51
10 Bert Noterman (Bel)                                          3.52
11 Gert-Jan Opsomer (Bel) Easypay Cyclocross Team               4.16
12 Sonny Volders (Bel)                                          4.48
13 Thomas Verbeek (Bel)                                         4.56
14 Laudelino Lammens (Bel)                                      5.16
15 Laurens Libbrecht (Bel)                                      5.26
16 Tom Devriendt (Bel)                                          5.48
17 Jean-Baptiste Tercheux (Fra)                                 5.57
18 Liam McGreevy (Bel)                                          6.24
19 Jonas Plasschaert (Bel)                                      7.16
20 Jan Van Meirvenne (Bel)                                      8.06
21 Kenneth Goossens (Bel)                                       8.16
22 Jordan Becquet (Bel)                                         8.42
23 Joachim Janssens (Bel)                                       8.56
24 Wim Allary (Bel)                                             9.05
25 Clint Van Droogenbroeck (Bel)                                9.12
26 Nick Vandenberghe (Bel)                                      9.30
27 Olivier Vernaet (Bel)                                        9.50
28 Nick Vermunicht (Bel)                                       10.00
29 Joina Gladines (Bel)                                        10.50

One lap behind
30 Kevin Rokegem (Bel)                                              
31 Jessie Roberts (GBr)                                             
32 Jeroen Popelier (Bel)                                            
33 Kenny Spiessens (Bel)                                            
34 Sil Deberdt (Bel)                                                
35 Joris Tips (Bel)                                                 
36 Vicki Thomas (Can) Stevens Cross                                 
37 Rutger La Haye (Bel)                                             
38 Sieben Vandevyver (Bel)                                          
39 Sandie Verriest (Bel) Asfra Racing Team                          
 
Beginners

1 Gianni Vermeersch (Bel)                                      31.37
2 Lukas Müller (Swi)                                            0.10
3 Jens Vandekinderen (Bel)                                          
4 Tim Merlier (Bel)                                             1.46
5 Kenny Bultynck (Bel)                                          1.54
6 Robin Van Goethem (Bel)                                       2.13
7 Yoshi Dedulle (Bel)                                           2.16
8 Alois Mus (Bel)                                               3.24
9 Thijs Van Aert (Bel)                                          3.36
10 Leander Bertels (Bel)                                        3.51
11 Joeri Hofman (Bel)                                           4.00
12 Jasper Baert (Bel)                                           4.02
13 Jens Saey (Bel)                                              4.25
14 Jordy Van Staeyen (Bel)                                      4.30
15 Maxim Pani (Bel)                                             4.43
16 Martijn Masselis (Bel) Easypay Cyclocross Team               5.19
17 Stijn Heyse (Bel)                                            5.49
18 Matthias Ballet (Bel)                                        5.58
19 Daan Myngheer (Bel)                                          6.38
20 Arno Sinnaeve (Bel)                                          6.47
21 Thomas Raeymaekers (Bel)                                     7.30
22 Joshua Omez (Bel)                                            7.43
23 Joeri Vermeiren (Bel)                                        8.17
24 Pieter Jan Dhondt (Bel)                                      8.36
25 Michiel Dewulf (Bel)                                         9.00
26 Matthias Van Walle (Bel)                                     9.05
27 Bram Dhiedt (Bel)                                            9.24
28 Sebastien Demeulenaere (Bel)                                 9.30
29 Michael Dhondt (Bel)                                         9.38
30 Jens Van Slycke (Bel)                                            
31 Bryan Kouwenbergh (Bel)                                     10.12

One lap behind
32 Bram Willem (Bel)                                                
33 Robin Bruneel (Bel)                                              
34 Katrien Vermeiren (Bel) Emversport International Cycling Team    
35 Whytic Priem (Bel)                                               
36 Lisa Bogaert (Bel)                                               
37 Davy Malfait (Bel)                                               
38 Katia Verstraete (Bel)                                           
39 Jonas Van Doninck (Bel)                                          
40 Dylan Rommelaere (Bel)                                           
41 Mathias Kerkhofs (Bel)                                           
42 Maaike Lanssens (Bel)                                            
43 Caitlyn La Haye (Bel)                                            
44 Xandro Meurisse (Bel)                                            
45 Gregory Vandaele (Bel)                                           
 
Amateurs & Masters A

1 Wim Jansens (Bel)                                            38.20
2 Kendrie Van Grembergen (Bel)                                  0.30
3 Benny Van Staeyen (Bel)                                       1.10
4 Luc Van Looveren (Bel)                                        1.35
5 Axel Naessens (Bel)                                           1.52
6 Nico Bogaert (Bel)                                            1.56
7 Nico Vnan Assche (Bel)                                        2.44
8 Steven Alliet (Bel)                                           2.55
9 Lister Richard (GBr)                                          4.02
10 Wim De Witte (Bel)                                           4.17
11 Kris Ceulemans (Bel)                                         4.36
12 Jelle Vets (Bel)                                             4.43
13 Gerrit Segers (Bel)                                          4.53
14 Marnik Snoeck (Bel)                                          5.20
15 Jurgen Standaert (Bel)                                       5.40
16 Christophe Vanrokeghem (Bel)                                     
17 Kenny Van Campenhout (Bel)                                   6.31
18 Peter Goeman (Bel)                                           6.40
19 Ronny Heremans (Bel)                                         7.45
20 Erwin Lemmens (Bel)                                          8.02
21 Udo Janssen (Bel)                                            8.33
22 Marnik Renier (Bel)                                          9.00
23 Andy Debruyne (Bel)                                          9.18
24 Davy Vanderostyne (Bel)                                      9.41
25 Marino Vanparys (Bel)                                        9.56
26 Fredericq Dobbels (Bel)                                     10.08
27 Carlo Allaert (Bel)                                         10.48
28 Yves Casier (Bel)                                                
29 Gregory Cool (Bel)                                               
30 Pieter Ververken (Bel)                                           
31 Bart Demets (Bel)                                                
32 Thijs Cauwelier (Bel)                                            
33 Filip Thoen (Bel)                                                
34 Gianni Ponseele (Bel)                                            
35 Kenny Pierloot (Bel)                                             
36 Joris Vanden Berghe (Bel)                                        
37 Gerdy Vaneecke (Bel)                                             
38 Arran Brown (RSa)                                                
39 Davy De Taeye (Bel)                                              
40 Bart Schollen (Bel)                                              
 
Masters B

1 Mario Lammens (Bel)                                       37.40.00
2 Franky Van Tongelen (Bel)                                     8.00
3 Dirk Mertens (Bel)                                           42.00
4 Danny Verhestraeten (Bel)                                    48.00
5 Mark Verloo (Bel)                                            56.00
6 Ludwig Gladines (Bel)                                      2.06.00
7 Peter Ballet (Bel)                                         2.28.00
8 Hans Kyndt (Bel)                                                  
9 René Swinnen (Bel)                                         3.15.00
10 André Panis (Bel)                                         3.47.00
11 Rik Vesschemoet (Bel)                                            
12 Johan Vandaele (Bel)                                             
13 Leopold Vermeiren (Bel)                                          

One lap behind
14 Ronny Goethals (Bel)                                             
15 Pascal Dysserick (Bel)                                           
16 Peter Damen (Bel)                                                
17 Johan Meeus (Bel)                                                
18 Paul Dalton (GBr)                                                
19 Chris Tauscher (USA)                                             
20 Luc Pauwels (Bel)                                                
21 Thierry Laurez (Bel)                                             
 
Masters C & D

1 Ronald De Scheemaeker (Bel)                               41.12.00
2 Rudy Dels (Bel)                                              38.00
3 Rudy Bloemmen (Bel)                                          58.00
4 Alex Weytens (Bel)                                         1.12.00
5 José De Clercq (Bel)                                       1.17.00
6 Daniel Van Oosterwijck (Bel)                               1.28.00
7 Ivan Coopman (Bel)                                         1.58.00
8 Pierrot Potargent (Bel)                                    2.05.00
9 Jan Guido Geudens (Bel)                                    2.09.00
10 François Mertens (Bel)                                    3.10.00
11 Dirk Van Sinay (Bel)                                      4.10.00
12 André Clemmen (Bel)                                       4.50.00
13 Martin De Cock (Bel)                                      5.10.00

One lap behind
14 Edward Lievens (Bel)                                             
15 Chris Geerts (Bel)                                               
16 Alex Spruyt (Bel)                                                
17 Gary Noe (Bel)                                                   
18 Laurent De Vos (Bel)                                             
19 Johan Govaerts (Bel)                                             
20 LukVanrokeghe (Bel)                                              
21 Rik Ponseele (Bel)                                                        

Past winners
2006 Bart Wellens (Bel) Fidea Cycling Team
2005 Sven Vanthourenhout (Bel) Rabobank
2004 Sven Vanthourenhout (Bel) Quick.Step-Davitamon    
2003 Sven Nijs (Bel) Rabobank