Granogue Cyclocross - (C1)
Conshohocken, PA, USA, October 21, 2006
Trebon strikes again; Compton wins first UCI race
By Kirsten Robbins in Wilmington, DE
US National Champion proves too strong for the elite women's field
Strong and powerful,
Photo ©: Fj Hughes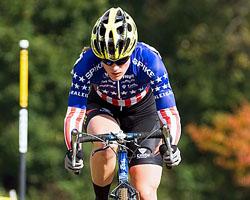 Katie Compton (Spike Professional/Primus Mootry) powered away from her stiff competition before the end of the first lap. Compton left Lyne Bessette (Cyclocross world.com) and Georgia Gould (Luna Women's MTB Team) to battle for second and the remaining forty riders in shrapnel. "Georgia Gould and Lyne Bessette are really strong riders and I did not know how I was going to fair against them today," said two-time US Cross Champion Katie Compton. "I have not done UCI cross races in the past because my main focus is the pilot for the Para-Olympic tandem and so I normally race local cross races instead."
US national mountain bike champion Georgia Gould led Bessette and Compton through the demanding course on the first lap. "Three of us separated from the field at the very beginning and Georgia Gould was leading us," said Bessette. "But, Katie passed Georgia and I hesitated to go with her right away. Katie is an amazing athlete and you can't let her have even two feet advantage or you have to work way harder to catch her. Once she got her gap I tried to hold it with her but after ten seconds I saw that I could not close it."
There was a small but strong group chasing to limit their losses behind the three riders lighting the way. The group consisted of Deidre Winfred (Velo Bella-Kona), Roy Bruno (Independent Fabrications), Sarah Kerlin (Velo Bella-Kona) and Tara Ross (Cheerwine).
Granogue Estates hosted the first of the Verge Series UCI event in its picturesque green acreage. The 2.7-kilometer course was technically difficult and fully loaded with double barriers and tight corners, a steep ramp, tons of mud and brutal elevation gain.
"The course was pretty technical and it had a few off camber switch backs so I had to stay on the gas the whole time," said Compton. "But, I was excited to race here because this is where I grew up and so it is a territory I know. I have done several mountain bike races and cross races here over the past six years."
Gould enjoyed the change of pace from her usual mountain bike endeavors and noted that, "there was great competition today and it was nice that there were so many fast women here," said Gould. "A lot of my mountain biking switches over well and Cyclocross because it feels similar to a short track mountain bike race."
Lanky Trebon scores third UCI win of the season
Ryan Trebon
Photo ©: Fj Hughes

Ryan Trebon (Kona) won his third cyclocross race this afternoon out of a battle between four dominant riders: Jeremy Powers (Jelly Belly), Barry Wicks (Kona) and Tim Johnson (Cyclocrossworld.com).
The four riders blasted out of the 60-rider field during the beginning of the event and remained together until three laps remaining where Trebon made his winning attack. "I wasn't trying to attack to win", said Trebon. "I was just trying to get the tempo going a little higher and see how everyone would respond. I managed to get a gap and decided to stick with it and just ride it out to the end."
The Kona champion suffered a mechanical part way through the race that did not seem to affect his outcome too much. "I was with the lead group but I dropped my chain so I had to stop and get a new bike," said Trebon. "I wasn't too worried about catching back on and I was having fun out there."
Trebon finished just over twenty seconds ahead of the second place sprint between Jeremy Powers and Barry Wicks. "I was at the front when Ryan dropped his chain in the back section," said Powers. "We sat up and waited a little but he had some catching up to do. He caught us a couple of laps later and went straight to the front and that was it - he was gone and the rest of us were playing for second place."
Powers also suffered a mishap during the final laps of the race causing him to lose contact with his break away companions. "Barry bobbled a little bit on the back section which threw me off. I was able to get back on to them with two or three laps to go and made sure I stayed in front of those guys. I was riding the back section good and was where I could make the most time of the others."
"Overall, this was an ideal course for me and I felt good in the off camber and twisty sections. Once we got to the little road section I had a little gap and that's all that was needed to take second place."
Barry Wicks took full advantage of his Kona teammate escaping the group. "Once Ryan got away, I just had to followed Tim and Jeremy," said Wicks. "They were working hard and I could tell Tim was hurting pretty good at the end. Powers and I made a good effort and got rid of Tim in the technical section on the backside of the course."
Though Tim worked well with Jeremy in the hunt for second place, he may have sacrificed too much by the end. "I wish I did not do as much work as I did during the break today," said Johnson. "I should have saved a little more juice for the end. I tried to attack when Ryan was off the back in hopes to make him work a little more. But when he caught us he attacked and just killed us because he was flying right now - he is so strong."
US Cyclocross champion Todd Wells (Team GT) found himself caught in limbo between the break group of four and an alternating group of six close behind. The chasing group involved Davide Frattini (Colavita Olive Oil/Sutter Home), Steve Tilford (Verge/Shimano), Ben Jacques-Maynes (Cyclocrossworld.com), Geoff Kabush (Maxxis), John Hamblen (RGM Watches) and Dan Timmerman (Fiordifrutta).
The course was challenging and Trebon came out on top but he admits that it is not entirely his style. "It was a great course but not my favourite style of racing," said Trebon. "There were a lot of off camber and slower turns, soft terrain and technical aspects. But, the course was really nice even though I like faster type circuits."
Photography
For a thumbnail gallery of these images, click here
Images by FJ Hughes/www.FHughesPhoto.com
Images by Tim Mullin
Results
UCI Elite Men

1 Ryan Trebon (USA)                                             0.54.34
2 Jeremy Powers (USA)                                              0.23
3 Barry Wicks (USA)                                               
4 Tim Johnson (USA)                                                0.25
5 Todd Wells (USA)                                                 1.56
6 Davide Frattini (ITA)                                            1.59
7 Steve Tilford (USA)                                           
8 Ben Jacques-Maynes (USA)                                         2.04
9 Geoff Kabush (CAN)                                               2.11
10 Jon Hamblen (USA)                                            
11 Dan Timmerman (USA)                                             2.21
12 Erik Tonkin (USA)                                               2.42
13 Matt Shriver (USA)                                              2.55
14 Matthew White (USA)                                             3.13
15 Roger Aspholm (FIN)                                             3.16
16 Molly Cameron (USA)                                             3.25
17 Justin Spinelli (USA)                                           3.32
18 Matthew Kraus (USA)                                             3.44
19 Luca Damiani (ITA)                                              4.06
20 Troy Wells (USA)                                               
21 James Driscoll (USA)                                            4.17
22 Michael Garrigan (CAN)                                          4.33
23 Tristan Schouten (USA)                                          4.46
25 Ryan Leach (USA)                                                5.25
26 Charles Storm (USA)                                             5.49
27 Adam Myerson (USA)                                              6.00
29 Adam Mcgrath (USA)                                              6.08
30 Weston Schempf (USA)                                            6.14
31 Kyle Hammaker (USA)                                             7.29
32 Dan Wilson (USA)                                              +1 lap
33 Greg Marini (USA)               
34 Greg Wittwer (USA)                  
35 Brian Hayes (USA)                   
36 Michael Yozell (USA)                
37 Andrew Wulfkuhle (USA)              
38 Shawn Harshman (USA)                
39 Kyle Douglas (CAN)                  
40 Zoltan Tisza (HUG)                  
41 Nathan Deibert (USA)                
42 Stephen Cummings (USA)              
43 Noah Taylor (USA)                   
46 Stephan Kincaid (USA)               
48 David Hall (USA)                    
49 Peter Rubijono (USA)                
50 Stephen De Lisle (USA)              
51 Christopher Newell (USA)            
52 Andy Gorski (USA)                   
53 Kyle Jacobson (USA)                 
54 Scott Kelly (CAN)                   
55 Michael Seek (USA)                  
56 Chris Saunders (CAN)                
DNF Chris Mcgovern (USA)          
DNF David Wyandt (USA)	          
DNF John Hanson (USA)	          
DNF Elliot Mcallister (USA)       
DNF David Goodwin (USA)	          
DNF Craig Dodson (USA)	          
DNF Jonny Sundt (USA)	          

UCI Elite Women

1 Katherine Compton (USA)                                       0.40.25
2 Lyne Bessette (CAN)                                              0.57
3 Georgia Gould (USA)                                              1.10
4 Deidre Winfield (USA)                                            2.40
5 Maureen Bruno Roy (USA)                                        
6 Sarah Kerlin (USA)                                               3.36
7 Tara Ross (CAN)                                                  3.47
8 Amanda Sin (CAN)                                                 3.52
9 Megan Monroe (USA)                                               4.31
10 Melissa Thomas (USA)                                            
11 Mandy Lozano (USA)                                              
12 Catherine Walberg (USA)                                         4.55
13 Anna Milkowski (USA)                                            5.16
14 Betsy Shogren (USA)                                             5.30
15 Mackenzie Dickey (USA)                                          5.33
16 Rebecca Wellons (USA)                                           6.02
17 Samantha Williams (USA)                                         6.15
18 Stephanie White (USA)                                           6.55
19 Alicia Hamblen (USA)                                            7.08
20 Pauline Frascone (USA)                                          7.20
21 Erica Yozell (USA)                                              7.24
22 Lisa Vible (USA)                                                7.46
23 Megan Bilodeau (USA)                                            7.49
24 Morjan Huizing (USA)                                            7.52
25 Heidi Von Teitenberg (USA)                                      8.01
26 Lisa Most (USA)                                                 8.19
27 Amy Wallace (USA)                                               8.28
28 Karen Watson (CAN)                                              8.49
29 Perri Mertens (AUS)                                           +1 lap
30 Elizabeth Frye (USA)                  
31 Kathleen Billington (USA)             
32 Lynda Maldonado (USA)                 
33 Alie Kenzer (USA)                     
34 Brenda Bahnson (USA)                  
35 Beth Mason (USA)                      
36 Janet Olney (USA)                     
DNF Tammy Ebersole (USA)	     
DNF Melanie Swartz (USA)	     
DNF Jennifer A Bodine (USA)	     
DNF Kristine Church (USA)