Gran Prix of Gloucester 1, Gloucester, MA - C1
Gloucester, MA, USA, October 7, 2006
2005 Results Results Past winners
Trebon and Bessette open USGP series with victories
The B category riders race under pristine New England weather.
Photo ©: Russ & Nancy Wright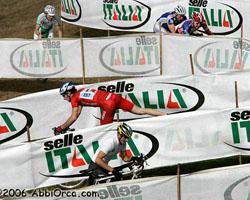 Ryan Trebon (Kona) and Lyne Bessette (Cyclocrossworld.com) won their respective elite-category competitions on day one of the six-race fall classic; the 2006 Crank Brothers U.S. Gran Prix of Cyclocross.
Held on the legendary fields of Stage Fort Park in Gloucester, Mass. at the Gran Prix of Gloucester presented by SemEquip, Riders were faced with a balmy day by Gloucester standards with race-time temperatures hovering around 60 degrees (F) and the course riding fast and bumpy. And while unlike the 2005 race there was a lack of snow, sleet and rain, there certainly wasn't a lack of great 'cross action.
Tree farm dials in the win
In the men's race, pre-race favorites Ryan Trebon (Kona), Barry Wicks (Kona) and Tim Johnson (Cannondale/Cyclocrossworld.com) wasted no time jumping out to an immediate 12 second advantage over the field of 110 riders. The trio remained ahead the entire field, steadily increasing their lead lap after lap. Trebon, Wicks and Johnson worked together most of the race, each initiating an occasional attack throughout. With two laps to go the camaraderie ended and the race was on. Wicks attacked and Trebon countered. Johnson chased and caught the Kona teammates. Wicks then dropped and, with just over one lap to go, Trebon made what was the final attack of the day holding on for a eight second win over Johnson.
The race within the race was for fourth place. Adam Craig (Giant), starting in the fourth row, steadily worked his way up to catch the second group of Ben Jacques-Maynes (Cyclocrossworld.com), Mathieu Toulouse (Team Maxxis Cyclocross), Mark McCormack (Team Clif Bar), Jesse Anthony (Team Clif Bar), Andy Jacques-Maynes (California Giant Strawberries/Specialized). Craig eventually attacked and dropped the group to finish just off the podium in fourth.
Besette's lost nothing since retiring from road racing
Lyne Bessette,
Photo ©: Russ & Nancy Wright

In the women's race, Lyne Bessette (Cyclocrossworld.com) picked up right where she left off in 2005. With a lightning fast start, the returning USGP champion dominated again; jumping out to early ten second lead and never looking back. Wendy Simms (Velo Bella/Kona) came close to catching Bessette before being caught herself by Luna Chix teammates Georgia Gould (who finished second) and 'cross newcomer (but MTB short track champion) Katerina Nash (who finished third in her first ever cyclocross race). Simms finished fourth. A battle for fifth place left Kerry Barnholt (Tokyo Joe's/Gary Fisher) and Melissa Thomas (Team Maxxis) in fourth and fifth respectively.
U23
Former US cyclo-cross national champion Jesse Anthony (Team Clif Bar) took the U23 win. Anthony used his position in the second group of the Elite men to remain ahead of the other U-23s for the entire race. Rounding out the top five were Jamey Driscoll (FiordiFrutta), Bjorn Selander (Alan Factory Cyclocross Team), Dan Neyens (Hagens-Berman LLP Cycling) and Nick Weighall (Alan Factory Team)
Juniors
In the Junior race, Alex Coelho (Hot Tubes Development Cycling) followed Lyne Bessette's script, taking the lead immediately and going wire to wire. Coelho didn't have a serious threat the entire race. The race for second came down to a six man sprint with Jerome Townsend (Alan) edging Sean Worsech (Rad Racing), Jim Lennon (TIAA-CREF/Clif Bar), Steve Fisher (Rad Racing NW), Nick Keough (CL Noonan/Coast to Coast/KAM) and Daniel Estevez (Hot Tubes Development Cycling).
Masters
Roger Aspholm (Westwood Velo) took the masters win from a huge field of 125 riders. Aspholm was part of a group that led for most of the race before he pulled away. That lead group consisted of second place finisher Richard Feldman (Durance Cycleworks - Lehman Brothers), Dale Knapp (Kona) who came in third, Chris Peck (Fiordifrutta) fourth place and Will Black (Lone Star Racing) rounding out the top five.
Photography
For a thumbnail gallery of these images, click here
Images by Russ & Nancy Wright/www.abbiOrca.com
Images by David Gray Mclean/www.davidgraymclean.com
Images by Ed Collier/www.edcollierphotography.com
Results
Elite Men

1 Ryan Trebon (USA) Kona                                                 58.16
2 Tim Johnson (USA) Cannondale/Cyclocrossworld.com                        0.08
3 Barry Wicks (USA) Kona                                                  0.34
4 Adam Craig (USA) Giant Bicycles                                         1.23
5 Ben Jacques-Maynes (USA) Cyclocrossworld.com                            1.30
6 Mathieu Toulouse (Can) Team Maxxis Cyclocross                           1.32
7 Mark Mccormack (USA) Team Clif Bar                                      1.43
8 Jesse Anthony (USA) Team Clif Bar                                       1.50
9 Andy Jacques-Maynes (USA) California Giant Strawberries/Specialized     2.11
10 Todd Wells (USA) Team GT                                               2.22
11 Anthony Colby (USA) TargeTraining                                      2.25
12 Matt White (USA) FiordiFrutta Elite Cycling Team                       2.27
13 Dan Timmerman (USA) Fiordifrutta                                       2.29
14 Carl Decker (USA) Giant                                                2.32
15 Jamey Driscoll (USA) FiordiFrutta                                      2.33
16 Matt Shriver (USA) Sonic Cycling                                       2.37
17 Erik Tonkin (USA) Kona                                                 3.02
18 Jonny Sundt (USA) Hagens-Berman LLP Cycling                            3.29
19 Jon Hamblen (USA) RGM WATCHES - RICHARD SACHS - REX CHIU               3.43
20 Troy Wells (USA) TIAA-CREF/CLIF BAR                                    3.48
21 Matt Kraus (USA) Alan Factory Team                                     3.50
22 Adam Myerson (USA) Nerac-OutdoorLights.com Pro Cycling                 4.02
23 Christopher Horner (USA) Team - Specialized                            4.03
24 Bjorn Selander (USA) Alan Factory Cyclocross Team                      4.04
25 Brandon Dwight (USA)                                                   4.06
26 Shannon Skerritt (USA) Vanilla Bicycles                                4.14
27 Kevin Bradford-Parish (USA) Redline Factory Team                       4.23
28 Justin Spinelli (USA) RGM Watches - Richard Sachs - Rex Chiu           4.26
29 Bart Gillespie (USA) Raleigh Factory Racing                            4.28
30 Johannes Huseby (USA) FiordiFrutta Elite Cycling Team                      
31 Ryan Leech (USA) Meredith Group-Cannondale-GPOA                        4.29
32 Jeremy Powers (USA) Jelly Belly                                        4.30
33 Dan Neyens (USA) Hagens-Berman LLP Cycling                             4.34
34 Chris Mcgovern (USA) Sonic Cyclocross                                  4.43
35 Joshua Snead (USA) HRS-Rock Lobster                                    4.51
36 Nicholas Weighall (USA) Alan Factory Team                              4.55
37 Charles Marzot (USA) CL Noonan/ Coast to Coast/ KAM                    4.59
38 Stuart Gillespie (USA) TIAA-CREF/CLIF BAR                              5.01
39 Adam Mcgrath (USA) Team Maxxis                                         5.13
40 Molly Cameron (USA) Vanilla Bicycles                                   5.14
41 Simon Vickers (USA) HRS/Rock Lobster                                   5.16
42 Chance Noble (USA) California Giant Strawberries/Specialized           5.24
43 Matthew O'keefe (USA) CCB/Volkswagen                                   5.28
44 Christopher Jones (USA) TARGETRAINING                                  5.31
45 Morgan Schmitt (USA) Hagens-Berman LLP Cycling                         5.36
46 William Dugan (USA) BCA/VOmax                                          5.37
47 Zak Grabowsi (USA) Primus Mootry Harshman Wealth Management                
48 Whitey Debroux (USA) Harshman Wealth / Primus Mootry                   6.02
49 Michael Garrigan (Can) HB cycling club                                 6.22
50 Justin Robinson (USA) California Giant Strawberries/Specialized        6.28
51 Ian Mackie (USA) BRI                                                   6.29
52 Jeff Weinert (USA) Cane Creek/Caboto Velo                              6.30
53 Justin Lindine (USA) Windham Mountain Outfitters                       6.46
54 Michael Gallagher (USA) U S Armed Forces                                   
55 Derrick St. John (Can) Ride with Rendall                               6.49
56 Adam Snyder (USA) Team Devo                                            6.53
57 David Gagnon (Can) Opus                                                7.02
58 Kyle Hammaker (USA) Trek VW/JBL                                        7.04
59 Shawn Milne (USA) Fiordifrutta                                         7.11
60 Shawn Harshman (USA) Harshman Wealth / Primus Mootry                   7.16
61 Ward Solar (USA) Natures Path presented by Fuji Pro/Am Cycling Team    7.55
62 John Hanson (USA) Nerac/Outdoorlights.com Pro Cycling Team             8.04
63 Kevin Wolfson (USA) CL Noonan/ Coast to Coast/ KAM                     8.05
64 Daniel Coady (USA) NCC / BikeReg.com                                   8.07
65 Ryan Fleming (USA) Alan Factory Cyclocross Team                        8.17
66 David Fleischhauer (USA) Sonic U23                                     8.38
67 Mitchell Peterson (USA) Devo                                          12.24

One lap behind

68 Kevin Hankens (USA) Alan Factory Team                                      
69 Scott Mclaughlin (USA) SRAM Factory                                        
70 Damian Schmitt (USA) Hagens Berman                                         
71 Jeremy Walker (USA) Cane Creek/Caboto Velo                                 
72 Oliver Bordeleau (Can) ZPREZO                                              
73 Noah Taylor (USA) RGM Watches - Richard Sachs - Rex Chiu                   
74 Robert Giannini (USA) CRCA/Sakonnet Technology U25                         
75 Anthony Wilhelm (USA) Trek/VW Midwest MRRC                                 
76 Matt Demeis (USA) Bikeman.com                                              
77 Mike Taylor (USA) Seven Cycles                                             
78 John Burns (USA) Bikeman.com                                               
79 Taylor Kneuven (USA) Harshmen Management/ Primus Mootry                    
80 Brad Sheehan (USA) 1K2GO.com/S&W SPORTS CYCLING TEAM                       
81 Colt Mcelwaine (USA) Independent Fabrications                              
82 Nat Ross (USA) Subaru-Gary Fisher                                          
83 Benoit Simard (Can) Specialized Canada                                     
84 Tom Gosselin (USA) Independent Fabrication/Channel Cafe                    
85 Brian Hayes (USA) RGM Watches - Richard Sachs - Rex Chiu                   
86 Desgranges Dufaide (Hai) Aigle Rouge                                       
87 Patrick Morrissey (USA) NMBRA                                              
88 Kyle Douglas (Can) 3 Rox Racing/Scott                                      
89 Adam Sullivan (USA) Caster's Majik Coffee p/b Apex Tech Group              
90 Jason White (USA) ATA Cycle / Giant                                        
91 Scott Kelly (Can) Freewheel Cycle/Opus/McMaster Cycling                    
92 Nuna Ancellotti (Hai) Aigle Rouge             
                             
Elite Women

1 Lyne Bessette (Can) Cyclocrossworld.com                                33.28
2 Georgia Gould (USA) Luna Women's MTB Team                               0.18
3 Katerina Nash (USA) Luna Women's MTB Team                               0.19
4 Wendy Simms (Can) Kona                                                  0.38
5 Kerry Barnholt (USA) Tokyo Joe's / Gary Fisher                          0.59
6 Melissa Thomas (USA) Team Maxxis                                        1.15
7 Rhonda Mazza (USA) Team S&M/Vanilla Bicycles                            1.36
8 Wendy Williams (USA) River City Bicycles                                1.45
9 Sarah Kerlin (USA) Velo Bella - Kona                                    1.46
10 Mackenzie Dickey (USA)                                                 1.48
11 Dellys Starr (USA) Sports Garage                                       1.59
12 Tara Ross (Can) Cheerwine Cycling                                      2.00
13 Maureen Bruno Roy (USA) Independent Fabrication/Wheelworks             2.05
14 Rebecca Wellons (USA) Gearworks/Spin Arts Cycling                      2.20
15 Jennifer Gersbach (USA) Tokyo Joe's                                    2.23
16 Brigette Stoick (USA) River City Bicycles                              2.36
17 Sue Butler (USA) River City Bicycles                                   2.44
18 Kristi Berg (USA) Group Health                                         2.50
19 Anna Milkowski (USA) Velo Bella-Kona                                   2.57
20 Mandy Lozano (USA) Cheerwine                                           3.11
21 Amanda Shaw (Can) Biovail                                              3.16
22 Josie Beggs (USA) California Giant Strawberries/Specialized            3.18
23 Melodie Metzger (USA) California Giant Strawberries/Specialized        3.28
24 Cara Mccauley (USA) Cheerwine Cycling                                  3.41
25 Stephanie White (USA) Velo Bella                                       3.54
26 Erin Kassoy (USA) Velo Bella-Kona                                      3.58
27 Pauline Frascone (USA) Independent Fabrication/Kempner                 4.09
28 Cris Rothfuss (USA) NEBC/Cycle Loft                                        
29 Hollie Mcgovern (USA) Sonic Cyclocross                                 4.16
30 Perri Mertens (Aus) Harris Cyclery/Igleheart                           4.24
31 Marie-Pier Bédard (Can) Marinoni/Cadence                               4.33
32 Megan Monroe (USA) Sports Garage-BMC                                   4.34
33 Anne Schwartz (USA) Flying Rhino CC                                    4.35
34 Alicia Hamblen (USA) RGM WATCHES-RICHARD SACHS-REX CHIU                4.45
35 Rachel Steele (USA) Saturn of Toledo/Shell                             4.50
36 Catherine Johnson (USA) Pro Peloton Racing                             4.51
37 Tela Crane (USA) Sonic U23                                             4.56
38 Jadine Riley (USA) Team Group Health                                   4.59
39 Sami Fournier (USA) Organic Athlete/Sunnyside Sports                   5.01
40 Megan Elliot (USA) Team - Specialized                                  5.09
41 Sara Cushman (USA) Gear Works/Spin Arts                                5.11
42 Rhonda Morin (USA) Portland Velo Club/Cyclemania                       5.19
43 Heidi Von Teitenberg (USA) C3/ADG/Joe's                                5.26
44 Christina Begy (USA) Spot Brand                                        5.27
45 Joanie Caron (Can) Élicycle Louis-Garneau                              5.28
46 Catherine Dudley (USA) Putney/West Hill                                5.29
47 Marci Titus Hall (USA) DeSalvo Cycles                                  5.39
48 Megan Bilodeau (USA) NCC/BikeReg.com                                   5.48
49 Karen Watson (Can) McMaster Cycling Club                               6.07
50 Tammy Ebersole (USA) Evolution Racing                                  6.18
51 Kristine Church (USA) Human Zoom/ Pabst Blue Ribbon                    6.28
52 Brenda Bahnson (USA) Independent Fabrication                           6.33
53 Alie Kenzer (USA) I (heart) ice cream                                  6.34
54 Kathy Sarvary (USA) Mid State Cycling                                  6.50
55 Susan Maclean (USA) Gear Works/Spin Arts Cycling Team                  7.47
56 Amanda Cox (Can) Kenda Tire                                            8.49
57 Kathryne Carr (USA)                                                    8.53
58 Karine Travaillaud (Can) Les Francs Coureurs                           8.55
59 Kelly Chang (USA) Wheelworks                                           9.10
60 Martha Wilson (USA) Gear Works/Spin Arts Cycling Team                 10.45

One lap behind

61 Kerry Litka (USA) Terry Precision  
                                        
U19 Juniors

1 Alex Coelho (USA) Hot Tubes Development Cycling                        40.18
2 Jerome Townsend (USA) ALAN                                              0.25
3 Sean Worsech (USA) Rad Racing                                               
4 Jim Lennon (USA) TIAA-CREF/CLIF BAR                                         
5 Steve Fisher (USA) Rad Racing NW                                            
6 Nicholas Keough (USA) CL Noonan/ Coast to Coast/ KAM                    0.30
7 Daniel (Nacho) Estevez (USA) Hot Tubes Development Cycling Team         1.19
8 Danny Summerhill (USA) TIAA-CREF/CLIF BAR                               2.13
9 Chris Peterson (USA) Devo                                               2.16
10 Robert Schmidt (USA) CBRC                                              2.50
11 brad Perley (USA) trek/cape-able bikes                                 3.14
12 Zach Adams (USA) FORT-GPOA                                             3.49
13 Greg Carpenter (USA) Devo                                              4.15
14 Logan Loader (USA) alan factory team                                       
15 Ryan Barlow (USA) ALAN                                                 5.24
16 Ian Crane (USA) Rad Racing NW                                          6.25
17 Steve Simonds (USA) SMCC                                               9.12

One lap behind

18 Dan Fishkin (USA) TEAM HARBORSIDE CYCLE                                    
19 AJ Bontorno (USA)                                                          

Past winners

Elite Men

2005 Tim Johnson (USA) Cyclocrossworld.com-Louis Garneau
2004 Geoff Kabush (Can) Maxxis - Giant
2003 Todd Wells (USA) Mongoose 
2002 Marc Gullickson (USA) Mongoose/Hyundai 

Elite Women

2005 Lyne Bessette (Can) Cyclocrossworld.com-Louis Garneau
2004 Ann Knapp (USA) Kona
2003 Alison Dunlap (USA) Luna Women's Mtb Team 
2002 Carmen D'Alusio (USA) Clif Bar