Downeast Cyclo-cross/Verge NECCS #1 - C2
New Gloucester, Maine, USA, October 14, 2006
2005 Results Results Past winners
Johnson and Bessette make the most of Maine on day one
Johnson leads the men's race
Photo ©: Chris Gardner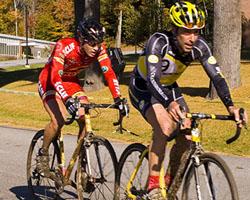 Husband and wife Tim Johnson and Lyne Bessette convincingly swept the first day of racing at Downeast Cyclocross, the first of the Verge New England Cyclocross Championship Series.
In the Women's Elite race, Bessette held no company from the rest of the field by her second turn on the course. Bessette used each lap to increase her lead over runner up Katerina Nash, who at last week's USGP event in Massachusetts saw Luna teammate Georgia Gould take a sprint victory over Bessette. Maureen Bruno Roy took the final podium spot with a strong ride that made her the top American finisher.
Tim Johnson entered the Men's Elite race with no sign of Kona's hard-to-hide Ryan Trebon and Barry Wicks, but instead facing a powerhouse duo looking to duplicate the results of Trebon and Wicks at last weekend's Gran Prix of Gloucester. Clif Bar's Mark McCormack and Jesse Anthony gunned it hard from the start, but only Anthony was able to hang with Johnson, who left McCormack fighting for 3rd with Matt White in the early goings.
With six laps to go, Johnson was all alone and remained that way until the finish. Anthony would face a slew of mechanical difficulties, and dropped off of the Elite podium, but still managed a victory in the U23 category. McCormack used extraordinary patience and his wealth of experience to separate himself from White for a second place finish, while White just held on to take third ahead of Jeremy Powers, who moved up several spots over the course of the race and gave a hard sprint at the end that left him just shy of the podium.
Photography
For a thumbnail gallery of these images, click here
Images by Chris Gardner/www.cadencephoto.com
Results
Elite men
 
1 Tim Johnson (USA) Cannondale/cyclocrossworld.com             1.01.13
2 Mark McCormack (USA) Clif Bar                                   0.34
3 Matt White (USA) FiordiFrutta Elite Cycling Team                0.39
4 Jeremy Powers (USA) Jelly Belly                                     
5 Jesse Anthony (USA) Clif Bar                                    1.40
6 Jamey Driscoll (USA) FiordiFrutta Elite Cycling Team            1.50
7 Jonny Sundt (USA) Hagens-Berman LLP Cycling                     2.30
8 Justin Spinelli (USA) RGM Watches - Richard Sachs - Rex Chiu    2.34
9 joshua snead (USA) RHS/Rock Lobster                             2.44
10 Morgan Schmitt (USA) Hagens-Berman LLP Cycling                 2.47
11 Matt Kraus (USA) Alan Factory Team                             3.00
12 Dan Neyens (USA) Hagens-Berman LLP Cycling                     3.50
13 Adam Myerson (USA) NERAC/ Outdoorlights.com Pro cycling        4.35
14 Charles Marzot (USA) CL Noonan/ Coast to Coast/ KAM                
15 Andrew Freye (USA) Bikeman.com/Salsa Cycles                    5.33
16 Brian Hayes (USA) RGM WATCHES - RICHARD SACHS - REX CHIU       5.52
17 Christopher Jones (USA) TargetTraining                         6.06
18 Art O'Connor (USA)                                             6.23
19 Alec Donahue (USA) Joe's Garage/Reynold's Composites           6.45
20 Daniel Coady (USA) NCC / BikeReg.com                           7.12
21 David Wyandt (USA) HRS-Rocklobster                             7.32

One lap down

22 William Dugan (USA) BCA/VOmax                                      
23 Dan Cassidy (USA) CCB/Volkswagon                                   
24 Robbie King (USA) Priority Health                                  
25 Morgan MacLeod (USA) Mechanical Services/CycleMania                
26 Stan Jurga (USA) Independent Fabrication/Channel Cafe              
27 Josh Dillon (USA) Fiordifrutta                                     
28 Ryan Fleming (USA) Alan Factory Cyclocross Team                    
29 Noah Taylor (USA) RGM WATCHES-RICHARD SACHS -REX CHIU              
30 Ryan LaRocque (USA) Team Bike Alley                                
31 John Burns (USA) Bikeman.com                                       
32 David Gagnon (Can) Opus                                            
33 Kevin Wolfson (USA) CL Noonan/ Coast to Coast/ KAM                 
34 Dylan Sullivan (USA) Team Bike Alley                               
35 Alex Whitmore (USA) HarrisCycleryRacing.com                        
36 Tyler Johnson (USA) Louis Garneau                                  
37 Matt DeMeis (USA) BIKEMAN.COM                                      
               
Elite women
 
1 Lyne Bessette (Can) Cyclocrossworld.com               41.46
2 Katerina Nash (USA) Luna Women's MTB Team              1.08
3 Maureen Bruno Roy (USA) Independent Fabrication        2.17
4 Melissa Thomas (USA) Team Maxxis                       2.55
5 Christine Vardaros (USA) Lotto - Belisol Ladiesteam    3.29
6 Anna Milkowski (USA) Velo Bella-Kona                   4.04
7 mackenzie dickey (USA)                                 4.38
8 Cris Rothfuss (USA) NEBC/Cycle Loft                    5.00
9 Stephanie White (USA) Velo Bella-Kona                  5.23
10 Melody Chase (USA) EndureXC                           5.47
11 Perri Mertens (USA) Harris Cyclery/Igleheart          5.57
12 Rebecca Wellons (USA) Gearworks/Spin Arts Cycling     6.04
13 Allie Kenzer (USA) Team International Bike/NERAC      6.07
14 Heidi von Teitenberg (USA) C3/ADG/Joe's               6.10
15 Sara Cushman (USA) Gear Works/Spin Arts               6.41
16 Marci Titus Hall (USA) DeSalvo Cycles                 6.52
17 Megan Bilodeau (USA) NCC - BikeReg.com                7.21
18 Rhonda Morin (USA) Portland Velo/ Cyclemania          7.41
19 Kerry Litka (USA) Team International Bike/NERAC       8.42

One lap behind

20 Brenda Bahnson (USA) Independent Fabrication              
21 Celeste Drumm (USA) FTS/Dave's Bike Shop                  
22 Susan MacLean (USA) Gear Works/Spin Arts Cycling Team     
23 Callie McDowell (USA) Velo Bella-Kona                     

 
One lap behind
20  Brenda Bahnson (Independent Fabrication)                        
21  Celeste Drumm (FTS/Dave's Bike Shop)                            
22  Susan MacLean (Gear Works/Spin Arts Cycling Team)               
23  Callie McDowell (Velo Bella-Kona)                               
 
Men B
 
1  Sean O'Rourke (Sibex Sports / TNMracing.net)                40.42
2  Stephen Weller (Cycle-Smart)                                 0.56
3  Patrick Goguen (NCC/Bikereg.com)                             1.12
4  matt boobar (SRAM)                                           1.22
5  PETE SMITH (Essex County Velo)                                   
6  Gary Douville (NEBC/Cycle Loft)                                  
7  Damien Colfer (Mechanical Services/Cycle Mania)                  
8  Ed Meyer (Dartmouth College Cycling)                             
9  Brian Keegan (NorEast/Alternative Wheels)                        
10  dan langlois (circleacyclocross)                                
11  Ron Colavolpe (Portland Velo Club/Cyclemania)                   
12  Ryan Kelly (UNH Cycling/Team 201A)                          1.59
13  Joshua Lipka (BCA/VOmax)                                        
14  Matthew Budd                                                2.10
15  Scott Dolmat-Connell (UVM Cycling)                          2.21
16  Colin Jaskiewicz (UVM Cycling)                                  
17  Sean Capizzo (Caster's/Majik Coffee p/b Apex Tech Group)    2.58
18  Joshua Austin (201A)                                            
19  Jerry Hughes (BIKEMAN.COM)                                  3.17
20  Ryan Rumsey (Bikeman.com)                                       
21  Luke Krisch (Independent Fabrication)                           
22  Colin H. Murphy (Essex County Velo)                         3.37
23  Jamie Pelletier (NCC/Bikereg.com)                           3.49
24  Anders Larson (BIKEMAN.COM)                                     
25  scott brooks (NEBC/Cycle Loft)                                  
26  Jeremy Dunn (Harris Cyclery/Igleheart Frames)               3.58
27  Mike Magur (verge sport/ test pilot)                            
28  Kyle Smith (Alan Factory Team)                                  
29  Corey Masson (TNMracing.net)                                    
30  Donald Snoop Jr (verge sport/ test pilot)                       
31  Steven Morse (BIKEMAN.COM)                                      
32  Jacob Morrison (Silver city cycling)                            
33  Ronnie Steers (Gamache Cyclery)                                 
34  Kirk Fongemie (Procon)                                          
35  Roy Van Cleef (NEBC/Cycleloft)                              5.02
36  Zach Magoon (BIKEMAN)                                       5.06
37  Brant Hornberger (NCC / BikeReg.com)                        5.05
38  Erik Osborn (BIKEMAN.COM)                                       
39  C. Greg Robidoux (Team International Bike/Nerac)                
40  nathaniel cook (Harris/Igleheart)                           5.23
41  Wade Hess (Team Beacon)                                     5.29
42  Ethan Parsons (NCC/BikeReg.com)                             6.04
43  Eric Wemhoff                                                6.13
44  Brendon Sullivan (Team International Bike/NERAC)                
45  Sean Langford (CCB VW)                                      6.18
46  Justin Ziemba (Team International Bike/NERAC)               6.26
47  Zachary Sager (bikeman)                                     7.08
48  Brian Walburn                                                   
49  Richard Brown (NorEast Cycling)                             7.21
50  Sol McClellan (NAV)                                         7.47
51  ryan littlefield (Filth)                                    7.54
52  Paul Everard (Team International Bike/NERAC)                8.11
53  Gary S. Keblish (Cycle-Smart, Inc.)                         8.25
 
One lap behind
54  Jim Wirtanen (harriscycleryracing.com)                          
55  Leyton Murray (Deno's Wonder Wheel)                             
56  C Todd Lombardo (Team International Bike/NERAC)                 
57  David Chiu (NEBC/CycleLoft)                                     
58  martin wright (HarrisCyclery/Igleheart)                         
 
U19 juniors
 
1  Jerome Townsend (ALAN)                                      34.11
2  Ethan Gilmour (K2 Bike)                                          
3  Luke Keough (CL Noonan/ Coast to Coast/ KAM)                     
4 Gavin Mannion (CCB/Volkswagen)                                0.05
5 Robert Schmidt (CBRC)                                         1.40
6 Ryan Barlow (ALAN)                                            2.02
7 brad perley (trek/cape-able bikes)                            2.28
8 Nicholas Keough (CL Noonan/ Coast to Coast/ KAM)              3.44
9 Manny Goguen (Union Velo)                                     5.19
10 Colin Huston (SMCC)                                          5.21
11 Steve Simmonds (SMCC)                                        6.30
 
One lap behind
12 Jesse Keough (CL Noonan/ Coast to Coast/ KAM)                    
 
Club juniors
 
1 Curtis White (CBRC/Capital Bicycle Racing Club)              16.59
2 Tommy Goguen (Union Velo)                                     0.52
3 Jarred Reuter (rt-44 Velo/Silver City)                        1.45
4 Peter Goguen (Union Velo)                                     2.06
 
Women B
 
1 Erin Carniff (Harborside)                                    41.07
2 Karin Holmes (Essex County Velo)                                  
3 Inghram Jessica (Essex County Velo)                          22.00
4 Mary Longhofer (Bikeman.com)                                 51.00
 
One lap behind

5 Karen Tripp (NorEast Cycling)                                     
6 Jennifer Stebbins (Dartmouth College Cycling)                     
7 Hannah Kirshner (the Hub/Circle-A)                                
8 Elizabeth White (NEBC/Cycleloft)                                  
9 Hanna Walton (FTS)                                                
10 Heidi Wakeman (Team Harborside Cycle)                            
11 Martha Wilson (Gearworks - Spinarts)                             
12 Jak Kukla (Noreast / UNH)                                        
13 Alexandra Jospe (Colby alum)                                     
14 Rachel Brown (Harvard Cycling)                                   
15 Rozanne Puleo (Team LUNA Chix)                                   
16 Cathy Rowell (NEBC/Cycleloft)                                    
17 Jennifer Rhodes (International Bicycle - NERAC)                  
18 Julie Lefebvre (Sturdy Girl Cycling)                             
19 Samantha Barlow (CUEVAS)                                         
20 Marcy Paul (HUP United)                                          
21 Kerry Combs (Independent Fabrication)                            
22 Hannah Sarnow (International Bicycle - NERAC)                    
23 Jennifer Muto                                                    
24 Elizabeth Liguori (Watchung Wheelmen)                            
25 Julie Lockhart (NEBC/Cycle Loft)                                 
 
Masters A 35+, 45+
 
1 Jonny Bold (Corner Cycle)                                    39.40
2 Pascal Bussières (Biogen idec Auberge La Goéliche)                
3 Sean Groom (Squadra Coppi/IM Saab)                            0.39
4 Kevin Hines (Gear Works / Spin Arts)                              
5 sam morse (Bicycle Link/MBRC)                                 0.52
6 michael yozell (Fort Factory Team)                            1.09
7 Mark Gunsalus (BikeBarnRacing.com)                            1.26
8 Christopher Long (Independent Fabrication/Gotham)             1.35
9 keith gauvin (Benidorm Bikes)                                 1.47
10 Greg Ferguson (FORT Factory Team)                            1.50
11 John Meerse (Hurricane Mountain Multisport)                  1.57
12 Todd Water (Union Velo)                                      2.08
13 Christopher Burke (Providence Velo)                          2.31
14 stephan marcoux (Louis Garneau/ski velo)                     2.51
15 Nathan McHugh (Simple Green/Volvo)                           3.06
16 John Mosher (Bicycle Link/MBRC)                              3.20
17 David Belknap (Bicycle Link/MBRC)                                
18 Gray Eldridge (Corner Cycle)                                 3.35
19 Tim Groesbeck (CCB)                                              
20 jeffrey molongoski (cyclonauts)                                  
21 Aaron Millett (Essex County Velo)                                
22 Kurt Perham (Cycle-Smart, Inc.)                                  
23 Alan Starrett (Bikeman.com)                                      
24 Mike Rowell (NEBC/CycleLoft)                                     
25 matt hersey (bikeman.com)                                        
26 Jan Wiejak (Verge Sport/ Test Pilot)                             
27 Paul Nyberg (Horst-Benidorm-Property Research Corp.)             
28 keith button (noreast cycling)                                   
29 Todd Wheelden (AEGIS/Kennebec Bike & Ski)                    4.19
30 paul lynch (bicyclelink/mbrc)                                4.20
31 eric marro (BOB/Skofield Builders)                               
32 Gene Petrella (CCB - Volkswagon)                                 
33 michael Bernard (Gear Works / Spin Arts)                     4.55
34 Robert Kramer (Alan Factory Team)                            5.11
35 William Sawyer (Gearworks - Spinarts)                        5.20
36 Arik Jon Holm (Union Velo)                                   5.32
37 Christopher Cyr (Bikeman.com)                                5.23
38 william Casazza (BOB/Naults)                                 6.02
39 John Grenier (BOB)                                           6.12
40 Brian Bigelow (BOB/Skofield Builders)                        6.30
41 Steven Kane (Byron Lake)                                         
42 Geoff Sullivan (Eastern Bloc Cycling Club)                   6.45
43 Paul Niehoff (Southern Maine Cycling Club)                   6.56
44 Bruce Bell (GMBC/Catamount)                                  7.06
45 Timothy Shea (BOB / SKOFIELD BUILDERS)                       7.16
46 Kurt Scheerer (Verge Sport/Test Pilot)                       7.35
47 Paul Weiss (Portland Velo Club)                              7.46
 
One lap behind
48 Eric deRivera                                                    
49 David Leedberg (GearWorks / Spin Arts)                           
 
Men C
 
1 Andrew Deke (PVC)                                            37.10
2 Kevin Cummisford (Boston Road Club)                           0.16
3 Tyson Parody (NCC/BikeReg.com)                                0.19
4 James Newton (Nerac.com / International Bike Centers)         0.30
5 Nathaniel Smith (Linscott Real Estate Racing)                 0.51
6 Oscar Jimenez (NEBC/Cycleloft)                                1.05
7 Matthew Reynolds (HealthQuest/Northern Lights)                1.11
8 chris butler (Butler Furniture/Gear Works)                    1.23
9 Ethan Dahlin Magoon (Bikeman.com)                             1.34
10 zachary wills (Alan factory Team)                            1.45
11 Eric Silva (QuadCycles/Arlington Bicycle Club)               1.47
12 Mike Anthony (NorEast Cycling /UNH Cycling)                  1.50
13 Tom Buttner (Verge Sport/ Test Pilot)                            
14 chris northcott (putney/West Hill)                               
15 Brendan Gallivan (Gallivan Corporation/cbrc)                     
16 Spike McLaughlin (Cox Communications Cycling Team)               
17 John Gibbons                                                 2.27
18 Jeff Lukach (Univ of New Hampshire Cycling)                  2.36
19 Justin Roth (Harris Cyclery)                                 2.58
20 zachary jones                                                3.10
21 Matthew Richard (Maine Cycling Club)                             
22 Brian Croteau (Noreast Cycling)                              3.22
23 Sven Cole (Team Weak and Feeble)                             3.25
24 David Loszewski (B.O.B. Cycling)                                 
25 Christian Eager (QuadCycles/Arlington Bicycle Club)          3.42
26 Theodore Essenfeld (US Navy)                                 5.11
27 James Casady                                                 5.26
28 Paul DeBitetto (Boston Triathlon Team)                       5.37
29 Marc D'Amour (Maine Cycling Club)                            5.43
30 Matthew Swan (Healthquest/Northern Lights)                   5.48
31 Bill Maidment                                                6.24
32 Joe Rapuano (Essex County Velo)                              6.54
33 john torrey (Go Daddy Go)                                    7.10
34 David Shedd (SMCC)                                           8.07
35 gary lavigne (Southern Maine Cycling Club)                   8.11
36 Lee Strout (Maine Cycling Club)                              8.30
37 Elaine DeBitetto (Boston Triathlon Team)                     9.07
 
Masters B 35+, 45+
 
1 Harry Stover (bikebarn racing)                               37.13
2 coley bryan (harborside cycle)                                0.42
3 Mike Troisi (Gear Works)                                      0.59
4 George Gagnon (Naults.com)                                    1.38
5 Jamie Wright (SMCC)                                           1.47
6 kevin callahan (Bicycle Link/MBRC)                            1.51
7 Daniel Russell (Bicycle Link/MBRC)                                
8 Jason Guestin                                                     
9 chip baker (Sycip Racing)                                         
10 Michael Bradford (Naults.com)                                    
11 Don Seib (NEBC/Cycleloft)                                    2.26
12 Rick Desmarais (union velo)                                  2.36
13 Phil Brubaker (Putney/West Hill)                             2.56
14 Derek Griggs (Recycled Sports)                               3.01
15 robert tutwiler (noreast cycling)                            3.05
16 Ralph Karam (SMCC)                                           3.10
17 John Tommasi (BOB/Skofield Builders)                         3.25
18 Mark Suprenant (CCB/Volkswagen)                              3.38
19 John Plump (Quad Cycles)                                     3.45
20 Tim Savage (Minuteman Road Club)                             3.50
21 Ned Connell (Putney/West Hill)                               4.08
22 Michael Olbrys (Minuteman Road Club)                         4.13
23 Scott Roy (Bicycle Link MBRC)                                4.28
24 Jeff Dixon (Downeast Cross)                                  4.44
25 wayne barlow (coyote hill)                                       
26 Ken Jayne (AMGEN)                                            5.35
27 Kevin Young (Minuteman Road Club)                            6.24
28 Bill Doonan (NEBC/Cycleloft)                                 6.50
29 Tim Corcoran (SMCC)                                              
30 Herbert Taylor (Bikeman.com)                                 7.45
31 Todd Savage (Southern Maine Cycling Club)                    7.52
32 Chris Duffey (Bicycle Link/MBRC)                                 
 
Masters 55+
 
1 David Rath (GMBC/Catamount)                                  37.43
2 Bannister Phillip (Putney/West Hill)                          0.56
3 Joe Hepp (Southern Maine Cycling Club)                        5.19
4 jim quinn (the bicycle link)                                      
5 James Themig (Mystic Velo MCRA)                               5.44
6 Jim Dowling (Maine Cycling Club/Rainbow)                      7.19

Past winners
2005 M: Mark McCormack (Clif Bar)   W: Lynne Bessette (Cyclosrossworld.com)

2004 M: Mark McCormack (USA)        W: Mary McConneloug (USA)
2003 M: Marc Gullickson (Redline)   W: Mary McConneloug (Seven Cycles)
2002 M: Marc Gullickson (Mongoose)  W: Mary McConneloug (Seven)
2001 M: Jonny Sundt (K2 Bike)       W: Lyne Bessette (Saturn)