Superprestige #1 - Ruddervoorde - C1
Ruddervoorde, Belgium, October 15, 2006
2005 Results Results Past winners
Nys simply the best
By Brecht DecaluwÚ
Sven Nys
Photo ©: Brecht DecaluwÚ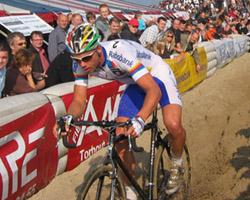 During the first of eight events of the 2006/07 elite cyclo-cross seaosn, Sven Nys (Rabobank) made clear that he - once more - is the big favourite for the overall win.
Weather conditions in Ruddervoorde were still fairly unusual for cyclo cross. Dry weather created a hard, dry and fast course and this tends to frighten the attackers. Sven Nys knew that and he waited … only one lap! The UCI-leader then geared up to his real competition speed. Nobody could follow the Belgian champion and they never saw him back. Sven Nys gathered an advantage of 40" and grabbed the win in a very crowded and sunny Ruddervoorde.
Nys explained his glamorous performance after the race: "Yesterday (in Dottignies) I was already very good. When I came to Ruddervoorde I knew I would be good as well. I've been sleeping in my special room which simulates a high altitude. I'm competing near my maximum now and apparently my race speed is just too high for the other riders ... I'm eager for some races with mud as they should fit me even more!"
Behind Nys, the battle for second place was won by local hero and teammate Sven Vanthourenhout. "I feel like a rider who's always worth a podium place," Vanthourenhout said. "Hopefully I can get battle for the victory in the near future."
Bart Wellens (Fidea) lost ground during the start but recovered well as he managed to grab third place: "I don't know what happened but I just couldn't move up during those first laps. I even dropped back to about 25th place on a sudden moment!" Wellens kept battling and grabbed a well deserved third place: "I can't ride like some others who are accepting the dominance of Sven Nys and just battle for place two."
The only surprise in the top ten was Jan Soetens; his seventh place was the best result of the season for the 22 year old Belgian. Czech rider Petr Dlask had a dissapointing race maybe because he had a mechanic early on in the race; he could never get back to the front rows again.
U23 world champion
Photo ©: Brecht DecaluwÚ

The U23 race featured two big names of its own. The talented young riders Niels Albert (Palmans) and Zdenek Stybar (Fidea) chose to compete. These two riders both won some big races with the elite riders so we expected them to dominate the race. This was true but they didn't do it alone; Rob Peeters (Kon. Balen) and Dieter Vanthourenhout (Wielergroep Beveren) did more than hang on. Rob Peeters had a few metres during the last lap but it all came down to a sprint with three men. Sprinting is the cup of tea of Zdenek Stybar, he won before Niels Albert and Rob Peeters.
Stybar explained what his tactics were: "It was pretty easy for me, I just followed the wheels because I raced a lot last week. In the sand I tried a few times to get away, trying to make the others tired. Then I just waited for the finish line as I know I'm the fastest rider." Niels Albert wasn't unhappy with his second place: "He wins big races with the big guys, I do the same. So now it proves that the level in the U23 races rose again. Stybar has beaten me now but I hope to beat him as well in the near future."
How it unfolded
The long paved starting line was ideal for the road cyclists and hence Italian Enrico Franzoi (Lampre) took the lead from the start. Bart Wellens (Fidea) and Sven Vanthourenhout (Rabobank) suffered another bad start. Tom Vannoppen probably didn't expect anything else as he continued his string of bad performances this season with another one in Ruddervoorde. Sven Nys (Rabobank) waited only one lap before he unleashed his first attack.
The bunch came back but it looked like they suffered. Nys' second acceleration was good enough to ride away from the bunch. It looked still early but it proved to be the decisive attack. Erwin Vervecken led the chase behind the demonstrating Sven Nys. He extended his advantage with almost 10" a lap. The one-man-show from Sven Nys grew in grandness, just like his lead which grew up to 50" after eight laps. Behind the Belgian champion there was no real organised pursuit going on. There were only some solo efforts from the recovered Sven Vanthourenhout, Tim Pauwels and Bart Aernouts.
This made clear that there was only a battle for place two going on. With three laps to go Bart Wellens suddenly returned to the front line and he blew up the bunch. The advantage from Nys was brought down a little, nevertheless it was too late to grab the UCI-leader. At the finish line Sven Nys still had an advantage of 21" on Sven Vanthourenhout who got rid of Bart Wellens during the last lap. Those two had a good advantage on Erwin Vervecken (4th) who could win the sprint from Dutch veteran Richard Groenendaal.
Photography
For a thumbnail gallery of these images, click here
Images by Brecht DecaluwÚ/Cyclingnews
Images by Dries Knockaert/Cyclingnews
Geert Wellens following Mario Cipollini? Not certain, but Maxime Lefebvre is certainly behind
Sven Nys is the current UCI-leader, Belgian champion and leader in the first Superprestige race
Sven Nys riding down an artificial hill
Results

Elite Men
 
1 Sven Nys (Bel) Rabobank                               1.03.08
2 Sven Vanthourenhout (Bel) Rabobank                       0.21
3 Bart Wellens (Bel) Fidea Cycling Team                    0.30
4 Erwin Vervecken (Bel) Fidea Cycling Team                 1.02
5 Richard Groenendaal (Ned) Rabobank                       1.04
6 Klaas Vantornout (Bel) Fidea Cycling Team                1.07
7 Jan Soetens (Bel) Jartazi-7Mobile                        1.13
8 Kamil Ausbuher (Cze) Cykloklub Podborany                 1.27
9 Kevin Pauwels (Bel) Fidea Cycling Team                   1.30
10 Bart Aernouts (Bel) Rabobank
11 Gerben De Knegt (Ned) Rabobank                          1.36
12 Al Thijs (Ned) Bejan-Rings                              2.22
13 Davy Commeyne (Bel) Palmans Collstrop
14 Enrico Franzoi (Ita) Lampre - Fondital                  2.38
15 Tim Van Nuffel (Bel) Stevens Racing Team
16 Arne Daelmans (Bel) Palmans Collstrop                   2.53
17 David Willemsens (Bel) Vos Sportief                     2.55
18 Wilant Van Gils (Ned) ZZPR.nl                           3.07
19 Wim Jacobs (Bel) Van Der Vorst Cycling Team             3.18
20 Maarten Nijland (Ned) Procomm-Van Hemert                3.24
21 Bart Dirckx (Ned)                                       3.33
22 Jan Verstraeten (Bel) Fidea Cycling Team                3.35
23 David Seco (Spa)
24 Marek Cichosz (Pol) Entente Cycliste Raismes            3.53
25 Maxime Lefebvre (Fra)
26 Stijn Penne (Bel) Onder Ons Parike                      4.00
27 Nico Clarysse (Bel)                                     4.09
28 Radomir Simunek (Cze) Palmans Collstrop                 4.11
29 Geert Wellens (Bel) Fidea Cycling Team
30 Cyrille Bonnand (Fra)                                   4.23
31 Johan Van De Ven (Ned) Team Brabant 2000                4.26
32 Jean-Pierre Leijten (Ned)                               4.30
33 Petr Dlask (Cze) Fidea Cycling Team                     4.37
34 Peter Van Santvliet (Bel)                               4.51
35 David Meys (Bel) Profel-Ziegler Continental Team        4.58
36 Christoph Roofdhooft (Bel)                              5.00
37 Tom Vannoppen (Bel) Palmans Collstrop
38 Steve Gruwier (Bel)
39 Andrzej Kaiser (Pol) DHL Author
40 Jorn Van Der Veken (Bel) Profel-Ziegler Continental T   5.45
41 Ronald Mutsaars (Ned) ZZPR.nl                           6.04
 
One lap behind
42 Christophe Delamarre (Bel)
 
Two laps behind
43 David Laenen (Bel)
44 Steven Decaluwe (Bel)
45 Jorm Hartogs (Ned)
46 Jo Naert (Bel)
47 Dariusz Gil (Pol) KS Scout
 
Three laps behind
48 Kevin Bossaerts (Bel)
49 Tom Pynaert (Bel)
50 Edwin van Pinxteren (Ned)
 
Four laps behind
51 Frederick Vandevivere (Bel) WT Morel En Zoon De Pinte
52 Steven De Schoesitter (Bel) Rudyco Lokeren
53 Jan Van Donink (Bel)
54 James Goossens (Bel)
55 Johan Myngheer (Bel)
56 Erik Myngheer (Bel)
 
Five laps behind
57 Freddy De Meester (Bel) Gentse Velosport
 
U23
1 Zdenek Stybar  (Cze) Fidea Cycling Team          48.21
2 Niels Albert (Bel) Palmans-Collstrop
3 Rob Peeters (Bel)
4 Dieter Vanthourenhout (Bel)                       0.03
5 Boy van Poppel (Ned)                              0.38
6 Tom Van den Bosch (Bel)
7 Tom Meeusen (Bel)
8 Eddy van IJzendoorn (Ned)
9 Ricardo van der Velde (Ned)
10 Wim Leemans (Bel)
11 Jempy Drucker (Lux)
12 Maxim Debusschere (Bel)                          1.05
13 Stijn Huys (Bel)                                 1.09
14 Finn Heitmann (Ger)                              1.13
15 Daan de Jonge (Ned)
16 Kay Van den Brande (Bel)
17 Rafael Visinelli (Ita)
18 Bj÷rn De Decker (Bel)
19 Quentin Bertholet (Bel)
20 Kevin Cant (Bel)                                 1.49
21 Benjamin Hill (Ger)                              1.57
22 Kenny Geluykens (Bel)
23 Kenneth Van Compernolle (Bel)
24 Gianni Denolf (Bel)
25 Thomas Vrenaeckt (Bel)                           2.28
26 Bart Verschueren (Bel)                           2.36
27 Rik van IJzendoorn (Ned)                         2.43
28 Jerry Kallenfels (Ned)
29 Dawid Romanowski (Pol)                           3.03
30 Jan Aernouts (Bel)                               3.13
31 Davy Depaepe (Bel)                               3.20
32 Dennis Verhoeven (Bel)
33 Thomas Boeckx (Bel)                              3.26
34 Edwin Arts (Ned)
35 Ivar Hartogs (Ned)                               3.35
36 Sylvester Janiszewski (Pol)
37 Jorn van Veen (Ned)                              3.40
38 Toon Devenyns (Bel)                              3.44
39 Jan Verhaegh (Bel)
40 Bart Wouters (Bel)                               3.52
41 Rik Adriaans (Ned)                               4.02
42 Gerald Uyttersprot (Bel)
43 Bart Senders (Ned)
44 Jan Van Dael (Bel)                               4.08
45 Dries Govaerts (Bel)
46 Willem Schwaner (Ned)                            4.15
47 Jeroen Dekkers (Ned)
48 Dries Dewit (Bel)                                4.25
49 Valentijn Ponseele (Bel)                         4.37
50 Kevin Demeester (Bel)
51 Dave De Cleyn (Bel)                              4.50
52 Gregory Franckaert (Bel)
53 Sander Bouwens (Ned)                             4.59
54 Pieter Reekmans (Bel)                            5.50
55 Daan Bongers (Ned)                               6.12
56 Hans Van den Bogaert (Bel)
57 Koen van Grootel (Ned)                           6.19
58 Davy Traen (Bel)                                 6.23
59 Christopher Janssens  (Bel)
60 Elmer Walraedt (Bel)                             7.00
61 Mathias Holvoet (Bel)
62 Joeri Calleeuw (Bel)
63 Olivier Maes (Bel)
64 Tom Lambrechts (Bel)
65 Kenneth Van Renterghem (Bel)
66 Matthieu Holvoet (Bel)
67 Tom Decock (Bel)
68 Dries Cauwelier (Bel)
 
Juniors 
 
1 Jim Aernouts  (Bel)                              37.42
2 Ramon Sinkeldam (Ned)
3 Vincent Baestaens (Bel)                           0.07
4 Joeri Adams (Bel)                                 0.14
5 Kevin Eeckhout (Bel)                              0.20
6 Yannick Wydooghe (Bel)                            0.39
7 Dimitri Stevens (Bel)                             0.47
8 Bart Hermans (Bel)                                0.50
9 Bart Bruyndonckx (Bel)                            1.03
10 Sven Verboven (Bel)
11 Frederick Catrysse (Bel)
12 Kristof Cop (Bel)                                1.28
13 Jordy Beuker (Ned)                               1.39
14 Vincent Renaux (Fra)                             1.44
15 Geert Van der Horst (Ned)                        1.47
16 Rob van der Velde (Ned)
17 Marko Minnaard (Ned)                             1.59
18 Kevin Smit (Bel)                                 2.05
19 Twan van den Brand (Ned)
20 Kaell Pizzy (Bel)                                2.13
21 Vincent Meyvis (Bel)
22 Harm van der Sanden (Ned)
23 Kevin Knops (Ned)                                2.19
24 Michiel Dieleman (Bel)                           2.37
25 Marcel Meisen (Ger)                              2.46
26 Jarno Van de Casteele (Bel)                      2.50
27 Bart Barkhuis (Ned)
28 Piotr Antkowiak (Pol)                            2.58
29 Bert Cattrysse (Bel)                             3.06
30 Zeb Willems (Bel)                                3.17
31 Nick De Proost (Bel)                             3.21
32 Jasper Ockeloen (Bel)
33 Matthias Moeyaert (Bel)                          3.25
34 Steven van Leyen (Ned)
35 Raf Pluym (Bel)
36 Kristof Scheirs (Bel)
37 Tommy van Beem (Ned)
38 Jordy van Erp (Ned)                              3.40
39 Simon Geets (Bel)                                3.45
40 Thomas Gysbrechts (Bel)
41 Jochen Torfs (Bel)                               3.58
42 Ferdi Gerritse (Ned)                             4.10
43 Mickey Kallenfels (Ned)                          4.15
44 Sylvester Sioen (Bel)                            4.19
45 Jochen Despeghel (Bel)                           4.30
46 Rudy Kowalski (Fra)
47 Yannick Pauwels (Bel)                            4.46
48 Veerle Ingels (Bel)                              4.57
49 Kim Goethals (Bel)                               5.25
50 Niels Van Craen (Bel)                            6.19
51 Kathy Ingels (Bel)
52 Jeffrey Depuydt (Bel)                            6.28
53 Erwin van Dijk (Ned)                             7.05
54 Ruben Doornaert (Bel)                            7.28
55 Sanne van Paassen (Ned)
56 Kenneth Alleman (Bel)
58 Michael De Meyer (Bel)
59 Joachim Janssens (Bel)
 
Novice
 
1 Matthias Bossuyt (Bel)                           33.00
2 Guillaume Van Keirsbulck (Bel)                    0.30
3 Cor van Kessel (Ned)                              0.37
4 Vinnie Braet (Bel)
5 Niels Wytinck (Bel)                               0.46
6 Xandro Meurisse (Bel)                             1.00
7 Daan Meijers (Ned)                                1.23
8 Robin Poelvoorde (Bel)                            1.29
9 Gert-Jan Opsomer (Bel)                            1.34
10 Simon Declercq (Bel)
11 Ritchie Denolf (Bel)
12 Andy Wagemans (Bel)                              2.03
13 Jelle Cant (Bel)                                 2.10
14 Anthony Taveirne (Bel)                           2.16
15 Niels Koyen (Bel)                                2.21
16 Thomas Verbeeck (Bel)                            2.25
17 Dieter Peeters (Bel)                             2.29
18 Raf Risbourg (Bel)                               2.36
19 Niels Godderis (Bel)                             2.39
20 Sanne Cant (Bel)
21 Oscar Riesebeek (Ned)                            2.44
22 Jasper Baert (Bel)                               2.48
23 Jens Adams (Bel)                                 2.50
24 Kristof Van den Eynde (Bel)                      2.58
25 Thomas Van Overbeke (Bel)                        2.59
26 Jelle Storms (Bel)
27 Dylan Desruelle (Bel)
28 Karl Peeters (Bel)                               3.16
29 Orri Vandendriessche (Bel)
30 Wim Allary (Bel)
31 Dion Vanhommerig (Ned)                           3.37
32 Niels Meeusen (Bel)
33 Christophe Ysenbaardt (Bel)                      3.53
34 Jelle Dejonghe (Bel)                             3.54
35 Alois Mus (Bel)
36 Matthias Vermeire (Bel)
37 Elias Hoop (Bel)                                 4.05
38 Robin Wennekes (Bel)
39 Matthias Siracusa (Bel)                          4.10
40 Jens Joosen (Bel)                                4.15
41 Simon Lapeire (Bel)                              4.19
42 Rinze De Proost (Bel)
43 Gianni Vermeersch (Bel)
44 Niek Lepoudre (Bel)
45 Clint Van Droogenbroeck (Bel)                    4.25
46 Stijn Provost (Bel)                              4.35
47 Sonny Volders (Bel)                              4.50
48 Ruben Van Raepenbusch (Bel)                      5.06
49 Nick Van den Eynde (Bel)                         5.13
50 Martijn Pastoors (Ned)
51 Rutger La Haye (Bel)                             5.33
52 Dieter Eyskens (Bel)                             5.37
53 Martijn Lambrecht (Bel)
54 Ybe Vandorpe (Bel)                               6.05
55 Koen Vandeput (Bel)                              6.17
56 Ilse Vandekinderen (Bel)                         6.24
57 Nick Vandenberghe (Bel)                          6.30
58 Flor Pyfferoen (Bel)                             6.41
59 Geert Kuit (Ned)
60 Bert Noterman (Bel)                              7.02
61 Simon Doornaert (Bel)                            7.06
62 Dimitri Michielsen (Bel)
63 Mike Mutsaerts (Bel)
64 Gijs Schefferlie (Ned)                           7.19
65 Jonas De Buyser (Bel)
66 Jens Tylleman (Bel)
67 Joris Tips (Bel)                                 7.29
68 Dennis Van Aalst (Ned)
69 Kim Van Renterghem (Bel)
70 Danny Ariesen (Ned)
71 Dylan Galens (Bel)
72 Tim Deceuninck (Bel)
73 Joshua Omez (Bel)
74 Jimmy Cornu (Bel)
 
Superprestige standings after race #1
 
Elite men
 
1 Sven Nys                              15 pts
2 Sven Vanthourenhout                   14
3 Bart Wellens                          13
4 Erwin Vervecken                       12
5 Richard Groenendaal                   11
6 Klaas Vantornout                      10
7 Jan Soetens                            9
8 Kamil Ausbuher                         8
9 Kevin Pauwels                          7
10 Bart Aernouts                         6
11 Gerben de Knegt                       5
12 Thijs Al                              4
13 Davy Commeyne                         3
14 Enrico Franzoi                        2
15 Tim Van Nuffel                        1
 
U23
 
 
U 23

1 Zdenek Stybar                         15 pts
2 Niels Albert                          14
3 Rob Peeters                           13
4 Dieter Vanthourenhout                 12
5 Boy van Poppel                        11
6 Tom Van den Bosch                     10
7 Tom Meeusen                            9
8 Eddy van IJzendoorn                    8
9 Ricardo van der Velde                  7
10 Wim Leemans                           6
11 Jempy Drucker                         5
12 Maxim Debusschere                     4
13 Stijn Huys                            3
14 Finn Heitmann                         2
15 Daan de Jonge                         1
 
Juniors
 
1 Jim Aernouts                          15 pts
2 Ramon Sinkeldam                       14
3 Vincent Baestaens                     13
4 Joeri Adams                           12
5 Kevin Eeckhout                        11
6 Yannick Wydooghe                      10
7 Dimitri Stevens                        9
8 Bart Hermans                           8
9 Bart Bruyndonck                        7
10 Sven Verboven                         6
11 Frederick Catrysse                    5
12 Kristof Cop                           4
13 Jordy Beuker                          3
14 Vincent Renaux                        2
15 Geert van der Horst                   1


 

Past winners
2005 Bart Wellens (Bel) Fidea Cyclocrossteam
2004 Sven Nys (Bel) Rabobank
2003 Bart Wellens (Bel) Spaar Select
2002 Sven Nys (Bel) Rabobank
2001 Bart Wellens (Bel) Spaar Select
2000 Richard Groenendaal (Ned) Rabobank
1999 Sven Nys (Bel) Rabobank

Past winners by Mario Stiehl, www.world-of-cycling.com