Rad Cup, USGP #5
Lakewood, Washington, USA, November 18, 2006
Trebon and Compton continue to dominate USGP Series
Women's race came down to a sprint
Photo ©: Mitch Clinton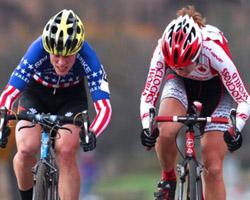 Ryan Trebon (Kona) continued his winning ways, Katie Compton (Spike) made it three for three and Lyne Bessette (cyclocrossworld.com) regained the women's lead as the 2006 Crank Brothers U.S. Gran Prix of Cyclocross entered its final weekend at the Rad Cup Presented by Seasoned Skewers in Lakewood, Washington.
Elite Men
For most of the race, there was a sizable group of about nine riders in front. Of that group Ryan Trebon (Kona), Tim Johnson (Cannondale/Cyclocrossworld.com and Todd Wells (GT) looked to be the strongest.
With about three to go, Trebon and Wells were off the front with a small gap over Johnson. With 2 ½ to go, Wells had a mechanical and dropped out of contention leaving Trebon and Johnson away to duke it out for the win. As the two entered a turn with about two laps to go, Johnson slid out in a wet corner giving Trebon just enough of a gap to stay away for the win.
Geoff Kabush (Maxxis) edged Ben Jacques-Maynes (Cyclocrossworld.com) in a sprint for third with Jonathan Baker (Harshman Wealth Management / Primus Mootry) finishing fifth. Trebon retains the white leader's jersey and a 40 point lead over Johnson as the series heads into Sunday's final race.
Women
On the women's side, it was reining USGP women's champ Lyne Bessette (Cyclocrossworld.com) and US National Champ Katie Compton (Spike) away for most of the race. Wendy Simms (Kona) was able to hang with Compton and Bessette for a few laps before they got a gap and stayed away. Series leader Georgia Gould (Luna) caught Simms eventually but was never in contention for the win today.
It came down to the last lap where Bessette lead out and Compton bided her time until the final sprint where Compton barely edged Bessette by half a wheel to take the win. Following were Gould and Simms sprinting for third with Simms edging Gould for the last podium spot. Kerry Barnholt (Tokyo Joe's / Gary Fisher) finished fifth.
Entering today, it was series leader Gould holding just a four point advantage over reining USGP champ Lyne Bessette (Cyclocrossworld.com) in the overall standings. With her second place finish today, Bessette now has a six point advantage over Gould heading into the final weekend.
Juniors
The junior race there was a group of six riders away for most of the race -- Danny Summerhill (TIAA-CREF/CLIF BAR), Ethan Gilmour (K2 Bike - Okemo - Coyote Hill), Steve Fisher (Rad Racing NW), Jerome Townsend (Alan), Sean Worsech (Rad Racing NW) and Nick Keough (CL Noonan/ Coast to Coast/ KAM). Summerhill eventually got a gap and held on easily for first. Worsech finished alone in second. There was a sprint for third with Fisher edging Keough. Jim Lennon (TIAA-CREF/CLIF BAR) finished fifth. With the win today, it's Summerhill taking the USGP lead.
U23
In the U23 competition, it was Jesse Anthony (Team Clif Bar) taking the win followed by Morgan Schmitt (Hagens-Berman LLP Cycling) in second and Chance Noble (California Giant Strawberries/Specialized) in third. Nick Weighall (Alan Factory Cyclocross Team) finished fourth and current USGP leader Jamey Driscoll (FiordiFrutta) finishing in fifth. Driscoll retains the jersey going heading into the final day of racing.
Masters 35+
In the masters race it was Mark Noble (California Raisins Masters Cycling Team) riding his first race of the series taking the win edging Will Black (Lone Star Racing). Dale Knapp (Kona) finished third with Todd Hoefer (California Giant Strawberries/Specialized) and Todd Cassan (NYC Velo) rounding out the top five. Despite his seventh place finish today, Roger Aspholm (Westwood Velo) retains the leader's jersey.
Photography
For a thumbnail gallery of these images, click here
Images by Mitch Clinton/www.clintonphoto.com
Images by Hyun Lee
Images by Russ and Nancy Wright/www.abbiorca.com
Images by Susan Candee
Images by Mark Legg/Mark Legg
Images by Tim Brennan/servicecourseimages.com
Results
Elite Men
 
1 Ryan Trebon (Kona)                                                   59.50
2 Tim Johnson (Cannondale/cyclocrossworld.com)                          0.05
3 Geoffrey Kabush (Maxxis)                                              0.46
4 Ben Jacques-Maynes (cyclocrossworld.com/SRAM)                             
5 Jonathan Baker                                                        0.58
6 Barry Wicks (Kona)                                                        
7 Todd Wells (Team GT)                                                      
8 Mark Mccormack (Clif Bar)                                             1.52
9 Matt Shriver (Sonic)                                                  1.59
10 Adam Craig                                                               
11 Jeremy Powers (Jelly Belly)                                          2.13
12 Andy Jacques-Maynes (California Giant Strawberries/Specialized)      2.15
13 Mathieu Toulouse (Team Maxxis Cyclocross)                                
14 Jonny Sundt (Hagens-Berman LLP Cycling)                              2.29
15 Erik Tonkin (Kona)                                                       
16 Jesse Anthony (Clif Bar)                                             2.41
17 Christopher Horner (Specialized)                                     2.46
18 Troy Wells (TIAA-CREF/CLIF BAR)                                      3.12
19 Morgan Schmitt (Hagens-Berman LLP Cycling)                           3.15
20 Steve Tilford                                                        3.20
21 Brent Prenzlow                                                           
22 Chance Noble (California Giant Strawberries/Specialized)             3.30
23 Kevin Bradford-Parish (REDLINE FACTORY TEAM)                             
24 Carl Decker (Giant)                                                      
25 Molly Cameron (Vanilla bicycles!)                                    3.34
26 Russell Stevenson (Benaroya Research Institute Cycling Team)         3.41
27 Kris Sneddon (Kona Lesgets)                                          3.48
28 Nicholas Weighall (Alan Factory Cyclocross Team)                     4.07
29 Chris Mcgovern (Sonic Syclocross)                                    4.11
30 Jamey Driscoll (FiordiFrutta Elite Cycling Team)                     4.20
31 Joshua Snead (HRS-Rock Lobster)                                      4.35
32 Matt Kraus (Alan Factory Team)                                           
33 Grant Berry (Team Rocky Mtn Chocolate Factory)                           
34 Brandon Dwight                                                           
35 Joey Thompson (Rocky Mtn Chocolate Factory Cycling)                      
36 Andreas Hestler (Rocky Mountain Business Objects)                    4.40
37 Stuart Gillespie                                                         
38 Ryan Hopping (Redbike.ca racing)                                         
39 Ian Mackie (BRI)                                                         
40 Stan Jurga (Independent Fabrication/Channel Cafe)                    5.16
41 Bjorn Selander (Alan Factory Team)                                   5.20
42 Ryan Iddings (Redline Factory Team)                                  5.34
43 Ian Brown (River City Bicycles/ TonicFab.com)                        5.38
44 Shannon Skerritt                                                     5.42
45 Justin Robinson (California Giant Strawberries/Specialized)              
46 Kevin Hulick (Vanilla Bicycles)                                          
47 Whitey Debroux                                                       6.09
48 Michael Gallagher (U S Armed Forces)                                 6.20
49 Brady Kappius (TIAA-CREF/CLIF BAR)                                   6.37
50 Mike Easter (Nonstop Ciclismo)                                           
51 Troy Kilgore (Boulder Cycle Sport)                                   6.50
52 Jesse Giordano                                                       7.09
53 Taylor Kneuven (Harshman Wealth/ Primus Mootry)                          
54 John Behrens (Celo Pacific/ProBikeSupport.com)                       7.29
55 Mitchell Peterson (Devo)                                             7.52
56 Sven Sturm (TREK Red Truck Ale)                                      7.57
57 Evan Plews (Capitol Subaru Cycling)                                      
58 Jonathan Gormick (Steed Cycles/SRAM/RBCDS.com)                       8.13
59 Ryan Barthel (Rocky Mountain Chocolate Factory)                      8.25
60 Damian Schmitt (Hagens Berman Cycling LLP)                               
61 Scott Carlile (Sunnyside Sports)                                         
62 Kristopher Holden (Vertical Earth)                                   8.42
63 Zoltan Tisza (Rocky Mountain/AXIS)                                   9.22
 
1 lap down
64 Luke Brechwald (Sonic U23)                                               
65 Dan Neyens (Hagens-Berman LLP Cycling)                                   
66 Nick Friesen (Pedalhead Roadworks)                                       
67 Duncan Mcgovern                                                          
68 John-Christian Flack (The Valley Athletic Club)                          
69 Zac Daab (Hup United)                                                    
70 Phil Grove (Hagens Berman Cycling)                                       
71 Scott Malone (Steed Cycles / SRAM / RBCDS.com)                           
72 Bill Olson (Sun Valley Road & DIrt)                                      
73 Shaun Adamson (Juventus)                                                 
74 Nathan Bannerman (Bicycle Centers Racing)                                
75 Colt Mcelwaine (NERD Cycling)                                            
76 Mike Bidniak (Juventus)                                                  
77 Scott Mcgregor (Steed Cycles / SRAM)                                     
78 Jon Hansen (Sunnyside Sports)                                            
79 Scott Kelly (Freewheel Cycle/Opus/McMaster Cycling)                      
80 John Meehan (Iowa City Cycling Club)                                     
81 David Fleischhauer (Sonic U23)                                           
DNF Kevin Noiles (MASI-ADOBE)                                               
DNF Christopher Pietrzak (Porcupine/Specialized)                            
DNF Alex Howes (TIAA-CREF/CLIF BAR)                                         
DNF Peter Stetina (TIAA-CREF/CLIF BAR)                                      
DNF David Richter (Redline)                                                 
DNF Michael Hosey (Soulcraft)                                               
DNF Matt Wittler (Sierra Express)                                           
 
Elite Women
 
1 Katie Compton (Spike Professional/Primus Mootry)                     41.52
2 Lyne Bessette (cyclocrossworld.com)                                       
3 Wendy Simms (Kona)                                                    0.43
4 Georgia Gould (Luna Women's MTB Team)                                     
5 Kerry Barnholt (Tokyo Joe's / Maxxis)                                 1.10
6 Katerina Nash (Luna Women's MTB Team)                                     
7 Rhonda Mazza (Team S&M/Vanilla Bicycles)                              1.57
8 Melissa Thomas (Team Maxxis)                                          2.18
9 Sarah Kerlin (Velo Bella-Kona)                                        2.24
10 Rachel Lloyd (Proman/Paradigm)                                       2.28
11 Megan Monroe (Sports Garage-BMC)                                     2.36
12 Sue Butler (River City Bicycles)                                     2.44
13 Wendy Williams (River City Bicycles)                                     
14 Maureen Brunoroy (Independent Fabrication/Wheelworks)                2.47
15 Tara Ross (Cheerwine)                                                2.57
16 Kristi Berg (Team Group Health)                                      3.18
17 Ann Knapp (KONA)                                                     3.35
18 Brigette Stoick (River City Bicycles)                                3.57
19 Kathy Sherwin (Ford Cycling)                                         3.59
20 Amanda Shaw (Team Biovail)                                           4.02
21 Erin Kassoy (Velo Bella-Kona)                                            
22 Anna Milkowski (Velo Bella-Kona)                                     4.16
23 Dellys Starr (Sports Garage)                                         4.37
24 Catherine Johnson (Pro Peloton Racing)                               4.40
25 Megan Elliot (Specialized)                                           4.55
26 Sami Fournier (Organic Athlete/Sunnyside Sports)                         
27 Ingrid Spies (Recycled Cycles)                                       5.01
28 Hollie Mcgovern (Sonic Cyclocross)                                   5.08
29 Catherine Wahlberg                                                   5.43
30 Shannon Holden (Velo Bella- Kona)                                    6.08
31 Dorothy Wong (Figueroa Farms-Redline-MS Society (TeamRedFig.com))    6.14
32 Jadine Riley (Team Group Health)                                     6.21
33 Lea Stralka (Byrne Invent)                                               
34 Jaymie Mcgowan (Oak Bay Bikes)                                       7.07
35 Jennifer Gersbach (Tokyo Joe's)                                      7.53
36 Karen Watson (McMaster Cycling Club)                                 8.11
DNF Tela Crane (Sonic U23)                                                  
DNF Nicola Mann (Ti Cycles/Avanti Racing)                                   
DNF Allison Beall (Emde Sports)                                             
 
Juniors
 
1  Danny Summerhill (TIAA-CREF/CLIF BAR)                               32.20
2  Sean Worsech (Rad Racing NW)                                         0.08
3  Steve Fisher (Rad Racing NW)                                         0.13
4  Nicholas Keough (CL Noonan/ Coast to Coast/ KAM)                         
5  Jim Lennon (TIAA-CREF/CLIF BAR)                                      1.02
6  Ethan Gilmour (K2 Bike - Okemo - Coyote Hill)                            
7  Carson Miller (Fred Meyer/Lakeside)                                  1.23
8  Taylor Phinney (TIAA-CREF/CLIF BAR)                                  1.56
9  David Larson                                                         2.02
10  Chris Peterson (Devo)                                               2.52
11  Marcel Delisser (Fred Meyer/Lakeside)                               3.02
12  Josh Yeaton (Kaladi -Subway)                                        3.30
13  Ian Crane (Rad Racing NW)                                           3.40
14  Bryen Graver (Ragnarok)                                             5.13
15  Bill Michielsen (Rad Racing NW)                                     7.23
16  Jerome Townsend (ALAN)                                             10.52
17  Spencer Smitheman (Juventus)                                        0.06
DNS  Alex Coelho (Hot Tubes Development Cycling)                            
DNS  Daniel (Na Estevez (Hot Tubes Development Cycling Team)                
 
Masters 35-plus
 
1 Mark Noble (California Raisins Masters Cycling Team)                 40.03
2 Will Black (Lone Star Racing)                                             
3 Dale Knapp (Kona)                                                     0.03
4 Todd Hoefer (California Giant Strawberries/Specialized)               0.14
5 Todd Cassan (NYC Velo)                                                0.27
6 Henry Kramer (California Giant Strawberries / Specialized)                
7 Roger Aspholm (Westwood Velo)                                         0.40
8 Normon Thibault (Frontrunners)                                        0.42
9 Ronnie Schmeer (Art by Opsal Cycling Team)                            0.48
10 Loren Hanson                                                         0.52
11 Kenny Williams (First Rate Mortgage)                                 1.22
12 Jon Gallagher (Cole Sport)                                           1.32
13 Gannon Myall (California Giant Strawberries/ Specialized)            1.43
14 Mark Legg (Spike Professional racing team)                           1.49
15 Tom Phillips (Ragnarok Racing)                                       1.59
16 Gaertner Michael (Coeurd Alene Veloe Racers)                         2.06
17 Richard Mcclung (Hagens-Berman LLP Cycling)                          2.14
18 Sean Kelsey (BicycleAttorney.com)                                        
19 Ward Baker (RockyMounts/Izze)                                            
20 Mark Hanson                                                          2.24
21 Matthew Hill (Redline)                                               2.33
22 Andy Dahlstrom                                                       2.47
23 Dan Quirk (Veloce)                                                   2.54
24 Bart Bowen                                                               
25 Kenny Burt (Kenda/Reno Wheelmen)                                     3.04
26 Alex Andel                                                           3.08
27 Steven Murry (Sorca)                                                 3.10
28 Mark Christian (Sunshine Bicycles)                                   3.15
29 Tim Butler (River City Bicycles)                                     3.18
30 Damon Pettinger (California Giant Strawberries/Specialized)          3.23
31 Marc Boudreau (Ride with Rendall)                                    3.34
32 Doug Graver (Ragnarok)                                               3.42
33 Justin Harman (Ti Cycles Avanti)                                     3.51
34 Alec Duxbury (Art By Opsal)                                              
35 Martin Baker (Bicycleattorney.com)                                       
36 John Meehan (Iowa City Cycling Club)                                     
37 Monte Boyle (International Bicycle Center)                           4.17
38 Dale Plant                                                               
39 Mat Hall (SV Road and Dirt)                                          4.28
40 Jeff Herring (Celo Pacific)                                          4.31
41 Mark Knokey (AxleyUSA.com)                                           4.37
42 Matt Jordan (Trailhead Cyclery)                                          
43 Neubeck David (The Valley Athletic Club/Specialize)                  4.40
44 Adam Leahy                                                               
45 Mark Mastoras (Kovarus/Squadra Ovest)                                4.48
46 Terry Keele (Team Oregon)                                            4.58
47 Alex Shapleigh                                                       5.02
48 Wilbur Kelly                                                         5.24
49 Bill Crane (River City)                                                  
50 Bradway Scott (TEAM SMN)                                                 
51 Steve Jensen                                                             
52 Sean Wittmer                                                             
53 Anthony Rutter (HUP United)                                          5.30
54 Richard Sangalli (Cal Giant Strawberries/Specialized)                5.46
55 Brooke Hoyer (Tireless Velo)                                             
56 Paul Schoening (Alan Factory Team)                                   5.53
57 LeRoi Smith (Ragnarok Racing)                                        5.58
58 Eric Schuman                                                         6.54
59 Brian Spears                                                         7.31
60 David Krattli (Professional Benefits Services, Inc.)                 8.16
61 Josh Smitth                                                              
62 Dave Pearson (Bicycle Centers Racing)                                    
63 David Hamm                                                           0.20
DNF Richard Feldman (Durance Cycleworks - Lehman Brothers)                  
DNF Andy Applegate (Sonic / Kona)                                           
DNF Tim Faia (Independent Fabrication)                                      
DNF Jesse Scatton (Bullseye Cycling/esbnb.com)                              
DNF John Verheul (TIAA-CREF/Clif Bar)                                       
DNF Jeff Bannink                                                            
DNF Mike Donnely