Jaarmarktcross Niel - C2
Belgium, November 11, 2006
Wellens pops ahead of unlucky Nys
"Winning is winning" says Wellens and he rode past a running Nys
By Brecht Decaluwé
Wellens shows superb form
Photo ©: Luc Claessen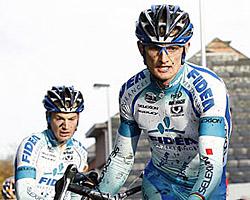 Bart Wellens (Fidea)'s third victory at the Jaarmarktcross in Niel came as a surprise gift. After trailing Sven Nys (Rabobank) by 20 seconds, he suddenly popped ahead of the running Nys at the finish. With 500m to go, UCI series leader Nys damaged his wheel while shifting up. Richard Groenendaal (Rabobank) also passed Nys and stayed ahead until the finish. The Dutchman is the new leader in the "Gazet van Antwerpen" trophy with 67 points. He leads Wellens by three points and Nys by 64 points.
Groenendaal downplayed his trophy lead, "I was the third best rider in the race and leading the overall classification doesn't mean anything right now, although it's a good position to be in during the next couple of races in the competition."
After the race, Wellens offered condolences to Nys, but he was still happy with the win. "Winning is winning," said the Wellens, who took his second victory of the season. "We all know the prizes are handed out across the finish line, but I agree it is sad for Nys what happened to him. Anyway, what could I do? I couldn't stop riding!"
Ironically, Wellens had thought of the possibility of a mechanical earlier in the race. "Actually I was previously shouting to Groenendaal to continue the chase saying that Nys could still have a mechanical."
Wellens noted that Nys wasn't the only rider with mechanical troubles. "We all have bad luck once in a while. I had two flat tires [in the race], but I guess it's more painful [for Nys] if it happens so close to the finish." Wellens commented that Sven Nys is still clearly stronger--at least for now. "When Nys rides a very fast lap, I can't follow, but the gap is getting smaller each race."
Whoops! Nys' rear wheel
Photo ©: Luc Claessen

Nys was not too disappointed with his bad luck. "I didn't do anything wrong, but apparently this wasn't my lucky day." Nys explained what happened, "I just geared up the same way I did every lap, afterward I did my best to defend that third place." He was just glad the mechanical didn't occur any earlier in the race. A lap earlier and, "I would've had to run much further before I could change my bike probably losing more positions, I guess I would've abandoned then." Nys joked about his run. "We'll see how I recover from that sprint as it really isn't comfortable to run on a road with those pins under your feet."
How it unfolded
Racers faced typical autumn conditions for the afternoon race: puddles and mud. This was the second race in the series. Nys had won the first race on the Koppenberg in similar muddy conditions. Considering the world cup in Pijnacker for the next day, most expected top riders to save their legs. In the end, it was hard to tell if the top six riders decided to race hard anyway. In any case, after only two laps, they had a significant gap on the rest of the field.
David Willemsens (Frans Vos)
Photo ©: Luc Claessen

David Willemsens (Frans Vos) had the best start, but the Belgian amateur champion was soon overtaken by Wellens. Many riders used the technical zone where they could change bikes to gain ground on the riders who did not change bikes. By the end of the first lap, the Dutch riders moved forward. Gerben De Knegt (Rabobank) and Groenendaal gained some advantage on Niels Albert, Sven Vanthourenhout (Rabobank) and were followed closely by Nys and Wellens. The rest of the field had already gone down in the puddles of mud on the heavy clay underneath.
When De Knegt dropped off the front with a flat, Nys accelerated on a tough climb. With five laps to go, Groenendaal, Nys, and Albert had 9 second advantage on Wellens and Vanthourenhout. Behind those five leaders, world champion Erwin Vervecken (Fidea) was already trailing by 34 seconds. The world champion got lucky when Kevin Pauwels (Fidea) rode into his rear wheel; Pauwels crashed as a result of his own maneuver.
When Wellens and Vanthourenhout managed to close the gap, the five riders were back together. By this time, Nys and Groenendaal were clearly the strongest men in the race. Belgian champion Nys constantly forced the others to work hard to follow.
With four laps to go, Wellens jumped over a creek in the technical zone, but Nys did not let the Fidea rider escape. Wellens' effort resulted in dead legs for Vanthourenhout; Albert and Groenendaal was gapped, tool. Later, Albert crashed out on a creek in a technical zone.
Meanwhile Nys decided it was time to go, and by the end of that lap, he had a gap of 12 seconds and Vanthourenhout had lost 20 seconds. Groenendaal worked with Wellens, but with Nys and Groenendaal as team mates, the duo kept losing ground to Nys.
Nys appeared to have battled his way to his tenth victory of the season, but when he suffered his mechanical in the last 500m and had to run to the finish, Wellens pass him for his second victory of the season. Groenendaal was the final rider to profit from Nys' bad luck.
Photography
For a thumbnail gallery of these images, click here
Images by Luc Claessen/www.ctm-images.com
Results

Elite Men
 
1 Bart Wellens (Bel) Fidea Cycling Team
2 Richard Groenendaal (Ned) Rabobank
3 Sven Nys (Bel) Rabobank
4 Niels Albert (Bel) Palmans Collstrop
5 Sven Vanthourenhout (Bel) Rabobank
6 Gerben De Knegt (Ned) Rabobank
7 Erwin Vervecken (Bel) Fidea Cycling Team
8 Davy Commeyne (Bel) Palmans Collstrop
9 David Willemsens (Bel) Vos Sportief
10 Tim Van Nuffel (Bel) Stevens Racing Team
11 Zdenek Stybar (Cze) Fidea Cycling Team
12 Bart Aernouts (Bel) Rabobank
13 Wilant Van Gils (Ned) ZZPR.nl
14 Rob Peeters (Bel) Balen BC
15 Arne Daelmans (Bel) Palmans Collstrop
16 Thijs Al (Ned) Bejan-Rings
17 Jean-Pierre Drucker (Lux)
18 Kamil Ausbuher (Cze) Cykloklub Podborany
19 Jan Soetens (Bel) Jartazi-7Mobile
20 Maxime Lefebvre (Fra)
21 Nico Berckmans (Bel)
22 Kevin Pauwels (Bel) Fidea Cycling Team
23 Dieter Vanthourenhout (Bel) Wielergroep Beveren 2000
24 Radomir Simunek (Cze) Palmans Collstrop
25 Jan Verstraeten (Bel) Fidea Cycling Team
26 Wim Jacobs (Bel) Van Der Vorst Cycling Team
27 Kenny Geluykens (Bel) Palmans Collstrop
28 Peter Van Santvliet (Bel)
29 Eddy Van Yzendoorn (Ned)
30 Camiel Van Den Bergh (Ned)
31 Dries Govaerts (Bel) Scott USA Cycling Team
32 Tom Van Den Bosch (Bel) Palmans Collstrop
33 Quentin Bertholet (Bel) AWS Cycling Team Kasterlee
34 Jan Van Dael (Bel)
35 Dariusz Gil (Pol) KS Scout (Pol)
36 Geert Van Crombruggen (Bel) Royal Cureghem Sportif
37 Gianni Denolf (Bel) Brugse Velosport
38 David Laenen (Bel)
39 Hans Van Den Bogaert (Bel) Rupelspurters Boom
40 Nico Ielegems (Bel)
 
Juniors
 
1 Sven Verboven (Bel)
2 Rob Van Der Velde (Ned)
3 Bart Hermans (Bel)
4 Hans Antonissen (Bel)
5 Stijn Mortelmans (Bel)
6 Frederick Catrysse (Bel)
7 Kristof Cop (Bel)
8 Tim Debusschere (Bel)
9 Kaell Pizzy (Bel)
10 Philppe Hutmacher (Lux)
11 Nick De Proost (Bel)
12 Vincent Dias Dos Santos (Lux)
13 Luc Hammer (Lux)
14 Paul Herman (Fra)
15 Dany Lacroix (Bel)
16 Jochen Torfs (Bel)
17 Pit Schlechter (Lux)
18 Mathieu Wolff (Fra)
19 Thomas Gysbrechts (Bel)
20 Kobe Dierckx (Bel)
21 Hans Bierens (Ned)
22 Pierre Marien (Bel)
23 Frans Bierens (Ned)
24 Joachim Janssens (Bel)
25 Glen Leyers (Bel)
 
Novices
 
1 Sean De Bie (Bel)
2 Gerry Druyts (Bel)
3 Robin De Cnodder (Bel)
4 Mike Teunissen (Ned)
5 Corné Van Kessel (Ned)
6 Witse Bosmans (Bel)
7 Michael Peeters (Bel)
8 Stefan Van Den Bergh (Ned)
9 Robin Wennekes (Ned)
10 Hendrik Sweeck (Bel)
11 Jurrien Bosters (Ned)
12 Sjors Roozen (Ned)
13 James Laureys (Bel)
14 Triston Martens (Ned)
15 Niels Wytinck (Bel)
16 Karl Peeters (Bel)
17 Frederik Geerts (Bel)
18 Tim Opdam (Ned)
19 Jelle Cant (Bel)
20 Teun Van Poppel (Ned)
21 Rinze De Proost (Bel)
22 Kristof Van Den Eynde (Bel)
23 Christophe Ysenbaardt (Bel)
24 Bert Noterman (Bel)
25 Jens Adams (Bel)
26 Clint Van Droogenbroeck (Bel)
27 Maxim Danckers (Bel)
28 Kay Welten (Ned)
29 Jimmy Segers (Bel)
30 Sebastiaan Roodhooft (Bel)
31 Nils Heyns (Bel)
32 Gianni Van Calster (Bel)
33 Joeri Hofman (Bel)
34 Niek Lepoudre (Bel)
35 Glenn Broekmans (Bel)
36 Simon Oeyen (Bel)
37 Roy Van Den Heuvel (Ned)
38 Anne Arnouts (Bel)
39 Kevin Collaert (Bel)
40 Ingmar Uytdewilligen (Bel)
41 Ken Ansloos (Bel)
42 Rutger La Haye (Bel)
43 Jens Vanderveken (Bel)
44 Robin Delanghe (Bel)
 
Gazet van Antwerpen Trophy classification after two races
 
1 Richard Groenendaal (Ned) Rabobank            67 pts
2 Bart Wellens (Bel) Fidea Cycling Team         64
3 Sven Nys (Bel) Rabobank                       64
4 Niels Albert (Bel) Palmans Collstrop          61