Highland Park Cyclo-cross/Verge MACCS #5 - C2
Jamesburg, New Jersey, USA, November 12, 2006
White and Bruno Roy win with style
By Kirsten Robbins in Jamesburg, New Jersey
Bruno Roy uses her technical talent
Wearing the MAC champion jersey
Photo ©: Dennis Smith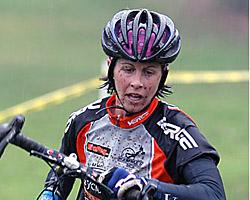 Maureen Bruno Roy (Independent Fabrications) showed the womenís field how to win in style by winning the race from the gun. Her main competitors were Deidre Winfield (Velo Bella-Kona) and Melanie Swartz (Velo Bella-Kona). "The first lap is always the hardest," Winfield said. "You go from standing at an almost resting heart rate to as high as your heart rate is going to do all day in the first thirty seconds. So it is easy to feel like you are struggling a little bit but after a few laps you get used to the lines you are taking and start to get into a rhythm. As the race went on I felt better and better.
The race began in much the same fashion as the day before, with Bruno Roy flying off the start line. The difference was that today no one could catch up to her." I was able to keep the gap I opened up in the beginning today," Bruno Roy said.
The circuit was drenched from rain and mud guided the riders around the circuit. These undesirable race conditions called for adaptive, technical bike handling skills in order to be successful. "The rain changes the conditions of each lap and it requires a lot of skill, really controlling your bike and allowing your bike to lead the way with out fighting it," Bruno Roy said. "It was less about how strong you were in terms of power and speed and more about working with the changing conditions and letting that be part of how you are riding."
Barring mechanicals, Bruno Roy sewed up the win after the second lap increasing her lead over Winfield significantly. "Roy had a really good start and I was timid riding through the mud at the beginning of the circuit," Winfield said. "Roy is really good at the technical section and I am not. I may have been able to ride a little better but I was worried about falling. This type of course and conditions is not my strength. I was getting a little frustrated out there."
Velo Bella-Kona started the race with four strong riders, placing three in the top five. Melanie Swartz began todayís race with a slight disadvantage weighing against her. "I had a problem clipping in my pedals with a new set up today," Swartz said.
Swartz began the race near the back but managed to muscle her way back into third place by the finish line. "My goal for this race was to be conservative and ride conservative to not fall down at all," Swartz said. "I knew that if I fell I would have to take that energy and use it to catch up. The conditions were really wet and muddy so I decided to use Michelin Muds with a really low pressure, 20psi. But as long as I was conservative and light on the bike I was ok for me. I also tried to have as much fun as I could out there. On the first lap we had four of us in the top five, which shows that we are definitely the east coast mud team."
Mo Bruno Roy (I.F)
Photo ©: Dennis Smith

Bruno Roy has been racing at the elite level for two years and plans to continue to rise to the top. Her display of technical ability today showed the talent in the rising star. "This is my second year really being an elite racer and I really like the rain," Bruno Roy said. "I find that on a day-to-day basis I canít compete with someone who has been road racing for ten years. Those riders have so much fitness and strength already in their legs. So the rain and the mud evens out the playing field a little. You canít help but have fun out there when it is weather like this, it feels like I am just out there playing."
White wins his way
Matt White wins
Photo ©: Dennis Smith

Matt White (Fiordifrutta) dazzled the crowds with his second stylish solo win. The soloist left Chris Horner (Specialized) tracing his tracks into second place and his teammate Jamey Driscoll (Fiordifrutta) in a battle for third. "It was a similar race to last weekend in that I just went out there and rode as hard as I could," White said. "But, rather than it being so tactical, I just went out there and slugged it in the mud and rain today."
Today marks Whiteís second UCI win this season. "It is unbelievable and I am so excited about winning another UCI event," White said. "Winning both races in the same style is a testament to my strength and not my tactical ability. I seem to be riding better when I can just ride my own race, go as hard as I can go and not think about tactics too much - I am not the smartest bike racer out there.
Rain poured on the menís field turning the circuit into a mudslide. It was Michael Cody (Fiordifrutta) who took the lead from the start, forcing the field into slick corners faster than they could handle. "I had a great start today but almost did a high speed dismount at the start," Cody said. "Today was all about keeping speed and bombing through the mud. I think if you respect the mud a little it will take you where you want to go. I fell back a bit after the first lap and was able to work my way back up to Jamey who placed third. I spent the whole race five seconds behind Jamey and a few seconds ahead of Frattini."
White was able to sit back and stay safe for the first half lap watching his teammate carve the path that he would later follow to his win. "On the first lap I was letting Cody do most of the leading and he was taking some good lines and gapping people," White said. "On the back section of the course on a down hill corner I came out of it in front and got a small gap on everyone. I went hard for the first four laps and then kept it steady to the end. I wanted to make sure that I had a good gap over guys like Powers."
Watch out for Chris Horner
Photo ©: FJ Hughes Photography

Horner surprised the field by positioning himself at the front early on in the race and putting in on the line for second place. Horner used his power to push through the mud a little more to make up for his lack of experience in cyclo-cross." I didnít know I would be better in the mud and rain," Horner said. "What it boils down to is that there is a very small speed you can ride through these corners at because of the rain and mud and the rest of the time you are converting back to power."
"What happened today was that the technical skills were not as drastically changed for me as some riders with more technical skill because the corners had to be ridden slow, I am willing to take the corners at nine miles an hour on a wet day with these guys. But I am not willing to take the corners at twenty miles an hour on a dry day with these guys. So the wet conditions evened out the race for me today and let my power play a bigger roll. Also, it was not until the last laps that I started realizing which lines are the best take. Every race is a new experience for me and takes me some time to ride it right.
Although Fiordifrutta out numbered the field, team tactics did not play a role in Whiteís win. "We had a large team today but there was no team tactics involved on a day like today," White said. "But, there is not much a team can really do. There was no attacking out there, it was more about seeing a gap open and pushing it a little bit harder."
The Verge MAC series is currently being lead by the Italian rider Davide Frattini (Colavita Olive Oil/Sutter Home Winery). Frattini and his national teammate Luca Damiani participated in their final cyclo-cross event in the USA. "It was a really positive month for racing and to get fit to start our season in Europe," Frattini said. "We want to say thanks to all the promoters for the great events - See you next year."
Photography
For a thumbnail gallery of these images, click here
Images by Dennis Smith/www.dennisbike.com
Images by FJ Hughes Photography/www.FHughesPhoto.com
Images by Konstantin Sergeyev/Konstantin Sergeyev Photographic
Results
 Elite Men

1 Matt White (USA) FiordiFrutta                                             59.44
2 Christopher Horner (USA) Specialized                                       0.29
3 Jamey Driscoll (USA) FiordiFrutta Elite Cycling Team                       0.36
4 Michael Cody (Ita) FiordiFrutta Cycling Team                               0.50
5 Davide Frattini (USA) Colavita Olive Oil/Sutter Home                       1.08
6 Tristan Schouten (USA) Trek/VW/Michelin                                    1.35
7 Christopher Jones (USA) TARGETRAINING                                          
8 Jonny Sundt (USA) HagensBerman LLP                                         2.41
9 Justin Spinelli (USA) RGM WATCHES - RICHARD SACHS - REX CHIU               3.21
10 Matt Kraus (Ita) Alan Factory Team                                        3.46
11 Luca Damiani (USA) Team FIDIBC.COM VC ARBEDO                              4.53
12 Weston Schempf (USA) FORT Factory Team                                    5.00
13 David Wyandt (USA) HRS-Rocklobster                                        5.25
14 Brian Hayes (USA) RGM WATCHES - RICHARD SACHS - REX CHIU                  6.44
15 Jed Schneider (USA) Alan Factory                                          6.51
16 Greg Marini (USA) coffee plus inc. com                                    7.15
17 Ryan Leech (USA) Meredith Group-GPOA-Cannondale                           7.26
18 Charles Pendry (USA) Inland Construction - BTD                            7.28
19 Peter Rubijono (USA) Harris Cyclery/Igleheart Frames                      8.00
20 Stephen Cummings (USA) Meredith group GPOA Cannondale                     8.27
One lap down
21 Robert Giannini (USA) CRCA/Sakonnet Technology U25                            
22 Myles Romanow (Can) Wildthyme/IF                                              
23 Peter Morse (USA) Jet Fuel Coffee                                             
24 Nathan Wyatt (USA) Sram/Caroiina Fatz                                         
25 Stan Jurga (USA) Independent Fabrication/Channel Cafe                         
26 Nathan Deibert (USA) Holmes Cycling                                           
27 John Minturn (USA) Team Hotel San Jose                                        
DSQ Zoltan Tisza (USA) Rocky Mountain                                            
 
Elite Women

1 Maureen Bruno Roy (USA) Independent Fabrication/Wheelworks                34.39
2 Deidre Winfield (USA) Velo Bella-Kona                                      1.45
3 Melanie Swartz (USA) Velo Bella - Kona                                     2.42
4 Amy Wallace (USA) RGM WATCHES - RICHARD SACHS - REX CHIU                   3.24
5 Betsy Shogren (USA) FORT Factory Team                                      3.35
6 Anna Milkowski (USA) Velo Bella-Kona                                       3.45
7 Mandy Lozano (USA) Cheerwine Cycling                                       3.54
8 Stephanie White (USA) Velo Bella-Kona                                      5.06
9 Erica Yozell (USA) FORT Factory Team                                       5.19
10 Rebecca Wellons (USA) Gearworks/Spin Arts Cycling                         5.50
11 Megan Bilodeau (USA) NCC/BikeReg.com                                      5.59
12 Megan Elliott (USA) Specialized                                           6.22
13 Catherine Johnson (USA) Pro Peloton Racing                                6.35
14 Kathleen Billington (USA) TARGETRAINING Professional Women's Cycling T    7.04
15 Lynda Maldonado (USA) Human Zoom                                          7.30
16 Brenda Bahnson (USA) Independent Fabrication                              7.40
17 Lisa Vible (USA) C3/ADG/Joe's Bike Shop                                   8.06
18 Heidi Von Teitenberg (USA) C3/ADG/Joe's                                   8.35
One lap down
19 Lisa Most (USA) Wissahickon                                                   
20 Clara Beard (USA) Cheerwine Cycling                                           
21 Kristine Church (USA) Human Zoom/ Pabst Blue Ribbon                           
22 Tammy Ebersole (USA) Evolution Racing                                         
 
Juniors

1 Andy Gallagher (USA) Liberty Cycle                                        37.07
2 Erik Kristiansen (USA) Skylands Cycle                                          
3 Ian Harris (USA) CRCA Junior Development                                       
4 Cam Mancuso (USA) A.C.T./Skylands                                              
5 Matthew Spinks (USA) Skylands Cycling                                          
6 Tyler Brown (USA) Bike Line/LWA                                                
7 Adam Schlauch (USA) Somerset Wheelmen                                          
One lap down
8 Max Mancuso (USA) Skylands Cycling                                             
9 Dag Anderson (USA) Somerset Wheelmen                                           
10 Erik Moyer (USA) Grommit Cross                                                
 
Junior Women

1 Nina Santiago (USA) High Gear                                             35.29
 
B Men

1 Chad Totaro (USA) Team Human Zoom / Pabst Blue Ribbon                     40.34
2 Matthew Ferrari (USA) Mt Nittany Wheelworks                                0.16
3 Erik Leaver (USA) NCVC/Inova Health System                                     
4 Chris Mayhew (USA) Wissahickon                                                 
5 Jeremy Dunn (USA) Harris Cyclery/Igleheart Frames                              
6 Gregory Lindstrom NY Hunt Valley Bicycles/Marathon Roofing                 0.50
7 Matt Budd (USA) Budd BikeWorks                                                 
8 Nick Bennette (USA) Princeton University                                       
9 Jeff Busch (USA) North Atlantic Velo/Classbook.com                             
10 Aaron Oakes (USA) Iron Horse New England                                      
11 Ray Ignosh (USA) Gotham Cyclists                                              
12 Ethan Townsend (USA) First State Velo Sport                                   
13 Daniel Brill (USA) Team Beacon                                                
14 Marc Vettori (USA) FORT Factory Team                                      2.01
15 Roger Foco (USA) Skylands Cycling                                             
16 Colin Sandberg (USA) Meredith Group-GPOA-Cannondale                           
17 Kevin Kralik (USA) Guy's Racing                                               
18 Morgan Gerlak NY C3/ADG/Joe's                                                 
19 J Gabriel Lloyd (USA) Columbia University                                     
20 Eric Morgan (USA) Wissahickon                                                 
21 Charles Florek (USA) Rutgers University Cycling Team                      2.36
22 Brian Wolff                                                               2.53
23 Chris Harshman (USA) ABRT/Team Snow Valley                                3.04
24 Luke Sauder (USA) Hunt Valley Bicycle/Marathon Roofing                    3.26
25 Donald Snoop (USA) JR.                                                    3.27
26 Adam Szczepanski (USA) Wissahickon                                        3.38
27 Zach Adams (USA) FORT Factory Team                                        3.47
28 Wade Hess (USA) Team Beacon                                               4.00
29 Andrew Crooks (USA) NYC Velo                                              4.02
30 Bernard Mcdonald (USA) C3/ADG/Joe's                                           
31 Patrick Brady (USA) Team Beacon                                           4.34
32 Brian Burgess (USA) Team Beacon                                               
33 Emerson Loustau (USA) BICYCLE THERAPY                                         
34 Mark Vareschi (USA) Rutgers University Cycling Team                           
35 Don Yungher (USA) Rutgers University Cycling Team                             
36 Keith Licata (USA) Team Bulldog/Campmor                                       
37 Joshua West (USA) Bikeman.com                                                 
38 Ryan Pomajevich (USA) Gotham Cyclists                                     5.28
39 Greg Martin (USA) Independent Fabrication                                     
40 Paul Walsh (USA) SKYLANDS CYCLING\Sussex Bike                                 
41 Chad Culbertson (USA) CRC of A / Hart's Racing                            5.59
42 Bruce Freehoff (USA) Team Beacon                                              
43 Frank Zgoda (USA) Sotheby's/Strictly Bicycles                                 
44 Jay Nossen NY Rutgers University Cycling Team                                 
45 Justin Lubley (USA) CRCA bandits                                              
46 Zac Felpel (USA) Red Rose Rockets                                         8.11
One lap down
47 Jason Parkin (USA) CRCA/Blue Ribbon-Translations.com                          
48 Eben Weiss (USA) GS Gotham                                                    
49 jay Downs (USA) FORT Factory Team                                             
50 James Furman (USA) Skylands Cycling                                           
51 Robert Wolff (USA) Team Carl Hart Bicycles                                    
 
B Women

1 Jessica Singerman (USA) Bike Line / Twin 6                                34.43
2 Sally Poliwoda (USA) Sturdy Girl Cycling                                   0.13
3 Pamela Saltzgueber (USA) Premier Bank/Cycle Sports                         1.00
4 Elizabeth White (USA) NEBC/Cycleloft                                       1.08
5 Jill Waggett (USA) Watchung Wheelpeople                                    1.27
6 Karen Tourian (USA) Guy's Racing                                               
7 Maria Oliveria (USA) Westwood velo                                         4.23
8 Anne Rock (USA) Biketopia                                                  5.46
9 Doron Petersan (USA) NCVC/INOVA                                            5.57
10 Suzanne Tempsick (USA) 3D Racing Team/Tom's Atlantic Cyclery              6.04
11 Diane Vettori (USA) secret henry's team                                   7.24
One lap down
12 Elizabeth Seward (USA) CRCA                                                   
13 Theresa Thom (USA) Alan Factory                                               
14 Kim Dubeck (USA) Bean's                                                       
15 Kyra Kenwood                                                                  
16 Kathrin Schumacher (USA) CRC of A / Harts Racing                              
17 Lenore Imhof (USA) Colavita Racing                                            
 
C Men

1 Patrick Clifford (USA) county kerry                                       34.03
2 Rob May (USA) Holitna River Lodge                                          0.57
3 Peter Dalkner (USA) Trophy Bikes Team Shiftless                            1.18
4 Esteban Velasquez                                                          2.01
5 Michael Jenks (USA) Highland Park Hermes                                   2.34
6 Joseph Hu (USA) Quaker City Wheelmen/Team Breakaway                        2.56
7 Blake Bedoya (USA) Rutgers University Cycling Team                         3.01
8 Doan Pendleton (USA) Watchung Wheelmen/High Gear Cyclery                   3.19
9 Ken Deitch (USA) human zoom/pabst blue ribbon                                  
10 Brad Clarke (USA) Jersey Action Riders                                        
11 Brian Rosenblatt (USA) Team Somerset                                      3.35
12 Neil Ross (USA) Kissena                                                       
13 Daniel Mercer                                                             3.49
14 Edward Haack (USA) Cycle Craft racing                                     3.53
15 Vin Morrow (USA) Skylands Cycling                                         4.00
16 Craig Goodstein (USA) SANCHEZ/METRO-CRCA                                  4.29
17 Carey Jackson Yonce                                                       4.37
18 Steve Brownlie (USA) CRCA/NYVelocity                                      4.44
19 Edward Chalker (USA) Rutgers University Cycling Team                      4.47
20 Esteban Rodrigues                                                         4.55
21 Andy Glaser (USA) Rutgers University Cycling Team                         5.20
22 Jeff Sowa (USA) Mountain Bikery                                           5.24
23 Robert Thomas (USA) Secret Henry's Team                                   5.29
24 Chris Shaw (USA) CRCA-NYvelocity                                          5.37
25 Kyle Carroll (USA) Rutgers University Cycling Team                        6.19
26 Mark Salazar (USA) Skylands Cycling                                       6.32
27 Kevin Horan                                                               6.43
28 Jeffrey Sutherland (USA) Team Beacon                                      6.52
29 Bren Moran                                                                7.26
30 Barry Young (USA) Team Young                                              8.33
One lap down
31 Christophe Jammet (USA) CRCA                                                  
32 Greg Campi (USA) 3D Racing Team                                               
33 Craig Roth (USA) Harris Cyclery Racing/Igleheart Custom Frame                 
34 Gennaro Torre (USA) Rutgers University Cycling Team                           
35 Todd Walters                                                                  
36 James Wilson (USA) Human Zoom                                                 
37 Andrew Haggerty (USA) Velocity Sports/ C.C.E.                                 
38 Chad Casselman (USA) CRCA                                                     
39 Steve Lee (USA) Steve Lee                                                     
40 Andrew Logiudice (USA) Skylands Cycling                                       
41 Howard Richards                                                               
42 Terry Donovan                                                                 
43
44 Ivry Semel (USA) CRCA/VisitBritain                                            
45 Mark Pohndorf (USA) Colavita Racing                                           
46 Todd Moyer                                                                    
47
 
Elite Masters

1 Joseph Ruggery (USA) Freddie Fu Cycling Team                              39.30
2 Mike Yozell (USA) FORT Factory Team                                        0.02
3 Robert Campos (USA) HVC/Jessies                                            0.21
4 Eric Schlauch (USA) Team Somerset / Van Dessel                             0.35
5 Gerry Pflug (USA) Freddie Fu Cycling Team                                  0.47
6 Kristopher Auer (USA) C3/ADG/Joe's                                         1.00
7 Mark Kutney (USA) Van Dessel Factory Team                                  1.03
8 Glenn Turner (USA) Humm Zoo                                                    
9 Ralf Warmuth (USA) Highland Park Hermes                                    1.21
10 John Lux (USA) HVB/Marathon Roofing                                       1.27
11 Christopher Long (USA) Independent Fabrication/Gotham                     1.31
12 Mike Hebe (USA) GPOA-Cannondale                                           1.40
13 Matthew Howard (USA) CRCA/Bandit Racing                                   1.46
14 Greg Ferguson (USA) FORT Factory Team                                     1.52
15 Troy Kimball (USA) Westwood Velo                                          1.56
16 Sean Mealey (USA) Hunt Valley Bicycles/Marathon Roofing                   2.06
17 Richard Mihills (USA) The Secret Henry's Team                             1.46
18 Kirk Reisinger (USA) Wissahickon                                          2.26
19 William Irving (USA) Table Rock Tours and Bicycle Shop                    2.32
20 Martin Jones (USA) Team Somerset / Bike King                              3.01
21 Gunnar Shogren (USA) FORT Factory Team                                    3.13
22 Andy Gorski (USA) Agisko - Viner p/b kinetic-koffee.com                   3.20
23 Chris Facas (USA) Westwood Velo/Trade Manage Capitol                      3.51
24 Joseph Piccillo (USA) Evolution Racing                                    4.03
25 Brian Wieczorek (USA) Freddie Fu Cycling Team                             4.09
26 Kelly Cline (USA) Wissahickon                                             4.24
27 John Stenger (USA) Guy's Racing                                               
28 Ed Burgess (USA) Hammer Nutrition                                         4.36
29 Jan Wiejak (USA) Verge Sport/Test Pilot                                   4.55
30 Pete Smith (USA) PREMEIR BANK/CYCLESPORTS                                 5.05
31 Kevin Kielty (USA) Skylands Cycling                                       5.25
32 Charles Mcdaniel (USA) Secret Henry's Team                                5.47
33 Christopher Weiland (USA) E-Caps.com / Highland Park Hermes               5.55
34 Mike Jancola (USA) Alan Factory Team                                      6.14
35 Judd Milne (USA) Squadra Coppi/IM Saab                                    6.29
36 Rob Lyon (USA) HUNT VALLEY BICYCLES/MARATHON ROOFING                          
37 David Lowe (USA) Human Zoom/Pabst Blue Ribbon                                 
38 Brian Lariviere (USA) Team Bulldog/Campmor                                6.49
39 Steve Kane (USA) East End/Kreb Cycle                                      6.52
40 Mike Connair (USA) Henry's Bikes                                          6.55
41 Kyle Wolfe (USA) Target Training                                          7.08
42 Douglass Gray (USA) First State Velo Sport                                7.18
43 Michael Kolb (USA) First State Velo Sport                                 7.31
44 Douglas Dicks (USA) fire department of new york                           7.46
45 Charles Chichester (USA) CRC OF A                                         7.50
46 Mike Czupryna (USA) First State Velo Sport                                8.00
One lap down
47 Kevin Saint Clair (USA) BiKyle/Main Line Cycling                              
48 Chris Evans (USA) Wissahickon                                                 
49 James Perren (USA) Breakaway Racing                                           
50 Charles Erndl (USA) Human zoom cycling                                        
51 Rolf Windh (USA) Guy's Racing Team                                            
52 Lawrence Henderson (USA) skylands cycling                                     
53 Kevin Breckenmaker (USA) Yellow Breeches Racing                               
54 Mark Urbanowicz (USA) Team Somerset                                           
55 Karl Kensinger                                                                
56 Donald Catlin (USA) Tokeneke Road Club                                        
57 Andrew Feehan (USA) Kissena cycling club                                      
58 Tom Perkins (USA) bike depot                                                  
59 Mark Robson (USA) nerac/ OutdoorLights.com                                    
60 Jim Feehan (USA) Kissena                                                      
DSQ Jeff Cordisco (USA) Capoforma Custom/Cadence                                 
 
B Masters

1 Paul Incognito (USA) Secret Henry's Team                                  33.43
2 Raymond Zeimet (USA) Premier Bank/Cycle Sports                             1.00
3 Jeffrey R. Guy (USA) FORT Factory Team                                         
4 Tom Bowmaster (USA) Liberty Cycle                                          2.08
5 Tim Bowman (USA) Trophy Bikes                                              2.19
6 Greg Gorel (USA) Team Somerset                                             2.23
7 Chris Thaler (USA) Evolution Racing                                        2.54
8 Doug Spitz (USA) 3D Racing Team/Tom's Atlantic Cyclery                     3.01
9 Matt Murphy (USA) Westwood velo                                            3.08
10 Dennis Smith (USA) Secret Henry's Team                                    3.47
11 Nunzio Dibiasi (USA) Yellow Breeches Racing                               4.43
12 Matthew Snow (USA) BREAKING AWAY BICYCLES                                 4.53
13 Scott Hoder (USA) 3D racing                                               5.16
14 Bob Jaggard (USA) Action Wheels                                           5.33
15 Joe Saling (USA) Team Somerset Van Dessel                                 5.46
16 Ken Coleman (USA) Housatonic Wheel Club                                   5.51
17 Christian Faino (USA) Evolution Racing                                    6.01
18 David Manhardt (USA) The Secret Henry's Team                                  
19 Dustan Strika (USA) kissena cycling club                                      
20 James Ambagis (USA) FORT factory team                                     6.25
21 Gary Kelley (USA) South Mountain Velo Club                                6.41
22 Todd Peterson (USA) Bulldogs                                              6.51
23 Gustavo Sanchez (USA) Evolution Racing                                    7.04
24 Steven Fairchild (USA) Westwood velo                                          
25 Bob Perna (USA) beans bikes                                               7.33
26 Andrew Singson (USA) Highland Park Hermes                                 7.43
27 Joe Mulligan (USA) Team Bikery                                            8.25
28 Frank Dionisio (USA) Kissena Cycling Club                                 8.28
One lap down
29 Stephen Cannavale (USA) unattached                                            
30 Mark Mccabe (USA) 3D Racing Team/Tom's Atlantic Cyclery                       
31 Don Snoop (USA) Hang on Snoopy Racing                                         
32 Karl Dittebrandt (USA) kissena cycling club