Superprestige series #3 - C1
Asper-Gavere, Belgium, November 19, 2006
2005 Results Results Past winners
Nys three for three in the Superprestige series
Course demands a lot from riders … and mechanics
By Brecht Decaluwé
Sven Nys was unstoppable again
Photo ©: AFP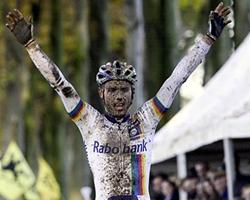 To celebrate the twenty-fifth anniversary of the Superprestige series there were double points at stake on the extremely heavy course of Gavere, near Ghent. Sven Nys (Rabobank) pointed out that he didn't appreciate this system as bad luck could ruin a good ranking in the series but it ended up alright for the UCI-leader as he battled himself to victory. "Last week was much more comfortable, but maybe that was because the courses were much heavier this weekend," Nys said. "On the climbs I felt that I had some energy left while following Erwin Vervecken (Fidea), that's why I decided to attack there. Still I was unsure about the win until the finish line came in sight," the 30 year-old Belgian was apparently thinking about his bad luck last week in Niel.
Second to Nys at the end, Erwin Vervecken pulled off one of his strongest performances this season enjoying the many running sections on the muddy course. "It seems that I didn't give in on my running capabilities this year, I felt really well today. Sometimes Nys lost some metres on me but I don't know why that was, that's why I maintained a tight pace," Vervecken said. "When Nys attacked my legs felt sore and I couldn't do anything more than defending my second place," the world champion said.
That second place was almost in danger when his derailleur blew to smithereens but Vervecken managed to hold off in-form John Gadret (AG2R). The French champion enjoyed his race today, "this is a great course but sadly enough there aren't many like it during the season. My tactic this season is not to attack but to follow the favourites whenever I can," the compact rider who performed so strongly climbing the Dolomites in the last Giro d' Italia explained.
French champion John Gadret
Photo ©: AFP

The man with most misfortune of all was Bart Wellens (Fidea); he managed to demolish two derailleurs and meanwhile had at least one flat tyre. "Apparently, luck isn't on my side," Wellens ironically said. "I felt so strong but I just couldn't show it today, off course it's sad to lose the double amount of points. Anyway I know I shouldn't panic as this was all just misfortune, although another setback would've meant abandoning out of the race," Wellens continued.
"My back hurts a lot now as I needed to ride with spare bikes from Stybar, Pauwels and even Meeusen; my bikes were all broken," Wellens said.
With three wins in a row Nys holds the maximum amount of points possible in his lead of the Superprestige series; he's now ten points ahead of Vervecken who has 50 points. Wellens is one point further followed by Sven Vanthourenhout (45) and Richard Groenendaal (42). The top-5 seems embedded as number six Gerben De Knegt (Rabobank) is already ten points behind.
How it unfolded
Radomir Simunek Jr. (Palmans) was the quickest at the start in Gavere, an unusual good start was also noted for Sven Nys. The Belgian took over the command and the bunch immediately splintered into little groups. The only rider who responded the acceleration of the UCI-leader was world champion Erwin Vervecken. Two riders managed to join the breakaway group, John Gadret and Bart Wellens. The latter had bad luck when his derailleur broke his rear wheel, working hard he could come back again. In the third lap Wellens raised his arms in despair as he's derailleur let him down again, he had to settle for fourth. Meanwhile the French champion got dropped as well as Vervecken kept a tight pace up front. The mechanics must've been wondering what was going on when Groenendaal's Shimano Dura-Ace FD-8000 was gone as well.
Erwin Vervecken kept doing most of the work in front, trying to use his fast running legs in the mud whenever he could. During the penultimate lap Nys took over the command and got a few metres when Vervecken slipped away. The world champion fought back but when he arrived at Nys' wheel, Nys attacked immediately. Vervecken had run out of fuel and was set back at 18" at the end of that lap, with Gadret riding at 33" of Nys. Bart Wellens' misfortune took another spell when he had a flat tyre.
In the ultimate lap Nys kept riding where most of the riders were running, his lead continued to grow. Another upset was spotted by the many spectators when Vervecken was running even more than he used to do… another derailleur was blown to smithereens. Gadret felt a second place was possible again and he catched up with Vervecken when the latter swapped bikes at the technical zone. Vervecken didn't look back and immediately pulled away from Gadret to secure his second place. Meanwhile Sven Nys extended his lead and grabbed the win, scoring a three on three in the Superprestige series, his eleventh victory of the season and his fourth victory in Gavere. Sven Vanthourenhout (Rabobank) confirmed his form is raising with a fifth place behind Wellens.
Photography
For a thumbnail gallery of these images, click here
Images by AFP Photo
Images by Emory Ball/Cyclingnews
Results

Elite
 
1 Sven Nys (Bel) Rabobank                                   56.27
2 Erwin Vervecken (Bel) Fidea Cycling Team                   0.38
3 John Gadret (Fra) AG2R Prevoyance                          0.41
4 Bart Wellens (Bel) Fidea Cycling Team                      1.39
5 Sven Vanthourenhout (Bel) Rabobank                         1.58
6 Francis Mourey (Fra) FDJeux.com                            2.10
7 Richard Groenendaal (Ned) Rabobank                         2.18
8 Gerben De Knegt (Ned) Rabobank                             2.36
9 Peter Dlask (Cze) AVB Asbestverwijdering
10 Davy Commeyne (Bel) Palmans Collstrop                     3.20
11 Klaas Vantornout (Bel) Fidea Cycling Team                 3.42
12 Kevin Pauwels (Bel) Fidea Cycling Team
13 Maxime Lefebvre (Fra)                                     3.52
14 Wilant Van Gils (Ned) ZZPR.nl                             3.59
15 Thijs Al (Ned) Bejan-Rings                                4.03
16 Jan Soetens (Bel) Jartazi-7Mobile                         4.20
17 Arne Daelmans (Bel) Palmans Collstrop                     5.45
18 Kamil Ausbuher (Cze) Budweiser-Budvar                     6.51
19 Ronald Mutsaars (Ned)                                     7.22
20 Jan Verstraeten (Bel) SD Worx                             7.33
21 Maarten Nijland (Ned) Procomm-Van Hemert                  7.38
22 Camiel Van Den Bergh (Ned) Stevens Racing Team            8.03
23 Tom De Kort (Bel) AWS Cycling Team                        8.14
24 Stijn Penne (Bel)                                         8.54
25 Dariusz Gil (Pol)
26 Mariusz Gil (Pol)
27 Matthijs Wagenaar (Ned)
28 Wim Maes (Bel)
29 Rik Evers (Bel)
30 René Mertens (Bel)
31 Freddy De Meester (Bel)
 
 
U23
 
1 Niels Albert (Bel) Palmans-Sapim-Collstrop                49.15
2 Zdenek Stybar (Cze) Fidea Cycling Team                     0.50
3 Rob Peeters (Bel)                                          3.04
4 Boy Van Poppel (Ned)                                       3.43
5 Thijs Van Amerongen (Ned)                                  4.01
6 Dieter Vanthourenhout (Bel)                                4.08
7 Quentin Bertholet (Bel)                                    4.11
8 Jean-pierre Drucker (Lux)                                  4.53
9 Tom Meeusen (Bel)                                          5.07
10 Maxim Debusschere (Bel)                                   5.27
11 Wim Leemans (Bel)                                         5.54
12 Eddy Van Yzendoorn (Ned)                                  6.21
13 Kevin Cant (Bel)                                          6.32
14 Kenneth Van Compernolle (Bel) Sunweb-Projobcyclingteam    6.36
15 Tom Van Den Bosch (Bel)                                   7.04
16 Ricardo Van Der Velde (Ned)                               7.17
17 Dylan Esmans (Fra)                                        7.30
18 Romain Lejeune (Fra)                                      7.54
19 Hans Becking (Ned)                                        8.05
20 Stijn Huys (Bel) Palmans-Sapim-Collstrop                  8.34
21 Thomas Vernaeckt (Bel)                                    8.50
22 Johim Ariesen (Ned) +1 lap
23 Mitchell Huenders (Ned)
24 Ward Demets (Bel)
25 Jerry Kallenfels (Ned)
26 Bart Senders (Ned)
27 Ivar Hartogs (Ned)
28 Joeri Kouwenhoven (Ned)
29 Remco Broers (Ned)
30 Gianni Denolf (Bel)
31 Nqobizitha Tshabalala (Zim)
32 Brian Kumbiria Zengeni (Zim)
33 Tom Lambrechts (Bel)
34 Munyoro Byron (Zim)
35 Mathias Holvoet (Bel)
 
Juniors
 
1 Joeri Adams (Bel)                                         42.55
2 Sven Verboven (Bel)                                        0.36
3 Vincent Baestaens (Bel)                                    0.52
4 Ramon Sinkeldam (Ned)                                      1.03
5 Bart Bruyndonckx (Bel)
6 Kristof Scheirs (Bel)
7 Kevin Eeckhout (Bel)                                       1.30
8 Yannick Wydooghe (Bel)                                     1.59
9 Kristof Cop (Bel)
10 Marcel Meisen (Ger)                                       2.17
11 Paul Herman (Fra)                                         2.48
12 Frederick Catrysse (Bel)                                  3.07
13 Kaell Pizzy (Bel)
14 Jochen Torfs (Bel)                                        3.35
15 Bart Barkhuis (Ned)                                       4.02
16 Stijn Mortelmans (Bel)                                    4.18
17 Geert Van Der Horst (Ned)                                 4.32
18 Dimitri Stevens (Bel)                                     4.46
19 Twan Van Den Brand (Ned)                                  4.55
20 Michael Derille (Bel)                                     6.07
21 Dany Lacroix (Bel)                                        6.13
22 Vincent Renaux (Fra)
23 Jarno Van De Casteele (Bel)                               6.31
24 Boris Zimine (Fra)                                        6.37
25 Jasper Ockeloen (Ned)                                     6.48
26 Tim Debusschere (Bel)                                     6.53
27 Maxim Chombart (Fra)                                      7.00
28 Robby Cobbaert (Bel)                                      7.28
29 Victor Steelandt (Fra)                                    7.57
30 Rudy Kowalski (Fra)                                       8.23
31 Yannick Pauwels (Bel)                                     8.40
32 Jeffrey Depuydt (Bel)                                     9.25
33 Ben Remijsen (Bel) +1 Lap
34 Mathieu Wolff (Fra)
35 Julien Detailleur (Fra)
36 Maarten Kesteleyn (Bel)
 
Novices
 
1 Sean De Bie (Bel)                                         31.14
2 Matthias Bossuyt (Bel)                                     1.40
3 Guillaume Van Keirsbulck (Bel)                             2.00
4 Robin De Cnodder (Bel)                                     2.38
5 Niels Wytinck (Bel)                                        2.50
6 Ruben Scheire (Bel)                                        3.05
7 Zico Waeytens (Bel)                                        3.50
8 Niels Koyen (Bel)                                          4.07
9 Gert-jan Opsomer (Bel)                                     4.34
10 Bert Noterman (Bel)                                       5.20
11 Jelle Cant (Bel)                                          5.23
12 Niels Godderis (Bel)                                      6.03
13 Milan Van Den Ende (Ned)                                  6.30
14 Kevin Callebaut (Bel)                                     6.40
15 Alois Mus (Bel)                                           6.50
16 Simon Declercq (Bel)                                      6.55
17 Dylan Desruelles (Bel)                                    7.25
18 Jens Adams (Bel)                                          7.50
19 Erwin Broers (Ned)                                        8.30
20 Nick Vandenberghe (Bel)                                   9.00
21 Francesco Van Coppernolle (Bel) +1 Lap
22 Elias Van Breussegem (Bel)
23 Vincent Ronval (Bel)
24 Martijn Lambrecht (Bel)
25 Jimmy Cornu (Bel)
26 Dylan Galens (Bel)
27 Jason Cool (Bel)
 
Women
 
1 Hilde Quintens (Bel)                                      38.52
2 Reza Ravenstein (Ned)                                      0.17
3 Veerle Ingels (Bel)                                        0.40
4 Nicol Kampeter (Ger)                                       0.53
5 Arenda Grimberg (Ned)                                      1.03
6 Sanne Cant (Bel)
7 Joyce Vanderbeken (Bel)                                    1.38
8 Christine Vardaros (USA)                                   1.45
9 Anja Nobus (Bel)                                           2.29
10 Maaike Polspoel (Bel)                                     3.08
11 Kathy Ingels (Bel)                                        4.24
12 Katrien Aerts (Bel)                                       5.17
13 Anne Arnouts (Bel)                                        5.34
14 Mika Ogishima (Jpn)                                       7.05
15 Monique Van De Ree (Ned)                                  8.04
16 Ires Spooren (Ned)                                        8.31
17 Sharon Defoor (Bel)                                      10.25
18 Limke Peeters (Bel)                                      11.36
19 Anne Van De Beurcht (Ned)
20 Iris Ockeloen (Ned) +1 Lap

Superprestige (after three rounds)
 
Elite
 
1 Sven Nys (Bel) Rabobank                                   60 pts
2 Erwin Vervecken (Bel) Fidea Cycling Team                  50
3 Bart Wellens (Bel) Fidea Cycling Team                     49
4 Sven Vanthourenhout (Bel) Rabobank                        45
5 Richard Groenendaal (Ned) Rabobank                        42
6 Gerben De Knegt (Ned) Rabobank                            32
7 Katrien Pauwels (Bel) Fidea Cycling Team                  29
8 John Gadret (Fra) Ag2r-Prevoyance                         26
9 Klaas Vantornout (Bel) Morgan Blue                        21
10 Francis Mourey (Fra) Française Des Jeux                  20
11 Petr Dlask (Cze) AVB Asbestverwijdering                  16
12 Davy Commeyne (Bel) Palmans-Sapim-Collstrop              15
13 Thijs Al (Ned) Bejan-Rings                               11
13 Wilant Van Gils (Ned) ZZPR.nl                            11
15 Jan Soetens (Bel)                                         9
16 Kamil Ausbuher (Cze) Cyklo Team Budvar Tábor              8
17 Bart Aernouts (Bel) Rabobank                              6
17 Jan Verstraeten (Bel) Fidea Cycling Team                  6
17 Maxime Lefebvre (Fra)                                     6
20 Maarten Nijland (Ned) Eurogifts.Com                       5
21 Radomir Simunek (Cze)                                     4
22 Wim Jacobs (Bel) Fidea Cycling Team                       3
23 Enrico Franzoi (Ita) Lampre - Caffita                     2
24 Tim Van Nuffel (Bel) AVB Asbestverwijdering               1
 
U23
 
1 Niels Albert (Bel) Palmans-Sapim-Collstrop                59 pts
2 Zdenek Stybar (Cze) Fidea Cycling Team                    57
3 Dieter Vanthourenhout (Bel)                               45
4 Rob Peeters (Bel)                                         43
5 Boy van Poppel (Ned)                                      35
6 Tom Meeusen (Bel)                                         34
7 Jempy Drucker (Lux)                                       33
8 Eddy Van Ijzendoorn (Ned) Palmans-Sapim-Collstrop         26
9 Wim Leemans (Bel)                                         25
10 Maxim Debusschere (Bel)                                  24
11 Thijs van Amerongen (Ned)                                22
12 Tom Van den Bosch (Bel)                                  19
13 Quentin Bertholet (Bel)                                  18
14 Ricardo van der Velde (Ned)                              10
15 Stijn Huys (Bel) Palmans-Sapim-Collstrop                  8
16 Kevin Cant (Bel)                                          7
17 Mitchell Huenders (Ned)                                   6
17 Kenneth Van Compernolle (Bel) Sunweb-Projobcyclingteam    6
19 Finn Heitmann (Ger) Stevens Racing Team                   2
20 Daan de Jonge (Ned)                                       1
 
Juniors
 
1 Joeri Adams (Bel)                                         54 pts
2 Vincent Baestaens (Bel)                                   53
3 Ramon Sinkeldam (Ned)                                     51
4 Sven Verboven (Bel)                                       51
5 Kevin Eeckhout (Bel)                                      39
6 Yannick Wydooghe (Bel)                                    37
6 Bart Bruyndonckx (Bel)                                    37
8 Jim Aernouts (Bel)                                        30
9 Kristof Cop (Bel)                                         25
10 Kevin Scheirs (Bel)                                      20
11 Frederick Catrysse (Bel)                                 16
12 Marcel Meisen (Ger)                                      12
13 Dimitri Stevens (Bel)                                    10
13 Paul Herman (Fra)                                        10
15 Jordy Beuker (Ned)                                        9
16 Bart Hermans (Bel)                                        8
17 Kaell Pizzy (Bel)                                         6
18 Twan van den Brand (Ned)                                  5
19 Rob van der Velde (Ned)                                   4
19 Jochen Torfs (Bel)                                        4
21 Vincent Renaux (Fra)                                      2
21 Julian van Dijk (Ned)                                     2
21 Bart Barkhuis (Ned)                                       2
24 Geert van der Horst (Ned)                                 1


Past winners
2005 Sven Nys (Bel) Rabobank
2004 Sven Nys (Bel) Rabobank
2003 Bart Wellens (Bel) Spaar Select
2002 Bart Wellens (Bel) Spaar Select
2001 Sven Nijs (Bel) Rabobank
2000 Peter Van Santvliet (Bel) Spaar Select
1999 Richard Groenendaal (Ned) Rabobank
 
Past winners by Mario Stiehl, www.world-of-cycling.com