Superprestige #7 - C1
Hoogstraten, Belgium, February 5, 2006
2005 Results Results Past winners
Sven Nys takes revenge for World's
By Brecht Decaluwé
Sven Nys celebrates
Photo ©: Luc Claessen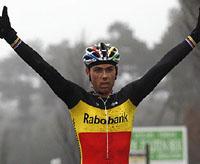 The forest of Hoogstraten, Belgium, was the arena for the seventh out of eight races in the 2005-2006 Superprestige competition. One week after his fall at the World Championships in Zeddam, where he suffered a small crack to his hip, no one knew how Sven Nys (Rabobank) would perform this weekend. But Saturday in Lille he won the Krawatencross in fine style, and today, he was by far the strongest man in the race. Of the 40 races Nys participated in this season, this was his 24th victory.
"It's a dream coming through after my problems last weekend," Nys said after the finish. "What I've done today is really amazing. I wasn't able to train, and yesterday I suffered a lot. Fortunately, there were only five meters where you had to run today, because that still hurts a lot. I missed my start, afterwards I had to move up to the front, one place at a time. I'm glad that my stamina wasn't hurt by my fall in Zeddam. At one point in the circuit, I could ride over a sandhill. That was really exciting, because you need some luck to do that."
The new world champion Erwin Vervecken (Fidea) finished second, just ahead of Sven Vanthourenhout (Rabobank) and Tom Vannoppen (Palmans). "I couldn't perform better today," Vervecken commented. "Yesterday, I blew up my engine by attacking so hard in the race in Lille. Nys was also positioned at the back, like me. But when he moved up to the front and attacked, I couldn't follow. I wanted to show my new jersey and I think that I did well enough by finishing second. Sven Nys is still the best, but I can't help it that he couldn't win the World Championship."
Jonathan Page
Photo ©: Luc Claessen

One of the many teammates of Sven Nys, Sven Vanthourenhout, took third place. "I thought I was the best in the pursuit, but Vervecken was so strong in the last lap," Vanthourenhout said. "I'm still very sad about the World Championship. I had the best day in my career. Maybe, I could've become World Champion. Equipment problems decided it wasn't to be."
The biggest disappointment in Hoogstraten was Bart Wellens (Fidea), who had been the strongest man in the World's only one week ago. He was one of the last contenders of Sven Nys to take the overall win in the Superprestige, but didn't even make into the top ten. "Today, I wasn't thinking about the overall standings," Wellens said after the race. "I'll have to accept that I will have ups and downs in my career, because of medical problems with my back. I did my best, but to finish 12th is really sad. Next weekend needs to be better, so I can finish the season with some good performances."
How it unfolded
A group of 59 riders lined up to attack the circuit in Hoogstraten. Tom Vannoppen had the best start and pushed hard to get some advantage. Kamil Ausbuher (Budvar Tabor) and Vanthourenhout tried to follow, but Ausbuher slipped in the sand and blocked the rest of the field - which in turn permitted Vannoppen and Vanthourenhout to get a gap of seven seconds. After this first lap, it was Gerben De Knegt (Rabobank) who brought everybody back together.
Enrico Franzoi (Lampre)
Photo ©: Luc Claessen

In what was a generally hectic race, riders were attacking and working hard to get an advantage every lap, but it was hard to maintain a gap as there were always some riders coming back. Vannoppen tried hard to get away, Franzoi (Lampre) took over the command but also couldn't gain a major advantage. The pace was very high, and after four laps, American Wade Hess (Team Beacon) was already lapped by the leading group consisting of De Knegt, Simunek (Palmans), Vannoppen, Vanthourenhout, Nys, Vervecken (Fidea). Surprisingly, Bart Wellens (Fidea) and John Gadret couldn't keep up with the pace, riding together with Richard Groenendaal (Rabobank). Somebody in the crowd had been throwing nails on the track, but fortunately nobody got a flat.
The race was halfway through the sixth lap when Sven Nys decided it was time to place an attack. De Knegt and Simunek tried to follow, but as Nys succeeded in riding over a technical sandhill, the rest needed to step off their bikes: the Belgian cross "cannibal" got a gap of 10 seconds on De Knegt and Jan Verstraeten. At the finish line, Nys had been riding at an impressive average speed of around 29 km/h, and the main contenders gave up the pursuit at the end of the seventh lap to focus on the battle for second place...
On some parts of the track, the pace in the group dropped, which made it possible for riders like Bart Aernouts (Rabobank), American Jonathan Page (Cervélo) and Wilant Van Gils (ZZPR.nl) to emerge at the front. While Nys built up his lead to 45 seconds, Vervecken, who had won three of the last four editions of the race, moved up to the front for the first time. Surprisingly, it was Van Gils who then got a gap, together with Vanthourenhout and Vannoppen.
During the last lap, Vervecken moved into second place and hammered through. He got a small gap of five meters, but this was enough to grab second place, 24 seconds behind the untouchable Sven Nys.
Superprestige almost decided
The elite podium
Photo ©: Luc Claessen

The main rivals of Sven Nys for the overall standings in the Superprestige series were Bart Wellens and Gerben De Knegt. The only one who can still make a move for this victory (worth €25000) is De Knegt, who finished fifth. Bart Wellens is out of the competition as he only managed to finish in 12th place. Sven Nys should be able to wrap up the victory because he will only need to finish in the top 15 in Vorselaar next week.
Yesterday, the unstoppable Nys also took the win in Lille. With that victory he won the Gazet van Antwerpen Trofee series, an overall victory that was worth fighting for, as he will be awarded a bonus of €20,000.
The cyclo-cross season is almost over as there are only two major races left: Vorselaar (Superprestige) and Oostmalle (Gazet van Antwerpen Trofee) conclude the season within two weeks.
Photography
For a thumbnail gallery of these images, click here
Images by Luc Claessen/www.ctm-images.com
Results
Elite Men

1 Sven Nys (Bel) Rabobank                          1.00.43
2 Erwin Vervecken (Bel) Fidea Cycling Team            0.24
3 Sven Vanthourenhout (Bel) Rabobank
4 Tom Vannoppen (Bel) Palmans-Sapim-Collstrop
5 Gerben de Knegt (Ned) Rabobank
6 Wilant van Gils (Ned) ZZPR.nl
7 Jan Verstraeten (Bel) Fidea Cycling Team
8 Jonathan Page (USA) Cervélo
9 Enrico Franzoi (Ita) Lampre - Caffita
10 Peter Van Santvliet (Bel) Fidea Cycling Team       0.49
11 Bart Aernouts (Bel) Rabobank
12 Bart Wellens (Bel) Fidea Cycling Team
13 Richard Groenendaal (Ned) Rabobank
14 Nico Berckmans (Bel)
15 Davy Commeyne (Bel) Palmans-Sapim-Collstrop
16 Christian Heule (Swi) Stevens Racing Team
17 John Gadret (Fra) Ag2r-Prevoyance
18 David Willemsens (Bel) WC Vos Sportief Sint
19 Petr Dlask (Cze) AVB Asbestverwijdering
20 Radomir Simunek (Cze)
21 Arne Daelmans (Bel) Chocolade Jacques - T Interim
22 Darius Gil (Pol) Paged-MBK-Scout
23 Milan Barenyi (Svk)
24 Cyrille Bonnand (Fra)
25 David Derepas (Fra)
26 Kamil Ausbuher (Cze) Cyklo Team Budvar Tábor
27 Bert Vervecken (Bel)
28 Jan Soetens (Bel)
29 Maarten Nijland (Ned) Eurogifts.Com
30 Camiel Van Den Bergh (Ned) Stevens Racing Team
31 Robert Glajza (Svk)
32 Fabian Brezinski (Ger)
33 Johannes Sickmüller (Ger) Stevens Racing Team
34 Nico Clarysse (Bel) Saey Deschacht
35 Stijn Penne (Bel)
36 Marius Gil (Pol) Strzelce Krajenskie
37 Joachim Parbo (Den) Cycling Aarhus
38 Sven Van Eyndt (Bel)
39 Yoeri Beyens (Bel)
40 Dirk Bertels (Bel)
41 Isaac Suarez Fernandez (Spa)
42 Jan Van Donink (Bel)
43 Jan Geerts (Bel)
44 Guy Bertels (Bel)
45 Erik Myngheer (Bel)
46 Lorenzo Van Damme (Bel)
 
U23
 
1 Niels Albert (Bel) Palmans-Sapim-Collstrop
2 Eddy Van Ijzendoorn (Ned) Palmans-Sapim-Collstrop
3 Zdenek Stybar (Cze) Fidea Cycling Team
4 Dieter Vanthourenhout (Bel)
5 Mike Thielemans (Bel)
6 Kevin Pauwels (Bel) Fidea Cycling Team
7 Jean-Pierre Drucker (Lux)
8 Rob Peeters (Bel)
9 Kenny Geluykens (Bel)
10 Tom Van Den Bosch (Bel)
11 Jan Van Dael (Bel)
12 Clément Lhottelerie (Fra)
13 Daan De Jonge (Ned)
14 Davy De Scheemaeker (Bel)
15 Marco Fontana (Ita)
16 Rafael Visinelli (Ita) V.C. Bologna
17 Jan Arnouts (Bel)
18 Rik Van Yzendoorn (Ned)
19 Maxim Debusschere (Bel)
20 Stijn Huys (Bel) Palmans-Sapim-Collstrop
21 Jan Verhaegh (Ned)
22 Harm Vandekerckhove (Bel)
23 Jan Mikkers (Ned)
24 Jeroen Thielemans (Bel)
25 Joeri Kouwenhoven (Ned)
26 Matthias Onghena (Bel)
27 Bart Senders (Ned)
28 Ivar Hartogs (Ned)
29 Dieter Schol (Bel)
30 Quentin Bertholet (Bel)
31 Frank Van Grootel (Ned)
32 Ondrej Zelinka (Cze)
33 Steven Schol (Bel)
34 Koen Van Grootel (Ned)
35 Brian Kumbiria Zengeni (Zim)
36 Tom Lambrechts (Bel)
37 Gordon Martin (Zim)
38 Brighton Kasecha (Zim)
39 Nqobizitha Tshabalala (Zim)
40 Jackson Vijarona (Zim)
 
Juniors
 
1 Boy Van Poppel (Ned)
2 Kevin Cant (Bel)
3 Tom Meeusen (Bel)
4 Dennis Vanendert (Bel)
5 Christian Cominelli (Ita)
6 Kenneth Van Compernolle (Bel)
7 Ramon Sinkeldam (Ned)
8 Bart Bruyndonckx (Bel)
9 Vincent Baestaens (Bel)
10 Dries Pauwels (Bel)
11 Jim Aernouts (Bel)
12 Joeri Adams (Bel)
13 Jan Van Zeebroeck (Bel)
14 Yannick Wydooghe (Bel)
15 Bart Hermans (Bel)
16 Kristof Cop (Bel)
17 Rob Van Der Velde (Ned)
18 Jeroen Dekkers (Ned)
19 Thomas Vernaeckt (Bel)
20 Wim Thijs (Bel)
21 Edwin Arts (Ned)
22 Bart Wouters (Bel)
23 Geert Van Der Sande (Ned)
24 Kaell Pizzy (Bel)
25 Raf Pluym (Bel)
26 Pieter Bosmans (Bel)
27 Greg Franckaert (Bel)
28 Dave De Cleyn (Bel)
29 Tom Clauw (Bel)
30 Tim Debusschere (Bel)
31 Ruben Lambrechts (Bel)
 
Novices
 
1 Sean De Bie (Bel)
2 Stef Boden (Bel)
3 Zeb Willems (Bel)
4 Jochen Torfs (Bel)
5 Kevin Smit (Ned)
6 Kenneth Marien (Bel)
7 Hans Antonissen (Bel)
8 Michiel Dieleman (Bel)
9 Ruben Veestraeten (Bel)
10 Jasper Ockeloen (Ned)
11 Bert Vermeiren (Bel)
12 Gerry Druyts (Bel)
13 Geert Van Der Horst (Ned)
14 Bart Barkhuis (Ned)
15 Jarno Van De Casteele (Bel)
16 Kenny Maes (Bel)
17 Erwin Theuns (Bel)
18 Willem Van Den Eynde (Bel)
19 Sven Beelen (Bel)
20 Thomas Gysbrechts (Bel)
21 Niels Koyen (Bel)
22 Ben Remijsen (Bel)
23 Sam Van Hemelen (Bel)
24 Witse Bosmans (Bel)
25 Tommy Van Beem (Ned)
26 Haye Van Boxtel (Ned)
27 Daan Meijers (Ned)
28 Guillaume Van Keirsbulck (Bel)
29 Yannick Pauwels (Bel)
30 Stijn Van Driessche (Bel)                             
Superprestige standings after round 7


Elite Men
 
1 Sven Nys (Bel) Rabobank                            101 pts
2 Gerben De Knegt (Ned) Rabobank                      87
3 Bart Wellens (Bel) Fidea Cycling Team               81
4 Sven Vanthourenhout (Bel) Rabobank                  69
5 Erwin Vervecken (Bel) Fidea Cycling Team            69
6 Petr Dlask (Cze) AVB Asbestverwijdering             52
7 Tom Vannoppen (Bel) Palmans-Sapim-Collstrop         52
8 Richard Groenendaal (Ned) Rabobank                  41
9 Enrico Franzoi (Ita) Lampre - Caffita               35
10 Wim Jacobs (Bel) Fidea Cycling Team                32
11 Jonathan Page (USA) Cervélo                        27
12 Wilant Van Gils (Ned) ZZPR.nl                      23
13 Kamil Ausbuher (Cze) Cyklo Team Budvar Tábor       21
14 Radomir Simunek (Cze)                              20
15 John Gadret (Fra) Ag2r-Prevoyance                  19
16 Jan Verstraeten (Bel) Fidea Cycling Team           17
17 Davy Commeyne (Bel) Palmans-Sapim-Collstrop        16
18 Bart Aernouts (Bel) Rabobank                       15
19 Camiel Van Den Bergh (Ned) Stevens Racing Team     15
20 Tim Van Nuffel (Bel) AVB Asbestverwijdering        13
21 Peter Van Santvliet (Bel) Fidea Cycling Team       12
22 Klaas Vantornout (Bel) Morgan Blue                 10
23 Lars Boom (Ned) Rabobank                            7
24 Martin Zlámalík (Cze) Author Praha                  3
25 Nico Berckmans (Bel)                                2
26 David Willemsens (Bel) WC Vos Sportief Sint         1
 
U23 Men
 
1 Niels Albert (Bel) Palmans-Sapim-Collstrop          90 pts
2 Eddy Van Yzendoorn (Ned)                            71
3 Dieter Vanthourenhout (Bel)                         70
4 Kevin Pauwels (Bel) Fidea Cycling Team              65
5 Zdenek Stybar (Cze) Fidea Cycling Team              57
6 Jan Soetens (Bel)                                   52
7 Rob Peeters (Bel)                                   50
8 Jean-Pierre Drucker (Lux)                           38
9 Clement Lhotellerie (Fra)                           28
10 Tom Van Den Bosch (Bel)                            26
11 Kenny Geluykens (Bel)                              23
12 Maxim Debusschere (Bel)                            17
13 Thijs Van Amerongen (Ned)                          15
14 Lars Boom (Ned) Rabobank                           13
15 Frederik Herpol (Bel)                              13
16 Sebastiaan Langeveld (Ned)                         12
17 Jan Van Dael (Bel)                                 12
18 Mike Thielemans (Bel)                              11
19 Marco Aurelio Fontana (Ita)                         9
20 Pirmin Lang (Swi)                                   9
21 Wim Leemans (Bel)                                   8
22 Rafael Visinelli (Ita) V.C. Bologna                 6
23 Daan De Jonge (Ned)                                 5
24 Finn Heitemann (Ger)                                5
25 Felix Gniot (Ger)                                   4
26 Rik Van Yzendoorn (Ned)                             4
27 Jeroen Dingemans (Bel)                              3
28 Davy De Scheemaeker (Bel)                           2
29 Rikke Dijkxhoorn (Ned)                              2
 
Juniors
 
1 Tom Meeusen (Bel)                                   73 pts
2 Kevin Cant (Bel)                                    64
3 Kenneth Van Compernolle (Bel)                       47
4 Vincent Baestaens (Bel)                             46
5 Joeri Adams (Bel)                                   43
6 Dries Pauwels (Bel)                                 43
7 Ramon Sinkeldam (Ned)                               37
8 Boy Van Poppel (Ned)                                37
9 Dennis Vanendert (Bel)                              33
10 Jim Aernouts (Bel)                                 32
11 Umberto Atzori (Ned)                               28
12 Mitchell Huenders (Ned)                            21
13 Laurens De Vreese (Bel)                            19
14 Dave De Cleyn (Bel)                                18
15 Remco Te Brake (Ned)                               14
16 Thomas Vernaeckt (Bel)                             14
17 Dries Govaerts (Bel)                               12
18 Nivard Van Acker (Bel)                             12
19 Jordy Beuker (Ned)                                 11
20 Christian Cominelli (Ita)                          11
21 Bjorn De Decker (Bel)                              10
22 Yannick Wydooghe (Bel)                              9
23 Bart Bruyndonckx (Bel)                              8
24 David Schloesser (Lux)                              8
25 Bjorn Sealander (USA)                               8
26 Geert Van Der Sande (Ned)                           7
27 Sylvester Janiszewski (Pol)                         6
28 Rob Van Der Velde (Ned)                             6
29 Joel Bakker (Ned)                                   5
30 Frederick Catrysse (Bel)                            5
31 Tim Debusschere (Bel)                               4
32 Dimitri Stevens (Bel)                               4
33 Martijn Valks (Ned)                                 4
34 Savié Van Horik (Ned)                               4
35 Kristof Cop (Bel)                                   3
36 Stephan Sprinke (Ger)                               3
37 Jan Van Zeebroeck (Bel)                             3
38 Twan Van Den Brand (Ned)                            2
39 Richard Van Loon (Ned)                              2
40 Glen Verhaeghe (Bel)                                2
41 Thomas Chamon (Bel)                                 1
42 Bart Hermans (Bel)                                  1




Past winners
Men

2005 Erwin Vervecken (Bel)
2004 Erwin Vervecken (Bel)
2003 Sven Nijs (Bel)
2001 Erwin Vervecken (Bel)
2000 Richard Groenendaal (Ned)
1999 Sven Nijs (Bel)
1998 Bart Wellens (Bel)
1997 Peter Willemsens (Bel)
1995 Paul Herijgers (Bel)
1994 Peter Willemsens (Bel)
1993 Paul Herijgers (Bel)
1992 Gustaaf Van Bouwel (Bel)
1991 Dirk Pauwels (Bel)
1990 Wim Lambrechts (Bel)
1989 Kurt De Roose (Bel)

Women

2000 Daphny Van Den Brand (Ned)