KLM Marketing Solutions UCI Cyclocross - C2
Wyandotte County Park, Kansas City, USA, December 3, 2006
Tilford Goes For A Swim, Comes Back to Win
By Sean Weide
Dripping from shoulders to toe
Photo ©: Kurt Jambretz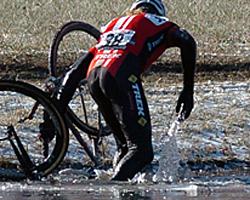 When Steve Tilford crashed his bike into an icy lake on the second lap of Sunday's KLM Marketing UCI Cyclocross Race, his first instinct was to get back on and start racing. A warm blanket and some dry clothing would have to wait. The Trek/Volkswagon rider had another epic chapter to write in his already storied career that includes five world mountain bike and four national cyclocross titles.
A two-part storm – first ice, then snow – that struck days before the race also prevented many competitors from St. Louis and other cities east of Kansas City from making the trip to the course that will play host to the 2007 and 2008 national championships. One of the more prominent no shows was defending national champion Todd Wells (GT), who blamed a stomach flu more than travel troubles.
Before his ice bath, Tilford was 20 seconds clear of Prenzlow after the first of eight laps in the 60-minute event. But on his second trip through a frozen, rutty patch of mud on the tree-lined course, he lost control and skidded out onto the ice. The bizarre incident and his stunning comeback had even the Topeka, Kan., resident shaking his head in disbelief afterwards. "I was on my hands and knees on the ice and my bike's laying there flat on it," Tilford said. "Then all of sudden, the ice broke through and I just went up my waist and down to my shoulders."
The wind chill was in the single digits
Photo ©: Mark Breeding

With temperatures in the low 20s and a stiff, biting wind blowing out of the north, "I knew I was in trouble," Tilford said. "After I got out, I yelled to the guys in the pit that I needed some new gloves because my hands were frozen. But by the time I rode another lap, the gloves had frozen solid on my hands and I couldn't get pull them off with my teeth or my hands." Tilford tossed his water-logged bike out of the lake and needed only one lap of the 2.5 kilometer course to chase down and pass Brent Prenzlow (Celo Pacific/Salsa) on the way to winning the second annual edition of the race at Kansas City's Wyandotte County Park.
Tilford found himself riding a bike that had essentially become a single speed. Already caked with mud, the icy slush from the trip into the lake froze the bike's brake and shifting cables. But it didn't matter. Tilford quickly caught up to Prenzlow and was eight seconds clear of the Carlsbad, Calif., resident by the start of the next lap. From there, he put it on cruise control, tossing down lap times of 7:47, 7:43, 7:47 and 7:54 to build a lead that was a comfortable 29 seconds heading into the final lap.
"At the end, I tried to maintain and not make any more mistakes," Tilford said. "Obviously, if this would have been the nationals, I would have finished 30th or something. You have to be able to shift and brake your bike or you usually don't do well." Tilford's conquest of the elements harkened back to one of his nine victories earlier this year. In June, he won the fourth stage of the Nature Valley Grand Prix in a thunderstrom so strong the hour-long criterium was called after only 17 minutes.
Alan Factory's Bjorn Selander
Photo ©: Mark Breeding

The race for third was not decided until late in the race. Trek/VW's Bill Stolte, teammate Shadd Smith and Alan Factory's Bjorn Selander were separated by only 28 seconds with three laps to go, but Selander attacked the two and maintained his advantage for third, 55 seconds behind Tilford.
The UCI women's race Sunday turned into a head-to-head battle between Portland's Sue Butler (River City Bicycles) and Team Maxxis' Melissa Thomas of Boulder. The pair pulled away from the field at the start of the 40-minute race and had nearly 30 seconds' lead with two laps to go. Then Thomas made her move.
"She (Butler) had a friend who kept yelling at her to stay on my wheel especailly in the windy section so that made me try to drop her because didn't want to keep pulling her around," Thomas said. Thomas was 15 seconds clear on the bell lap and scored her first cyclocross win of the season when she arrived at the finish with a 24-second cushion over Butler. Catherine Walberg (Team Kenda Tire) came in third. "It hurt to breathe the air was so cold," said Thomas, who could barely talk after the race. "But I love adverse conditions and wore hand warmers in my gloves and shoes so I wasn't really cold."
Photography
For a thumbnail gallery of these images, click here
Images by Mark Breeding
Images by Kurt Jambretz/actionimages.cc/
Images by Bruce Edwards
Images by John Peterson
Results
Elite Men

1 Steve Tilford (USA) Shimano/Verge                 1.01.54
2 Brent Prenzlow (USA) Celo Pacific/Salsa              0.16
3 Bjorn Selander (USA) Alan Factory                    0.55
4 Shadd Smith (USA) Trek/VW - Midwest                  2.02
5 William Stolte (USA) Bill Stolte                     2.49
6 Nathan Rice (USA) Big Shark Racing/Ridley            2.52
7 Joshua Johnson (USA) Big Shark Racing                3.34
8 Shawn Harshman (USA) Harshman Wealth PrimusMootry    4.02
9 Brian Jensen (Den) Jelly Belly Pro                   4.11
10 John Behrens (USA) Celo Pacific/ProBikeSupport      4.22
11 Kyle Jacobson (USA) Beans and Barley                4.54
12 Aaron Pool (USA) Lincoln Plating                    5.35
13 Mark Studnicki (USA) Cowtown Cycling                6.37
14 Adam Mills (USA) MRRC/ Trek/ Volkswagon             9.17
One lap down
15 John Meehan (USA) Mercy Specialized                     
16 Sean Noonan (USA) Team 14- Pedros                       
17 James Holmes (USA) All9Yards.com Cycling Team           
DNF  Douglas Plumer (USA) Big Shark Racing                 
 
Elite Women

1 Melissa Thomas (USA) Team Maxxis                    35.26
2 Sue Butler (USA) River City Bicycles                 0.24
3 Catherine Walberg (USA) Team Kenda Tire              0.59
4 Sydney Brown (USA) Lincoln Plating/Lemond            1.19
5 Kelly Jones (Can) Sugoi Factory Team                 1.39
6 Jennifer Tilley (USA) Velo Bella/Kona                1.55
7 Pam Hinton (USA) Columbia Bike Club                  6.12