Japanese Cyclo-cross Championships - CN
Tomakomai, Japan, December 3, 2006
Tsujiura takes fifth straight victory
By Kei Tsuji
Keiichi Tsujiura wins
Photo ©: Hideaki Takagi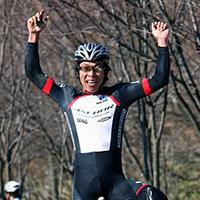 The 12th edition of the Japanese Cyclo-cross Championships was held in Tomakomai, where the defending champion, Keiichi Tsujiura (Bridgestone-Anchor), acheived an unprecedented fifth straight victory.
Holding the championships on the Northern island of Hokkaido meant that riders had to face tough, cold conditions on a freezing course, which gradually melted and became increasingly muddy towards the end. This year, 38 riders lined up, including seven in the U23 category.
It was Keiichi Tsujiura (Bridgestone-Anchor) and Masanori Kosaka (Suwako Racing Team) who started off well. The two big favorites gaining a gap over the riders behind.
The course
Photo ©: Hideaki Takagi

On the last lap, Tsujiura fell off his bike due to accidental contact with a rider who was being lapped. This was a great opportunity for the 43 year-old Kosaka to go on and win but the defending champion never gave up and succeeded to catch Kosaka. The race came down to a sprint between the two, and it was Tsujiura who crossed the finish line first.
The elite women's race was totally dominated by defending champion, Eiko Toyooka (masahikomifune.com CyclingTeam). She showed overwhelming power and took her second national title comfortably.
Photography
For a thumbnail gallery of these images, click here
Images by Hideaki Takagi/www.cyclingtime.com
Results

Elite Men

1 Keiichi Tsujiura (Bridgestone-Anchor)           1.07.39
2 Masanori Kosaka (Suwako Racing Team)               0.01
3 Kouhei Yamamoto (Kokusai Outdoor School)           0.04
4 Atsushi Maruyama (Suwako Racing Team)              0.17
5 Yu Takenouchi (Rits Uji High School)               4.11
6 Moritarou Nakama (Team Saitamakenjin)
7 Takafumi Iizuka (Suwako Racing Team)
8 Masaru Takagi (Gary Fisher)
9 Wataru Otsuka (masahikomifune.com CyclingTeam)
10 Masahiko Mifune (Subaru-Miyata)
11 Sei Kobayashi (Suwako Racing Team)                7.32
12 Seigo Yamamoto (KAI Racing)                       8.36
13 Kazuhiro Yamamoto (Cannondale Racing Team)        8.40
14 Seiji Tsuchiko (YDK Mechatronics)                 9.32
15 Yuichi Sawada (Team Cyclemind)                    9.33
16 Tetsuya Fujioka (Club Silbest)                   10.14
17 Kengo Kowatari (Osaka City University)           1 lap
18 Yoshinori Kobayashi (Testach Racing)
19 Akira Kunisue (Shimano-Nexus)
20 Akira Ishii (Ritsumeikan University)
21 Hiroshi Funaoka (Testach Racing)                 2 laps
22 Yuudai Izawa (Bee Club)
23 Seiji Yamabe (Team Saitamakenjin)
24 Kenichi Kikuchi (JMS by AMB-Twin)
25 Hideharu Sasai (masahikomifune.com CyclingTeam)
26 Satoshi Tomita (JGSDF Sapporo)                   3 laps
27 Hibiki Matsui (Kitakuwada High School)
28 Yasuyuiki Sawada (Volca Tentomushi)
29 Shinya Ikemoto (Feit Wakokiki Tamura)
30 Yoshinori Ozaki (Team Yoshi)
31 Tsutomu Shimaki (Gas Panic-SP)
DNF Yasuhiro Abe (Mishonyo Bombers)
DNF Hiroshi Fujioka (Miyatake Seikaten)
DNF Takashi Kuriyama (De Cyclo Pedal)
DNF Kiyoshi Inomata (De Cyclo Pedal)
DNF Humihide Matsumoto (Gas Panic-SP)
DNF Natsuki Yamada (SSJ)
DNF Wataru Kashiwaya (De Cyclo Pedal)

Elite Women

1 Eiko Toyooka (masahikomifune.com CyclingTeam)
2 Michiko Shimura (Equipe Azumino)
3 Ikumi Tajika (Godd Hill)
4 Masumi Sakai (Testach Racing)
5 Keiko Karimata (Testach Racing)

U23

1 Kouhei Yamamoto (Kokusai Outdoor School)
2 Yu Takenouchi (Rits Uji High school)
3 Wataru Otsuka (masahikomifune.com CyclingTeam)