Cyclo-Cross World Cup #1 - CDM
Kalmthout, Belgium, October 23, 2005
Nys evens the score
By Jeff Jones
Sven Nys (Rabobank)
Photo ©: Roberto Bettini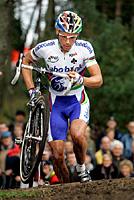 Although he was beaten by a narrow margin in last week's Superprestige race in Ruddervoorde, Belgian World Champion Sven Nys (Rabobank) took revenge over Bart Wellens (Fidea) in the most impressive fashion, beating his compatriot by half a minute in the first round of the World Cup in Kalmthout. Nys attacked before the halfway point as Wellens was struggling with bike problems, and by the time Wellens had sorted everything out, Nys already had 14 seconds. But even when Wellens tried to close the gap, he could make no impression and it was clear who the best rider was today in Kalmthout. Third place went to Czech rider Petr Dlask, whose jersey emblazoned with "Sponsor?" was quite visible on the podium.
"At the moment that Bart Wellens lost a bit of ground through a bike change, I decided immediately to go hard," explained Nys. "That was even crossing the pain barrier, but after I could make the most of it on a parcours that suited me. Wellens was not good today, he told me, but I still proved that I can ride him off my wheel. If I could hold this form for the whole time, then the others will need good credentials to beat me."
The podium (L to R):
Photo ©: Roberto Bettini

Wellens didn't blame his loss on his bike. "I did indeed have equipment problems," he said. "I had to change my bike a couple of times after problems with the tyre pressure and the derailleur. But I have to be honest: I wasn't good enough today. I felt that when I tried to close the gap to Nys. On Saturday I had a super day in training, but today I realised my worst day of the season."
If Wellens' worst day still gets him second place in a World Cup, then the rest of the cyclo-cross field will have slim pickings this winter.
How it unfolded
After some overnight rain, the parcours in Kalmthout was a little muddy, but no rain fell during the day and it was a fast race. The course was fairly technical, weaving in and out of the trees with a couple of stair runups and one bridge per lap.
German Thorsten Struch set the early pace with the field strung out behind him, but he later paid for his efforts and finished 29th. Isaac Suarez (Spain) was also up there on the first lap, along with usual suspects Sven Nys (Bel/Rabobank), Bart Wellens and Erwin Vervecken (Bel/Fidea), Richard Groenendaal (Ned/Rabobank), and Petr Dlask (Cze). But by the end of the first lap, Nys took over the lead and upped the pace, gapping the rest and putting Vervecken, Wellens and Struch at four seconds at the end of the circuit.
Czech Petr Dlask
Photo ©: Roberto Bettini

Wellens didn't want to let his rival get too far ahead, and tried to bridge up to Nys at the start of lap 2. But he needed half of the lap to close the gap, eventually passing Nys on the first set of stairs. At the end of the lap, they had five seconds on the next group of chasers, which contained Dlask, Vervecken, Camiel Van den Bergh (Ned/Stevens), Tom Vannoppen (MrBookmaker), Groenendaal, Gerben De Knegt (Ned/AA drink-Bejan) and Franzoi (Ita/Lampre). Dlask made it across to the two leaders on lap three, while the rest dangled at 5 seconds, save for De Knegt, who crashed, and Franzoi, who was behind him.
It was shaping up into a Nys-Wellens showdown when the first of several mini-disasters struck Wellens on Lap 4. He had problems with his derailleur and had to change his bike at the first pit area, but was then unhappy with his tyre pressure and rode through the second pit area, looking for another change. There was no bike for him and he was now back with the chasing group with Groenendaal, Vervecken and Vannoppen at five seconds, while Dlask drove it in front with Nys on his wheel.
Nys had been looking strong all race and when he checked behind at the start of lap 5, he saw Wellens struggling. The World Champ upped the tempo and immediately dropped Dlask, while Wellens changed back to his original bike at the first pit area. The Wellens group was gaining ground on Dlask, but Nys had flown the coop and at the end of lap 5, he had eight seconds on Dlask and 14 on the Wellens group.
Bart Wellens (Fidea)
Photo ©: Roberto Bettini

Wellens wasn't done yet but he clearly wasn't on one of his best days, even considering the bike problems. He put a huge surge in on lap 6 to close to Dlask, but Nys was flying and Wellens barely made an impression. At the end of the lap, Wellens was at 14 seconds, then Groenendaal, Dlask, Vannoppen and Vervecken at 22 seconds, with the Dutch rider asking the others to chase.
Wellens exploded on lap 7 and dropped back to the Groenendaal group, giving Nys more time and that magic 30 second buffer. Nys extended this to 42 seconds with two laps to go, when Wellens put in another surge to try for second place. He succeeded in doing that, while Dlask just beat Vervecken in the sprint for third. But Nys was far and away the best today.
Photography
For a thumbnail gallery of these images, click here
Images by AFP Photo
Images by Roberto Bettini/www.bettiniphoto.net
Results
Elite Men  
 
1 Sven Nys (Bel) Rabobank
2 Bart Wellens (Bel) Fidea Cycling Team
3 Petr Dlask (Cze)
4 Erwin Vervecken (Bel) Fidea Cycling Team
5 Tom Vannoppen (Bel) Mrbookmaker - Sports Tech
6 Richard Groenendaal (Ned) Rabobank
7 Sven Vanthourenhout (Bel) Rabobank
8 Gerben De Knegt (Ned) Aa Drink-Bejan
9 Enrico Franzoi (Ita) Lampre - Caffita
10 Wim Jacobs (Bel) Fidea Cycling Team
11 Camiel Van Den Bergh (Ned) Stevens Racing Team
12 Bart Aernouts (Bel) Rabobank
13 Davy Commeyne (Bel) Mrbookmaker - Sports Tech
14 Zdenek Mlynar (Cze)
15 Christian Heule (Swi) Stevens Racing Team
16 John Gadret (Fra) Chocolade Jacques
17 Simon Zahner (Swi)
18 Radomir Simunek (Cze)
19 Francis Mourey (Fra) Française Des Jeux
20 Steve Chainel (Fra)
21 Kamil Ausbuher (Cze)
22 Jan Verstraeten (Bel) Fidea Cycling Team
23 Zdenek Stybar (Cze)
24 Michael Baumgartner (Swi)
25 Wilant Van Gils (Ned) Team Skil - Moser
26 Eddy Van Yzendoorn (Ned)
27 Arnaud Labbe (Fra) Auber 93
28 Malte Urban (Ger) Stevens Racing Team
29 Thorsten Struch (Ger)
30 David Derepas (Fra)
31 Jens Schwedler (Ger) Stevens Racing Team
32 Thijs Al (Ned) Giant-Racing-Team
33 Martin Zlamalik (Cze)
34 Isaac Suarez Fernandez (Spa)
35 Julien Belgy (Fra) Bouygues Telecom
36 Marek Cichosz (Pol)
37 Jonathan Page (USA) Colavita Olive Oil - Sutter Home
38 Marco Bianco (Ita)
39 Martin Bina (Cze)
40 Bart Dirkx (Ned)
41 Milan Barenyi (Svk)
42 David Seco Amundarain (Spa)
43 Gusty Bausch (Lux)
44 Jan Ramsauer (Swi)
45 Fabian Brezinski (Ger)
46 Guillaume Benoist (Fra)
47 Robert Glajza (Svk)
 
U23 Men  
 
1 Niels Albert (Bel) Mrbookmaker - Sports Tech
2 Kevin Pauwels (Bel)
3 Romain Villa (Fra)
4 Rob Peeters (Bel)
5 Marco Aurelio Fontana (Ita)
6 Dieter Vanthourenhout (Bel)
7 Jan Soetens (Bel)
8 Jean-Pierre Drucker (Lux)
9 Frantisek Kloucek (Cze)
10 Flavio Alex Longhi (Ita)
11 Luca Damiani (Ita)
12 Lukes Kloucek (Cze)
13 Maxim Debusschere (Bel)
14 Pirmin Lang (Swi)
15 Paul Vos (Ger)
16 Wim Leemans (Bel)
17 Philipp Walsleben (Ger)
18 Rafael Visinelli (Ita)
19 Tom Van Den Bosch (Bel)
20 Fabio Ursi (Ita)
21 Davide Malacarne (Ita)
22 Lukas Flückiger (Swi)
23 Ondrej Zelinka (Cze)
24 Rik Van Yzendoorn (Ned)
25 Kenny Geluykens (Bel)
26 Jan Van Dael (Bel)
27 Anthony Colas (Fra)
28 Martin Nemecek (Cze)
29 Florian Lecorre (Fra)
30 Jeroen Dingemans (Bel)
31 Gianni Denolf (Bel)
32 Clement Lhotellerie (Fra)
33 Julien Taramarcaz (Swi)
34 Renè Lang (Swi)
35 Jan Arnouts (Bel)
36 Ricardo Van Der Velde (Ned)
37 Michal Werstak (Pol)
38 Stijn Huys (Bel)
39 Lukas Keller (Ger)
40 Tobias Schleifring (Ger)
 
Women  
 
1 Daphny Van Den Brand (Ned)
2 Marianne Vos (Ned)
3 Hanka Kupfernagel (Ger)
4 Reza Ravenstein (Ned)
5 Maryline Salvetat (Fra)
6 Anja Nobus (Bel)
7 Birgit Hollmann (Ger)
8 Veerle Ingels (Bel)
9 Laurence Leboucher (Fra)
10 Arenda Grimberg (Ned)
11 Susanne Juranek (Ger)
12 Britt Jochems (Ned)
13 Nadia Triquet (Fra)
14 Petra Hofs (Ned)
15 Paola Bortolin (Ita)
16 Joyce Vanderbeken (Bel)
17 Loes Sels (Bel)
18 Helen Wyman (GBr)
19 Nicol Kampeter (Ger)
20 Susy Godart (Lux)
21 Séverine Hansen (Fra)
22 Milena Cavani (Ita)
23 Claudia Marsilio (Ita)
24 Francesca Cuccinello (Ita)
25 Elisabetta Borgia (Ita)
26 Annekatrin Nietsche (Ger)
27 Katrien Aerts (Bel)
28 Katrien Pauwels (Bel)
 
Junior Men  
 
1 Tom Meeusen (Bel)
2 Robert Gavenda (Svk)
3 Jim Aernouts (Bel)
4 Dries Govaerts (Bel)
5 Yannick Martinez (Fra)
6 Aurelien Duval (Fra)
7 Dennis Vanendert (Bel)
8 Boy Van Poppel (Ned)
9 Kevin Cant (Bel)
10 Vincent Baestaens (Bel)
11 Johim Ariesen (Ned)
12 Jordy Beuker (Ned)
13 Remco Broers (Ned)
14 David Menger (Cze)
15 Jiri Polnicky (Cze)
16 Christian Cominelli (Ita)
17 Joeri Adams (Bel)
18 Ramon Sinkeldam (Ned)
19 Dries Pauwels (Bel)
20 Lukas Prihoda (Cze)
21 Jo Pirotte (Bel)
22 Andrea Caimi (Ita)
23 Jacob Stastny (Cze)
24 Kenneth Van Compernolle (Bel)
25 Sascha Weber (Ger)
26 Bart Bruyndonckx (Bel)
27 Yannick Wydooghe (Bel)
28 Jules Chabanon (Fra)
29 Omar Sottocornola (Ita)
30 Jiri Podrazil (Cze)
31 Marcel Meisen (Ger)
32 Tim Debusschere (Bel)
33 Geoffrey Lorrain (Fra)
34 Kevin Eeckhout (Bel)
35 Fabrizio Braggion (Ita)
36 Peter Simora (Svk)
37 Stijn Mortelmans (Bel)
38 Kristof Cop (Bel)
39 Laurens De Vreese (Bel)
40 Pieter Bosmans (Bel)
41 Daniel Vobora (Cze)
42 Giancarlo Siau (Ita)
43 Kaell Pizzy (Bel)
44 Giuseppe Michielotto (Ita)
45 Joeri Lambrechts (Bel)
46 Dries Ingels (Bel)
47 Kevin Van Synghel (Bel)
48 Matthias Moeyaert (Bel)
49 Wim Thijs (Bel)
50 Bart Lemmens (Bel)




World Cup standings after round 1
1 Sven Nys (Bel) Rabobank
2 Bart Wellens (Bel) Fidea Cycling Team
3 Petr Dlask (Cze)
4 Erwin Vervecken (Bel) Fidea Cycling Team
5 Tom Vannoppen (Bel) Mrbookmaker - Sports Tech
6 Richard Groenendaal (Ned) Rabobank
7 Sven Vanthourenhout (Bel) Rabobank
8 Gerben De Knegt (Ned) AA drink-Bejan
9 Enrico Franzoi (Ita) Lampre - Caffita
10 Wim Jacobs (Bel) Fidea Cycling Team