Surf City 'Cross series #1 - NE
Aptos, CA, USA, October 16, 2005
Jacques-Maynes & Barbarella win reborn Surf City's first outing
Daddy (Ben Jacques-Maynes) wins!
Photo ©: Russ and Nancy Wright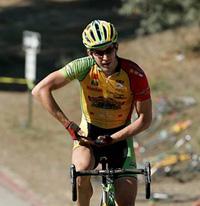 Velo Bella's resurrection of the long running Surf City Cyclocross Series kicked off its first race on Sunday, October 16 at Aptos High School in Aptos, CA. Touted by some as the most difficult course in the area; the heat, elevation changes and off camber corners took its toll on the racers.
The highly challenging course was mastered by Ben Jacques-Maynes (Sierra Nevada) who battled with Justin Robinson (Cal Giant) for some time before pulling away for the win. Simon Vickers (Rock Lobster) won the battle for third over his teammate, Josh Snead.
In the Elite Women's field, Cyclingnews diarist, Barbara "Barbarella" Howe, continued her winning ways with an impressive victory of 40 seconds over her teammate and collegiate National Champion, Melodie "Sweet Pea" Metzger. Josie Beggs (Starbucks/CalGiant) made a strong late race surge to move from 6th place into 3rd.
David Eastwood (Art by Opsal) won the always competitive Masters 35 event, the legendary Larry Hibbard (Family Cycling Center) won the 45+ event, and no one is quite sure who won the "jungle cross" event.
Surf City is the longest running cyclocross series in the country and Velo Bella celebrated its 30th anniversary in style with a special 30-minute Jungle Cross event reminiscent of the days when racers suffered through creeks and fallen redwoods.
The infamous
Photo ©: Russ and Nancy Wright

The infamous Velo Bella gorilla made his season debut in this race. Along with others who wore hula outfits, grass skirts, rabbit ears, camouflage and leopard prints. Participants also stayed true to the rules of the jungle as they sang on the run-ups and cut course lines with the help of co-conspirators. "The Jungle Cross race celebrates the brutally difficult course designs back when cyclocross started in this area," says Sabine Dukes, Velo Bella's founder and team manager. "The obstacles were silly and tough. I remember one year running up a huge pile of sawdust on a course held at a lumber yard." The Surf City Jungle Cross racecourse gave all racers a good chuckle as they battled fiercely to win the coveted freshly baked pies from sponsor Gizdich Ranch.
Not only did the event draw national elite level riders and new cyclocross racers, it offered a variety of events, including a kid's race. The kid's race, for children 12 and under, was led by Velo Bella's tiki priestess, Valerie Mangin. These tiny racers charged barriers as they pushed through the custom course to the cheers of their loved ones. Each received a special jungle prize bag for participating. In an attempt to draw new racers to the sport, women new to cyclocross racing received a special "Cyclocross Survival Kit" chock full of Velo Bella flair. The day before the event, Velo Bella brought some of the nation's top cyclocross racers to lead a cyclocross clinic. The instructors included Carmen D'Alusio (Webcor), Sarah Kerlin (Velo Bella), Melodie Metzger, Josie Beggs and Simon Vickers.
Photography
For a thumbnail gallery of these images, click here
Images by Russ and Nancy Wright/www.abbiorca.com
Images by Velo Bella
Results

Men A
 
1 Ben Jaques-Mayne (Sierra Nevada)                    57.15
2 Justin Robinson (Cal Giant)                          0.43
3 Simon Vickers (Rocklobster)                          1.08
4 Josh Snead (Rock Lobster)                            1.50
5 Chris McGovern                                       2.50
6 David Wyandt                                         3.08
7 Aaron ODell (Rock Lobster/Traugott)                  3.33
8 Henry Kramer (Grant Strawberry)                      3.43
9 Gustavo Jimenez (Pegasus/AllegiantAir)               4.24
10 Michael Hernandez (Safeway Bag Boy)                 4.30
11 Rob Evans (Rocklobster/Traugott)                    4.56
12 Philip Roberts (McGuire Cycling)                    5.12
13 Jason Rahlwes (Fox Racing Shox)                     5.15
14 Ben Dodge (Rocklobster/Traugott)                    5.23
15 Jonathan Gill (Joselyn's)                           6.22
16 Cesar Chavez (Buy-Cell.com)                         6.38
17 Dave Carr (Camelback)                               7.06
 
One lap behind                                        
 
18 Walter Torte (Hub Bikes)                                
19 Eric Russel (clif Bar)                                  
20 Jeffrey Hantman (clif Bar)                              
21 Thomas Feix (Webco/Alto Velo)                           
22 Aron Bonar (Sycip)                                      
23 Justin Morgan                                           
24 Dean Poshard (Kelly Bike Co)                            
25 Mansur Nurullah (Clif Bar)                              
26 Jay Buenaventura (3rd Rail/Missing lin)    
 
Two laps behind                                       
 
27 Matt Young (Sycip)                                      
 
Women A
 
 
1 Barbara Howe (Velo Bella)                           44.32
2 Melodie Metzger (Velo Bella)                         0.40
3 Josie Beggs (Starbucks/Cal Giant)                    0.47
4 Hollie McGovern (Sierra Express)                     1.28
5 Stella Carey (Kelly Bike Co)                         1.41
6 Shelley Olds (Rocklobster)                           1.56
7 Sarah Kerlin (Velo Bela)                             2.29
8 Lauren Constantini (Sycip Racing)                    2.36
9 Ann Fitzsimmons (Velo Bella)                         3.01
10 Hilary Daniels (NorCal Velo)                        3.02
11 Erin Kassoy (Velo Bella)                            4.40
12 Andi Mackie (Velo Bella)                            5.43
13 Heather Kirkby (Velo Bella)                         6.15
 
Junior Men
 
1 Logan Loader (Alan Bike)                            47.40
2 Jeremy Blalock (Joselyn's Bicycles)                  0.25
3 Tim Reuss (Bike Trip)                                1.18
 
Men 35+A
 
1 David Eastwood (Art By Opsal)                       40.12
2 Michael Matthews (Buy Cell.com)                      0.29
3 Rob Meighan (Eurocycling Imports)                    0.42
4 Pat Schott (Black Market)                            0.48
5 Tim Thompson (Flossaid/Eurocycling)                  0.55
6 Steve Hess (Bike Trip)                               0.57
7 Brock Dickie (Buy Cell.com)                          1.19
8 Dan Harting (Soul Craft)                             1.26
9 Cesar Chavez (Buy Cell.com)                          1.29
10 Brij Lunine (Missing Link)                          1.33
11 Michael Morgan (Sycip)                              2.05
12 Paul Janney (Velo CX)                               2.08
13 Patrick Myall (DFL)                                 2.13
14 Philip Sims (SCCCC)                                 2.39
15 Jeff Hane (FWR/Wrong Way)                           2.45
16 Chris Leavell (Fusion)                              2.49
17 Mark Howland (Blackmarket Racing)                   2.50
18 Mark Masters (Squadra Ovest)                        3.59
19 Tim Watson (Velo Bella)                             4.01
20 Chris Toplarski                                     4.15
21 Eric Bustos (Cal Giant)                             4.45
22 Ruben Villarreal (Velo Pro)                         5.15
23 Eric Richter (Giro/Rock Lobster)                    5.24
24 Thomas Hoeffel (Steelman/3rd Rail)                  5.28
25 Dave Gane (Sycip)                                   5.49
26 Ian Gordon                                          5.57
27 Dick Van Der Luit (Flossaid/Eurocycling)            6.02
28 Dave Tricamo (DFL)                                  6.27
29 Joe Oliveri (EMC/Documentation)                     6.49
30 Darren Mar-Elia (Berkeley Bike)                     7.39
31 Darrel Brokeshoulder (Easton/Specialized)           7.54
 
One lap behind                                        
 
32 Robert Nelson (Missing Link)                            
33 Gregory Phipps (Blackmarket Racing)                     
34 Mike Evans (SCCCC)                                      
35 Willie Bullion                                          
 
Two laps behind                                       
 
36 Donald Langley (Morgan Stanley)                         
 
Men 45+A
 
1 Larry Hibbard (Family Cycling Cente)                40.21
2 Mark Abele (Baret/Rivadell)                          0.34
3 Jim Gentes (Family Cycling)                          1.15
4 Anton McGready (Bare)                                3.14
5 Douglas Hatfield (Family Cycling Cent)               3.29
6 Norm Kreiss (Missing Link)                           5.09
7 Keith Henderson (Bike Trip)                          5.21
8 Robert Kurosawa (Bare)                               5.44
9 Edwin Rambuski (Black Market)                        6.19
10 Dave Samples (Cal Giant)                            6.52
 
One lap behind                                        
 
11 Kem Akol (Bike Trip)                                    
12 Kyle Samuels (Cal Giant)                                
13 Robert Habler                                           
14 Brian Birch (Berkeley Bike Club)                        
15 Jim Beuselinck (Flossaid/Eroupean Cy)                   
16 Paul Sadott (Rocklobster)                               
17 Nicho Ybarra (3rd Rail/Missing Lin)                     
 
Women 35+
 
1 Colleen Wanty (Missing Link/Bianchi)                46.43
2 Melanie Dominguez (Bike Trip)                        7.12
 
One lap behind                                        
 
3 Melinda Jones (Team Santa Cruz)                          
4 Siobhan Saunders                                         
5 Karen Loutanheiser (SCCCC)                               
 
Two laps behind                                       
 
6 Lori_Lee Lown (Bay Area Velo Girls)                      
7 Betty Jordan (Velo Bella)                                
 
Women B
 
1 Katrina Baumsteiger (Black Market Racing)           49.59
2 Sarah Maile (Monticello Cycling)                     1.23
3 Julie Barott (Roaring Mouse Cycles)                  2.06
 
One lap behind                                        
 
4 Janel Lodge (Black Market Racing)                        
5 Alyse Weyman (Velo Bella)                                
6 Lori Cox (Velo Girls)                                    
7 Jana Roberts (Village Peddler)                           
8 Michelle Lambert (Sycip)                                 
9 Julie Brothers (Rocklobster/Traugott)                    
 
Two laps behind                                       
 
10 Julie Starling (Velo Bella)                             
 
Women C
 
1 Julianna Perry (Dirty Diaper)                            
2 Kathleen Farley                                          
3 Rosie Turner                                             
4 Katrina Loera (Velo Bella)                               
5 Jennifer Udall (Velo Bella)                              
6 Nicole Bumbaca (Velo Bella)                              
7 Betsy Kunselman                                          
8 Samantha Sommer (SCCCC)                                  
9 Karin Jeffery (Velo Bella)                               
 
One lap behind                                        
 
10 Kim Natzel (Velo Girls)                                 
11 Lauren Haughey (SF Sport & Spine)                       
12 Kristy Lugert                                           
 
Jr Men B
 
1 Jessie Nickell (Bike Trip)                          31.50
2 Joel Shaffer (Alto Velo)                             1.55
3 Taylor Shamsoine (Scotts Valley Cycles)              2.03
4 Noah Karter (Bike Trip)                              3.48
5 Dylan McDonald (Bike Trip)                           4.42
6 Jack Fogelquist (Scotts Valley Cycles)               4.57
 
One lap behind                                        
 
7 Patrick Meyer (Team Wrong Way)                           
8 Oliver Nickell (Bike Trip)                               
9 Raymond Mendoza (Bike Trip)                              
10 Trent Knebel (Bike Trip)                                
11 Thomas Mendoza (Bike Trip)                              
12 Darik Thunstrom (Bike Trip)                             
 
Men B
 
1 David Samples (Cal Giant)                           42.07
2 Robert Mau                                           0.47
3 Omar Sison (SCCCC)                                   0.54
4 Jordi Cortes (Missing Linl)                          1.02
5 Jamie Goldstein (Platnum)                            1.13
6 Chris Coffey (Rocklobster/Traugott)                  1.32
7 Andrew Brooks                                        1.43
8 Stacey Sell (Fox Racing)                             2.04
9 Joe Lavelle                                          2.12
10 Russel Anderson (Sunshine Bikes)                    2.17
11 Murray Swanson (Peninsula Velo)                         
12 Nic Sims (Specialized)                              2.31
13 Matt Willinger (RHVilla.com)                        2.38
14 James Newman (Freewhell)                            2.48
15 Joe Ernst (Sycip Racing)                            3.11
16 Matt Jordan (Trailhead Cyclery)                     3.29
17 Frank Thaxter                                       3.31
18 Geoff Luttrell (Squadra Ovest)                      3.39
19 Morgan Fletcher (SF Sport & Spine)                  3.44
20 Geoff Wilcox (BHS)                                  4.23
21 Johannes Schmidt (Club One/PMax Racing)             4.46
22 Brian Muck                                          5.04
23 Erik Bergstrom (LGBRC)                              5.47
24 Mark Fitzsimmons (Fox)                              6.04
25 Erik Tews (Flow)                                    6.57
26 Lander Bravo (Lapierre/Ritchey)                     8.00
 
One lap behind                                        
 
27 Ryan Schlichting (SF Sport & Spine)                     
28 Gregory Towers (Steelman Cycles)                        
29 Bo Barry (Soulcraft)                                    
30 Dave Lee (Motor Cellular)                               
31 Paul Thai (Ritchey/Lapierre)                            
32 Patrick Lewis                                           
33 David Dick (Eastside Cycles)                            
34 Andy Volk (Ritchey/Lapierre)                            
35 Dave Charles (Velo Bella)                               
36 David Pederson (Lapierre/Ritchey)                       
 
Master 35+B
 
1 Murray Swanson (Peninsula Velo)                     29.22
2 Mitch Bramlett                                       0.51
3 William Muir (Skat)                                  0.53
4 Jeffrey Bramlett                                     1.02
5 Daniel Gilardoni                                     1.09
6 Steve Smith (DFL)                                    1.11
7 Bob Barwick (Family Cycling Cntr)                        
8 Deric Dangzalan                                      1.12
9 Paule Bates (Team Roaring Mouse)                     1.33
10 Bill Winston (Family Cycling)                       1.37
11 John Cheetham (EMC)                                     
12 Tim Eawes (Alan Factory)                            2.02
13 Casey Kunselman                                     2.24
14 David Krattli                                       3.45
15 Troy Boone                                          4.32
16 Thomas Leach                                        5.08
17 Mike Bodge (Body Zone Fitness)                      5.22
18 Chris Pearson (Easton/Specialized)                  5.32
19 Robbie Abundis (Family Cycling Cntr)                5.39
20 Chris Baker                                         6.35
21 Scott Starling (Monte Vista Velo)                   6.49
 
Master 45+B
 
1 Patric Lassiter                                     33.10
2 Dwight Goss (Redwood Riders)                         0.20
3 Matt Dunstan (Scotts Valley Cycles)                  1.43
4 Bob Malheiro (SCCC/Village Imports)                  1.54
5 Larry Muran (SCCCC)                                  2.05
6 Robert Barber (Tribe)                                2.50
7 Bob Lofland (Team Wrong Way)                         3.02
8 Larry Giles                                          4.18
 
One lap behind                                        
 
9 Ron Riley (SCCCC)                                        
 
Men C
 
1 Eric Lowe                                           31.42
2 Andrew Yee (AlphaSigma)                              0.28
3 Geoffrey Thompson                                    0.30
4 Clu Cotter                                           0.43
5 Tim Simanski                                         0.49
6 Ken Neill                                            0.50
7 Pete Czerpak (Team Pedros)                           0.51
8 Stephen Ransom                                       1.17
9 Shige Honjo                                          1.34
10 Gary Neier                                          1.36
11 Credence Shaw (on the couch)                        2.02
12 Alejandro Quintero (Pen Velo)                       2.09
13 Larry Morris (Roaring Mouse)                        2.24
14 Troy Mayfield (Spokesman)                           2.33
15 John Sampson (Family Cycling)                       2.46
16 Antonio Diaz                                        2.57
17 Ron Stade                                           3.13
18 Jessie II Nickell (Bike Trip)                       3.14
19 George Thomas                                       3.20
20 Eric Sterner (rideSFO)                              3.36
21 Travis Tonn (San Jose BC)                           3.40
22 Michael Hozzer                                      3.42
23 Charles Meehan                                      3.47
24 Jeff VanDamme (Team Santa Cruz)                     4.34
25 Blake Von Knoppa (Wrench Science/Missi)             4.38
26 Tom Tantillo                                        5.12
27 Lance Siebuhr                                       5.32
28 Brendan Leathem                                     6.07
 
One lap behind                                        
 
29 Abraham Woodward (Tech)                                 
30 Bob Temmerman                                           
31 Cesar Agustin                                           
32 John Paradine                                           
33 Brad Bening                                             
34 Rick Rosales                                            
 
Singlespeed
 
1 Mike Matthews (Buy-Cell.com)                      1.00.39
2 Rich Maile (Art by Opsal)                            1.53
 
One lap behind                                        
 
3 Monty Worthington (Tifosi Wines)                         
4 Michael Martin (Team Santa Cruz)                         
5 Jason Sutton (Bike Trip)                                 
6 Kevin Pelley (Team Scaryfast)                            
7 Cisco Moran (SF Sport & Spine)                           
8 Mark Michael (Bike Trip)                                 
9 Brian McMinn (BT Racing)                                 
 
Two laps behind                                       
 
10 Andy May (Pegasus)                                      
11 Jason Benford