Candlestick Point Cross - NE
San Francisco, California, USA, October 23, 2005
Jacques-Maynes & Metzger take wins in 'mini-Belgium'
Elite Women's gold medalist Melodie Metzger
Photo ©: Tom Simpson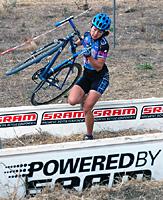 Think Belgium - pretty flat with sandy stretches - only a very, very dry Belgium - and you've got Round 2 of the Bay Area Super Prestige Series, raced under perfect autumn skies in San Francisco. For Melodie Metzger and Andy Jacques-Maynes the former landfill across from the 49'ers football stadium cooked up a great recipe for success as they alternately rode and ran their closest challengers off their wheels for the podium.
285 riders gave the course a healthy thrashing that presented 4 sections of deep sand to plow through on the 3,000 yard circuit. In the "A" Masters event a quartet emerged from the 50 rider field that lasted until the final lap and it appeared 2003 US Champ James Coats had a great chance for the win until a flat on the final lap left David Eastwood, Chris D'Aluisio and Jesse Scatton to set the table. Eastwood dove through lapped riders and somehow found a clear hole at the finish line to take round 2.
The Velo Bella Women's team played a split squad session this weekend with half the team on the east coast enjoying the muddy conditions of the Mid-Atlantic series and the west coasters getting sand and dust. Melodie Metzger earned her first gold medal at a Bay Area Super Prestige event with a final lap acceleration that Stella Carey finally couldn't answer. Metzger and Carey were a matched set for most of the event until the final sand pits. Josie Beggs followed just 10 seconds off the pace to complete the Elite Women's podium.
Andy Jacques-Maynes
Photo ©: Tom Simpson

It was a combination of high engine torque and high engine speed for the Cal Giant team of Andy Jacques-Maynes and Justin Robinson deciding the Elite Men's field. At Round1 Robinson was sandwiched alone between Aaron O'Dell and Simon Vickers and came up short. For Round 2 reinforcements arrived - AJ. Robinson was alone on the first lap by 10 seconds with the field chasing and as soon as Jacques-Maynes was able to ditch the challengers and connect with Robinson, it was game on. It was a 2-team challenge with Cal Giant plowing through the sand traps and Rock Lobster playing catch up. Cal Giant had a minute plus lead starting the last lap and then Jacques-Maynes made his final acceleration and it was game over with Robinson finishing a half minute back and Aaron O'Dell completing the podium another minute down.
Photography
For a thumbnail gallery of these images, click here
Images by Tom Simpson/tom@pilarcitos.com
Results

Elite Men
 
1 Andy Jacques-Maynes (Giant Strawberry)                   54.25
2 Justin Robinson (CAL Giant/Specialize)                    0.29
3 Aaron Odell (Rocklobster/Jeff Tro)                        1.22
4 Simon Vickers (Rocklobster/Jeff Tro)                          
5 Henry Kramer (California Giant)                           3.35
6 Chris D'Aluisio (Morgan Stanley)                          3.36
7 David Wyandt (John Basdow Spin Sqd)                       3.43
8 Rob Evans (Rocklobster)                                   4.34
9 Aaron Kereluk (Rocklobster/Jeff Tra)                      4.35
10 Michael Hernandez (Safeway Bag Boy)                      4.36
11 Larry Hibbard (Family Cycling Cntr)                      4.57
12 Brett Hondorp (Sycip)                                    5.55
13 Mark Christian (Sunshine Bicycles)                       6.01
14 Jason Rahlwes (Fox Racing Shox)                          6.02
15 Gustavo Jimenez (Pegasus Allegiant)                      6.08
16 Ben Dodge (Rocklobster/Jeff Tra)                         6.17
17 Jesse Mayberry                                           6.47
18 Jeffrey Hantman (Clif Bar)                               7.16
19 Eric Russell (Clif Bar)                                  7.17
 
One lap behind                                             
 
20 David Widmark (East Bay Velo CLub)                           
21 Aron Bonar (Sycip)                                           
22 Heath Maddox (Sycip)                                         
23 Isaias Job (Team Wrong Way/Ritch)                            
24 Anastasio Flores Jr. (Cal Giant)                             
25 Steve Reare (Cal Giant)                                      
26 Jeremy Jarrel (Freewheel Bike Shop)                          
27 Greg Regan (Pen Velo)                                        
28 Dean Poshard (Kelly Bike Co.)                                
29 Mansur Nurullah (Clif Bar)                                   
30 Jay Buenaventura (Third Rail/Missing L)                      
31 Cameron Falconer (Numer/DFL)                                 
 
Elite Women
 
1 Melodie Metzger (Velo Bella)                             34.23
2 Stella Carey (Kelly Bike Co)                              0.27
3 Josie Beggs (Starbucks/Giants)                            0.38
4 Lauren Costantini (Sycip)                                 0.55
5 Hillary Daniels (Norcal Velo)                             1.22
6 Colleen Wantz (Missing Link/Bianchi)                      1.39
7 Erin Kassoy (Velo Bella)                                  1.43
8 Kristin Drumm (Village Peddler)                           1.45
9 Ann Fitzsimmons (Velo Bella)                              1.51
10 Helene Drumm (Village Peddler)                           2.35
11 Kathleen Hannon (Freewheel)                              2.39
12 Andi Mackie (Velo Bella)                                 3.04
13 Betina Hold (Webcor)                                     3.09
 
B women
 
1 Katrina Baumsteiger (Black Market Racing)                37.01
2 Beverly Chaney (Roaring Mouse Cycles)                     0.14
3 Janel Lodge (Black Market Racing)                         0.35
4 Christy Murphy (Soulcraft)                                1.04
5 Melanie Duminguez                                         1.17
6 Julie Barott (Roaring Mouse Cycles)                       1.25
7 Juli Schmidt (Lapierre/Ritchey)                           1.52
8 Diane Hayford (Alto Velo)                                 2.12
9 Jessica Conner (Village Peddler)                          3.31
10 Heather Mackenzie (Sunshine Bikes)                       4.30
11 Julie Brothers (RockLobster/Traugott)                    5.24
 
One lap behind                                             
 
12 Ella Lawrence (Nor Cal Velo)                                 
13 Julie Starling (Velo Bella)                                  
14 Betty Jordan (Velo Bella)                                    
 
C women
 
1 Julian Foley (Sport and Spine)                           33.42
2 Rosie Turner                                              0.03
3 Angele Oliveri (EMC/Documentum)                           1.23
4 Kim Natzel (Velo Girls)                                   1.34
5 Melissa Griffiths                                         2.00
6 Marian Hunting                                            2.10
7 Emelie GUnnison                                           2.42
8 Lorri_Lee Lown (Bay Area Velo Girls)                      2.56
9 Eryn Hughes (Team Wrong Way)                              4.14
10 Lauren Haughey (SF Sport & Spine)                        5.07
 
Master Men 35+A
 
1 David Eastwood (Art by Opsall)                           43.28
2 Chris D'Aluisio (Morgan Stanley/Speci)                        
3 Jesse Scatton (Bullseye/East Sac)                         0.02
4 James Coates (Amgen/Felt Racing)                          0.24
5 Gannon Myall (Cal Giant Cycling)                          0.30
6 Mark Howland (Blackmarket Racing)                         0.45
7 Rob Meighan (Eurosport Import)                            1.19
8 Michael Hernandez (Safeway/GA Comm)                       1.30
9 Thomas Feix (Webcor/Alto Velo)                            1.51
10 Reed Maxwell (Safeway)                                   2.03
11 Tim Watson (Velo Bella)                                  2.05
12 Charles_S Hess (Bicycle Trip)                            2.11
13 Cesar Chavez (Buy Cell.com)                              2.24
14 Steve Ouzounian (Missing Link)                           2.37
15 Dylan Snodgrass (DFL)                                    2.45
16 Patrick Myall (DFL)                                      2.52
17 Brij Lunine (Missing Link)                                   
18 Eric Bustos (Cal Giant Strawberry)                       2.53
19 Don Langley (Morgan Stanley)                             3.02
20 John Mundelius (Beatsgrifracing)                         3.03
21 Joe Staron (East Sac Bike)                               3.05
22 Mike Morgan (Sycip)                                      3.11
23 Brock Dickie (Buy Cell.com)                              3.13
24 Evan Adams (Rock Lobster)                                3.36
25 Mark Mastoras (Squandra Ovest)                               
26 Preston Tucker (Missing Link Bianchi)                    3.46
27 Philip Sims (Team Santa Cruz)                            3.57
28 Brad Kuecl (ATL)                                         3.59
29 Matt Smith (Felk Grout)                                  4.28
30 Dave Tricamo                                             4.29
31 Joe Oliveri (EMC/Documentum)                             4.47
32 Jeff Hane (FWR/Wrong Way)                                4.48
33 Ruben Villareal (Velo Pro)                               5.17
34 Pat Schott (Black Market)                                5.18
35 Russ Wright (Missing Link)                               5.33
36 Dan Schneider                                            5.40
37 Steve Grifiths (Bicycle Plus)                            5.53
38 Billl Carslay (Missing Link/BIanchi)                     6.02
39 James WOod (Team City)                                   6.19
40 Thomas Hoeffel (Steelman/3rd Rail)                       6.25
41 Rich Sangalli (Dewars Racing)                            7.29
42 Daniel Brokeshoulder (Easton/Specialized)                7.36
43 Hans Kellner (Sycip)                                     7.50
 
One lap behind                                             
 
44 Tom Boardman (Slower Than You)                               
45 Matt Wolaset (Team Santa Cruz)                               
46 Stacey Sell                                                  
 
Master Men 45+A
 
1 Mark Abele (Boure)                                       45.45
2 Sam Giles (Art by Opsal)                                  0.56
3 Doug Hatfield (Family Cycling)                            1.45
4 Eric Middleton                                            2.07
5 Anton McGready (Boure)                                    2.14
6 Edwin Rambuski (Black Market Racing)                      2.53
7 John Geary (Alto Velo)                                        
8 John Dayson                                               4.17
 
One lap behind                                             
 
9 Robert Kurosawa (Boure)                                       
10 Jeff Crofton (Pen Velo)                                      
11 Steve Stewart (LGBRC)                                        
12 Tim Itin (Z Team)                                            
13 Jim Dewolfe (Z Team)                                         
14 Jim Beuselinck (Eurocycling Imports)                         
15 Scott Martin (Bike Trip)                                     
16 Joe Fabris (Easton Los Gatos)                                
17 Dionicio Ybarra (3rd Rail/Missing Lin)                       
18 Kevin Akal (Bike Trip)                                       
19 Paul Sadof (Rock Lobster/Traugot)                            
20 Dave Samples (Cal Giant)                                     
21 NA                                                           
 
Two laps behind
 
22 Mike MacDonald (Alan/Jaeger)                                 
 
B Men 
 
1 Eric Nelson (East Sac Bike)                              46.52
2 Max Spirin (McGuire Elite)                                0.08
3 Robert Mau                                                0.54
4 David Samples (Cal Giant Inc)                             0.59
5 Nick Hanni (Fusion SPort)                                 1.20
6 Chris Coffey (RockLobster/Traugott)                       1.47
7 James Newman (FreeWheel)                                  1.51
8 Joe Ernst (Sycip Racing)                                  2.00
9 Jim McDonald (East Sac Bike & Boar)                           
10 Brian Rogers (SyCip Racing)                              2.36
11 Logan Loader (Alan Bikes)                                2.39
12 Jean-luc Callahan (Morgan Stanley/24hr)                  2.40
13 Ryan Fowler                                                  
14 Tim Granshaw (Ritchey-LaPierre)                          2.48
15 Mack Chen (Arete Racing)                                 3.13
16 Mark Vanek                                               3.23
17 Cisco Moran (SF Sport and Spine)                         3.43
18 Geoff Wilcox                                             4.01
19 Johannes Schmidt (Capierre/ Ritchey)                     4.04
20 Gary Land (The Bicycle Business)                             
21 Mark Fitzsimmons (Fox Racing Shox)                       4.18
22 Dave Tricamo (dfl)                                           
23 Chip Gale (Pen Velo)                                     4.21
24 Teddy Allen (Roaring Mouse)                              4.59
25 Ryan Schlichting (SF Sport & Spine)                      5.00
26 Ryan Isaacs (Webcor / Alto Velo)                         5.01
27 Rob Dillon (Norcal Bikesport)                            5.24
28 Ryan Galdes (Ritchey)                                    5.29
29 Scott Sisto (Specialized)                                    
30 Erik Bergstrom (LGBRC)                                   5.43
31 Uri Friedman                                             5.57
 
One lap behind                                             
 
32 Erik Salender (Pen Velo)                                     
33 David Dick (Eastside Cycles)                                 
34 Lander_M Bravo                                               
35 Morgan Fletcher (SF Sport & Spine)                           
36 Stan Barrett (Cyclesmart)                                    
37 Mark Nelsen (Touchstone)                                     
38 Loren Soltes (Pasta Etc.)                                    
39 David Pedersen (Lapierre / Ritchey)                          
40 Paul Thai (LaPierre/Ritchey)                                 
 
Single Speed
 
1 Rick Maile (Art by Opsal)                                44.43
2 Michael Matthews (Buy-Cell.com)                           1.37
3 Patrick Myall (dfl)                                       2.32
4 Dan Soverign (East Sac Bike)                                  
5 Roger Lackey (Sycip)                                      4.26
6 Philip Sims (Team Santa Cruz)                             4.53
7 Austin McInerny                                           5.16
8 Erio Brown (East Side Cycles)                             6.09
9 AJ Ataie (Pegasus)                                        6.31
10 Tim Cannard (Buy-Cell.com)                               7.07
 
One lap behind                                             
 
11 Albert Reinhardt                                             
12 Jason Benford                                                
13 Andrew May (Pegasus/Allegiant)                               
14 Josh Godar                                                   
 
Two laps behind
 
15 Mike Macdonald (Jaeger)                                      
 
Juniors
 
1 Jeremy Ferguson                                          34.27
2 Blake Anton (DBC)                                         0.12
3 Andy Goessling (Missing Link)                             0.26
4 Logan Loader (Alan Bikes)                                 0.45
5 Cody Kaiser (SGW)                                         1.48
6 Joel Schaffer (Alto Velo/Webcor)                          5.06
 
One lap behind                                             
 
7 Bjorn Fox                                                     
8 Marcus Smith (IGB)                                            
9 Patrick Meyer                                                 
10 Joseph Oliveri (Kelly)                                       
 
Two laps behind
 
11 JJ Kammeyer (Lefierre/Ritchey)                               
 
Three laps behind
 
12 Meri Meighan (Velo Bella)                                    
 
C men 
 
1 William Strachan                                         33.36
2 Matthias Behrends                                         0.49
3 Geoffrey Thompson                                         1.39
4 JD Ahern (EBVC)                                           1.41
5 Ryan Williams (Flow)                                      1.56
6 James Bauer (Sustainable Tech)                            2.00
7 Eric Lowe                                                 2.27
8 Geoffrey Gunderson (Cyclesport/Trumer)                    2.34
9 Tim Simanski (Team Roaring Mouse)                         2.39
10 Eric Sterner (Ridesfo)                                   2.40
11 Tom Carpenter (Cyclesports/Trumer)                       2.43
12 Adam Tracy (3BRT/Ritchey)                                2.50
13 Steve Sten (BBC)                                         3.25
14 Ernesto Montenero (Sustainable Tech)                     3.31
15 Travis Tonn                                              3.37
16 Kevin Ruszel                                             3.42
17 Alexander Magee                                          3.52
18 Larry Morris                                             3.54
19 Chris Stevens                                            3.55
20 Nicholas Sylva                                           4.10
21 Henry Mar                                                4.20
22 Geoff James                                              4.22
23 Alex Monte-Sano                                          4.26
24 Rich Perkin (Pen Velo/Kondra)                            4.32
25 Bruce Kaiser (SGW)                                       4.59
26 George Thoma                                                 
27 Dave Kirkland                                            5.04
28 Nicholas Tudoni                                          5.11
29 Michael Holzer                                           5.12
30 Michael Butler                                           5.13
31 Karl Knutson                                             5.55
32 Alex Abbas                                               6.05
33 Greg Kuhen                                               6.39
34 David Green                                              6.42
 
One lap behind                                             
 
35 Richard Lee                                                  
36 Drew Wheeler                                                 
37 Lance Siebuhr                                                
38 Bryan Wasserman                                              
39 Alessandro Grechi                                            
40 Michael Smith                                                
41 John Paradine                                                
42 David Noble                                                  
43 John Paratore                                                
 
Master Men 35+B
 
1 Ron Castia (Team EMC/Documention)                        32.59
2 Murray Swanson (Pen Velo)                                 0.03
3 Geoff Luttrell (Squandra Ovest)                           0.35
4 Tim Eades (Alan Cycling Team)                             0.55
5 Chip Gale (Pen Velo)                                          
6 Russell Carmick                                           1.14
7 Thomas Fox                                                1.15
8 Jeff Poulsen (Safeway)                                    1.22
9 Pat Pecknold (Team EMC2/Docuemntum)                       1.27
10 Davle Bates (Roaring Mouse Cycles)                       1.38
11 Chris Baker                                              1.43
12 John Cheetham (EMC/Documentum)                           1.49
13 Jeffrey Braumett                                         2.12
14 Chris Rodriguez (Pegasus/Allegiant Ar)                   2.13
15 Mike Lucaccini (Missing Link)                            2.49
16 Rowan Edwards                                            2.55
17 Steve Tamanaha                                           2.58
18 Sean O'Connell (Pegasus Allegant Air)                    3.16
19 Thomas Leach                                             4.01
20 Gregory Towers (Steelman)                                4.16
21 Andy Volk                                                4.17
22 Colin McLaughlin                                         4.19
23 Scott Starling (MVV)                                     4.40
24 David Charles                                            5.07
25 Steven Woo (Easton Specialized)                          6.23
26 Darryl Smith (ICCC)                                      8.53
 
Master Men 45+B
 
1 Jeff Crofton (Pen Velo)                                  34.26
2 Erik Salander (Pen Velo/Kondra)                           1.41
3 Bruce W. Lodge (Black Market Racing)                      2.10
4 Austen Leslie                                                 
5 Bob Farese                                                2.11
6 Tim McCracken (Mako/Galazy Granola)                       2.24
7 Christopher Holmes (Bicycles Plus)                        2.40
8 Wayne Smith (SCCC?Le Village)                             2.52
9 Doug Jorgensen (Valley Spokesman)                         3.29
10 Gary Anghinetti (Pen Velo)                               3.53
11 Bob Malheiro                                             4.52
 
One lap behind                                             
 
12 Michael Gomez (Monticello)