Recently on Cyclingnews.com
Capital Cross Classic - C2
(Verge Mid-Atlantic Cyclocross Series #4)
Reston, Virginia, USA, November 27, 2004
A perfect Storm
Charlie Storm
Photo ©: Keli Medcroft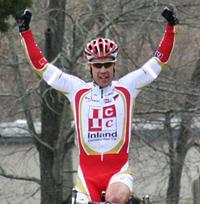 Racers from 15 states and the District of Columbia converged on the Washington, DC suburb of Reston, Virginia on Sunday for round seven of the $30,000 Verge Mid Atlantic Cyclocross Series. The Capital Cross Classic presented by The Bike Lane was the largest cyclocross race ever held in Virginia or the Washington, DC area with 250 entries comprised of seven classes competing in 5 events.
The featured "DARCARS Chrysler International" figured to be a wide-open affair with many of the national riders deciding to skip this UCI C2 event for races in Europe or Thanksgiving at home. Stepping into the void were eager racers from as far away as Wisconsin who wanted to make a name for themselves and score some serious international points. At the start of the race, four riders immediately separated themselves by a small margin from the rest of the starters. Defending Verge MAC champion Ryan Leech (FORT/GPOA!), joined three North Carolinians, Roger Aspholm (Westwood Velo), Jon Hamblen (Fior di Frutta) and Charlie Storm (Inland Construction/BTD) in front. Meanwhile, Wisconsin's Tristan Schouten (Trek/VW/Michelin) was overcoming a bad start and a last row starting position, but nobody noticed -- yet.
By the end of lap one, the lead group was down to three as Aspholm was dropped. The first bit of drama in the race occurred on the next lap when the previously unnoticed Schouten bridged the gap to the leaders to make another foursome. For the next two laps, Hamblen and Storm unsuccessfully launched attacks, while Storm countered and Leech followed. Then Hamblen crashed. "I just lost the front tire in the turn around the tree," he said. The lead trio was not working well together, however, and Hamblen put in a massive effort to bridge back up, while Aspholm hammered by himself in fifth place. Several laps of small attacks and ensued until Leech took advantage of the cat-and-mouse play by the leaders as they came up the asphalt finishing straight with three laps to go. Only Storm could respond and the two instantly opened a 100-yard gap on Hamlin and Schouten. Storm counter-attacked on the long hill less than a minute later, opening a huge gap that he would keep to the end. Meanwhile, Hamblen recovered from his earlier effort after his crash and put in another huge effort in a vain attempt to catch Storm. When asked if he was too tired following the effort to rejoin the leaders after his crash, Hamblen said, "Nah, Charlie rode a good race. He just picked a perfect time to go and nobody could follow him."
Georgia Gould
Photo ©: Keli Medcroft

In the preceding Women's Elite Presented by The Bike Lane, Idaho's Georgia Gould (KONA) took a fast start, stretched her lead with a fast middle and topped it off with a fast finish to completely dominate the race and take over the points lead in the Verge MAC series. As eventual second place finisher Mandy Lozano (Easton/Kona) put it, "Well, (Gould) decided to go off by herself and left us to race." And race they did. North Carolina's Lozano, points leader and defending champion Betsy Schauer (FORT/GPOA!), and local favorite Melanie Schwartz (Squadra Coppi/Van Dessel) battled most of the race until Schwartz, racing with a broken thumb, faded. Left with a one-on-one battle, Schauer knew what she had to do. "I can't sprint," she said, "so I knew I had to try to get a way. But I couldn't get far enough ahead." Lozano's comment mirrored Schauer's. "I just followed her and sprinted by at the end," said Lazano, grinning, "I just go foxy on her."
Race Notes
The race benefited "Trips for Kids of Metro DC" an organization that takes urban youth on mountain bike rides to teach them about life, health and nature. Trips for Kids participants represented over half of the Junior field, with all of them in their first race. One, Antonio Phillips, persevered to finish on the podium in fifth place in the race won by Morgan Gerlak of team Alan Mid-Atlantic.
Mike Yozell continued his domination of the Masters division, leading teammate Gunnar Shogren to a FORT/GPOA one-two sweep ahead of Blair Saunders. Randy Root of Team Snow Valley/Sibex was the highest placed 45+ rider in 5th place overall, while Fred Wittwer was the highest-placed 55+ rider.
Peter Rubijono (Harris Cyclery), made his weekend drive from Massachusetts worthwhile by dominating the B race.
Photography
For a thumbnail gallery of these images, click here
Images by Keli Medcroft/www.keliskolor.com
Images by Bill McCarrick/www.buffalo2step.com
Results

Elite Men, 18 starters
 
1 Charlie Storm (In land Construction/BTD)             58.51
2 Jon Hamblen (Fior di Frutta)                          0.30
3 Ryan Leech (Fort-GPOA !)                              0.35
4 Tristan Schouten (Trek/VW/Michelin)                   1.39
5 Roger Aspholm (Westwood Velo)                         1.53
6 Greg Marini (Coffee Plus Inc)                         2.03
7 Andy Applegate (Easton/Kona)                          2.44
8 Greg Wittwer (Fort-GPOA !)                            2.51
9 Dan Wilson (Henrys Bikes)                             2.57
10 Weston Schempf (FORT-GPOA!)                          3.41
11 John Degele (In land Construction/BTD)               5.29
 
One lap behind                                         
 
12 Gunnar Shogren (FORT-GPOA!)                              
13 Nathan Deibert (Evolution Racing)                        
14 Jon Hansen (Richmond Ciclismo)                           
15 Chris Newell (Hunt Valley Bicycle Club/HVB)              
16 Joseph Piccillo (Evolution Racing)                       
DNF Sean Galegher (Hunt Valley Bicycles)                    
DNF Andrew Walfkuhlo (Alar Mid-Atlantic)                    
 
Elite Women, 21 starters
 
1 Georgia Gould (Kona)                                 34.13
2 Mandy Lozano (Easton/Kona)                            0.49
3 Betsy Schauer (FORT-GPOA!)                                
4 Melanie Swartz (Squadra Loppi)                        0.57
5 Cara McCauley (Easton/Kona)                           1.35
6 Anne Schwartz (Flying Rhino CC)                       2.02
7 Deidre Winfield (CRC)                                 2.10
8 Catherine Johnson (Pro Peloton)                       2.29
9 Alicia Hamblen (RGM Watches/Richard Sachs)            2.37
10 Susan Wilson (Inland Construction - BTD Racing)      2.50
11 Lynda Macdonado (TRIState Velo)                      3.06
12 Maria Klemperer-Johnson (Mission in Motion - TVC)    3.10
13 Erica Yozell (FORT-GPOA!)                            3.42
14 Beth Mason (NCVC)                                    4.17
15 Sami Fournier (Velo Bella)                           4.24
16 Heide Von Teitenberg (Alan Mid-Atlantic)                 
17 Lisa Lible (Velo Bella)                              5.13
18 Kristine Church (Human Zololm)                       5.22
19 Lisa Most (Wissahickon)                              5.33
20 Mandi Riddle (Vicious Cycles)                        6.05
21 Tammy Ebersole                                       6.19
 
Masters 35+, 73 starters
 
1 Mike Yozell (FORT-GPOA!)                             44.17
2 Gunnar Shogren (Fort GPOA)                                
3 Blair Saunders (MAC 7)                                0.07
4 Joseph Ruggery (Freddie Fu)                           0.50
5 Randall Root (Team Snow Valley/SIBEX)                 0.57
6 Richard Mihills (The Secret Henry's Team)             1.01
7 Eric Schlauch (Somerset Wheelmen/Van Dessel)              
8 Christopher Long (Capitol Cross)                      1.07
9 Kristopher Anter (Alan Mid-Atlantic)                  1.28
10 Evan Adams (Rock Lobster)                            1.34
11 Mark Kutney (Charlottesville Racing Club)            1.57
12 Mike Hebe (FORT-GPOA)                                1.59
13 John Lux (Hunt Valley Bicycles/HVB)                  2.17
14 Todd Pittman                                         2.24
15 Fred Wittwer (Charlottesville racing club)           2.29
16 Chris Scott (Unattached)                             2.33
17 Ralf Warmuth (Verge Mid-Atlantic CX)                 3.00
18 Jeff Cordisco (CAPOforma)                            3.08
19 Douglass Gray (First State Velo Sport)               3.26
20 Andres Wright (NCVC/Edge Technologies)               3.44
21 Robert Campbell (NCVC/Edge Technologies)             4.00
22 Kirk Reisinger (Wissahickon)                         4.05
23 Roger Masse (All American Bicycle Club)                  
24 Sean McCormick (Rockville Harley Davidson)           4.20
25 Judd Milne (Squadra Coppi/IM Saab)                   4.38
26 Robert Lyon Iii (HUNT VALLEY BICYCLE CLUB)           4.41
27 John Baxter (Raleigh AllStars)                       4.51
28 Mike Buckness (Race Pace)                            4.58
29 Kevin Breckenmaker (Yellow Breeches Racing)          5.01
30 Albert Green (Yellow Breeches Racing)                5.03
31 Mike Connair (First State Velo Sport)                5.14
32 Brian Wieczorek (Freddie Fu)                         5.23
33 Marc Gwadz (Capitol Cross)                           5.26
34 Brian Poochigian (City-Bikes)                            
35 David Crouse (The Bike Lane)                             
36 Rob Frederick (Evolution Racing)                     5.33
37 Kelly Cline (Wissahickon)                            6.19
38 Shawn Downing (Chesapeake Wheelman)                      
39 Wesley Best (East Coasters)                          6.23
40 Ron Huebner (potomac velo club)                      6.33
41 John Rogers (DC Velo/Martens Volvo)                  6.59
42 Henry Tremper (First State Velo Sport)               7.19
43 Leone Pizzini                                        7.29
44 Mark Laser (Yellow Breeches Racing)                  8.24
 
One lap behind                                         
 
45 Steve Heede (Hunt Valley Bicycles)                       
46 Jim Edwards                                              
47 Rolf Windh (Guy's Racing)                                
48 Mike Birner (All American Bicycle Center)                
49 William Feasley (dc velo/martens volvo)                  
50 Rob Lea (TEAM Fuji)                                      
51 Karl Kensinger (ALAN Mid-Atlantic)                       
52 Gary Kelley (South Mountain Velo)                        
53 Alan Romefelt (LSV - Kelly)                              
54 Stephen Marchioro (Arc-en-Ciel)                          
55 Steven Viers (Pedal Shop)                                
56 Larry Campbell (Capitol Cross)                           
 
Two laps behind                                        
 
57 Mike Jinks (Bike Works)                                  
58 Jim Dowell (Capitol Cross)                               
 
B Men, 59 starters
 
1 Peter Rubijono (HarrisCycleryRacing.com)             45.17
2 Colin Sandberg (Fort-GPOA!)                           0.45
3 Mathew Ferrari (Mt Nitterny Wheelworks)               1.06
4 Daniel Brill (Team Beacon)                            1.08
5 Scott Hannan                                          1.49
6 John McKenna (East Coasters)                          1.50
7 Thomas Bender (Fort-GPOA!)                            1.52
8 Sean Mealey (Hunt Valley Bicycles/HVB)                1.54
9 David Rose (harriscycleryracing.com)                  2.04
10 John Hostetter Iii (ALAN Mid-Atlantic)               2.06
11 Chad Totaro (Team Human Zoom)                        2.09
12 Tom Mains (Velocity Sports/CCE)                      2.33
13 Erik Leaver (NCVC/Edge Technologies)                 2.34
14 Nick Bax (Artemis)                                   2.49
15 Adam Szczepanski (Bike & Blade - Serfs)              2.53
16 Mike O'Hara (LSV/Kelly Benefit Strategies)           3.03
17 Jim Wirtanen (harriscycleryracing.com)               3.04
18 Jason Beckley                                        3.11
19 Chris Nystrom (ALAN Mid-Atlantic)                    3.14
20 Dusty Labarr (Alan Mid-Atlantic)                         
21 David Fahnestock (LSV/Kelly)                         3.21
22 Wayne Scott (First State Velo Sport)                 3.50
23 George Milinkovic (Squadra Coppi/IM Saab)            4.10
24 Montana Norvell (Wissahickon)                        4.12
25 James W. Wagner                                      4.27
26 FJ Hughes (Unattached)                               4.30
27 Alec Riendeau (Highland Park Hermes)                     
28 Mark Russell                                         4.52
29 Matt Michel (Boone Velo)                             4.54
30 Luke Sander (Hunt Valley Bicycles/HVB)                   
31 Bradley Evans (Squadra Coppi/IM Saab)                5.08
32 Pete Whitlock (Team CSK)                             5.11
33 Brian Wieczorek (Freddie Fu)                         5.26
34 Christopher Salice (LSV/KELLY)                       5.54
35 Sean Pfeff (LSV/Kelly)                               5.59
36 Chris Evans (Wissahickon)                            6.03
37 John Brewer (Orbital Sciences Corporation)           6.57
38 Joe Foley (City Bikes)                               7.04
39 Tony Thompson (whole wheel velo)                     7.18
40 Peter Lindeman (NCVC/Edge Technologies)                  
41 Albert Green (Yellow Breeches Racing)                6.51
 
One lap behind                                         
 
42 Wade Hess (Tem Beacon)                                   
43 Michael Scardaville (City Bikes)                         
44 Ed Fisher (ShoreVelocity)                                
45 Nate Seymour (potomac velo club)                         
46 Skip Huffman (Team El Toreo)                             
47 Kyle A. Murhpy                                           
48 James Mitchell (potomac velo club)                       
49 Todd Wichman (All American Bicycle Club)                 
DNF John Godon (Prince William)                             
DNF Albert Green (Yellow Breeches Racing)                   
DNF Ron Huebner (potomac velo club)                         
DNF Cary Hunter (potomac velo club)                         
DNF Kevin Kuzas (Guy's Racing)                              
DNF Daniel Niedziocha (Trophy Bikes)                        
DNF Mark Laser (Yellow Breeches Racing)                     
DNF Phillip Hunniutt (3 Sports)                             
DNF Theo Procopos (Wissahickon)                             
DNF Chris Salice (LSV/Kelley)                               
 
C Men, 50 starters
 
1 Gordon Davies (NCVC)                                 36.06
2 Jave Dedoyard (Georgetown University)                 0.12
3 Kenneth McDowell (XXXRacing-AthletiCo)                0.19
4 Noel Zancot (Chain Reaction)                          0.39
5 Joseph Kotun (Lanterne Rouge)                         0.19
6 Ronald Barry (All American Bicycle Club)              1.16
7 Syd Lea (TEAM Fuji)                                   1.39
8 Gerhardt Herbert (East Coast Velo)                        
9 Mike Trumpfheller (NCVC)                              1.43
10 Brian Bradley (Lanterne Rouge)                       1.46
11 Mark Lorie (LSV/Kelly)                               1.57
12 Seth Turner (Lanterne Rouge)                         2.31
13 David Troup (FSVC)                                       
14 Michael Lirette (Bluetails Racing Team)              2.19
15 Peter Dalkner (Tophy Bikes)                          2.23
16 Douglas Galbi (Lanterne Rouge)                       2.38
17 Richard Bilson (Tri-State Velo)                          
18 Kevin Dillard (NCVC/Edge Technologies)               2.52
19 Chris Adair (Capital Bicycle)                        2.54
20 Mark Vichich                                         3.03
21 Scott Stahl (SEAVS)                                  3.26
22 TIM Bowman (Trophy bikes-team shiftless)             3.30
23 Kemal Tuncer (Bicycle )                              4.02
24 Paul McIntyre (Trails End Cycling)                   4.09
25 Curtis Winsor (Trails End Cycling)                       
26 Red Schlam                                           4.31
27 Sean Worsley                                         4.42
28 David W Lee (Verge)                                  4.43
29 Claus Dudmore (Lanterne Rouge)                           
30 Thom Moore (potomac velo club)                       4.48
31 Steve Burke (Hunt Valley Bikes)                      4.52
32 John Lynch (Capital Bicycle)                         5.04
33 Gary Bender                                              
34 David Jones (NCVC Edge)                              5.10
35 William Davis (Unattached)                           7.14
36 Joseph Malin (Lanterne Rouge)                        7.28
37 David Lawson (Guy's Racing)                          7.32
38 Jeff Erler                                           8.28
39 Dennis Walters                                       8.40
40 Mark Wanco                                           8.46
41 Michael Berry (NCVC/Edge Technologies)               8.49
 
One lap behind                                         
 
42 Eric Arnett                                              
43 Mark Rinschler                                           
44 James Korenoski                                          
45 Nathan Wilson (NCVC)                                     
46 Kevin Perera                                             
47 John Maisto (Bicycle )                                   
DNF Mike Whitman (TEAM Fuji)                                
DNF Tim Mullin (Bicycle Therapy)                            
DNF David Weisenhahn (WWVC)                                 
 
B Women, 18 starters
 
1 Amy Breyla (Henry's Bikes)                           39.21
2 Jessica Singerman (Lehigh Valley Bike Line)           0.19
3 Marilyn Galegher (Hunt Valley Bicycles)               2.11
4 CODY Andrews (NCVC/EDGE TECHNOLOGIES)                 2.25
5 Laura Gemery (Miami Flyers)                           2.51
6 KRISTA Schuiltz (HUNT VALLEY BICYCLES)                3.02
7 E Roach (HUNT VALLEY BICYCLES)                        3.15
8 Mary Fetrow (Yellow Breeches Racing)                  3.17
9 Karen Tourian (Club Wissahickon)                      4.08
10 Jennifer Bodine                                      4.51
11 Tracy Lea (TEAM Fuji)                                6.05
 
One lap behind                                         
 
12 Katie Schlenion                                          
13 Pam Mauch                                                
14 Mary Zadnik Newell (Hunt Valley Bicycle/HVB)             
15 Liz Seward (CRCA/Bicycle Workshop)                       
16 Cleo Gossugel (TRAILS END)                               
17 Tris Newbury (City Bikes)                                
18 Kat Fite (Alan Factory Team)                             
 
Jun 10-16, 11 starters
 
1 Morgan Gerlak (Alan Mid-Atlantic)                    30.20
2 Adam Schlauch (Somerset Wheelmen)                     2.00
3 Justin Mauch (Evolution/Dls)                          5.20
4 Kevin Baldwin (Team Barf)                             8.56
5 Antonio Phillips                                      9.57
DNF Zach Adams (Carlisle)                                   
DNF Jose Carrasquillo                                       
DNF Mintaz Franklin (Trips For Kids)                        
DNF Quinton Cross (Trips For Kids)                          
DNF Steve Junes (Trips For Kids)                            
DNF Tyler Crums