Sluitingsprijs Oostmalle (Gazet van Antwerpen Trofee Veldrijden #7) - C1
Oostmalle, Belgium, February 20, 2005
2004 Results Results Past winners
Game, set, match: Sven Nys
Sven Nys (Rabobank)
Photo ©: Frank Rud Jensen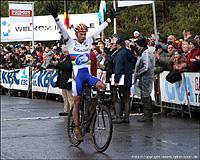 In winning today's Sluitingsprijs in Oostmalle, the final race of the cyclo-cross season, Sven Nys (Rabobank) brought to a close one of the most successful seasons ever by a cyclo-crosser. Nys won every race and classification worth winning, from the World Championship, World Cup and Superprestige to the Gazet van Antwerpen Trofee Veldrijden series, which also finished today. Although Roland Liboton's 31 wins out of 32 starts in a season will probably never be bettered, Nys has come as close as anyone is likely to get with his huge tally of 25 race wins.
In today's race, Nys was in the action from the start as Wim Jacobs (Fidea), Davy Commeyne (Palmans) and Camiel Van Den Berg (Saey-Deschacht) made the early tempo. After a lap, Nys took over the lead and only Jacobs could follow him...but only for a lap as Nys went on a solo victory mission.
The rest never saw Nys again, and afterwards he conceded that the difference between him and the others was "relatively great" this season. "That ultimately gives you a good feeling to close off the season," he said.
The podium
Photo ©: Frank Rud Jensen

The chase group that formed was composed of Commeyne, Jacobs, Richard Groenendaal, Sven Vanthourenhout and Bart Aernouts (Rabobank), meaning that the Rabobank bloc was very well represented. This group remained together until the finish, where Commeyne managed to get in the way of the Rabobank party by winning the sprint for second ahead of Vanthourenhout.
In the overall standings of the Gazet van Antwerpen Trofee Veldrijden, Nys finished well on top with 226 points, 29 clear of Vanthourenhout and another 29 ahead of Erwin Vervecken (Fidea).
Photography
For a thumbnail gallery of these images, click here
Images by Frank Rud Jensen//www.cykel-sport.dk
Results
Elite/U23
 
1 Sven Nys (Bel) Rabobank                                     1.00.16
2 Davy Commeyne (Bel) Palmans-Sapim                              0.44
3 Sven Vanthourenhout (Bel) Rabobank                                 
4 Bart Aernouts (Bel) Rabobank                                       
5 Richard Groenendaal (Ned) Rabobank                                 
6 Wim Jacobs (Bel) Fidea Cyclocrossteam                              
7 Wilant van Gils (Ned) Rietveld WTC wielerteam                  0.53
8 Enrico Franzoi (Ita) Lampre-Caffita                            1.08
9 Niels Albert (Bel) Palmans-Sapim                                   
10 Michael Baumgartner (Swi)                                         
11 Jan Verstraeten (Bel) Fidea Cyclocrossteam                        
12 Tim Van Nuffel (Bel) Saey-Deschacht                           1.28
13 Kevin Pauwels (Bel) Fidea Cyclocrossteam                      1.35
14 Erwin Vervecken (Bel) Fidea Cyclocrossteam                    2.27
15 Bart Dirkx (Ned)                                              2.29
16 Jonathan Page (USA) Cervelo-HotTubes-Adidas-Mavic             2.38
17 Rob Peeters (Bel)                                             3.26
18 Václav Jezek (Cze) Author Praha                               3.29
19 Zdenek Stybar (Cze) G.S.Mercedes-Benz Selle Italia                
20 Camiel van den Bergh (Ned) Saey-Deschacht                     3.34
21 Dieter Vanthourenhout (Bel)                                   3.41
22 Cyrille Bonnand (Fra)                                         3.47
23 Mariusz Gil (Pol)                                             3.57
24 Dariusz Gil (Pol)                                             4.00
25 Jan Soetens (Bel)                                             4.25
26 Peter Van Santvliet (Bel) Fidea Cyclocrossteam                4.42
27 David Laenen (Bel)                                                
28 Kris Wouters (Bel)                                            4.51
29 Tom De Kort (Bel)                                             5.01
30 Martin Zlámalík (Cze) Cyklo Team Budvar Tábor                 5.15
31 Stijn Penne (Bel)                                             5.38
32 Kenny Geluykens (Bel)                                         6.20
33 Steve Gruwier (Bel)                                           6.38
 
1 lap behind
 
34 Bart Verschueren (Bel)                                            
35 Eddy Van Bouwel (Bel)                                             
36 Joachim Parbo (Den) Cycling Aarhus                                
37 Bert Vervecken (Bel)                                              
38 Christophe Delamarre (Fra)                                        
39 Tom Wilmsen (Bel)                                                 
40 Dirk Bertels (Bel)                                                
41 Jan Geerts (Bel)                                                  
42 Rik Jonkheijm (Ned)                                               
43 Jeroen Dingemans (Bel)                                            
 
Starters: 60
Classified: 43

Women
 
1 Hanka Kupfernagel (Ger)                                       42.50
2 Marianne Vos (Ned)                                             0.07
3 Daphny Van Den Brand (Ned)                                     0.18
4 Loes Sels (Bel)                                                0.48
5 Reza Hormes-Ravenstijn (Ned)                                   1.42
6 Katleen Vermeiren (Bel)                                        1.52
7 Joyce Vanderbeken (Bel)                                        2.55
8 Sanne Cant (Bel)                                               4.30
9 Victoria Wilkinson (GBr)                                       5.05
10 Katrien Aerts (Bel)                                           5.47
 
1 lap behind
 
11 Sarah Liekens (Bel)                                               
12 Lynn Claerhoudt (Bel)                                             
 
Starters: 12
Classified: 12
 
Juniors
 
1 Tom Meeusen (Bel)                                             39.28
2 Wim Leemans (Bel)                                              0.11
3 Kevin Cant (Bel)                                               0.15
4 Bart Senders (Ned)                                             0.19
5 Dries Pauwels (Bel)                                            0.25
6 Davide Malacarne (Ita)                                         0.28
7 Jan Van Dael (Bel)                                             0.46
8 Kenneth Van Compernolle (Bel)                                  0.52
9 Dennis Verhoeven (Bel)                                         1.05
10 Thomas Boeckx (Bel)                                           1.08
11 Gianni Denolf (Bel)                                           1.20
12 Maarten Verhestraeten (Bel)                                   1.25
13 Quentin Berholet (Bel)                                        2.01
14 Jan Verhaegh (Ned)                                            2.04
15 Koen Van Grootel (Ned)                                        2.11
16 Nizis Beelen (Bel)                                            2.12
17 Matthias Onghena (Bel)                                        2.14
18 Dave De Cleyn (Bel)                                           2.15
19 Kevin Demeester (Fra)                                         4.18
20 Wim Thijs (Bel)                                               4.33
21 Bart Wouters (Bel)                                            4.46
22 Jeffrey Maes (Bel)                                            5.19
23 Jeroen Dekkers (Ned)                                          5.42
 
1 lap behind
 
24 Nicolas Perrin (Fra)                                              
25 Niel Kempenaers (Bel)                                             
26 Michael Godelaine (Bel)                                           
27 Kristof Meulenyzer (Bel)                                          
 
Starters: 30
Classified: 27
 
Novices
 
1 Bart Hermans (Bel)                                            28.35
2 Joeri Adams (Bel)                                              0.07
3 Frederick Catrysse (Bel)                                       0.24
4 Vincent Baestaens (Bel)                                            
5 Kristof Cop (Bel)                                              0.36
6 Yannick Wydooghe (Bel)                                         0.49
7 Stef Boden (Bel)                                               0.54
8 Jim Aernouts (Bel)                                             1.04
9 Pieter Bosmans (Bel)                                           1.09
10 Bart Bruyndonckx (Bel)                                        1.16
11 Jens Gijs (Bel)                                                   
12 Kenneth Mariën (Bel)                                          1.24
13 Raf Pluym (Bel)                                               1.47
14 Zeb Willems (Bel)                                             2.13
15 Geert Van Der Horst (Ned)                                     2.17
16 Sven Verboven (Bel)                                           2.24
17 Kim Goethals (Bel)                                            2.29
18 Stijn Mortelmans (Bel)                                        2.34
19 Sven Beelen (Bel)                                             3.10
20 Hans Bertels (Bel)                                            3.30
21 Stefan Spruyt (Bel)                                           3.38
22 Kristof Scheirs (Bel)                                         3.55
23 Kevin De Schrijver (Bel)                                          
24 Nick De Wilde (Bel)                                               
25 Thomas Gijsbrechts (Bel)                                          
26 Yannick Pauwels (Bel)                                             
27 Stijn Van Driessche (Bel)                                         
28 Kenny Maes (Bel)                                                  
29 Nick De Proost (Bel)                                              
30 Nick Lauwers (Bel)                                                
31 Dimi Diels (Bel)                                                  
 
Starters: 31
Classified: 31
 
Amateurs and Masters A
 
1 Sven Raeymaekers (Bel)                                             
2 Koen Diels (Bel)                                                   
3 Hans Van Den Bogaert (Bel)                                         
4 Ken Smets (Bel)                                                    
5 Davy Huygens (Bel)                                                 
6 Gijs Jongeling (Ned)                                               
7 Kris Ceulemans (Bel)                                               
8 Lino Colombo (Bel)                                                 
9 Jeroen Van Raak (Ned)                                              
10 Jos Van Looy (Bel)                                                
11 Tom Peeters (Bel)                                                 
12 Wim Coppens (Bel)                                                 
13 Barry Vissers (Bel)                                               
14 Wim Lauwerijs (Bel)                                               
15 Chris Maurien (Bel)                                               
16 Régis Flohimont (Bel)                                             
 
Starters: 16
Classified: 16
 
Masters B
 
1 Dirk Mertens (Bel)                                                 
2 Danny Verhestraeten (Bel)                                          
3 Mario Lammens (Bel)                                                
4 Marc Duyts (Bel)                                                   
5 Frans Willems (Bel)                                                
6 Benny Van Staeyen (Bel)                                            
7 Ronny Couliez (Bel)                                                
8 Eric Gijs (Bel)                                                    
9 Jeroen Van Ham (Ned)                                               
10 Jef Verbraeken (Bel)                                              
11 Patrick Wijnants (Bel)                                            
12 Mark Meys (Bel)                                                   
13 Ronny Lambrechts (Bel)                                            
14 Hugo Donckers (Bel)                                               
15 Kurt Cnudde (Bel)                                                 
16 Udo Janssen (Ned)                                                 
17 Patrick Goor (Bel)                                                
18 Dirk Veldeman (Bel)                                               
19 Patrick Wagemans (Bel)                                            
20 Mark Vanloffelt (Bel)                                             
21 Erik Van Der Sande (Bel)                                          
22 Peter Van Thillo (Bel)                                            
 
Starters: 22
Classified: 22
 
Masters C and D
 
1 Walter Marijnissen (Bel)                                           
2 Patrick Sluyts (Bel)                                               
3 François Mertens (Bel)                                             
4 Ronny Mertens (Bel)                                                
5 José De Clercq (Bel)                                               
6 Jos Sas (Bel)                                                      
7 Martin Eadon (GBr)                                                 
8 Luc Huysveld (Bel)                                                 
9 Ronny Bollansee (Bel)                                              
10 Hendrik Borremans (Bel)                                           
11 André Clemmen (Bel)                                               
12 Wilfried Buysse (Bel)                                             
13 Albert Bertels (Bel)                                              
 
Starters: 13
Classified: 13

Gazet van Antwerpen Trofee Veldrijden final standings


Elite
 
1 Sven Nys (Bel) Rabobank                                         226 pts
2 Sven Vanthourenhout (Bel) Rabobank                              197
3 Erwin Vervecken (Bel) Fidea Cyclocrossteam                      168
4 Richard Groenendaal (Ned) Rabobank                              157
5 Wilant van Gils (Ned) Rietveld WTC wielerteam                   142
6 Jan Verstraeten (Bel) Fidea Cyclocrossteam                      142
7 Bart Aernouts (Bel) Rabobank                                    140
8 Tim Van Nuffel (Bel) Saey-Deschacht                             136
9 Peter Van Santvliet (Bel) Fidea Cyclocrossteam                  128
10 Wim Jacobs (Bel) Fidea Cyclocrossteam                          126
11 Davy Commeyne (Bel) Palmans-Sapim                              112
12 Bart Wellens (Bel) Fidea Cyclocrossteam                        105
13 Ben Berden (Bel) Saey-Deschacht                                100
14 David Willemsens (Bel)                                          93
15 Václav Jezek (Cze) Author Praha                                 91
16 Enrico Franzoi (Ita) Lampre-Caffita                             90
17 Jonathan Page (USA) Cervelo-HotTubes-Adidas-Mavic               82
18 Mario de Clercq (Bel) Palmans-Sapim                             81
19 Michael Baumgartner (Swi)                                       53
20 Camiel van den Bergh (Ned) Saey-Deschacht                       51
21 Tom Vannoppen (Bel) Palmans-Sapim                               49
22 Christian Heule (Swi) Stevens International Cyclocross Team     44
23 Dariusz Gil (Pol)                                               41
24 Jirí Pospisil (Cze) Stevens International Cyclocross Team       40
25 John Gadret (Fra) Chocolade Jacques                             29
26 Kamil Ausbuher (Cze) Cyklo Team Budvar Tábor                    24
26 Thomas Frischknecht (Swi)                                       24
28 David Meys (Bel) Profel (Bel)                                   20
29 Cyrille Bonnand (Fra)                                           15
30 Björn Rondelez (Bel) Chocolade Jacques - Wincor Nixdorf         12
31 Matthew Ellis (GBr) (GBr)                                       11
31 Sten Raeymaekers (Bel)                                          11
33 Jorn Van Der Veken (Bel)                                        10
33 Tom De Kort (Bel)                                               10
35 Kris Wouters (Bel)                                               8
36 Yoeri Beyens (Bel)                                               7
36 David Rusch (Swi)                                                7
36 Geert Vandaele (Bel)                                             7
36 David Derepas (Fra)                                              7
40 Isaac Suarez (Spa)                                               6
40 Philippe Gilbert (Bel)                                           6
42 Jody Crawforth (GBr)                                             5
43 Jan Van Doninck (Bel)                                            4
43 Tadeusz Korzeniewski (Pol)                                       4
43 Jan Ramsauer (Swi)                                               4
43 Shaun Snodden (GBr)                                              4
43 David Laenen (Bel)                                               4
48 Eddy Van Bouwel (Bel)                                            3
48 Gusty Bausch (Lux)                                               3
48 Zdenek Mlynár (Cze) AC Sparta Praha                              3
51 Barry Wicks (USA) Kona/Clarks/LesGets                            2
52 Alessandro Fontana (Ita)                                         1
52 Jens Reuker (Ger)                                                1
52 Christophe Roodhooft (Bel) Palmans-Sapim                         1
52 Martin Zlámalík (Cze) Cyklo Team Budvar Tábor                    1
 
U23
 
1 Kevin Pauwels (Bel) Fidea Cyclocrossteam                        121 pts
2 Mariusz Gil (Pol)                                                87
3 Bart Dirkx (Ned)                                                 85
4 Dieter Vanthourenhout (Bel)                                      63
5 Radomír Simunek Jr. (Cze) Author Praha                           63
6 Jan Soetens (Bel)                                                45
7 Rob Peeters (Bel)                                                40
8 Stijn Penne (Bel)                                                39
9 Krzysztof Kuzniak (Pol)                                          37
10 Mike Thielemans (Bel)                                           26
10 Lars Boom (Ned) Rabobank                                        26
12 Geert Wellens (Bel) Fidea Cyclocrossteam                        23
12 Zdenek Stybar (Cze) G.S.Mercedes-Benz Selle Italia              23
14 Nick Sels (Bel)                                                 22
14 Niels Albert (Bel) Palmans-Sapim                                22
16 Martin Bína (Cze) Author Praha                                  17
17 Eddy Van Ijzendoorn (Ned)                                       15
18 Dries Devenyns (Bel)                                            14
19 Simon Zahner (Swi)                                              13
20 Maxim Debusschere (Bel)                                         12
21 Jempy Drucker (Lux) Fidea Cyclocrossteam                        10
22 Jan Skarnitzel (Cze)                                             9
23 Kay Van Den Brande (Bel)                                         8
24 Frederik Herpol (Bel)                                            7
24 Pirmin Lang (Swi)                                                7
26 Daan De Jonge (Ned)                                              6
27 Quincy Vens (Bel)                                                4
27 Jeremy Powers (USA)                                              4
27 Gerald Uyttersprot (Bel)                                         4
27 Frantisek Kloucek (Cze) Author Praha                             4
31 Jef De Boeck (Bel)                                               2
32 Jérôme Boussekey (Fra)                                           1
32 Kenny Geluykens (Bel)                                            1
 
Sprint classification
 
1 Tom Vannoppen (Bel) Palmans-Sapim                                24 pts
2 Kevin Pauwels (Bel) Fidea Cyclocrossteam                         14
3 Sven Nys (Bel) Rabobank                                          12
4 Ben Berden (Bel) Saey-Deschacht                                  10
5 Bart Wellens (Bel) Fidea Cyclocrossteam                           6
6 Dieter Vanthourenhout (Bel)                                       4
6 Richard Groenendaal (Ned) Rabobank                                4
6 Dariusz Gil (Bel)                                                 4
6 David Meys (Bel) Profel                                           4
6 Enrico Franzoi (Ita) Lampre-Caffita                               4
6 Wim Jacobs (Bel) Fidea Cyclocrossteam                             4
12 Tim Van Nuffel (Bel) Saey-Deschacht                              2
12 Krzysztof Kuzniak (Bel)                                          2
12 Mario de Clercq (Bel) Palmans-Sapim                              2
12 Simon Zahner (Bel)                                               2
12 Erwin Vervecken (Bel) Fidea Cyclocrossteam                       2
12 Sven Vanthourenhout (Bel) Rabobank                               2
12 Davy Commeyne (Bel) Palmans-Sapim                                2
 

Past winners
2004 Richard Groenendaal (Ned) Rabobank
2003 Ben Berden (Bel) Vlaanderen-T Interim
2002 Arne Daelmans (Bel) Vlaanderen-T-Interim
2001 Bart Wellens (Bel) Spaar Select
2000 Arne Daelmens (Bel)