Cyclo-cross World Cup #7 - CDM
Hofstade, Belgium, December 26, 2005
Nys is back
Sven Nys (Rabobank)
Photo ©: Luc Claessen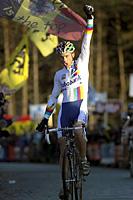 UCI number 1 Sven Nys (Rabobank) made up for his disastrous showing in Igorre a couple of weeks ago by winning the seventh round of the Cyclo-cross World Cup in Hofstade, Belgium. Although Nys had mechanical problems again today, he was still strong enough to beat Erwin Vervecken (Fidea) by 14 seconds and Gerben de Knegt (AA drink-Bejan) by 26.
"This was one of the best wins in my career," said a very happy Nys after the finish. "This week is already made, whether I win by own Grote Prijs or not. I was annoyed at myself after the stupid flat tyre. I had chosen slick tyres to ride with the turbo, but that's also risky. But when the aggression took over in me, I was unstoppable."
Nys also describe the atmosphere at the race. "The hair on my arms was standing on end, with all the spectators. After five setbacks [in the last five races] I was mentally very strong. Now I still have one big goal: a new world title, where everything has to go right."
Erwin Vervecken had to be content with another second place, and commented, "It was a bit strange today. I was not as good on foot, but I was riding really well through the sand. When Nys punctured, I decided not to go flat out. That was perhaps the wrong gamble."
Wellens was hurting again, as he finished just 10th today. "I've still got too much pain from my back. I couldn't go deep at all and furthermore I still had pain in my thigh. Because of that, I also couldn't run much. When Nys flatted, I could even follow him a bit, but I couldn't really push it. Tonight the physiotherapist has to bring me solace again.
How it unfolded
Sven Nys (Rabobank)
Photo ©: Luc Claessen

The course in in the Bloso-centre in Hofstade was not an easy one to negotiate, being marked by deep sand in several sections, even if it was fairly dry. True to form, and despite realising a couple of days ago that it was probably detrimental to his winning chances, Gerben de Knegt (AA drink-Bejan) went out hard early on. He was joined by Enrico Franzoi (Lampre) and Erwin Vervecken (Fidea), with Sven Nys, Petr Dlask, John Gadret and Richard Groenendaal also making the cut later on. Bart Wellens (Fidea), with his leg heavily bandaged and suffering back problems after crashing two days ago, missed the rush at the start and sat in 10th position at around 10 seconds behind. He was never able to make contact with the front.
De Knegt continued his aggressive tactics, and accelerated to blow the leading group apart. Nys was easily able to match it, before Groenendaal, Vervecken and Dlask managed to claw their way back to the two leaders. But Groenendaal crashed, and his race was essentially over, even though he managed to regain seventh place.
Daphny van den Brand (ZZPR.nl)
Photo ©: Luc Claessen

Nys tested the remaining group with an attack through the sand, but didn't get far as he punctured. He had already passed the pit zone, so had to let Vervecken, Dlask, De Knegt and Aernouts go past. But a lap later, Nys had recovered and was back in contention. The leaders began to attack each other and Nys was eventually able to get a small gap over Vervecken and De Knegt. Vervecken didn't give in and was just a few seconds behind the World Champion on the last lap, but Nys gave it everything and Vervecken had no answer.
In the women's race, World Cup leader Daphny van den Brand (ZZPR.nl) won with a comfortable 22 second gap over World Champion Hanka Kupfernagel (Vlaanderen-Capri Sonne-T Interim) and a huge 1'42 advantage to third placed Maryline Salvetat (France).
Photography
For a thumbnail gallery of these images, click here
Images by Luc Claessen/www.actiefotos.be
Results

Elite
 
1 Sven Nys (Bel) Rabobank                                         
2 Erwin Vervecken (Bel) Fidea Cycling Team                    0.14
3 Gerben De Knegt (Ned) AA drink-Bejan                        0.26
4 Petr Dlask (Cze) Empella Czech Team                         0.32
5 Bart Aernouts (Bel) Rabobank                                0.39
6 Wilant Van Gils (Ned) ZZPR.nl                               0.44
7 Richard Groenendaal (Ned) Rabobank                          0.50
8 John Gadret (Fra) Jartazi Granville Team                    0.55
9 Martin Bína (Cze) Author Praha                              1.02
10 Bart Wellens (Bel) Fidea Cycling Team                      1.12
11 Enrico Franzoi (Ita) Lampre - Caffita                      1.25
12 Michael Baumgartner (Swi)                                  1.36
13 Camiel Van Den Bergh (Ned) Stevens Racing Team             1.43
14 Christian Heule (Swi) Stevens Racing Team                      
15 Simon Zahner (Swi)                                             
16 Tom Vannoppen (Bel) Palmans-Sapim-Collstrop                    
17 Wim Jacobs (Bel) Fidea Cycling Team                            
18 Zdenek Stybar (Cze) Fidea Cycling Team                         
19 Martin Zlámalík (Cze) Author Praha                             
20 Sven Vanthourenhout (Bel) Rabobank                             
21 Klaas Vantornout (Bel) Morgan Blue                             
22 Jan Verstraeten (Bel) Fidea Cycling Team                       
23 Vladimír Kyzivát (Cze) Johnson Controls As MB                  
24 Ryan Trebon (USA)                                              
25 Radomir Simunek (Cze)                                          
26 Thorsten Struch (Ger)                                          
27 Kamil Ausbuher (Cze) Cyklo Team Budvar Tábor                   
28 David Derepas (Fra)                                            
29 Eddy Van Yzendoorn (Ned)                                       
30 Thijs Al (Ned) B & E Cycling Team                              
31 Finn Heitemann (Ger)                                           
32 Johan Van De Ven (Ned)                                         
33 David Rusch (Swi)                                              
34 Felix Gniot (Ger)                                              
35 Milan Barenyi (Slo)                                            
36 Alexander Moos (Swi)                                           
37 Isaac Suarez Fernandez (Spa)                                   
38 Marco Bianco (Ita)                                             
39 Barry Wicks (USA)                                              
40 Erik Tonkin (USA)                                              
41 Jonathan Page (USA) Liberty/Cervélo                                    
42 Malte Urban (Ger) Stevens Racing Team                          
43 Nicolas Bazin (Fra)                                            
44 Bart Dirkx (Ned) AA drink-Bejan                                
45 Václav Metlicka (Svk) Team Kral R.C. Pfeil Hof E.V             
46 Joachim Parbo (Den) Cycling Aarhus                             
47 Tsujira Keiichi Japan                                          
48 Jeremy Powers (USA) Jelly Belly - Pool Gel                     
49 David Collins (GBr)                                            
50 Christoph Pfingsten (Ger)                                      
51 Jody Crawforth (GBr)                                           
52 Gusty Bausch (Lux)                                             
53 Anders Klinkby (Den)                                           
54 Jens Reuker (Ger) RC Olympia                                   
55 Kashy Leuchs (Can)                                             
56 Brandon Dwight (USA)                                           
 
Women
 
1 Daphny Van Den Brand (Ned) ZZPR.nl                              
2 Hanka Kupfernagel (Ger) Vlaanderen-Capri Sonne-T Interim    0.22
3 Maryline Salvetat (Fra) VSLL Castres                        1.42
4 Reza Ravenstein (Ned)                                           
5 Mirjam Melchers (Ned)                                           
6 Helen Wyman (GBr)                                               
7 Marianne Vos (Ned)                                              
8 Birgit Hollmann (Ger)                                           
9 Nadia Triquet (Fra)                                             
10 Sabine Spitz (Ger)                                             
11 Kathy Ingels (Bel)                                             
12 Lyne Bessette (Can)                                            
13 Anja Nobus (Bel)                                               
14 Nicol Kampeter (Ger)                                           
15 Britt Jochems (Ned)                                            
16 Arenda Grimberg (Ned) Therme Skin Care                         
17 Joyce Vanderbeken (Bel)                                        
18 Nicole De Bie- Leyten (Ned)                                    
19 Nicoletta Bresciani (Ita)                                      
20 Christine Vardaros (USA)                                       
21 Katrien Aerts (Bel)                                            
22 Alexandra Bahler (Swi)                                         
23 Milena Cavani (Ita)                                            
24 Annekatrin Nietsche (Ger)                                      
25 Kevin Pauwels (Bel) Fidea Cycling Team                         
26 Paola Bortolin (Ita)                                           
27 Petra Hofs (Ned)                                               
28 Francesca Cuccinello (Ita)                                     
29 Susy Godart (Lux)                                              
30 Valeria Taglaibue (Ita)                                        
31 Anne Arnouts (Bel)                                             
32 Sarra Massaglia (Ita)                                          
33 Veronica Allessio (Ita)                                        
 
Under 23
 
1 Kevin Pauwels (Bel) Fidea Cycling Team                          
2 Sebastiaan Langeveld (Ned)                                  0.05
3 Thijs Van Amerongen (Ned)                                       
4 Lukas Flückiger (Swi)                                       0.25
5 Jan Soetens (Bel)                                           0.40
6 Kenny Geluykens (Bel)                                       1.00
7 Julien Taramarcaz (Swi)                                         
8 Mike Thielemans (Bel)                                           
9 Maxim Debusschere (Bel)                                         
10 Rik Van Yzendoorn (Ned)                                        
11 Andreas Moser (Swi)                                            
12 Egon Van Kessel (Ned)                                          
13 Troy Wells (USA)                                               
14 Rikke Dijkxhoorn (Ned)                                         
15 Jan Van Dael (Bel)                                             
16 Dries Dewit (Bel)                                              
17 Frederik Herpol (Bel)                                          
18 Jan Arnouts (Bel)                                              
19 Jesse Anthony (USA)                                            
20 Daan De Jong (Ned)                                             
21 Stijn Huys (Bel) Palmans-Sapim-Collstrop                       
22 David Claerebout (Lux) LG Alzingen                             
23 Dennis Verhoeven (Bel)                                         
24 Morgan Schmitt (USA)                                           
25 Adam Mcgrath (USA)                                             
26 Andreas Sinskery (Ger)                                         
27 Mitchell Petterson (USA)                                       
28 Tim Milis (Bel)                                                
29 Carlo Kempeneers (Bel)                                         
 
Juniors
 
1 Robert Gavenda (Slo)                                            
2 Boy Van Poppel (Ned)                                            
3 Dave De Cleyn (Bel)                                             
4 Dries Pauwels (Bel)                                             
5 Marcel Meysen (Ned)                                             
6 Thomas Vernaeckt (Bel)                                          
7 Matthias Fluckiger (Swi)                                        
8 Kristof Zegers (Bel)                                            
9 Pascal Meyer (Swi)                                              
10 Lukas Winterberg (Swi)                                         
11 Nico Brungger (Swi)                                            
12 Jens Treichel (Ger)                                            
13 Tim Debusschere (Bel)                                          
14 Stephan Sprinke (Ger)                                          
15 Peter Freye (Swi)                                              
16 Julien Ertveldt (Bel)                                          
17 Pierre Kaeslin (Swi)                                           
18 Morten Gregersen (Den)                                         
19 Kevin De Schrijver (Bel)                                       
 
Novices
 
1 Stef Boden (Bel)                                                
2 Gerry Druyts (Bel)                                              
3 Stijn Van Driessche (Bel)                                       
4 Yannick Pauwels (Bel)                                           
5 Ben Remijsen (Bel)                                              
6 Nico Thomas Gollnick (Ger)                                      
7 Nick Vermunicht (Bel)                                           
8 Valentijn Martens (Bel)                                         
9 Jens Berghmans (Bel)                                            
10 Nick Van Den Eynde (Bel)                                       
11 Kelly Druyts (Bel)                                             
12 Joachim Janssens (Bel)                                         
13 Inge Allaert (Bel)