Recently on Cyclingnews.com
Whitmore's Landscaping Super Cross Cup - C3
Long Island, USA, October 3, 2004
McCormack & Vardaros take East Coast opener
Mark McCormack
Photo ©: Jaime Garcia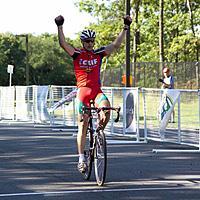 A beautiful fall day on the east end of Long Island brought out some good competition in the east coast's first UCI race of the season, the 2004 Whitmore's Landscaping Super Cross Cup. The cross fanatics of the Hampton Velo Club sought to give the riders a challenge, and the riders were not disappointed in the toughness of the course.
The women's field was light but contained some heavy hitters, led by Christine Vardaros (Velo Bella), reigning state champion Anna Milkowski (Rona), and 30+ national champion Marianne Stover (Independent Fabrications). As has been the case in previous races, Stover got a great start and only Vardaros was able to stay close by the end of the first lap. Milkowski wound up with a chase group containing local rider Sinead Fitzgibbon (CRCA/Aquafina) and Maureen Bruno (Cyclocrossworld.com) and the three riders managed to stay in touch with the leaders. But the technical nature of the course took its toll on Stover, as a crash on lap 2 gave Vardaros the lead that she would never relinquish. Milkowski meanwhile found her legs and dropped Fitzgibbon and Bruno and went after Stover. A second crash at the same location by Stover gave Milkowski all she needed to reel in and pass Stover as she powered away to a second place finish. Stover managed to hang on to 3rd as a tiring Fitzgibbon could not keep pace at the end.
Winner Christine Vardaros (Velo Bella)
Photo ©: Jaime Garcia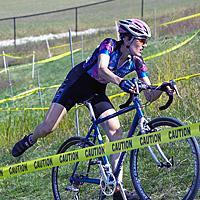 The men lined up with 28 starters, with Mark McCormack (Clif Bar/Colavita) clearly being the favorite. However, it was Massachusetts native Johannes Huesby (FiorDiFrutta) who got the hole shot and led most of lap 1 with McCormack staying close. But as Stover did in the women's race, Huesby got in trouble in the technical sections, allowing McCormack to go clear to stay. Northampton, MA native Matt White (Northampton CC/BikeReg.com) started slow but charged through the field and by the 2nd lap was away from the bunch and only McCormack was not caught by the emerging espoir rider. After having settled down, Huesby was able to maintain a 3rd place position and was not challenged for the rest of the race. The best race of the day was for 4th position, as a group containing Ben Turner (TIAA-CREF), Tyler Johnson (Richard Sachs), and Adam Hodges-Myerson (Cycle-Smart) constantly fought each other tooth and nail through the twisty technical sections and the fast flats for the entire 2nd half of the race. The high paced action was eventually too much for Johnson, who dropped back on the last lap; just as Turner turned it up a notch and rode away from Myerson to secure 4th spot. Myerson rounded out the top 5.
Photography
Images by Jaime Garcia/www.mlracingteam.com
Results

Elite Men (28 starters)
 
1 Mark McCormack (USA) Clif Bar/Colavita             57.31
2 Matt White (USA) Northampton CC/BikeReg.com         0.56
3 Johannes Huesby (USA) FiorDiFrutta                  1.07
4 Ben Turner (USA) TIAA-CREF                          1.49
5 Adam Hodges-Myerson (USA) Cycle-Smart               1.59
6 Tyler Johnson (USA) Richard Sachs                   2.06
7 Jonathan Hamblen (USA) FiorDiFrutta                 2.12
8 Jon Bruno (USA) Independent Fabrications            2.52
9 Ryan Leech (USA) Fort/GPOA                          2.57
10 Jonny Bold (USA) Corner Cycles CC                  3.14
11 John Hanson (USA) Northampton CC/BikeReg.com       3.30
12 Joe Reynolds (USA) Wissahickon                     3.48
13 Kevin Molloy (USA) CRCA/Sakkonet                   5.29
14 John Verhuel (USA) Ideal Tile/Brielle's Cyclery    6.08
 
1 lap behind
 
15 John Loehner (USA) CRCA/Sakkonet                       
16 William Ellison (USA) Ideal Tile/Brielle's Cyclery     
17 Matt Reale (USA) Hampton Velo Club                     
18 Ryan Broules (USA)                                     
19 Rick Trojanowski (USA) Hampton Velo Club               
20 Gary Keblish (USA) CRCA/Conrad's                       
21 Abdullah Din (USA) Missing Link                        
22 Karl Rahn (USA) CRCA/Sakkonet                          
23 Basil Moutsopoulous (USA) CRCA/Sakkonet                
24 Jerry Kapko (SVK)                                      
25 Jon Hansen (USA) Embestida                             
26 J.P. Partland (USA) Kissena Cycling Club               
 
Elite Women (10 starters)
 
1 Christine Vardaros (USA) Velo Bella                47.20
2 Anna Milkowski (USA) Rona                           0.42
3 Marianne Stover (USA) Independent Fabrications      0.53
4 Maureen Bruno (USA) Cyclocrossworld.com             1.06
5 Sinead Fitzgibbon (USA) CRCA/Aquafina               1.22
6 Alicia Genest (USA) Richard Sachs                   4.26
7 Pauline Franscone (USA) Mystic Velo                 4.42
8 Lisa Most (USA) Wissahickon                         7.33
 
1 lap behind
 
9 Sami Fournier (USA) Velo Bella                          
10 Tammy Ebersole (USA) Evolution