Recently on Cyclingnews.com
Star-Crossed - C2
Seattle, USA, October 2, 2004
2003 Results Results Past winners
Carl Decker Surprise Winner at Toña Cerveza / Giant Star-Crossed Cyclocross
Carl Decker
Photo ©: Amara Boursaw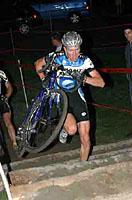 It was a wild ride to the finish of Saturday night's Toña Cerveza / Giant Star Crossed Cyclocross under the lights of the Group Health Velodrome in Redmond, WA. In the end it was Carl Decker, triple podium finisher at last week's US Mountain Bike Nationals, who outrode his opponents to victory.
Bell-clanging spectators around the track cheered as their favorites took the lead, and collectively groaned as one after another they fell. As the dew point dropped, so did the riders. First Josh Anthony, U-23 National Champion, lost his early lead to a slick grassy turn. The course also claimed early frontrunners Barry Wicks (Kona), local favorite Jonny Sundt, and NORBA series champ Geoff Kabush, leaving Todd Wells solo off the front. Marc Gullickson (Redline), due to a mechanical that made him run the good part of a lap with his bike hitched over his shoulder, was unable to defend his Star-Crossed title. Kabush and Sundt (Maxxis/Giant teammates) recovered, chasing hard, while Decker, handicapped by a poor start at the back of the pack, worked his way up through the field.
The last ten minutes of the race kept the zealous beer garden crowd raving as Decker (Giant/Pearl Izumi) and former US National 'Cross Champion Todd Wells (GT/Hyundai) entered the velodrome wheel to wheel. Decker's gutsy jump to the blue line on the south turn banking and subsequent dive onto the infield grass underneath his opponent proved to be the race-winning move. The gap established from this fast line would hold for Decker through the maze-like path all the way to the spectator-lined finish straight for an exciting win, Wells just seconds behind. Kabush and Sundt rode in a few seconds later for third and fourth place finishes.
Photography
Images by Amara Boursaw
Images by David Hill
Carl Decker pushing the corners during his charge to the front
Carl Decker exits the velodrome after Todd Wells
Barry Wicks was on the front until dumping it in the slick grass
Images by Jonathan Ryan
Results
Elite Men
 
1 Carl Decker (USA) Pearl Izumi/Giant
2 Todd Wells (USA) GT/Hyundai
3 Geoff Kabush (Can) Maxxis/Giant
4 Jonny Sundt (USA) Maxxis/Giant
5 Russell Stevenson (USA) Benaroya Research Institute
6 Barry Wicks (USA) Kona
7 Andrew Pinfold (Can) Symmetrics
8 Erik Tonkin (USA) Kona
9 Loren Hanson (USA) Benaroya Research Institute
10 Marc Gullickson (USA) Redline
11 Chris McGovern (USA) Sierra Nevada
12 Brent Prenzlow (USA) Celo Pacific
13 Adam Craig (USA) Maxxis/Giant
14 Eric Atwood (USA) Benaroya Research Institute
15 Mark Legg (NZl) Cody Racing Team
16 John Frey (USA)
17 Ben Thompson (USA)
18 Russell Cree (USA) Broadmark Capital
19 Ian Mackie (USA)
20 John Christian Flack (USA) Valley Athletic
21 Morgan Schmitt (USA) Rad Racing
22 Jesse Anthony (USA) Cyclocrossworld.com
23 Dan Neyens (USA) Rad Racing
24 Tommy McGrath (USA)
25 Rob Campbell (USA) Valley Athletic 
Past winners
2003 Marc Gullickson (USA) 
2002 Jonny Sundt (USA)