Superprestige #1 - Ruddervoorde - C1
Ruddervoorde, Belgium, October 17, 2004
2003 Results Results Past winners
Masterful Nys
By Jeff Jones
Sven Nys (Rabobank)
Photo ©: Luc Claessen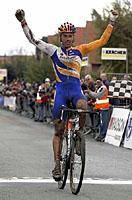 Even a crash in the final kilometre did not prevent Sven Nys (Rabobank) from taking the first round of the Superprestige series in Ruddervoorde today. After dominating the race from the first lap, Nys crossed the line for his 23rd SP win with a comfortable margin over Richard Groenendaal (Rabobank) and Ben Berden (Saey-Deschacht). Sven Vanthourenhout (Quick.Step-Davitamon) finished fourth after he crashed on the final corner while trying to hold off Groenendaal.
How it unfolded
The conditions were muddy but dry in Ruddervoorde for the first round of the Superprestige series, and there were 36 riders on the start line, including World Cup and UCI leader Zdenek Mlynár (AC Sparta Praha) as well as the top Belgian, Dutch and Swiss riders. On the first lap, Nys took command along with Vanthourenhout, Berden and Enrico Franzoi (Saeco),while both Richard Groenendaal and Bart Wellens were distanced after a bad start.
After three laps, Vanthourenhout was the only one who could follow Nys after three laps, but he crashed on lap four and never came back. Although it was still early in the race, Nys pressed his advantage and continued to extend his lead, riding in his technically beautiful smooth style over all the obstacles. Vanthourenhout quickly found the company of Ben Berden, while Wellens was chasing hard to bridge up to the two after his bad start.
The third rider in Ruddervoorde
Photo ©: Luc Claessen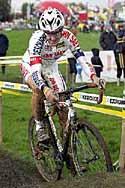 Nys had 33 seconds at the end of the fifth of nine laps and it was clear that he was not coming back. The race was on for second place. Berden attacked Wellens and Vanthourenhout on lap 6 but could never get much more than 5-7 seconds ahead of them, although he did not ease up. On lap 7, Groenendaal made his move from the next chasing group and quickly caught Wellens and Vanthourenhout, then set about closing the gap to Berden. He eventually caught the Saey-Deschacht rider just before the sandpit through the beer tent on lap 8, with Vanthourenhout in hot pursuit.
On the final lap, Nys had a 45 second lead on Groenendaal, Berden and Vanthourenhout, which gave him the luxury to make his second bike change at the first pit area. He took it steadily over the final part of the lap and even made a mistake just before the finish, but it wasn't serious and he had plenty of time to zip up his jersey and cross the line well ahead of second place.
Groenendaal changed his bike at the second pit area on the last lap, but barely lost any ground to Berden and Vanthourenhout, and once back with them, immediately took the lead. Vanthourenhout tried to surprise him for second place, but overcooked it on the last corner and slid into the barrier. That allowed Groenendaal to take the next place on the podium with Berden crossing a few seconds behind for third.
Photography
Images by Luc Claessen/www.actiefotos.be
Results
Elite
 
1 Sven Nys (Bel) Rabobank                                     1.01.28
2 Richard Groenendaal (Ned) Rabobank                             0.19
3 Ben Berden (Bel) Saey-Deschacht                                0.24
4 Sven Vanthourenhout (Bel) Quickstep - Davitamon                0.32
5 Bart Wellens (Bel) Fidea Cyclocrossteam                        0.50
6 Tom Vannoppen (Bel) MrBookmaker.com - Palmans                  1.03
7 Enrico Franzoi (Ita) Saeco                                     1.08
8 Davy Commeyne (Bel) MrBookmaker.com - Palmans                  1.30
9 Tim Van Nuffel (Bel) Saey-Deschacht                            1.33
10 Wim Jacobs (Bel) Fidea Cyclocrossteam                         2.10
11 Jonathan Page (USA) Cervelo-HotTubes-Adidas-Mavic             2.14
12 Camiel van den Bergh (Ned) Saey-Deschacht                     2.21
13 Peter Van Santvliet (Bel) Fidea Cyclocrossteam                2.34
14 Martin Nijland (Ned) Didata                                   2.43
15 Mario de Clercq (Bel) MrBookmaker.com - Palmans               2.57
16 Václav Jezek (Cze) Author Praha                               3.08
17 David Willemsens (Bel)                                        3.26
18 John Gadret (Fra) Chocolade Jacques                           3.41
19 Zdenek Mlynár (Cze) AC Sparta Praha                           3.45
20 Björn Rondelez (Bel) Chocolade Jacques - Wincor Nixdorf       3.53
21 Martin Zlámalík (Cze) Cyklo Team Budvar Tábor                 4.39
22 Christian Heule (Swi) Stevens International Cyclocross Team   4.44
23 Pedro Baelen (Bel) Saey-Deschacht                             4.46
24 David Meys (Bel) Vlaanderen T Interim                         5.21
25 Beat Morf (Swi)                                               5.25
26 Jan Verstraeten (Bel) Saey-Deschacht                          5.28
27 Jan Ramsauer (Swi)                                            5.41
28 Anders Klinkby (Den) Vejen BC                                 5.48
29 Tadeusz Korzeniewski (Pol)                                    6.48
30 Dariusz Gil (Pol)                                                 
31 Frederik Vandevyvere (Bel)                                    7.48
32 Freddy De Meester (Bel)                                       9.00
33 Robby De Baene (Bel)                                              
34 Stefano Capitelli (Ita)                                           
DNF Petr Dlask (Cze) Author Praha                                    
DNF Erwin Vervecken (Bel) Fidea Cyclocrossteam                       
 
Starters: 36
 
U23 Men
 
1 Lars Boom (Ned) Rabobank                                      47.20
2 Simon Zahner (Swi)                                             0.17
3 Niels Albert (Bel)                                             0.30
4 Geert Wellens (Bel)                                            0.55
5 Radomir Simunek (Cze)                                          1.29
6 Clement L'hotellerie (Fra)                                     1.31
7 Dieter Vanthourenhout (Bel)                                    1.47
8 Jan Soetens (Bel)                                              1.55
9 Stijn Penne (Bel)                                              2.06
10 Kevin Pauwels (Bel)                                           2.31
11 Jempy Drucker (Lux)                                           2.40
12 Mike Thielemans (Bel)                                         2.49
13 Eddy Van Ijzendoorn (Ned)                                     2.59
14 Tom Van Den Bosch (Bel)                                       3.06
15 Nick Sels (Bel)                                               3.10
16 Bart Verschueren (Bel)                                        3.14
17 Bart Dirckx (Ned)                                             3.22
18 Rob Peeters (Bel)                                             3.34
19 Dries Devenyns (Bel)                                          3.52
20 Rafael Visinelli (Ita)                                        3.55
21 Frederik Herpol (Bel)                                         4.02
22 Jeroen Dingemans (Bel)                                        4.10
23 Maxim Debusschere (Bel)                                       4.32
24 Jeremy Powers (Usa)                                           4.40
25 Kenny Geluykens (Bel)                                         4.56
26 Joeri Kouwenhoven (Ned)                                           
27 Jerome Boussekey (Fra)                                        5.13
28 Roy Van Heeswijk (Ned)                                        5.18
29 Krzysztof Kuzniak (Pol)                                       5.23
30 Zdenek Stybar (Cze)                                           5.35
31 Mariusz Gil (Pol)                                             5.41
32 Quincy Vens (Bel)                                             5.48
33 Daan De Jonge (Ned)                                           6.12
34 Jonas Coopman (Bel)                                           6.54
35 Lukas Keller (Dui)                                            7.08
36 Frank Van Grootel (Ned)                                       7.21
37 Alois Lievens (Bel)                                           7.37
38 Glen Vandevyvere (Bel)                                        7.46
39 Jerry Kallenfels (Ned)                                        9.00
40 Jeroen Thielemans (Bel)                                           
41 Bram Wind (Ned)                                                   
42 Andy Dierickx (Bel)                                               
43 Coen Sevens (Ned)                                                 
44 Valentijn Ponseele (Bel)                                          
45 Ward Demets (Bel)                                                 
46 Kristof Declercq (Bel)                                            
47 Sven Verbeeck (Bel)                                               
 
Starters: 48
 
Juniors
 
1 Ricardo Van Der Velde (Ned)                                   40.46
2 Jan Van Dael (Bel)                                             0.47
3 Wim Leemans (Bel)                                              0.52
4 Tom Meeusen (Bel)                                              1.03
5 Rik Van Ijzendoorn (Ned)                                       1.22
6 Thomas Vernaeckt (Bel)                                         1.25
7 Kevin Cant (Bel)                                               1.30
8 Quentin Bertholet (Bel)                                        1.45
9 Gianni Denolf (Bel)                                            1.54
10 Patrick Vliegen (Ned)                                         2.00
11 Jan Arnouts (Bel)                                                 
12 Ivar Hartogs (Ned)                                            2.02
13 Bart Senders (Ned)                                            2.05
14 Kim Michely (Lux)                                             2.08
15 Dries Govaerts (Bel)                                          2.17
16 Savi Van Horik (Ned)                                          2.21
17 Johim Ariesen (Ned)                                               
18 Remco Te Brake (Ned)                                              
19 Mark Borks (Ned)                                              2.32
20 Kenneth Van Compernolle (Bel)                                 2.34
21 Mattijn Motshagen (Ned)                                       2.40
22 David Schloesser (Lux)                                        2.45
23 Ben Arnouts (Bel)                                             2.56
24 Kevin Ryckaert (Bel)                                          3.02
25 Nivard Van Acker (Bel)                                        3.16
26 Kristof Zegers (Bel)                                          3.18
27 Richard Van Loon (Ned)                                        3.20
28 Jan Verhaegh (Ned)                                            3.36
29 Sven Vandousselaere (Bel)                                     3.46
30 Bart Wouters (Bel)                                                
31 Dennis Verhoeven (Bel)                                        3.49
32 Boy Van Poppel (Ned)                                          3.55
33 Christopher Janssens (Bel)                                    4.07
34 Jan Mikkers (Ned)                                             4.17
35 Benjamin Verraes (Bel)                                        4.26
36 Mitchell Huenders (Ned)                                       5.06
37 Frederik Verkinderen (Bel)                                    5.18
38 Dries Depoorter (Bel)                                         5.20
39 Koen Van Grootel (Ned)                                            
40 Tim Van Hoornick (Bel)                                        5.38
41 Jonathan Veldhuizen (Ned)                                     5.51
42 Ruben Depoortere (Bel)                                        5.58
43 Edwin Arts (Ned)                                              6.01
44 Tom Clauw (Bel)                                                   
45 Thomas Demets (Bel)                                           6.24
46 Djuri Van Rijbroek (Ned)                                      6.34
47 Lorenzo Zauters (Bel)                                         6.37
48 Anja Nobus (Bel)                                              6.52
49 Jonas De Vlieger (Bel)                                        7.30
50 Benny De Rocker (Bel)                                         7.36
51 Davy Traen (Bel)                                              7.54
52 Angelo Zauters (Bel)                                              
53 Raymond Gaasbeek (Ned)                                        9.00
54 Jo Van Rechem (Bel)                                               
55 Kenny Van Heck (Bel)                                              
56 Joyce Vanderbeken (Bel)                                           
57 Linda Dirckx (Bel)                                                
58 Joachim De Maesschalck (Bel)                                      
59 Atze De Vis (Bel)                                                 
60 Tom Decock (Bel)                                                  
61 Ann Van Rechem (Bel)                                              
62 Kenneth Van Renterghem (Bel)                                      
63 Sandie Verriest (Bel)                                             
 
Starters: 66
 
Novices
 
1 Joeri Adams (Bel)                                             26.35
2 Jim Aernouts (Bel)                                             0.06
3 Kristof Cop (Bel)                                              0.31
4 Yannick Wydooghe (Bel)                                         0.32
5 Frederik Catrysse (Bel)                                        1.05
6 Kenneth Bultinck (Bel)                                         1.10
7 Kim Goethals (Bel)                                             1.15
8 Matthias Moeyaert (Bel)                                        1.19
9 Rob Van Der Velde (Ned)                                        1.24
10 Kevin Smit (Bel)                                              1.33
11 Stijn Mortelmans (Bel)                                        1.40
12 Raf Pluym (Bel)                                               1.44
13 Dimitri Stevens (Bel)                                         1.47
14 Bart Hermans (Bel)                                            1.51
15 Vincent Baestaens (Bel)                                       2.01
16 Ritchie Motke (Bel)                                           2.21
17 Jarno Van De Casteele (Bel)                                   2.36
18 Kevin De Schrijver (Bel)                                      3.02
19 Kaell Pizzy (Bel)                                                 
20 Tamor Hartogs (Ned)                                           3.17
21 Sven Balis (Bel)                                              3.22
22 Maurits Bekkema (Ned)                                         3.28
23 Bert Catrysse (Bel)                                               
24 Sammy Vanneste (Bel)                                              
25 Pieter Cordeel (Bel)                                          4.40
26 Cis Desmet (Bel)                                              4.55
27 Mickey Kallenfels (Ned)                                           
28 Kenny Depuydt (Bel)                                               
29 Matthias Kindt (Bel)                                          5.25
30 Kenneth Verhoeven (Bel)                                       5.51
31 Kevin Callewaert (Bel)                                        5.54
32 Arne Verstraete (Bel)                                         6.00
33 Rick Van Deursen (Ned)                                            
34 Jason D'haemers (Bel)                                         7.15
35 Aron Dejaegher (Bel)                                          7.50
36 Sam De Winne (Bel)                                            9.00
37 Sharon Defoor (Bel)                                               
38 Kim Van Renterghem (Bel)                                          
 
Starters: 38              
Standings after round 1


Elite Men
 
1 Sven Nys (Bel)                                                   15 pts
2 Richard Groenendaal (Ned)                                        14
3 Ben Berden (Bel)                                                 13
4 Sven Vanthourenhout (Bel)                                        12
5 Bart Wellens (Bel)                                               11
6 Tom Vannoppen (Bel)                                              10
7 Enrico Franzoi (Ita)                                              9
8 Davy Commeyne (Bel)                                               8
9 Tim Van Nuffel (Bel)                                              7
10 Wim Jacobs (Bel)                                                 6
11 Jonathan Page (Usa)                                              5
12 Camiel Van Den Bergh (Ned)                                       4
13 Peter Van Santvliet (Bel)                                        3
14 Maarten Nijland (Ned)                                            2
15 Mario De Clercq (Bel)                                            1

U23 Men
 
1 Lars Boom (Ned)                                                  15 pts
2 Simon Zahner (Swi)                                               14
3 Niels Albert (Bel)                                               13
4 Geert Wellens (Bel)                                              12
5 Radomir Simunek (Cze)                                            11
6 Clement L'hotellerie (Fra)                                       10
7 Dieter Vanthourenhout (Bel)                                       9
8 Jan Soetens (Bel)                                                 8
9 Stijn Penne (Bel)                                                 7
10 Kevin Pauwels (Bel)                                              6
11 Jempy Drucker (Lux)                                              5
12 Mike Thielemans (Bel)                                            4
13 Eddy Van Ijzendoorn (Ned)                                        3
14 Tom Van Den Bosch (Bel)                                          2
15 Nick Sels (Bel)                                                  1 

Juniors
 
1 Ricardo Van Der Velde (Ned)                                      15 pts
2 Jan Van Dael (Bel)                                               14
3 Wim Leemans (Bel)                                                13
4 Tom Meeusen (Bel)                                                12
5 Rik Van Ijzendoorn (Ned)                                         11
6 Thomas Vernaeckt (Bel)                                           10
7 Kevin Cant (Bel)                                                  9
8 Quentin Bertholet (Bel)                                           8
9 Gianni Denolf (Bel)                                               7
10 Patrick Vliegen (Ned)                                            6
11 Jan Arnouts (Bel)                                                5
12 Ivar Hartogs (Ned)                                               4
13 Bart Senders (Ned)                                               3
14 Kim Michely (Lux)                                                2
15 Dries Govaerts (Bel)                                             1

Past winners
2003 Bart Wellens (Bel) Spaar Select                  
2002 Sven Nys (Bel) Rabobank     
2001 Bart Wellens (Bel) Spaar Select
2000 Richard Groenendaal (Ned) Rabobank 
1999 Sven Nys (Bel) Rabobank

Past winners by Mario Stiehl, www.world-of-cycling.com