Superprestige #2 - Hamme-Zogge - C2
Hamme-Zogge, Belgium, October 24, 2004
Results Superprestige standings
Vanthourenhout wins three man sprint
By Jeff Jones
Sven Vanthourenhout (Quickstep - Davitamon)
Photo ©: Luc Claessen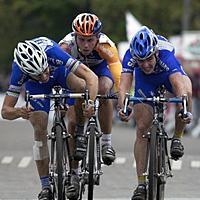 Sven Vanthourenhout (Quickstep-Davitamon) has triumphed in the second round of the Superprestige series in Hamme-Zogge, Belgium, beating a fast finishing Tom Vannoppen (MrBookmaker.com) and an injured Sven Nys (Rabobank) in a three man sprint. The trio had attacked on the seventh of ten laps, and were unable to break away from each other in the finale.
Sven Nys
Photo ©: Luc Claessen

The race was held on a fairly fast but slightly muddy parcours, as there had been a bit of rain in the morning which continued off and on all day. On the very first lap, SP leader Sven Nys (Rabobank) signalled his intentions by taking the lead midway, but he took a corner too tightly and smashed his right shoulder into a barrier, forcing him to stop and rejoin the pack in 12th-13th position.
Strong men Tom Vannoppen (MrBookmaker.com), Ben Berden (Saey-Deschacht) and Sven Vanthourenhout (Quick.Step-Davitamon) pushed the pace in front, and by the end of the first lap the bunch was strung out in a line, with splits appearing all over the place. On the second lap, it was Richard Groenendaal (Rabobank) attacking, taking Vannoppen and Vanthourenhout with him, with Nys and Berden closing the gap later. At the end of the lap, the leading group had grown to include Bart Wellens and Wim Jacobs (Fidea).
Ben Berden (Saey-Deschacht)
Photo ©: Luc Claessen

Nys, who had now recovered somewhat from his crash, took the initiative on lap 3, jumping over the barriers on his bike and accelerating hard to try to reduce the group. But at the end of the lap, he was still with Vannoppen, Vanthourenhout, Wellens and Groenendaal and Berden.
As the race progressed, Nys continued to attack on each lap, and each time he was joined by Vanthourenhout and Vannoppen, who clearly weren't going to give in without a fight. Eventually on lap 7, the three rid themselves of the rest of the group and held a slender 10 second advantage over Berden and Wellens for the remaining three laps.
On the final lap, Nys attacked again after the barriers, but again Vanthourenhout and Vannoppen came back to him. Vanthourenhout took over the lead and led out the sprint, just managing to hold off Vannoppen with Nys being unable to move up from out of Vanthourenhout's wheel, taking third but keeping the Superprestige leader's jersey.
The podium
Photo ©: Luc Claessen

Photography
Images by Luc Claessen/www.actiefotos.be
Images by Karen Lambrecht
The under-23 podium - (L to R): Lars Boom (Ned), Radomir Simunek (Cze), Simon Zahner (Swi)
The podium - (L to R): Tom Vannoppen (MrBookmaker.com - Palmans), Sven Vanthourenhout (Quickstep - Davitamon) and Sven Nys (Rabobank)
Results
Elite Men
 
1 Sven Vanthourenhout (Bel) Quickstep - Davitamon          1.03.37
2 Tom Vannoppen (Bel) MrBookmaker.com - Palmans                   
3 Sven Nys (Bel) Rabobank                                         
4 Ben Berden (Bel) Saey-Deschacht                             0.19
5 Bart Wellens (Bel) Fidea Cyclocrossteam                         
6 Richard Groenendaal (Ned) Rabobank                          0.43
7 Wim Jacobs (Bel) Fidea Cyclocrossteam                       1.14
8 Wilant van Gils (Ned) Rietveld WTC wielerteam               1.25
9 Tim Van Nuffel (Bel) Saey-Deschacht                             
10 Erwin Vervecken (Bel) Fidea Cyclocrossteam                     
11 Peter Van Santvliet (Bel) Fidea Cyclocrossteam             1.48
12 David Willemsens (Bel)                                     2.10
13 Václav Jezek (Cze) Author Praha                            2.37
14 Martin Nijland (Ned) Didata                                3.05
15 Björn Rondelez (Bel) Chocolade Jacques - Wincor Nixdorf    3.25
16 Jonathan Page (USA) Cervelo-HotTubes-Adidas-Mavic          3.45
17 Camiel van den Bergh (Ned) Saey-Deschacht                  5.04
18 Tadeusz Korzeniewski (Pol)                                 5.43
19 Jaak Eeckhout (Bel) Saey-Deschacht                         6.43
 
1 lap behind
 
20 Geert Vandaele (Bel)                                           
21 Pascal Raes (Bel)                                              
22 Freddy De Meester (Bel)                                        
23 Steven De Schoesitter (Bel)                                    
24 René Mertens (Bel)                                             
25 Tony Heirbaut (Bel)                                            
26 Eddy Van Acker (Bel)                                           
 
DNF Mario de Clercq (Bel) MrBookmaker.com - Palmans               
DNF John Gadret (Fra) Chocolade Jacques                           
DNF Martin Zlámalík (Cze) Cyklo Team Budvar Tábor                 
DNF Davy Commeyne (Bel) MrBookmaker.com - Palmans                 
DNF Dariusz Gil (Bel)                                             
DNF Nicky David (Bel)                                             
DNF Peter Verhofstadt (Bel)                                       

Starters: 33                                                      
Classified: 26                                                    
 
U23 Men
 
1 Radomir Simunek (Cze)                                      52.00
2 Lars Boom (Ned)                                             0.02
3 Simon Zahner (Swi)                                          0.11
4 Dieter Vanthourenhout (Bel)                                 0.20
5 Niels Albert (Bel)                                              
6 Tom Van den Bosch (Bel)                                         
7 Rob Peeters (Bel)                                           0.27
8 Kevin Pauwels (Bel)                                         0.50
9 Mariusz Gil (Pol)                                           1.02
10 Bart Dirkx (Ned)                                           1.21
11 Stijn Penne (Bel)                                          1.40
12 Jeremy Powers (USA)                                            
13 Dries Devenyns (Bel)                                       2.20
14 Frederik Herpol (Bel)                                      2.26
15 Maxim Debusschere (Bel)                                    2.39
16 Kenny Geluykens (Bel)                                      2.52
17 Guus Magielse (Ned)                                        3.11
18 Quincy Vens (Bel)                                          3.35
19 Eddy van IJzendoorn (Ned)                                  3.49
20 Roy van Heeswijk (Ned)                                     3.52
21 Krzysztof Kuzniak (Pol)                                        
22 Alois Lievens (Bel)                                            
23 Tom Broekhuysen (Bel)                                      4.15
24 Daan de Jonge (Ned)                                        4.27
25 Lorenzo Van Damme (Bel)                                    5.03
26 Jeroen Dingemans (Bel)                                     5.25
27 Gerald Uytersprot (Bel)                                    5.45
28 Jonas Coopman (Bel)                                        6.15
29 Bart Veyt (Bel)                                                
30 Andy Dierickx (Bel)                                        6.40
31 Jerry Kallenfels (Ned)                                     7.07
32 Peter Van Bockhaven (Bel)                                  7.10
33 Kristof De Clerck (Bel)                                        
34 Coen Sevens (Ned)                                              
 
1 lap behind
 
35 Ries van der Sanden (Ned)                                      
36 Bram Wind (Ned)                                                
37 Jérôme Boussekey (Fra)                                         
38 Ward Demets (Bel)                                              
39 Nicolas Fontaine (Fra)                                         
40 Thijs Van den Bossche (Bel)                                    
41 Tim Milis (Bel)                                                
42 Sébastien Durieu (Bel)                                         
43 Rik Senders (Ned)                                              
 
Starters: 50                                                      
Classified: 43                                                    

Juniors
 
1 Tom Meeusen (Bel)                                          41.00
2 Wim Leemans (Bel)                                           0.05
3 Ricardo van der Velde (Ned)                                     
4 Jan Arnouts (Bel)                                           0.15
5 Dries Govaerts (Bel)                                        0.17
6 Quentin Bertholet (Bel)                                         
7 Patrick Vlizegen (Ned)                                      1.15
8 Kevin Cant (Bel)                                            1.25
9 Ivar Hartogs (Ned)                                          1.30
10 Ben Arnouts (Bel)                                              
11 Jo Pirotte (Bel)                                               
12 Rik van IJzendoorn (Ned)                                   1.55
13 Thomas Vernaeckt (Bel)                                     2.00
14 Gianni Denolf (Bel)                                        2.18
15 Dries Pauwels (Bel)                                        2.26
16 Matthias Onghena (Bel)                                         
17 Jan Mikkers (Ned)                                              
18 Bart Senders (Ned)                                             
19 Nivard Van Acker (Bel)                                     2.45
20 Anthony Cailleau (Fra)                                     3.35
21 Laurens De Vreese (Bel)                                        
22 Kenneth Van Compernolle (Bel)                                  
23 Remco te Brake (Ned)                                           
24 Boy van Poppel (Ned)                                       4.00
25 Dennis Vanendert (Bel)                                         
26 Richard Van Loon (Bel)                                     4.12
27 Nico Ceunen (Bel)                                          4.25
28 Johim Ariesen (Ned)                                        4.35
29 Jan Van Zeebroeck (Bel)                                    5.12
30 Djuri van Rijbroeck (Bel)                                  5.18
31 Björn De Decker (Bel)                                      5.40
32 Geert van der Sanden (Ned)                                     
33 Tom Lambrechts (Bel)                                       5.47
34 Thomas Volckaert (Bel)                                     5.57
35 Christoph Janssens (Bel)                                   6.09
36 Hilde Quintens (Bel)                                       6.16
37 Stefan Ott (Bel)                                           6.42
38 Lorenzo Van Slycke (Bel)                                       
39 Raymond Gaasbeek (Ned)                                     7.11
40 Jonathan Veldhuizen (Ned)                                  8.21
 
1 lap behind
 
41 Joyce Vanderbeken (Bel)                                        
42 Jo Van Rechem (Bel)                                            
43 Ruben Depoortere (Bel)                                         
44 Atze De Vis (Bel)                                              
45 Maaike Weytens (Bel)                                           
46 Ann Van Rechem (Bel)                                           
47 Joachim De Maesschalck (Bel)                                   
48 Linda Dirkx (Bel)                                              
49 Jonas De Greyt (Bel)                                           
50 Benjamin Verraes (Bel)                                         
51 Gregory Franckaert (Bel)                                       
52 Kenneth Van Renterghem (Bel)                                   
53 Natasja Nobels (Bel)                                           
54 Sandie Verriest (Bel)                                          
 
Starters: 57                                                      
Classified: 54                                                    
 
Novices
 
1 Joeri Adams (Bel)                                          29.00
2 Kevin Smit (Ned)                                            0.57
3 Kim Goethals (Bel)                                              
4 Sven Verboven (Bel)                                         1.02
5 Kenneth Bultynck (Bel)                                      1.10
6 Frederik Catrysse (Bel)                                         
7 Vincent Bastiaens (Bel)                                     1.17
8 Raf Pluym (Bel)                                                 
9 Kevin De Schryver (Bel)                                         
10 Kenneth Mariën (Bel)                                       1.35
11 Rob van der Velde (Ned)                                    2.02
12 Matthias Moeyaert (Bel)                                    2.11
13 Dimitri Stevens (Bel)                                      2.32
14 Kevin Van Synghel (Bel)                                    2.40
15 Kevin Eeckhoudt (Bel)                                      2.48
16 Michiel Dieleman (Bel)                                     3.10
17 Bert Catrysse (Bel)                                        3.16
18 Harm Van der Sanden (Bel)                                      
19 Sammy Vanneste (Bel)                                       3.32
20 Tamor Hartogs (Ned)                                        3.44
21 Jarno Van de Casteele (Bel)                                    
22 Pieter Cordeel (Bel)                                       3.57
23 Kristof Scheirs (Bel)                                          
24 Peter Verstockt (Bel)                                          
25 Sven Balis (Bel)                                           4.12
26 Dennis Van de Velden (Bel)                                     
27 Julien Ertveldt (Bel)                                      5.05
28 Mickey Kallenfels (Ned)                                    5.10
29 Kenneth Verhoeven (Bel)                                    5.25
30 Gery De Smet (Bel)                                         5.28
31 Joachim Lammens (Bel)                                          
32 Jason D'Haemers (Bel)                                          
33 Hendrik Van den Bossche (Bel)                              5.50
34 Aron Dejaegher (Bel)                                       6.10
35 Jeroen Serverius (Bel)                                     6.21
36 Cis Desmet (Bel)                                           6.44
37 Kevin Heirwegh (Bel)                                           
38 Diego Boone (Bel)                                          7.29
39 Kevin Callewaert (Bel)                                     7.42
40 Jeffrey Dhaeze (Bel)                                       8.05
41 Pieter Beauprez (Bel)                                      8.55
 
Starters: 44                                                      
Classififed: 41                                                   

Superprestige standings after round 2


Elite Men
 
1 Sven Nys (Bel) Rabobank                                       28 pts
2 Sven Vanthourenhout (Bel) Quickstep - Davitamon               27
3 Ben Berden (Bel) Saey-Deschacht                               25
4 Richard Groenendaal (Ned) Rabobank                            24
4 Tom Vannoppen (Bel) MrBookmaker.com - Palmans                 24
6 Bart Wellens (Bel) Fidea Cyclocrossteam                       22
7 Wim Jacobs (Bel) Fidea Cyclocrossteam                         15
8 Tim Van Nuffel (Bel) Saey-Deschacht                           14
9 Enrico Franzoi (Ita) Saeco                                     9
10 Davy Commeyne (Bel) MrBookmaker.com - Palmans                 8
10 Peter Van Santvliet (Bel) Fidea Cyclocrossteam                8
10 Wilant van Gils (Ned) Rietveld WTC wielerteam                 8
13 Erwin Vervecken (Bel) Fidea Cyclocrossteam                    6
14 Jonathan Page (USA) Cervelo-HotTubes-Adidas-Mavic             5
15 Camiel van den Bergh (Ned) Saey-Deschacht                     4
15 Martin Nijland (Ned) Didata                                   4
15 David Willemsens (Bel)                                        4
18 Václav Jezek (Cze) Author Praha                               3
19 Mario de Clercq (Bel) MrBookmaker.com - Palmans               1
19 Björn Rondelez (Bel) Chocolade Jacques - Wincor Nixdorf       1
 
U23 Men
 
1 Lars Boom (Ned)                                               29 pts
2 Simon Zahner (Swi)                                            27
3 Radomir Simunek (Cze)                                         26
4 Niels Albert (Bel)                                            24
5 Dieter Vanthourenhout (Bel)                                   21
6 Kevin Pauwels (Bel)                                           14
7 Geert Wellens (Bel)                                           12
8 Stijn Penne (Bel)                                             12
8 Tom Van den Bosch (Bel)                                       12
10 Clément L'Hotellerie (Fra)                                   10
11 Rob Peeters (Bel)                                             9
12 Jan Soetens (Bel)                                             8
13 Mariusz Gil (Pol)                                             7
14 Bart Dirkx (Ned)                                              6
15 Jempy Drucker (Lux)                                           5
16 Mike Thielemans (Bel)                                         4
16 Jeremy Powers (USA)                                           4
18 Eddy van IJzendoorn (Ned)                                     3
18 Dries Devenyns (Bel)                                          3
20 Frederik Herpol (Bel)                                         2
21 Nick Sels (Bel)                                               1
21 Maxim Debusschere (Bel)                                       1
 
Juniors
 
1 Ricardo van der Velde (Ned)                                   28 pts
2 Wim Leemans (Bel)                                             27
2 Tom Meeusen (Bel)                                             27
4 Quentin Bertholet (Bel)                                       18
5 Kevin Cant (Bel)                                              17
5 Jan Arnouts (Bel)                                             17
7 Rik van IJzendoorn (Ned)                                      15
7 Patrick Vliegen (Bel)                                         15
9 Jan Van Dael (Bel)                                            14
10 Thomas Vernaeckt (Bel)                                       13
11 Dries Govaerts (Bel)                                         12
12 Ivar Hartogs (Ned)                                           11
13 Gianni Denolf (Bel)                                           9
14 Ben Arnouts (Bel)                                             6
15 Jo Pirotte (Bel)                                              5
16 Bart Senders (Ned)                                            3
17 Kim Michely (Lux)                                             2
18 Dries Pauwels (Bel)                                           1