Cyclo-Cross World Cup #5 - CDM
Nommay, France, January 18, 2004
Results World Cup standings Past Winners
Wellens wins round 5
Nys holds the World Cup lead
Wellens powering home
Photo ©: AFP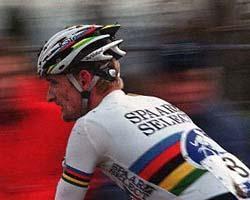 Belgian champion Bart Wellens stormed to yet another strong victory in round 5 of the World Cup in Nommay, France. The reigning World Champion beat home Richard Groenendaal (Netherlands) and Erwin Vervecken (Belgium) by comfortable margins, cementing himself as the top favourite for the Cyclo-cross World Championships in two weeks' time. World Cup leader Sven Nys was a relatively lowly 7th, but managed to increase his lead in the overall classification over Ben Berden to 39 points, after Berden finished 9th.
Wellens, who surprisingly hasn't won a World Cup this season, paved the way for his success by attacking hard from the start. Only Richard Groenendaal could stay with him, and the pair continued to put time into the rest of the field as the race went on. With a few laps to go, Wellens put in an acceleration that Groenendaal couldn't match, and he won alone by 20 seconds.
The final round of the World Cup will be held in Pijnacker (Netherlands) on February 15.
Photos
Images by AFP
Results
Elite Men
 
1 Bart Wellens (Belgium)                                      
2 Richard Groenendaal (Netherlands)                       0.20
3 Erwin Vervecken (Belgium)                               1.21
4 Jiri Pospisil (Czech Republic)                          1.29
5 Tom Vannoppen (Belgium)                                 1.51
6 Sven Vanthourenhout (Belgium)                           2.11
7 Sven Nijs (Belgium)                                     2.36
8 Françis Mourey (France)                                 2.50
9 Ben Berden (Belgium)                                    2.59
10 Arnaud Labbe (France)                                  3.08
11 John Gadret (France)                                   4.01
12 Dariusz Gil (Poland)                                   4.04
13 Wilant Van Gils (Netherlands)                              
14 Wesley Van Der Linden (Belgium)                        4.23
15 Michael Baumgartner (Switzerland)                      4.32
16 Christian Heule (Switzerland)                          4.38
17 Vaclav Jezek (Czech Republic)                          4.44
18 David Derepas (France)                                 4.56
19 Enrico Franzoi (Italy)                                 5.01
20 Tadeusz Korzeniewski (Poland)                          5.08
21 Jan Ramsauer (Switzerland)                             5.11
22 David Rusch (Switzerland)                                  
23 Emmanuel Magnien (France)                              5.13
24 Sébastien Minard (France)                              5.44
25 Beat Morf (Switzerland)                                5.49
26 Alessandro Fontana (Italy)                             6.08
27 Petr Dlask (Czech Republic)                            6.31
28 Kamil Ausbuher (Czech Republic)                        6.49
29 Jens Schwedler (Germany)                               7.06
30 Martin Zlamalik (Czech Republic)                       7.20
31 Gerben De Knegt (Netherlands)                          7.26
32 Jonathan Page (U.S.A.)                                 7.44
33 Simon Zahner (Switzerland)                             7.48
34 Robert Glajza (Slovakia)                               8.25
35 Roger Hammond (Great Britain)                          9.25
36 Mariusz Gil (Poland)                                   9.51
 
1 lap behind
 
37 Tommy Nielsen (Denmark)                                    
38 Mike Müller (Germany)                                      
39 Lorenzo Perotti (Italy)                                    
40 Malte Urban (Germany)                                      
41 Vaclav Metlicka (Slovakia)                                 
DNF Ondrej Lukes (Czech Republic)                             
DNF Camiel Van Den Bergh (Netherlands)                        
DNF Pawel Cierpikowski (Poland)                               
DNF Marco Bianco (Italy)                                      
DNF Derrik Zampedri (Italy)                                   
DNF Milan Barenyi (Slovakia)                                  
DNF Maros Kovac (Slovakia)                                    
DNF Marian Hecl (Slovakia)                                    
DNF Andy Jacques Maynes (U.S.A.)                              
DNF Nathan Rice (U.S.A.)                                      
DNF Jackson Stewart (U.S.A.)                                  
DNF Reto Matt (Germany)                                       
DNF Torsku Struch (Germany)                                   
DNF Jochen Uhrig (Germany)                                    
DNF Kim Petersen (Denmark)                                    
DNF Keith Murray (Great Britain)                              
DNF Paul Oldham (Great Britain)                               
DNF Luca Damiani (Italy)                                      
DNF Radoslaw Czapla (Poland)                                  
 
Elite Women
 
1 Hanka Kupfernagel (Germany)                                 
2 Maryline Salvetat (France)                              0.11
3 Daphny Van Den Brand (Netherlands)                      1.07
4 Nadia Triquet (France)                                  1.19
5 Birgit Hollmann (Germany)                               1.30
6 Gina Hall (U.S.A.)                                      1.34
7 Reza Hormes Ravenstijn (Netherlands)                    1.40
8 Laurence Leboucher (France)                             2.03
9 Alison Dunlap (U.S.A.)                                  2.33
10 Marianne Vos (Netherlands)                             2.37
11 Victoria Wilkinson (Great Britain)                     2.50
12 Ann Knapp (U.S.A.)                                         
13 Paola Bortolin (Italy)                                 3.39
14 Corine Dorland (Netherlands)                           3.43
15 Katrin Helmcke (Germany)                               3.48
16 Carmen D'alusio (U.S.A.)                               3.56
17 Veerle Ingels (Belgium)                                4.15
18 Loes Sels (Belgium)                                    4.26
19 Corinne Sempe (France)                                 4.38
20 Alexandra Bähler (Switzerland)                         4.43
21 Anja Nobus (Belgium)                                   5.13
22 Barbora Bohata (Czech Republic)                        5.18
23 Helen Saunders (Great Britain)                         5.40
24 Claudia Marsiglio (Italy)                              5.51
25 Hilde Quintens (Belgium)                               6.01
26 Nancy Bollansee (Belgium)                              6.41
27 Suzie Godart (Luxembourg)                              8.19
28 Nicole Kampeter (Germany)                              8.46
29 Katleen Vermeiren (Belgium)                            9.13
30 Francesca Cucciniello (Italy)                         10.42
31 Vania Rossi (Italy)                                   11.43
 
1 lap behind
 
32 Samantha Nicholson (Canada)                                
DNF Nicole De Bie Leijten (Netherlands)                       
DNF Nadine Bruun (Denmark)                                    
 
U23 Men
 
1 Bart Aernouts (Belgium)                                     
2 Pierre Bernard Vaillant (France)                        0.08
3 Lars Boom (Netherlands)                                     
4 Stéphane Belot (France)                                 0.33
5 Klaas Vantornout (Belgium)                              1.10
6 Romain Villa (E.C.V. Boulzicourt)                       1.13
7 Geert Wellems (Belgium)                                 1.24
8 Lukas Flückiger (Switzerland)                           1.29
9 Kevin Pauwels (Belgium)                                 1.59
10 Steve Chainel (France)                                 2.19
11 Zdenek Stybar (Czech Republic)                         2.21
12 Radomir Simunek (Czech Republic)                           
13 Yves Corminboeuf (Switzerland)                         2.24
14 Fransek Kloucek (Czech Republic)                       3.07
15 Vladimir Kyzivat (Czech Republic)                      3.20
16 Gilbert Obrist (Switzerland)                           3.38
17 Laurent Colombatto (C.C. Revermont Poligny Abois S)    3.49
18 Romain Fondard (France)                                4.39
19 Firmin Lang (Switzerland)                              4.57
20 Roger Schuppli (Switzerland)                           5.51
21 Benjamin Hill (Germany)                                6.24
22 Damien Mougel (V.C. de Montbéliard)                    6.28
23 Sébastien Kern (A.S.P.T.T. Mulhouse)                   6.42
24 Dieter Vanthourenhout (Belgium)                        7.23
25 Martial Kneisky (Besançon Racing Club)                 7.31
26 Jesse Anthony (U.S.A.)                                 8.53
27 Philippe Chambrey (V.C. Langrois)                      9.00
28 Nicolas Thierry (A.S.P.T.T. Nancy)                     9.46
29 Daniel Parpan (Switzerland)                           11.06
30 Enguerran Billod Laillet (V.C. Ornanais)              11.57
 
1 lap behind
 
31 Cédric Poisot (V.C. Langrois)                              
 
2 laps behind
 
32 Eric Boos (U.C. Lutterbach)                                
33 Cédric Sire (Besançon Racing Club)                         
DNF Julien Belgy (France)                                     
DNF Jérôme Chevallier (France)                                
DNF Dominique Parpan (Switzerland)                            
 
Juniors
 
1 Clément Lhotellerie (France)                                
2 Roman Kreyziger (Czech Republic)                        1.15
3 Jonathan Lopez (France)                                 1.22
4 Clément Cid (France)                                    1.42
5 René Lang (Switzerland)                                 1.57
6 Tony Huet (France)                                      2.24
7 Damien Robert (France)                                  2.31
8 Julien Taramarcaz (Switzerland)                         2.57
9 Julien Berard (France)                                  3.03
10 Jan Skarnitzl (Czech Republic)                         3.19
11 Guillaume Perrot (France)                              3.44
12 Ursi Fabio (Italy)                                         
13 Michal Prachar (Slovakia)                              4.08
14 Boris Chauveau (France)                                4.39
15 Marco Weilenmann (Switzerland)                         4.52
16 Ondrej Banbula (Czech Republic)                            
17 Ales Broz (Czech Republic)                             5.09
18 Petr Novotny (Czech Republic)                          5.25
19 Andrea Spessotto (Italy)                               5.38
20 Morgan Kneisky (A.C. Bisontin)                         6.03
21 Simone Angeli (Italy)                                  6.04
22 Gabriele Mercante (Italy)                              6.36
23 Davide Malacarne (Italy)                               8.01
24 Brice Streit (V.C. Ste Croix en Plaine)                9.01
25 Gwenaël Rouzet (V.C. de Montbéliard)                       
 
1 lap behind
 
26 Anne Gounand (C.C. Revermont Poligny Abois S)               
World Cup classification after round 5


Elite Men
 
1 Sven Nijs (Belgium)                                      243 pts
2 Ben Berden (Belgium)                                     204
3 Bart Wellens (Belgium)                                   200
4 Richard Groenendaal (Netherlands)                        190
5 Françis Mourey (France)                                  150
6 Jiri Pospisil (Czech Republic)                           140
7 Erwin Vervecken (Belgium)                                139
8 Tom Vannoppen (Belgium)                                  138
9 Sven Vanthourenhout (Belgium)                            137
10 John Gadret (France)                                    121
11 Christian Heule (Switzerland)                           109
12 Petr Dlask (Czech Republic)                              89
13 Vaclav Jezek (Czech Republic)                            84
14 Martin Zlamalik (Czech Republic)                         75
15 Michael Baumgartner (Switzerland)                        69
16 Dariusz Gil (Poland)                                     68
17 Enrico Franzoi (Italy)                                   63
18 Wilant Van Gils (Netherlands)                            62
19 Arnaud Labbe (France)                                    61
20 David Derepas (France)                                   59
21 Jonathan Page (U.S.A.)                                   44
22 Gerben De Knegt (Netherlands)                            36
23 Kamil Ausbuher (Czech Republic)                          27
24 Wesley Van Der Linden (Belgium)                          26
25 Maarten Nijland (Netherlands)                            24
26 Ondrej Lukes (Czech Republic)                            24
27 Alessandro Fontana (Italy)                               22
28 Thomas Frischknecht (Switzerland)                        22
29 Camiel Van Den Bergh (Netherlands)                       20
30 David Rusch (Switzerland)                                20
31 Simon Zahner (Switzerland)                               19
32 Steve Chainel (France)                                   14
33 Marco Bianco (Italy)                                     14
34 Radomir Simunek (Czech Republic)                         13
35 Beat Morf (Switzerland)                                  13
36 Tadeusz Korzeniewski (Poland)                            12
37 David Seco Amundarain (Spain)                            11
38 Jan Ramsauer (Switzerland)                               10
39 Thijs Verhagen (Netherlands)                              9
40 Roger Hammond (Great Britain)                             8
41 Matthew Ellis (Great Britain)                             8
42 Emmanuel Magnien (France)                                 8
43 Jens Schwedler (Germany)                                  8
44 Vaclav Metlicka (Slovakia)                                8
45 Jérôme Chevallier (France)                                7
46 Sébastien Minard (France)                                 7
47 Robert Glajza (Slovakia)                                  4
48 Klaas Vantornout (Belgium)                                3
49 Bart Aernouts (Belgium)                                   2
50 Derrik Zampedri (Italy)                                   2
51 Jody Crawforth (Great Britain)                            2
52 Reto Matt (Germany)                                       1
53 Marek Cichosz (Poland)                                    1
 
Elite Women
 
1 Hanka Kupfernagel (Germany)                              290 pts
2 Maryline Salvetat (France)                               230
3 Nadia Triquet (France)                                   173
4 Marianne Vos (Netherlands)                               172
5 Reza Hormes Ravenstijn (Netherlands)                     171
6 Daphny Van Den Brand (Netherlands)                       145
7 Laurence Leboucher (France)                              118
8 Birgit Hollmann (Germany)                                107
9 Victoria Wilkinson (Great Britain)                       105
10 Hilde Quintens (Belgium)                                 97
11 Katrin Helmcke (Germany)                                 92
12 Corine Dorland (Netherlands)                             84
13 Anja Nobus (Belgium)                                     79
14 Alison Dunlap (U.S.A.)                                   74
15 Paola Bortolin (Italy)                                   67
16 Katleen Vermeiren (Belgium)                              59
17 Debby Mansveld (Netherlands)                             54
18 Barbora Bohata (Czech Republic)                          53
19 Gina Hall (U.S.A.)                                       52
20 Loes Sels (Belgium)                                      49
21 Francesca Cucciniello (Italy)                            46
22 Vania Rossi (Italy)                                      37
23 Nicole Kampeter (Germany)                                34
24 Veerle Ingels (Belgium)                                  31
25 Nicole De Bie Leijten (Netherlands)                      30
26 Carmen D'alusio (U.S.A.)                                 28
27 Helen Saunders (Great Britain)                           27
28 Nadine Bruun (Denmark)                                   23
29 Nancy Bollansee (Belgium)                                23
30 Ann Knapp (U.S.A.)                                       19
31 Alexandra Bähler (Switzerland)                           19
32 Suzie Godart (Luxembourg)                                19
33 Klara Nepustilova (Czech Republic)                       19
34 Corinne Sempe (France)                                   12
35 Milena Cavani (Italy)                                     9
36 Claudia Marsiglio (Italy)                                 7
37 Aline Parsy (France)                                      6
38 Nikki Harris (Great Britain)                              2
39 Amy Hunt (Great Britain)                                  1

Past winners


2004 Bart Wellens (Bel)
2003 Domenique Arnould (Fra)
2002 Erwin Vervecken (Bel)
2001 -
2000 Daniele Pontoni (Ita)
1999 Adri Van Der Poel (Ned)
1998 Christophe Mengin (Fra)
1997 -
1996 Richard Groenendaal (Bel)
1995 Mike Kluge (Ger)
1994 Emmanuel Magnien (Fra)
1993 David Pagnier (Fra)
1992 Cyril Bonnand (Fra)
1991 Ludwig Wijnants (Bel)
1990 Christophe Mengin (Fra)
1989 Geert De Vlaeminck (Bel)
1988 Milos Fisera (Cze)

Past winners by Mario Stiehl, www.world-of-cycling.com