GP De Ster Sint-Niklaas - C2
St. Niklaas, Belgium, January 2, 2004
2003 Results Results Past winners
Peter Van Santvliet on top in Sint Niklaas
Peter Van Santvliet
Photo ©: Luc Claessen/CN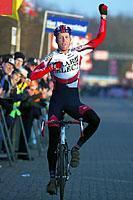 Belgian Peter Van Santvliet (Spaar Select) has claimed a slightly unexpected victory in Sint Niklaas, beating Frenchman Maxime Lefebvre and Czech Jiri Pospisil by comfortable margins. Tom Vannoppen (Palmans) and Sven Nys (Rabobank) rounded out the top five, with the latter presumably feeling some of the effects of his win in Baal yesterday.
The race was held in front of approximately 7000 spectators, who saw Sven Nys and Tom Vannoppen take the early lead at the start. One lap later, Jiri Pospisil, Tom Vannoppen, Michael Baumgartner, Arne Daelmans, Maxime Lefebvre and Peter Van Santvliet closed the gap, but this group didn't last together for long as Lefebvre, Pospisil and Van Santvliet went to the front two laps later. Nys tried to follow them, but at halfway the trio had 25 seconds lead and neither he nor Vannoppen could close the gap.
In front, Van Santvliet took the initiative and with his second attack he managed to get clear. He quickly opened up an advantage over Lefebvre and went onto win his fourth race of the season. He was delighted with his win "...because the others never really talk about me. Apparently Van Santvliet no longer exists as a crosser when the selection for the World Cup or World Championship is talked about. I've never spoken out about it because I want to show on a sporting level that I still have it in the legs. In the last few weeks I've hardly finished outside the top five. I'm ready for the Belgian championships in Lille. Bart Wellens can count on me and who knows if I can't do something myself."
Photography
Images by Luc Claessen/Cyclingnews/www.actiefotos.be
Results
Elite/U23
 
1 Peter Van Santvliet (Bel) Spaar Select         57.00
2 Maxime Lefebvre (Fra)                           0.25
3 Jiri Pospisil (Cze)                             0.40
4 Tom Vannoppen (Bel) Palmans-Collstrop           1.03
5 Sven Nys (Bel) Rabobank                         1.15
6 Sven Vanthourenhout (Bel) Quick Step-Davitamon  1.19
7 Arne Daelmans (Bel) Vlaanderen - T Interim      1.30
8 Michael Baumgartner (Swi)                       1.55
9 Wim Jacobs (Bel) Spaar Select                   2.11
10 Matthew Ellis (GBr) John Saey-Deschacht        2.18
11 Jonathan Page (USA)                            2.31
12 Jan Verstraeten (Bel) Vlaanderen-T Interim     3.15
13 Wesley Van der Linden (Bel)                    3.25
14 Roger Hammond (GBr) Palmans-Collstrop          3.28
15 Marek Cichosz (Pol)
16 Tim Van Nuffel (Bel) John Saey-Deschacht       3.30
17 Radomir Simunek (Cze)
18 Eddy Van Bouwel  (Bel)
19 Vaclav Metlicka (Svk)                          3.44
20 Dieter Vanthourenhout (Bel)                    4.04
21 Ronny Poelvoorde (Bel)                         4.13
22 Nicky David (Bel)                              4.21
23 Rudy Van de Sompel (Bel)                       4.33
24 Geert Vandaele (Bel)
25 Radoslav Czapla (Pol)                          4.44
26 Stijn Penne (Bel)                              4.49
27 Robert Glajza (Svk)                            4.50
28 Thomas Onghena (Bel)                           5.07
29 Milan Barenyl (Svk)                            5.14
30 Frantisek Kloucek (Cze)                        5.33
 
1 lap behind
 
31 Kevin Bossaerts (Bel)
32 Dirk Bertels (Bel)
33 Erik Tonkin (USA)
 
Masters
 
1 Danny Verhestraeten (Bel)                      37.00
2 Marc Druyts (Bel)                               0.16
3 Dirk Pauwels (Bel)                              0.27
4 Franky Van Tongelen (Bel)                       1.11
5 Peter Stevenson (GBr)                           1.14
6 Patrick Sluyts (Bel)                            1.58
7 Theo David (Bel)                                2.02
8 Ronny Lambrecht (Bel)                           2.09
9 Freddy De Meester (Bel)                         2.22
10 François Mertens (Bel)                         2.46
11 Rudy Bloemen (Bel)                             3.21
12 René Swinnen (Bel)                             3.25
13 Herman Cop (Bel)                               3.35
14 Roy Hunt (GBr)
15 Ivan Coopman (Bel)                             4.10
 
Cyclosportifs
 
1 Mario Lammens (Bel)                            42.00
2 Peter Willemsens (Bel)                          0.32
3 Benny Van Staeyen (Bel)                         1.45
4 Jef Verbraeken (Bel)                            1.52
5 Tom Wilmsen (Bel)                               2.04
6 Friederich Sels (Bel)                           2.12
7 Ronny Coulier (Bel)                             2.17
8 Dirk Mertens (Bel)                              2.25
9 Sven Raeymakers (Bel)                           2.35
10 Marnik Snoeck (Bel)
11 Bart Versmissen (Bel)                          2.47
12 Christiaan Wuyts (Bel)                         3.00
13 Johnny Van Tichelt (Bel)                       3.06
14 Nico Schroyen (Bel)                            3.13
15 Ignace Fosselle (Bel)                          3.20



Past winners
2003 Sven Nys (Bel) Rabobank 
2002 Mario De Clercq (Bel) Domo-Farm Frites 
2001 Sven Nys (Bel)
2000 Sven Nys (Bel)
 
Past winners by Mario Stiehl, www.world-of-cycling.com