Belgian Cyclo-cross Championships - CN
Lille, Belgium, January 10-11, 2004
2003 Results Results Past winners
Wellens the king of 'cross
Bart Wellens: The King of 'Cross
Photo ©: Luc Claessen/CN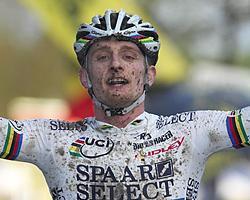 Reigning world champion Bart Wellens (Spaar Select) proved unstoppable once more as he thundered to a close but convincing win in Belgium's national championships Sunday. The dominant force in Belgian (and world) cyclo-cross this year, Wellens rode his rainbow jersey to the national title in typically wet and heavy conditions, beating a resurgent Mario De Clercq and outgoing national champion Sven Nys.
Wellens took control early, intent on constructing his victory in the first minutes of the hour-long race. Tom Vannoppen dared to follow, but would soon find his legs unable to keep pace with the flying Wellens. The top Belgian's display of dominance was almost sidelined by mechanical troubles in the final third of the race, allowing De Clercq to not only regain ground, but assume the race lead for just over one lap of the course.
Wellens didn't panic, however, and resumed his rhythm to retake the front position, steadily wearing down De Clercq and crossing the line victorious by a modest 10". The fight for the final step of the podium was still on, as defending champion Nys got the better of Arne Daelmans, Sven Vanthourenhout and Peter Van Santvliet, all of whom finished within 25" of each other but over a minute behind race winner Wellens, who appears headed to next month's world championships in fine form.
Photography
Images by Luc Claessen/Cyclingnews/www.actiefotos.be
Results
Day 2 - January 11: Elite/U23 Men, Elite Women
Elite Men
 
1 Bart Wellens (Spaar Select)        1.01.22
2 Mario De Clercq                       0.10
3 Sven Nys                              1.07
4 Arne Daelmans                         1.17
5 Sven Vanthourenhout                   1.28
6 Peter Van Santvliet                   1.44
7 Erwin Vervecken                       2.55
8 Ben Berden                            3.22
9 Davy Commeyne                         3.43
10 Tom Vannoppen                        4.23
11 David Willemsens                     4.55
12 Wim Jacobs                           5.36
13 Tim Van Nuffel                       5.53
14 Rudi Van de Sompel                   6.20
15 Tim Pauwels                          6.39
16 Jan Verstraeten                      6.39
17 Eddy Van Bouwel                     1 lap
18 Bert Vervecken
19 Tom De Kort
20 David Laenen
21 Jaak Eeckhout
22 Pedro Baelen
23 Steve Gruwier
24 Stefan Uytterhaegen
25 Jan Goris
26 Thomas Onghena
27 Geert Vandaele
28 Sten Raeymakers
29 Patrick Bassez
 
Elite Women
 
1 Anja Nobus (Hertsberge)              36.32
2 Loes Sels                             0.39
3 Kathleen Vermeiren                    1.08
4 Hilde Quintens                        1.48
5 Veerle Ingels                         2.25
6 Nancy Bollansee                       2.27
7 Liesbeth De Vocht                     3.54
8 Katrien Pauwels                       4.58
9 Sofie Goor                            5.07
10 Katien Aerts                         5.56
11 Veronique Staes                      6.51
12 Ilse Geldhof                         7.17
13 Monica Van Nassauw                   7.22
14 Greetje De Vos                       7.26
15 Anne Arnouts                         7.54
16 Kelly Greefs                         8.10
17 Ann Van Rechem                       8.40
18 Maaike Weytens                       8.44
19 Lien Beyen                           9.20
20 Gertie Willems                       9.23
21 Nele DíHaene                         9.47
22 Ine Beyen                            9.56
23 Ilse Temmerman                      10.12
24 Natasja Nobels                      10.36
25 Lindsay Sticker                     1 lap
26 Sandie Verriest
 
Espoirs
 
1 Wesley Van der Linden (Brakel)       52.14
2 Bart Aernouts                         0.50
3 Geert Wellens                         1.37
4 Jorn Van der Veken                    1.50
5 Klaas Vantornout                      2.21
6 Nick Sels                             2.23
7 Jan Soetens                           2.38
8 Dieter Vanthourenhout                 3.20
9 Pieter Ghyllebert                     4.04
10 Jef De Boeck                         4.15
11 Rob Peeters                          4.32
12 Nic Ingels                           4.48
13 Stijn Penne                          5.10
14 Mike Thielemans                      6.21
15 Christophe Vandevivere               6.24
16 Steven Sluyts                        7.35
17 Frederik Herpol                      7.53
18 Alois Lievens                        7.53
19 Sven Mombaerts                      1 lap
20 Jonas Coopman
21 Bart Thielemans
22 Pieter Van Loocke
23 Jeroen Thielemans
24 Robby De Baene
 
Amateurs/Masters A
 
1 Peter Willemsens                     38.51
2 Ronny Housen                          0.40
3 Ronny Couliez                         1.15
4 Sven Raeymakers                       2.13
5 Benny Van Staeyen                     2.21
6 Bart Versmissen                       2.41
7 Tom Wilmsen                           3.21
8 Geert Swinnen                         3.37
9 Nico Schroyen                         3.38
10 Kurt De Backer                       3.49
11 Axel Naessens
12 Johnny Van Tichelt
13 Friedrich Sels
14 Rik Geers
15 Timmy Maes
16 Tim Goris
17 Eddy Bokken
18 Kristof Braekevelt
19 Kris Maes
20 Nic Van de Moer
21 Koen Vandewalle
22 Chris MariŽn
23 Steven Geurs
24 Steven Wuyts
25 Pierre Hustin
26 Michael Vivier
27 Mario Baesens
28 Kris Roegiers
29 Marc Dirks
30 Carlo Allbaert
31 Dirk Veldeman
32 Michael Naessens

Day 1
Novices
 
1 Tom Meeusen (Essen)                  29.21
2 Dries Govaerts                        0.52
3 Ben Arnouts                           1.06
4 Jo Pirotte                            1.25
5 Kenneth Van Compernolle               1.54
6 Dries Pauwels                         2.04
7 Maarten Verherstraeten
8 Laurens De Vreese
9 Kristof Zegers                        2.16
10 Kevin Cant                           2.27
11 Dries Ingels
12 Bjorn De Decker
13 Joeri Lambrechts
14 Jim Aernouts
15 Joeri Adams
16 Bart Hermans
17 Yannick Wydooghe
18 Tom Oerlemans
19 Nivard Van Acker
20 Dave De Cleyn
21 Jan Van Zeebroeck
22 Kenny Verstrepen
23 Thomas Chamon
24 Matthias Maeyaert
25 Niels Beelen
26 Wim Thijs
27 Olivier Labie
28 Bart Bruyndonckx
29 Jelle Schepers
30 Stijn Mortelmans
31 Bart Wouters
32 Kenneth Bultynck
33 Koen Heremans
34 Michael Vanstaeyen
35 Kim Goethals
36 Dimitri Stevens
37 Sam Solia
38 Sven Verboven
39 Dieter Poelvoorde
40 Jan Van Aert
41 Tim Debusschere
42 Lorenzo Zauters
43 Sep Vanmarcke
44 Kevin De Schrijver
45 Ruben Depoortere
46 Dieter Van Lancker
47 Jordy Billast
48 Timothy Dejonghe
49 Jens Gys
50 Rory Quartier
51 Kenny Van Heck                      1 lap
52 Atze De Vis
53 Jens Raes
54 Michel Vandersande
55 Julien Vermote
 
Juniors
 
1 Niels Albert (Tremelo)               42.07
2 Bart Verschueren                      1.41
3 Davy De Scheemaeker                   1.45
4 Quincy Vens                           1.47
5 Jeroen Dingemans                      2.18
6 Maxime Debusschere                    2.33
7 Kenny Geluykens                       2.46
8 Harm Vandekerckhove                   3.08
9 Wim Leemans                           3.11
10 Jan Van Dael                         3.17
11 Stijn Joseph
12 Koen Boelens
13 Valentijn Ponseele
14 Gianni Denolf
15 Philip Pauwels
16 Kristof Luyten
17 Matthias Onghena
18 Tom Broekhuysen
19 Bart Van Erdeghem
20 Steven Van Bael
21 Dieter Buyens
22 Stijn Hebben
23 Quentin Bertholet
24 Wim Detobel
25 Glenn Sluyts
26 Thomas Boeckx
27 Koen Bertels
28 Dieter Schol
29 Steven Schol
30 Dirk Smets                          1 lap
31 Lorenzo Van Slycke
32 Carlo Kempeneers
33 Tom Lambrechts
34 Jeffrey Maes
35 Nico Ceunen
36 Jonas Oeyen
37 Pascal Van Renterghem
38 Jeroen Minnekeer
39 Jo Van Rechem
40 Kevin Ryckaert
41 Davy Vanderstukken
 
Masters B
 
1 Mario Lammens (Maldegem)             43.33
2 Dirk Mertens                          0.07
3 Erik Teck                             0.28
4 Dirk Pauwels
5 Carlo Van der Mast                    0.55
6 Jef Verbraeken                        1.11
7 Marc Druyts                           1.17
8 Danny Verherstraeten                  1.20
9 Dirk De Keulelaere                    1.30
10 Patrick Sluyts                       1.35
11 Frans Ceulemans
12 Marc Verloo
13 Renť Swinnen
14 Alex Van Acker
15 Christiaan Wuyts
16 Ronny Lambrechts
17 Willem Van den Bergh
18 Dirk Gebruers
19 Mark Meys
20 Rik Moeyaert
21 Alain De Plucker
22 Luc Peeters
23 Patrick Neufcourt
24 Hugo Donckers
25 Patrick Wynants
26 Johan Meeus                         1 lap
27 Wim Vermeiren
28 Rik Versschemoet
29 Marc De Cleyn
 
Masters C
 
1 Franky Van Tongelen (Walem)          29.15
2 Walter Marijnissen                    1.43
3 Rudy Bloemmen                         2.31
4 DaniŽl Van Oosterwijck                2.50
5 Pierrot Potargent                     3.08
6 Freddy De Meester
7 Ronald De Scheemaeker
8 Chris Geerts                          3.46
9 Josť De Clercq                        3.55
10 Ivan Coopman
11 Herman Linden
12 Jan-Guido Geuens
13 Dominique De Groote
14 Dirk Van Sinay
15 Ghislain Van Bruaene
16 Eddy Wandels
17 Luc Ruys
18 Michel Wynsberghe
19 Willy Minnen
20 Rik Ponseele
21 Jean-Pierre Hustin
22 Guido Vaes
23 Guy Ceuppens
24 Patrick Ceulemans
25 Luc Van Rokeghem
26 Hendrik Borremans
27 AdriŽn De Cnuydt
28 Freddy Bosteels                     1 lap
29 Carlos Temmerman
30 Michel Leblicq
 
Masters D
 
1 FranÁois Mertens (Heusden-Zolder)    33.08
2 Jos Sas                               0.53
3 Romaan Boelens                        1.15
4 Leo De Busser                         1.30
5 Robert De Vos
6 Remi Beirinckx                        1.47
7 Jozef Helsen                          1.55
8 Florent Van Eyken                     3.09
9 Edward Lievens                        4.35
10 Gaston Sannen                       1 lap
11 Eric Dhondt
12 Wilfried Buysse
13 Roland Hurtecant
14 Wilfried Maes
Past winners
Men

2003 Sven Nys (Rabobank) 
2002 Mario De Clercq (Domo-Farm Frites)
2001 Mario De Clercq (Domo-Farm Frites)
2000 Sven Nys

Espoirs/U23

2003 Wesley Van der Linden (Brakel)
2002 Wim Jacobs 
2001 Sven Vanthourenhout 

Women

2003 Hilde Quintens (Lummen)   
2002 Anja Nobus
2001 Kathleen Vermeiren     

Juniors

2003 Dieter Vanthourenhout (Wingene)
2002 Kevin Pauwels
2001 Geert Wellens 	

Novices

2003 Pieter Vanspeybrouck (Ruiselede)
2002 Niels Albert

Past winners by Mario Stiehl, www.world-of-cycling.com