Sluitingsprijs Oostmalle - C1
Oostmalle, Belgium, February 22, 2004
2003 Results Results Gazet van Antwerpen Trofee standings Past winners
Groenendaal wins finale
Absent (again) Wellens claims GVA Trofee
Richard Groenendaal
Photo: © AFP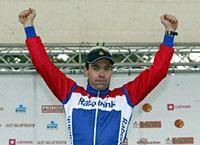 A week after his victory in the World Cup in Pijnacker, Richard Groenendaal (Rabobank) has also won the final cyclo-cross race of the season, the Sluitingsprijs van Oostmalle, the final round of the Gazet van Antwerpen Trofee. Groenendaal attacked the leading group in the second last lap to ride away to a 12 second win, his third victory of the season. The overall classification in the Gazet van Antwerpen Trofee was taken out by Bart Wellens (SpaarSelect), who once again was not present at the start due to a strained buttock.
The race saw yesterday's Superprestige race winner Sven Nys (Rabobank) take the initiative on the first lap, together with Mario De Clercq (MrBookmaker-Palmans) and Wim Jacobs (SpaarSelect). But by the halfway point, a group of 10 riders had formed in front: Groenendaal, Vanthourenhout, Nys, Berden, De Clercq, Vannoppen, De Knegt, Aernouts, Jacobs, Vervecken and Lefebvre. Nys tried a few times to attack, but was not successful until the second last lap when he rode clear with Groenendaal and Vannoppen.
Unfortunately for Nys, a puncture cost him any chance of the victory and Groenendaal rode away for the win. The sprint for second was won by Mario De Clercq from Sven Vanthourenhout, with a group of six riders arriving in the same time. The bad luck of Sven Nys dropped him from second to tenth, and he also relinquished his second place in the GVA standings to Ben Berden (Saey-Deschacht).
"So you see that this season was really not meant to be," said Nys philosophically. "No-one has forgotten how I lost the final classification in the World Cup last week and now this. It's the second time in the GVA Trofee this year that this has happened to me. In Kalmthout I disappeared completely out of the race on the last lap, when second place couldn't escape me. Last week I forfeited an extra thousand euros in the World Cup and this joke cost me another two and a half thousand euro. It's been a real shit of a season."
Results
Elite/U23
 
1 Richard Groenendaal (Ned) Rabobank               56.35
2 Mario De Clercq (Bel) Mr.Bookmaker-Palmans        0.12
3 Sven Vanthourenhout (Bel) Quick Step-Davitamon
4 Erwin Vervecken (Bel) Spaar Select
5 Tom Vannoppen (Bel) Mr.Bookmaker-Palmans
6 Gerben De Knegt (Ned) Rabobank
7 Maxime Lefebvre (Fra)
8 Ben Berden (Bel) John Saey-Deschacht              0.18
9 Wim Jacobs (Bel) Spaar Select                     0.29
10 Sven Nys (Bel) Rabobank                          0.33
11 Bart Aernouts (Bel) Rabobank
12 Jonathan Page (USA)                              0.40
13 Christian Heule (Bel)                            1.37
14 David Willemsens (Bel)                           1.48
15 Peter Van Santvliet (Bel) Spaar Select           1.54
16 Kevin Pauwels (Bel)
17 Wilant Van Gils (Ned) WTC Woerden                2.20
18 Tim Pauwels (Bel)                                2.27
19 Bert Vervecken (Bel)                             2.31
20 Vaclav Jezek (Cze)                               2.34
21 Davy Commeyne (Bel) Mr.Bookmaker-Palmans
22 Jan Verstraeten (Bel) Vlaanderen-T Interim
23 Martin Zlamalik (Cze)
24 Kris Wouters (Bel)
25 Jean-Pierre Leijten (Ned)
26 Sten Raeymaekers (Bel)
27 Dieter Vanthourenhout (Bel)
28 Jorn Van Der Veken (Bel) Kapelle op den Bos
29 Radomir Simunek (Cze)
30 Vladimir Kyzivat (Cze)
31 Stijn Penne (Bel)
32 Dariusz Gil (Pol)
33 Geert Wellens (Bel) Spaar Select
34 Rob Peeters (Bel)
35 Kris Smits (Bel)
36 Pawel Cierpikowski (Pol)
37 Kevin Bossaerts (Bel)
38 Jan Goris (Bel)
39 Dirk Bertels (Bel)
40 Stig Geerts (Bel)
41 Guy Bertels (Bel)
42 Steffen Vanderhoydonck (Bel)
43 Nicolas Guillet (Fra)
44 Dave Schurmans (Bel)
 
Juniors
 
1 Niels Albert (Bel)                               41.00
2 Bart Verschueren (Bel)                            0.58
3 Maxime Debusschere (Bel)                          1.50
4 Davy De Scheemaeker (Bel)
5 Pieter Vanspeybroeck (Bel)                        2.17
6 Jeroen Dingemans (Bel)                            2.48
7 Jan Van Dael (Bel)                                3.33
8 Rob Krijnen (Bel)                                 3.38
9 Jempy Drucker (Bel)                               5.29
10 Patrick Vliegen (Ned)                            5.37
11 Nicolas Maes (Bel)                               5.42
12 Stijn Joseph (Bel)                               5.48
13 Jeroen Bosmans (Bel)                             6.10
14 Guido Janssens (Bel)
15 Matthias Onghena (Bel)                           6.26
16 Sam Malfiet (Bel)
17 Tomas Boeckx (Bel)
18 Quintin Bertholet (Bel)
19 Koen Bertels (Bel)
20 Dries Dewit (Bel)
21 Glenn Sluyts (Bel)
22 Tom Lambrechts (Bel)
23 Davy Vanderstukken (Bel)
24 Michael Goossens (Bel)
25 Nico Ceunen (Bel)
26 Jeffrey Maes (Bel)
27 Remi Lambert (Bel)
28 Gilan Jacobs (Bel)
 
Novices
 
1 Tom Meeusen (Bel)                                28.57
2 Dries Govaerts (Bel)                              0.30
3 Kevin Cant (Bel)                                  0.53
4 Maarten Verherstraeten (Bel)                      1.00
5 Dries Pauwels (Bel)                               1.20
6 Kenneth Van Compernolle (Bel)                     1.30
7 Kristogf Cop (Bel)                                1.43
8 Nivard Van Acker (Bel)                            2.30
9 Bart Hermans (Bel)                                2.42
10 Joeri Adams (Bel)                                2.58
11 Yannick Wydooghe (Bel)
12 Laurens De Vreese (Bel)
13 Bart Wouters (Bel)
14 Olivier Labie (Bel)
15 Niels Baelen (Bel)
16 Simon Vandereet (Bel)
17 Stijn Mortelmans (Bel)
18 Wim Thijs (Bel)
19 Sven Verboven (Bel)
20 Wim Goethals (Bel)
21 Pieter Reekmans (Bel)
22 Timothy De Jonghe (Bel)
23 Raf Pluym (Bel)
24 Jordy Billast (Bel)
25 Jens Gijs (Bel)
26 Vincent Baestaens (Bel)
27 Kenneth Kieckens (Bel)
28 Jens Debusschere (Bel)
29 Hans Bertels (Bel)
30 Hans Naets (Bel)
 
Women
 
1 Daphny Van Den Brand (Ned)                       38.04
2 Marianne Vos (Ned)                                0.16
3 Anja Nobus (Bel)                                  0.37
4 Reza Hormes-Ravenstijn (Ned)                      1.12
5 Laurence Leboucher (Fra)                          2.15
6 Loes Sels (Bel)                                   2.45
7 Hilde Quintens (Bel)                              3.05
8 Nancy Bollansee (Bel)                             3.28
9 Liesbeth De Vocht (Bel)                           4.58
10 Katrien Pauwels (Bel)                            4.58
11 Nicole Kampeter (Ned)                            6.24
12 Katrien Aerts (Bel)                              7.54
13 Sofie Goor (Bel)                                 7.57
14 Greetje De Vos (Bel)                             9.04
 
1 lap behind
 
15 Veronique Staes Op (Bel)
16 Ann Van Rechem (Bel)
17 Gertie Willems (Bel)
18 Mariska Van Geem (Bel)
19 Katrien Vermeiren (Bel)
 
Cyclosportifs
 
1 Peter Willemsens (Bel)                            41.3
2 Mario Lammens (Bel)                               1.21
3 Jef Verbraecken (Bel)                             1.39
4 Sven Raeymakers (Bel)
5 Ronny Couliez (Bel)                               2.00
6 Tom Willemsen (Bel)                               3.17
7 Kurt De Backer (Bel)                              5.52
8 Jeroen Van Ham (Bel)                              5.59
9 Gijs Jongeling (Bel)
10 Kim Smets (Bel)
 
Masters
 
1 Dirk Pauwels (Bel)                               44.00
2 Walter Marijnissen (Bel)                          1.20
3 Danny Verherstraeten (Bel)                        1.53
4 Patrick Sluyts (Bel)                              1.54
5 Ronny Lambrechts (Bel)                            2.01
6 Marc Druyts (Bel)
7 Rudy Bloemmen (Bel)
8 Alex Van Acker (Bel)
9 Frans Willems (Bel)
10 Ronny Mertens (Bel)
Final Gazet van Antwerpen Trofee standings
Elite Men
 
1 Bart Wellens (Bel) Spaar Select                    201 pts
2 Ben Berden (Bel) John Saey-Deschacht               183
3 Sven Nys (Bel) Rabobank                            181
4 Erwin Vervecken (Bel) Spaar Select                 175
5 Peter Van Santvliet (Bel) Spaar Select             171
6 Richard Groenendaal (Ned) Rabobank                 161
7 Maxime Lefebvre (Fra)                              152
8 Tom Vannoppen (Bel) Mr.Bookmaker-Palmans           150
9 Sven Vanthourenhout (Bel) Quick Step-Davitamon     145
10 Arne Daelmans (Bel) Vlaanderen - T Interim        143
11 Vaclav Jezek (Cze)                                120
12 Davy Commeyne (Bel) Mr.Bookmaker-Palmans          116
13 Wim Jacobs (Bel) Spaar Select                     107
14 Jan Verstraeten (Bel) Vlaanderen-T Interim         99
15 Christian Heule (Swi)                              90
 
U23 Men
 
1 Bart Aernouts (Bel) Rabobank                       122 pts
2 Wesley Van Der Linden (Bel)                        107
3 Kevin Pauwels (Bel)                                101
4 Radomir Simunek (Cze)                               68
5 Geert Wellens (Bel) Spaar Select                    62

Past winners
2003 Ben Berden (Bel) Vlaanderen-T Interim
2002 Arne Daelmans (Bel) Vlaanderen-T-Interim
2001 Bart Wellens (Bel) Spaar Select
2000 Arne Daelmens (Bel)