Superprestige #7 - Harnes - C1
Harnes, France, February 8, 2003
2003 Results Results Past winners
Wellens secures Superprestige series
Sven Vanthourenhout wins muddy race in Harnes
Sven Vanthourenhout (Quick.Step)
Photo ©: Delphine Page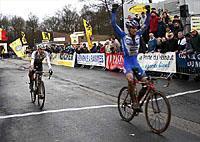 With a second place in the penultimate round in Harnes, Bart Wellens (SpaarSelect) has wrapped up the overall victory in the Superprestige series. The Bartman has won four of the eight races and now has a 45 point advantage over Sven Nys (Rabobank) in second place. Today's round was won by Sven Vanthourenhout (Quick Step), who beat Wellens in a two man sprint, with Frenchman Maxim Lefebvre taking third, nearly half a minute back.
"The legs weren't fresh enough," said Wellens after the finish. "I did what I could, but Vanthourenhout was today even stronger in the sprint and I could do nothing against him. Of course I would have preferred to have won, but the certainty of the final overall win also means a lot. I can relax going into the final weekend. But first there is Pijnacker next week, where I can still win the World Cup.
Vanthourenhout was very happy with his victory, and denied that there was any agreement between he and Wellens over the result. "No, we have not agreed on the outcome," said Vanthourenhout. "Wellens the final victory and me the day win, there was never talk over that. I had also never thought during the race that Wellens would become the certain overall winner. Trust me, Wellens made it hard enough for me in the last lap. In the last bit through the field, he made it particularly difficult. Had it been another 10 metres I was gone and would have had to let the victory go. But with my last strength I could hold onto him and then came the sprint. It wasn't a sprint like in Pont-château. This last straight was longer, but I still knew I had to start in front to win. That's how it worked out too."
In the U23 class, Wesley Van der Linden won while World Champion Niels Albert won in the juniors category. Both riders are also certain to win their respective categories in the Superprestige.
Photography
Images by Delphine Page/www.cycling-photos.net
Results
Elite
 
1 Sven Vanthourenhout (Bel) Quick Step-Davitamon         58.40
2 Bart Wellens (Bel) Spaar Select
3 Maxim Lefebvre (Fra)                                    0.28
4 Erwin Vervecken (Bel) Spaar Select                      1.00
5 Richard Groenendaal (Ned) Rabobank                      1.16
6 Ben Berden (Bel) John Saey-Deschacht                    1.20
7 Peter Van Santvliet (Bel) Spaar Select                  2.09
8 Sven Nys (Bel) Rabobank                                 2.26
9 Arne Daelmans (Bel) Vlaanderen - T Interim              2.41
10 John Gadret (Fra)                                      2.56
11 Arnaud Labbe (Fra)                                     3.08
12 Gerben De Knegt (Ned) Rabobank                         3.13
13 Tom Vannoppen (Bel) Mr.Bookmaker-Palmans               3.48
14 Jan Ramsauer (Swi)                                     3.59
15 Jonathan Page (USA)                                    4.10
16 Matthew Ellis (GBr) John Saey-Deschacht                4.17
17 Dariusz Gil (Pol)                                      4.22
18 Bjorn Rondelez (Bel) Wincor-Nixdorf                    4.27
19 Vclav Jezek (Cze)                                      4.52
20 Christian Heule (Swi)                                  5.04
21 Tim Van Nuffel (Bel) John Saey-Deschacht               5.20
22 Wim Jacobs (Bel) Spaar Select                          5.52
23 Wilant Van Gils (Ned) WTC Woerden                      6.06
24 Gusty Bausch (Lux) VS Dommeldange                      6.16
25 Mario Lammens (Bel)                                    6.30
26 Nico Clarysse (Bel) John Saey-Deschacht                6.35
27 Jean-Pierre Leijten (Ned)                              7.47
28 Tim Pauwels (Bel)                                     1 lap
 
U23
 
1 Wesley Van Der Linden (Bel)                            43.40
2 Bart Aernouts (Bel) Rabobank                            1.12
3 Klaas Vantornout (Bel)                                  1.23
4 Martin Zlamalik (Cze)                                   1.34
5 Kevin Pauwels (Bel)                                     2.20
6 Vladimir Kyzivat (Cze)                                  2.31
7 Mariusz Gil (Pol)                                       2.42
8 Simoin Zahner (Swi)
9 Jan Soetens (Bel)                                       3.20
10 Radomir Simunek (Cze)                                  3.39
11 Frantisek Kloucek (Cze)                                3.44
12 Stijn Penne (Bel)                                      3.48
13 Jorn Van Der Veken (Bel) Kapelle op den Bos            4.57
14 Rob Peeters (Bel)                                      5.50
15 Gaetan Benoit (Fra)                                    5.54
16 Dieter Vanthourenhout (Bel)                            6.31
17 Sebastien Kern (Fra)                                   9.11
18 Dylan Esman (Fra)                                     1 lap
19 Sebastien Lefebvre (Fra)
20 Loic Daise (Fra)
 
Juniors
 
1 Niels Albert (Bel)                                     47.15
2 Thijs Van Amerongen (Ned)                               1.21
3 Jempy Drucker (Lux)                                     1.35
4 Maxime Debusschere (Bel)                                1.52
5 Pieter Van Speybroeck (Bel)                             2.01
6 Davy De Scheemaeker (Bel)                               3.14
7 Jeroen Dingemans (Bel)                                  3.22
8 Bart Verschueren (Bel)                                  4.25
9 Kenny Geluykens (Bel)                                   5.30
10 Koen Boelens (Bel)                                    1 Lap
11 Wim Leemans (Bel)
12 Jan Van Dael (Bel)
13 Rikke Dijkxhoorn (Ned)
14 Patrick Vliegen (Ned)
15 Enrico Liebe (Ned)
16 Rik Van Ijzendoorn (Ned)
17 Matthias Onghena (Bel)
18 Gianni Denolf (Bel)
19 Mark Borks (Ned)
20 Quentin Bertholet (Bel)
21 Kevin Demeester (Bel)
22 Ricardo Van Der Velde (Ned)
Superprestige standings after round 7


Elite Men
 
1 Bart Wellens (Bel) Spaar Select                          191
2 Sven Nys (Bel) Rabobank                                  146
3 Erwin Vervecken (Bel) Spaar Select                       124
4 Sven Vanthourenhout (Bel) Quick Step-Davitamon           122
5 Tom Vannoppen (Bel) Mr.Bookmaker-Palmans                 113
6 Ben Berden (Bel) John Saey-Deschacht                     112
7 Peter Van Santvliet (Bel) Spaar Select                    89
8 Richard Groenendaal (Ned) Rabobank                        86
9 Arne Daelmans (Bel) Vlaanderen - T Interim                82
10 Maxime Lefebvre (Fra)                                    74
11 Davy Commeyne (Bel) Mr.Bookmaker-Palmans                 57
12 Dariusz Gil (Pol)                                        48
12 Petr Dlask (Cze)                                         48
14 Wilant Van Gils (Ned) WTC Woerden                        37
15 Gerben De Knegt (Ned) Rabobank                           31
16 Camiel van den Bergh (Ned) John Saey-Deschacht           30
17 Jan Verstraeten (Bel) Vlaanderen-T Interim               29
18 Mario De Clercq (Bel) Mr.Bookmaker-Palmans               25
19 Vaclav Jezek (Cze)                                       25
20 Wim Jacobs (Bel) Spaar Select                            20
21 Jonathan Page (USA)                                      18
22 Maarten Nijland (Ned) Heijdens-Ten Tusscher              17
23 Christian Heule (Swi)                                    16
24 Bjorn Rondelez (Bel) Wincor-Nixdorf                      15
25 John Gadret (Fra)                                        11
26 Arnaud Labbe (Fra)                                       10
27 Matthew Ellis (GBr) John Saey-Deschacht                   7
27 Jan Ramsauer (Swi)                                        7
29 David Seco (Spa)                                          5
30 Thijs Verhagen (Ned)                                      2
30 Taduesz Korzeniewski (Pol)                                2
30 Roger Hammond (GBr) Mr.Bookmaker-Palmans                  2
33 Michael Baumgartner (Swi)                                 1
33 Tim Van Nuffel (Bel) John Saey-Deschacht                  1
 
U23
 
1 Wesley Van Der Linden (Bel)                              178
2 Bart Aernouts (Bel) Rabobank                             134
3 Martin Zlamalik (Cze)                                    133
4 Klaas Vantornout (Bel)                                   129
5 Kevin Pauwels (Bel)                                      110
6 Geert Wellens (Bel) Spaar Select                          93
7 Jan Soetens (Bel)                                         69
8 Radomir Simunek (Cze)                                     67
9 Martin Bina (Cze)                                         66
10 Jorn Van Der Veken (Bel) Kapelle op den Bos              64
11 Dieter Vanthourenhout (Bel)                              56
12 Simon Zahner (Swi)                                       52
13 Vladimir Kyzivat (Cze)                                   46
14 Stijn Penne (Bel)                                        40
15 Lars Boom (Ned)                                          37
15 Mariusz Gil (Pol)                                        37
17 Eddy Van Ijzendoorn (Ned)                                34
18 Enrico Franzoi (Ita)                                     31
19 Krzysztof Kuzniak (Pol)                                  28
20 Tom Van Den Bosch (Bel)                                  26
21 Nick Sels (Bel)                                          21
22 Sébastien Minard (Fra)                                   19
23 Sebastiaan Langeveld (Ned)                               17
24 Guus Magielse (Ned)                                      16
24 Bart Dirkx (Ned)                                         16
26 Frantisek Kloucek (Cze)                                  12
27 Rob Peeters (Bel)                                        11
28 David Kasek (Cze) Cyklo Team Budvar Tabor                 8
28 Frederik Herpol (Bel)                                     8
28 Koen De Kort (Ned)                                        8
28 Pirmin Lang (Swi)                                         8
32 Gerben De Vries (Ned)                                     7
33 Dries Devenyns (Bel)                                      6
33 Gaetan Benoit (Fra)                                       6
35 Kevin Van Lierde (Bel)                                    4
35 Sébastien Kern (Fra)                                      4
37 Dylan Esmans (Fra)                                        2
37 Adrien Delautre (Fra)
37 Sebastien Lefebvre (Fra)                                  2
40 Mike Thielemans (Bel)                                     1
40 Loic Daise (Fra)                                          1
 
Juniors
 
1 Niels Albert (Bel)                                       175
2 Thijs Van Amerongen (Ned)                                135
3 Jempy Drucker (Lux)                                      123
4 Bart Verschueren (Bel)                                   122
5 Maxime Debusschere (Bel)                                 113
6 Jeroen Dingemans (Bel)                                   106
7 Enrico Liebe (Ned)                                        85
8 Rikke Dijkxhoorn (Ned)                                    72
9 Kenny Geluykens (Bel)                                     54
10 Patrick Vliegen (Ned)                                    52
11 Bart Senders (Ned)                                       46
12 Ricardo Van Der Velde (Ned)                              45
13 Clement Lhotellerie (Fra)                                30
14 René Lang (Swi)                                          29
15 Wim Leemans (Bel)                                        28
15 Koen Boelens (Bel)                                       28
17 Davy De Scheemaeker (Bel)                                25
18 Jan Aernouts (Bel)                                       23
19 Gianni Denolf (Bel)                                      21
20 Jan Verhaegh (Ned)                                       20
21 Quentin Bertholet (Bel)                                  18
22 Pieter Van Speybroeck (Bel)                              16
23 Rik Van Ijzendoorn (Ned)                                 14
24 Quincy Vens (Bel)                                        13
24 Ales Broz (Cze)                                          13
24 Willem Schwaner (Ned)                                    13
24 Ivar Hartogs (Ned)                                       13
24 Krzysztof Wieczorek (Pol)                                13
29 Stijn Joseph (Bel)                                       11
30 Valentijn Ponseele (Bel)                                 10
30 Jan Skarnitzl (Cze)                                      10
32 Nick Rafael (Swi)                                         9
32 Jan Van Dael (Bel)                                        9
34 Dieter Buyens (Bel)                                       8
34 Petr Novotny (Cze)                                        8
34 Djuri Van Rijbroek (Ned)                                  8
37 Karol Sroka (Pol)                                         7
37 Steven Van Vooren (Bel)                                   7
39 Kristof Luyten (Bel)                                      6
39 Dennis Verhoeven (Bel)                                    6
41 Davy Gorissen (Ned)                                       5
41 Jan Mikkers (Ned)                                         5
41 Ian Bibby (GBr)                                           5
44 Bart Van Erdeghem (Bel)                                   4
44 Rik Jonkheijm (Ned)                                       4
44 Dries Dewit (Bel)                                         4
44 Pawel Cieslik (Cze)                                       4
44 Matthias Onghena (Bel)                                    4
49 Harm Vandekerckhove (Bel)                                 3
49 Koen Van Grootel (Ned)                                    3
49 Stijn Hebben (Bel)                                        3
49 Jerry Kallenfels (Ned)                                    3
49 Paul Timmer (Ned)                                         3
49 Froimens Fisher (USA)                                     3
55 Mark Broks (Bel)                                          2
56 Davy Depaepe (Bel)                                        1
56 Tom Broekhuysen (Bel)                                     1



Past Winners
2003 Sven Nijs (Bel) Rabobank  
2002 Richard Groenendaal (Ned) Rabobank    
2001 Bart Wellens (Bel)
2000 Richard Groenendaal (Ned)