Superprestige #8 - De Vlaamse Trofee Deschacht - C1
Vorselaar, Belgium, February 21, 2003
2003 Results Photo Gallery Results Superprestige Standings Past winners
Small revenge for Nys
Absent Wellens claims series
Sven Nys (Rabobank)
Photo ©: Luc Claessen/CN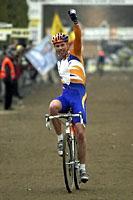 Sven Nys (Rabobank) obtained some revenge for last week's World Cup loss by claiming victory in the final round of the Superprestige in Vorselaar. In doing so, the Rabobank rider clinched second place in the overall standings as well as surpassing the number of Superprestige wins held by Roland Liboton. Nys now has 22 wins, and is - for the time being - the most successful Superprestige rider ever.
Unfortunately last year's winner and local hero Bart Wellens (SpaarSelect) couldn't take the start in today's finale owing to a strained buttock, much to the disappointment of the crowd. But it didn't take away from the competitiveness of the race, which saw Nys take the initiative straight away before Tom Vannoppen, Sven Vanthourenhout, Erwin Vervecken, Camiel van den Bergh and Peter Van Santvliet bridged the gap. Van Santvliet crashed, but was able to come back with Maxime Lefebvre, Richard Groenendaal, Gerben de Knegt and Wim Jacobs, forming a group of 10 in front.
Tom Vannoppen took over the lead after Vervecken missed a corner, which also slowed Groenendaal and Nys. Vervecken's lost his chain and a lot of time as a result and he was forced into playing catch up. But he was persistent and managed to catch the leading group before the finish to eventually take third.
The sprint for 3rd place
Photo ©: Luc Claessen/CN

Vannoppen couldn't hold his lead in front and when Nys caught him, he was ridden off the wheel of the determined Rabobank rider. Nys kept going solo until Lefebvre latched on...but latched off again when he slipped. Thus Nys was finally able to take the victory alone ahead of Lefebvre and Vervecken, who beat Vanthourenhout and Vannoppen in the sprint for third.
"Mentally it was a very difficult race," said Nys. "When some of the public spit in your face it's not fun to ride. But I knew that I was the best in the race and that helped a lot. I attacked a good five times in order to secure the win, but I didn't get nervous after my unsuccessful attempts. I repeat: I knew I was the best today."
In the other races, Klaas Vantornout won a five man sprint over Wesley Van Der Linden and World Champion Kevin Pauwels to take the U23 race while Van Der Linden took out the overall classification. In the juniors, Niels Albert was unstoppable yet again, beating Maxime Debusschere and Jeroen Dingemans to finish the series with a commanding lead over the rest.
Photography
Images by Luc Claessen/Cyclingnews/www.actiefotos.be
Sven Nys (Rabobank) took the lead
Photo ©: Luc Claessen/CN

Dutch Champion Richard Groenendael (Rabobank)
Photo ©: Luc Claessen/CN

Sven Nys (Rabobank)
Photo ©: Luc Claessen/CN

World's bronze medalist Sven Vanthourenhout
Photo ©: Luc Claessen/CN

Erwin Vervecken (Spaar Select)
Photo ©: Luc Claessen/CN

Sven Nys (Rabobank)
Photo ©: Luc Claessen/CN

The sprint for 3rd place
Photo ©: Luc Claessen/CN

The race podium:
Photo ©: Luc Claessen/CN

The final Superprestige podium
Photo ©: Luc Claessen/CN
Results
Elite Men
 
1 Sven Nys (Bel) Rabobank                          1.03.27
2 Maxime Lefebvre (Fra)                               0.16
3 Erwin Vervecken (Bel) Spaar Select                  0.23
4 Sven Vanthourenhout (Bel) Quick Step-Davitamon
5 Tom Vannoppen (Bel) Mr.Bookmaker-Palmans
6 Wim Jacobs (Bel) Spaar Select
7 Wilant Van Gils (Ned) WTC Woerden
8 Gerben De Knegt (Ned) Rabobank
9 Peter Van Santvliet (Bel) Spaar Select              0.38
10 Camiel van den Bergh (Ned) John Saey-Deschacht     1.15
11 Ben Berden (Bel) John Saey-Deschacht               1.25
12 Richard Groenendaal (Ned) Rabobank
13 Arne Daelmans (Bel) Vlaanderen - T Interim         1.32
14 Dariusz Gil (Pol)                                  1.37
15 Maarten Nijland (Ned) Heijdens-Ten Tusscher        1.45
16 Davy Commeyne (Bel) Mr.Bookmaker-Palmans           1.53
17 Jonathan Page (USA)                                2.01
18 David Seco (Spa)                                   2.13
19 Vaclav Jezek (Cze)                                 2.19
20 Tim Pauwels (Bel)
21 Tim Van Nuffel (Bel) John Saey-Deschacht
22 Jan Verstraeten (Bel) Vlaanderen-T Interim         2.43
23 David Willemsens (Bel)                             2.48
24 Jean-Pierre Leijten (Ned)                          3.00
25 Gusty Bausch (Lux) VS Dommeldange
26 Christian Heule (Swi)                              4.38
27 Matthew Ellis (GBr) John Saey-Deschacht            4.57
28 Kris Wouters (Bel)                                 5.24
29 Tadeusz Korzeniewski (Pol)
30 Sten Raeymakers (Bel)
31 Eddy Van Bouwel (Bel)
 
U23 Men
 
1 Klaas Vantornout (Bel)                             52.56
2 Wesley Van Der Linden (Bel)                         0.01
3 Kevin Pauwels (Bel)
4 Martin Zlamalik (Cze)
5 Bart Aernouts (Bel) Rabobank
6 Mariusz Gil (Pol)                                   0.07
7 Radomir Simunek (Cze)                               0.23
8 Eddy Van Ijzendoorn (Ned)
9 Dieter Vanthourenhout (Bel)                         0.27
10 Vladimir Kyzivat (Cze)                             1.17
11 Stijn Penne (Bel)                                  1.24
12 Jan Soetens (Bel)                                  1.44
13 Geert Wellens (Bel) Spaar Select                   2.20
14 Rob Peeters (Bel)                                  2.44
15 Jorn Van Der Veken (Bel) Kapelle op den Bos        3.04
16 Bert De Wispelaere (Bel)                           4.37
17 Daan De Jonge (Ned)                                5.05
 
1 lap behind
 
18 Jonas Coopman (Bel)
19 Stig Geerts (Bel)
20 Jeroen Thielemans (Bel)
21 Steffen Vanderhoydonck (Bel)
22 Nicolas Guillot (Fra)
23 Dave Schurmans (Bel)
 
Juniors
 
1 Niels Albert (Bel)                                 41.55
2 Maxime Debusschere (Bel)                            0.32
3 Jeroen Dingemans (Bel)                              0.37
4 Jempy Drucker (Lux)                                 0.44
5 Thijs Van Amerongen (Ned)                           1.06
6 Quincy Vens (Bel)                                   1.13
7 Bart Verschueren (Bel)                              1.25
8 Harm Vandekerckhove (Bel)                           1.41
9 Rik Van Ijzendoorn (Ned)                            1.47
10 Enrico Liebe (Ned)
11 Jan Van Dael (Bel)                                 1.50
12 Bart Senders (Ned)                                 2.23
13 Koen Boelens (Bel)                                 2.50
14 Kenny Geluykens (Bel)
15 Davy De Paepe (Bel)
16 Gianni Denolf (Bel)                                3.03
17 Patrick Vliegen (Ned)                              3.07
18 Dieter Schol (Bel)                                 3.14
19 Glenn Sluyts (Bel)                                 3.40
20 Dennis Verhoeven (Bel)                             4.01
21 Koen Bertels (Bel)                                 4.15
22 Thomas Boeckx (Bel)
23 Steven Schol (Bel)                                 5.30
24 Mattijn Motshagen (Bel)                            5.38
25 Tom Lambrechts (Bel)                               5.53
26 Nico Ceunen (Bel)                                  6.16
27 Jeffrey Maes (Bel)
28 Benjamin Verraes (Bel)                             6.41
 
1 lap behind
 
29 Remi Lambert (Bel)
30 Tom Decock (Bel)
 
Novices
 
1 Ben Arnouts (Bel)                                  38.31
2 Tom Meeusen (Bel)
3 Kevin Cant (Bel)
4 Dries Pauwels (Bel)                                 0.22
5 Maarten Verherstraeten (Bel)                        0.31
6 Kristof Cop (Bel)                                   0.40
7 Steven Wong (Bel)                                   0.49
8 Dries Govaerts (Bel)                                0.56
9 Bart Hermans (Bel)
10 Joeri Adams (Bel)
11 Laurens De Vreese (Bel)
12 Yannick Wydooghe (Bel)                             1.01
13 Bart Wouters (Bel)
14 Joeri Lambrechts (Bel)                             2.01
15 Vincent Bastiaens (Bel)                            2.09
16 Sven Verboven (Bel)
17 Wim Thijs (Bel)
18 Jens Gys (Bel)                                     2.46
19 Marcel Meisen (Bel)                                3.00

Final standings after round 8

Elite Men
 
1 Bart Wellens (Bel) Spaar Select                      191 pts
2 Sven Nys (Bel) Rabobank                              176
3 Erwin Vervecken (Bel) Spaar Select                   145
4 Sven Vanthourenhout (Bel) Quick Step-Davitamon       140
5 Tom Vannoppen (Bel) Mr.Bookmaker-Palmans             129
6 Ben Berden (Bel) John Saey-Deschacht                 122
7 Peter Van Santvliet (Bel) Spaar Select               101
8 Maxime Lefebvre (Fra)                                 99
9 Richard Groenendaal (Ned) Rabobank                    95
10 Arne Daelmans (Bel) Vlaanderen - T Interim           90
11 Davy Commeyne (Bel) Mr.Bookmaker-Palmans             62
12 Dariusz Gil (Pol)                                    59
13 Wilant Van Gils (Ned) WTC Woerden                    51
14 Petr Dlask (Cze)                                     48
15 Gerben De Knegt (Ned) Rabobank                       47
16 Camiel van den Bergh (Ned) John Saey-Deschacht       41
17 Wim Jacobs (Bel) Spaar Select                        35
18 Jan Verstraeten (Bel) Vlaanderen-T Interim           29
19 Vaclav Jezek (Cze)                                   27
20 Mario De Clercq (Bel) Mr.Bookmaker-Palmans           25
21 Maarten Nijland (Ned) Heijdens-Ten Tusscher          23
22 Jonathan Page (USA)                                  22
23 Christian Heule (Swi)                                16
24 Bjorn Rondelez (Bel) Wincor-Nixdorf                  15
25 John Gadret (Fra)                                    11
26 Arnaud Labbe (Fra)                                   10
27 David Seco (Spa)                                      8
28 Matthew Ellis (GBr) John Saey-Deschacht               7
28 Jan Ramsauer (Swi)                                    7
30 Thijs Verhagen (Ned)                                  2
30 Tadeusz Korzeniewski (Pol)                            2
30 Roger Hammond (GBr) Mr.Bookmaker-Palmans              2
33 Michael Baumgartner (Swi)                             1
33 Tim Van Nuffel (Bel) John Saey-Deschacht              1
33 Tim Pauwels (Bel)                                     1
 
U23 Men
 
1 Wesley Van Der Linden (Bel)                          203 pts
2 Klaas Vantornout (Bel)                               159
3 Martin Zlamalik (Cze)                                151
4 Bart Aernouts (Bel) Rabobank                         150
5 Kevin Pauwels (Bel)                                  131
6 Geert Wellens (Bel) Spaar Select                     101
7 Radomir Simunek (Cze)                                 81
8 Jan Soetens (Bel)                                     78
9 Jorn Van Der Veken (Bel) Kapelle op den Bos           70
10 Dieter Vanthourenhout (Bel)                          68
11 Martin Bina (Cze)                                    66
12 Vladimir Kyzivat (Cze)                               57
13 Simon Zahner (Swi)                                   52
13 Mariusz Gil (Pol)                                    52
15 Stijn Penne (Bel)                                    50
16 Eddy Van Ijzendoorn (Ned)                            47
17 Lars Boom (Ned)                                      37
18 Enrico Franzoi (Ita)                                 31
19 Krzysztof Kuzniak (Pol)                              28
20 Tom Van Den Bosch (Bel)                              26
21 Nick Sels (Bel)                                      21
22 Sébastien Minard (Fra)                               19
23 Rob Peeters (Bel)                                    18
24 Sebastiaan Langeveld (Ned)                           17
25 Guus Magielse (Ned)                                  16
25 Bart Dirckx (Bel)                                    16
27 Frantisek Kloucek (Cze)                              12
28 David Kasek (Cze) Cyklo Team Budvar Tabor             8
28 Frederik Herpol (Bel)                                 8
28 Koen De Kort (Ned)                                    8
28 Pirmin Lang (Swi)                                     8
32 Gerben De Vries (Ned)                                 7
33 Dries Devenyns (Bel)                                  6
33 Gaetan Benoit (Fra)                                   6
35 Bert De Wispelaere (Bel)                              5
36 Kevin Van Lierde (Bel)                                4
36 Sébastien Kern (Fra)                                  4
36 Daan De Jonge (Ned)                                   4
39 Dylan Esmans (Fra)                                    3
39 Jonas Coopman (Bel)                                   3
41 Adrien Delautre (Fra)                                 2
41 Sebastien Lefebvre (Fra)                              2
41 Stig Geerts (Bel)                                     2
44 Mike Thielemans (Bel)                                 1
44 Loic Daise (Fra)                                      1
44 Jeroen Thielemans (Bel)                               1
 
Juniors
 
1 Niels Albert (Bel)                                   205 pts
2 Thijs Van Amerongen (Ned)                            151
3 Jempi Drucker (Lux)                                  141
4 Maxime Debusschere (Bel)                             138
5 Bart Verschueren (Bel)                               136
6 Jeroen Dingemans (Bel)                               127
7 Enrico Liebe (Ned)                                    96
8 Rikke Dijkxhoorn (Ned)                                72
9 Kenny Geluykens (Bel)                                 61
10 Patrick Vliegen (Need)                               56
11 Bart Senders (Ned)                                   55
12 Ricardo Van Der Velde (Ned)                          45
13 Koen Boelens (Bel)                                   36
14 Rik Van Ijzendoorn (Ned)                             33
15 Clement Lhotellerie (Fra)                            30
16 René Lang (Swi)                                      29
17 Wim Leemans (Bel)                                    28
17 Quincy Vens (Bel)                                    28
19 Gianni Denolf (Bel)                                  26
20 Davy De Scheemaeker (Bel)                            25
21 Jan Arnouts (Bel)                                    23
22 Jan Verhaegh (Ned)                                   20
23 Jan Van Dael (Bel)                                   19
24 Quentin Bertholet (Bel)                              18
25 Pieter Van Speybroeck (Bel)                          16
25 Harm Vandekerckhove (Bel)                            16
27 Ales Broz (Cze)                                      13
27 Willem Schwaner (Ned)                                13
27 Ivar Hartogs (Ned)                                   13
27 Krzysztof Wieczorek (Pol)                            13
31 Stijn Joseph (Bel)                                   11
32 Valentijn Ponseele (Bel)                             10
32 Jan Skarnitzl (Cze)                                  10
34 Nick Rafael (Swi)                                     9
35 Dieter Buyens (Bel)                                   8
35 Petr Novotny (Cze)                                    8
35 Djuri Van Rijbroek (Ned)                              8
38 Karol Sroka (Pol)                                     7
38 Steven Van Vooren (Bel)                               7
38 Dennis Verhoeven (Bel)                                7
38 Davy De Paepe (Bel)                                   7
42 Kristof Luyten (Bel)                                  6
43 Davy Gorissen (Ned)                                   5
43 Ian Bibby (GBr)                                       5
45 Bart Van Erdeghem (Bel)                               4
45 Rik Jonkheijm (Ned)                                   4
45 Dries Dewit (Bel)                                     4
45 Pawel Cieslik (Pol)                                   4
45 Matthias Onghena (Bel)                                4
50 Jan Mikkers (Ned)                                     3
50 Koen Van Grootel (Ned)                                3
50 Stijn Hebben (Bel)                                    3
50 Jerry Kallenfels (Ned)                                3
50 Paul Timmer (Ned)                                     3
50 Froimens Fricher (USA)                                3
50 Dieter Schol (Bel)                                    3
57 Mark Broks (Ned)                                      2
57 Glenn Sluyts (Bel)                                    2
59 Tom Broehuysen (Bel)                                  1

Past Winners
2003 Bart Wellens (Bel) Spaar Select
2002 Richard Groenendaal (Ned) Rabobank