Cyclo-Cross World Cup #1 - CDM
Turin, Italy, October 26, 2003
First blood to Nijs
By Jeff Jones
Sven Nijs holds off Bart Wellens
Photo ©: Olympia Photo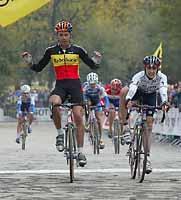 Belgian champion Sven Nijs led world champion Bart Wellens and Ben Berden home in a Belgian 1-2-3 finish in the first round of the Cyclo-cross World Cup held in Turin today. There were only a few centimetres separating Nijs and Wellens on the line after the two sprinted in a few seconds ahead of the next group, but Nijs had just enough momentum to hold off Wellens' throw.
The race was held over 10 laps of a fast, but technical grassy course in Turin's Pellerina park. Conditions were cool and dry, and the pace was well above the 30 km/h mark. On the first lap, Bart Wellens, Sven Nijs (Belgium) and Enrico Franzoi (Italy) led out hard, perhaps to test the field and get a feel for the course. But by the second lap, the pack had reformed with some 16 men in the lead group.
Once the riders got used to the circuit, the race settled down a little, with small breaks being tried by Wellens and Nijs, as well as a strong Richard Groenendaal (Netherlands) later on. Each time, small gaps would appear in the field, but each time it would come back together due to the speed. Petr Dlask and Martin Bina (Czech Republic) were both prominent in the front group, as were Enrico Franzoi (Italy), John Gadret and Francis Mourey (France) and Belgians Erwin Vervecken, Tom Vannoppen, Ben Berden and Sven Vanthourenhout.
The podium
Photo ©: Olympia Photo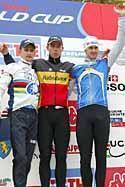 The constant was Sven Nijs, who rarely dropped back further than third wheel and was able to respond to any attack with apparent ease. Wellens was up there too, and everyone was waiting for one of his explosive jumps.
Amazingly with one lap to go, there was still a large group together, and this prompted Nijs and Wellens to put in a strong attack on the last lap to open up a gap. The pair worked to hold off the next group, which had Vannoppen, Vervecken and Groenendaal in it, among others, and were able to stay clear to contest a sprint on the stone-paved finishing straight.
Nijs led out from the last corner with Wellens on his wheel, and it looked as though Wellens would come around Nijs for the win. But with a few metres to go, Wellens stopped pedalling momentarily, his wheels slipping on the paves, and that was just enough for Nijs to cross the line first and raise his arms in victory.
In the first ever women's World Cup, World Champion Daphny van den Brand (Netherlands) won in a five woman sprint against Hanka Kupfernagel (Germany) and Marianne Vos (Netherlands).
Photography
Images by Olympia Photo
Results
Men - 29.6 km
 
1 Sven Nys (Belgium)                57.08
2 Bart Wellens (Belgium)
3 Ben Berden (Belgium)               0.01
4 Richard Groenendaal (Netherlands)
5 Sven Vanthourenhout (Belgium)      0.02
6 Francis Mourey (France)            0.07
7 Christian Heule (Switzerland)      0.10
8 Enrico Franzoi (Italy)             0.11
9 John Gadret (France)               0.12
10 Gerben De Knegt (Netherlands)
11 Petr Dlask (Czech Republic)
12 Erwin Vervecken (Belgium)         0.13
13 Martin Zlamalik (Czech Republic)  0.15
14 Alessandro Fontana (Italy)        0.26
15 Vaclav Jezek (Czech Republic)     0.29
16 Dariusz Gil (Poland)              0.43
17 Marco Bianco (Italy)              0.44
18 Radomir Simunek (Czech Republic)  0.55
19 Michael Baumgartner (Switzerland)
20 Tom Vannoppen (Belgium)
21 Camiel Van Den Bergh (Netherlands)
22 Arnaud Labbe (France)
23 Matthew Ellis (Great Britain)     0.57
24 Simon Zahner (Switzerland)
25 David Derepas (France)            0.58
26 Jonathan Page (USA)
27 Maarten Nijland (Netherlands)
28 Vaclaf Metlicka (Slovakia)
29 David Collins (Great Britain)
30 Marek Cichosz (Poland)
31 Jens Reuker (Germany)
32 Jan Ramsauer (Switzerland)
33 Mike Muller (Germany)
34 David Rusch (Switzerland)
35 Tadeusz Korzeniewski (Poland)
36 Tommy Nielsen (Denmark)
37 Daniele Pontoni (Italy)
38 Derik Zampedri (Italy)
39 Christian Wasmer (Germany)
40 Beat Wabel (Switzerland)
41 Robert Glazja (Slovakia)
42 Jody Crawforth (Great Britain)
43 Milan Barenyl (Slovakia)
44 Maros Kovak (Slovakia)
45 Steven Roach (Great Britain)
46 David Seco (Spain)
47 Pawel Cierpikowski (Poland) 
48 Reto Matt (Geramny)
49 Emmanuel Magnien (France)
50 Mariusz Gil (Poland)
51 Enrico Rossi (Italy)
52 Kim Pedersen (Denmark)
53 Jochen Uhrig (Germany)

Women 
 
1 Daphny Van Den Brand (Netherlands)  37.00
2 Hanka Kupfernagel (Germany)          
3 Marianne Vos (Netherlands)
4 Nicole de Bie-Leiten (Netherlands)
5 Marylyne Salvetat (France)
6 Hilde Quintens (Belgium)             0.06
7 Nadia Triquet (France)               1.14
8 Vania Rossi (Italy)                  2.12
9 Reza Ravenstijn (Netherlands)        2.13
10 Kathleen Vermeiren (Belgium)        2.15
11 Katrin Heimcke (Germany)            2.22
12 Victoria Wilkinson (Great Britain)  2.42
13 Paola Bortolin (Italy)              3.57
14 Francesca Cucciniello (Italy)       3.58



World Cup standings after round 1
Elite Men

1 Sven Nys (Belgium)                 60 pts
2 Bart Wellens (Belgium)             50
3 Ben Berden (Belgium)               45
4 Richard Groenendaal (Netherlands)  40
5 Sven Vanthourenhout (Belgium)      35
6 Francis Mourey (France)            30
7 Christian Heule (Switzerland)      28
8 Enrico Franzoi (Italy)             26
9 John Gadret (France)               24
10 Gerben De Knegt (Netherlands)     22