Utah Cup of 'Cross - C3
Soldier Hollow, Midway, USA, October 25, 2003
Gully hammers to Utah cup win
By Dirk Cowley
Men's winner Mark Gullickson (Redline)
Photo ©: Dave Iltis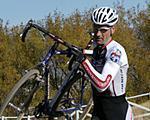 Early race leader Alan Obye (Balance Bar/Devo)
Photo ©: Dave Iltis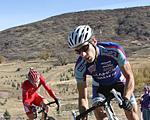 Women's victor Sally Warner
Photo ©: Dave Iltis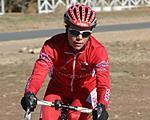 On a very clear day at Solider Hollow, a venue from the Salt Lake Olympics, saw the 2nd annual Utah Cup of Cross. With small field but hard racing action some of the best pros, Marc Gullickson and Adam Obye, and some great regional talent line up for the UCI Elite/U23 race. From first lap saw Adam Obye go for a $100.00 prime and continued solo for the first several laps till Marc Gullickson put the hammer down a showed the large crowd why he is one of the best American cyclocross racer in the nation. As the gap opened Adam drop back to ride all but the last lap with local rider Bart Gillespie (finishing 3rd) when he put down the power and rode to a impressive 2nd place (first U23). Richard Feldman rode to a 4th place finish and Frank Mapel finished of the top 5.
The 35+ Masters field saw what was one of the fastest and hardest races of the day with mostly local talent doing battle to see who would be the King of the Old Guys for another year. From the gun the race went hard and after just the first of 8 laps the field was in pieces. Art O'Connor and Dave Wood drove the lead group with the duo of Arron Jordin and Bill Harris chasing hard through out the race. The next group of two saw Dirk Cowley and John Iltis battling it out for the finial spot on the podium. On the finial lap coming into a high speed barrier Art dropped Dave and rode to a well delivered win with Dave finishing second. Aaron Jordin got the best of Bill (4th) for 3rd and John gapping Dirk of for 5th place.
The B race saw Ali Goulet ride solo for the whole race taking a hard win and John Milner winning the C Race.
The Junior field was small but saw three of the top UCI Juniors in the nation do battle. Tucker Thomas took a well earned win with Local Mitchell Peterson taking second. 3rd place went to Severin Skolrud and Andy Brooks was 4th.
A small Women's field saw only three riders race. With Sally Warner first, Lisa Peck second and Maren Partridge rounding out the podium places.
Thanks to the sponsors Biogen, Wound Up, and Optygen who made the race possible. Look for a bigger and better 3rd year at Soldier Hollow.
Results
Elite Men 
 
1 Mark Gullickson (USA) Redline        59.02
2 Alan Obye (USA) Balance Bar/Devo      0.39
3 Bart Gillespie (USA) Team Biogen      1.02
4 Richard Feldman (USA)                 1.40
5 Frank Mapel (USA)                     1.47
6 Ben Turner (USA)                      1.51
7 Brandon Dwight (USA)                  3.58
8 Omar Kem (USA)                        5.39
9 Shawn Harshman (USA)                  6.32
10 Jared Gibson (USA)                  12.32
DNF Jon Baker (USA)
 
Elite Women
 
1 Sally Warner (USA)                   46.19
2 Lisa Peck (USA)                       0.22
3 Maren Partridge (USA)                 2.25
 
Master Men 35+
 
1 Art O'Conner                         50.25
2 Dave Wood                             0.03
3 Aaron Jordin                          0.37
4 Bill Harris                           2.06
5 John Iltis                            3.33
6 Dirk Cowley                           3.51
7 Tom Horrocks                          4.45
8 Brent Peacock                         4.47
9 Terry McGinnis                        6.06
10 Gary Fuller                          6.32
11 Darrell Davis                       12.32
12 Wayne Cottrell
13 Peter Barquin
14 Steven Lewis                        19.32
15 Ray Polito
DNF Gregory Florez
DNF J. Devon Alvarez
DNF Michael Severance
DNF Jeff Clawson
 
Junior Men
 
1 Tucker Thomas                        46.15
2 Mitchell Peterson                     1.17
3 Severin Skolrud                       2.45
4 Andy Brooks                           5.54
5 Christian Niederhauser                6.36
DNF Chris Stockburger
 
B Flite Men
 
1 Ali Goulet                           45.23
2 David Harward                         0.31
3 Jim Fearick                           1.00
4 Brandon Rirth                         1.41
5 Trevor Gardner                        1.53
6 Daniel Chudleigh                      1.59
7 Jon Gallager                          2.05
8 Robert Milne                          3.31
9 Nathan Kamerath                       6.17
10 Denny Kalar                          6.28
11 Linde Smith                         25.28
12 Chris Magerl
DNF Christopher Wilson
 
C Flite Men
 
1 John Milner                          35.02
2 Mike Bronn                            0.23
3 Ryan Harward                          1.53
4 Shawn Lupcho                          2.13
5 Sean Hoover                           2.40
6 Jeff Street                           3.03
7 Steve Mower                           3.29
8 Gregory Florez                        4.14
9 Alex Whitney                          6.04
10 Gordon Garrett                       6.49
11 Mark Bunker                          7.52
12 Anne Donohue                        10.02
DNF Bret Johnson
DNF Robert Milne