British Cycling National Trophy Cyclocross Series #1 - NE
Pittville Park, Cheltenham, UK, October 5, 2003
By Pat Alexander, Cheltenham & County CC
Matt Ellis (John Saey Deschacht RT) negotiates his way to victory
Photo: © Dave Birkin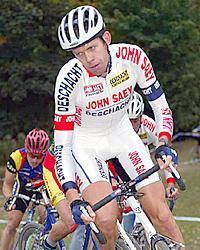 On a day of perfect weather conditions, the first round of the 2003/2004 British Cycling National Cyclocross Series got off to a scorching start. Sponsored by Cheltenham Cycles, the event took place on a dry and exceptionally fast course, 3.5km long.
The main race, for the Senior men and under-23 men, was dominated for the first time by continental based professional riders. Early on, the Dutch rider Camiel van den Bergh set a scorching pace at the head of a 46 strong field of competitors. Riding for the Belgian based John Saey Deschacht Cycling Team, he lead a small group of five: team-mate Matt Ellis, Barrie Clarke (Giant RT), Nick Craig (Trek UK) and Jody Crawforth (Evans Cycles RT).
After two laps of the ultra-fast 3.5km course, being covered at an astonishing average speed of 22 mph, Craig slowed dramatically suffering from the after-effects of a cold. Soon after, Crawforth rolled a tyre off the rim and had to run half of the course to receive a replacement from the pits. That left Clarke outnumbered by the team mates Ellis and van den Bergh. The Dutchman gained a small cushion of time mid-way through the race and looked confident for the win, but Clarke was not going to give up easily and clawed his way back, only to be passed by Ellis as the race drew to a close, and then by van den Bergh.
Cheltenham rider Duncan Jamieson (Cheltenham Cycles) put in a fabulous ride to finish 11th, 2 minutes 48 seconds behind the winner. He was placed 3rd in a 5-up group sprint to the line. Cheltenham & County CC riders Tony Bailey and Nic Burridge finished in 31st and 33rd places respectively, both 1 lap behind the winner.
Thanks to the many helpers from the Cheltenham & County CC without whom this event could not have taken place and also to the generosity of Cheltenham Cycles who sponsored the racing.
Photos
Images by Dave Birkin and Nick Peatson
Results

Elite
 
1 Matt Ellis (John Saey Deschacht CT)                   59.04
2 Camiel van den Bergh (John Saey Deschacht CT)          0.21
3 Barrie Clarke (Giant Racing)                           0.43
4 Ian Wilkinson (Science in Sport.com)                   1.00
5 Steven Roach (Individual Member)                       1.11
6 David Collins (Science in Sport.com)                   1.26
7 Stuart Bowers (Hargroves Cycles/Trant/Next/Scott)      2.09
8 Stuart Wearmouth (Science in Sport.com)                2.43
9 George Richardson (Cycle Ops/Kona)                     2.48
10 Darren Atkins (MI Racing/Peugeot/Thule/Fuji)
11 Duncan Jamieson (Cheltenham Cycles)
12 Paul Oldham (Giant Racing)
13 Daniel Alexander (Matlock CC/Wards Shoes/Clarks)      2.54
14 Steve Knight (MI Racing/Peugeot/Thule/Fuji)           2.59
15 Shaun Snodden (JE James RT)                           3.12
16 James Bryan (Ace RT/Terry Dolan/Impsport)             3.13
17 Peter Middlehurst (Eastern Region Velo/Bianchi)       3.30
18 Geoff Beetham (Eastern Region Velo/Bianchi)           3.42
19 Ross Adams (Red Kite Cycles)                          4.34
20 Keith Murray (Science in Sport.com)                   4.37
21 Martin Smith (Eastern Region Velo/Bianchi)            5.00
22 Scott Rose (Rugby Velo)                               5.04
23 Greg Simcock (Elmy Cycles/X RT)                       5.27
24 Chris Skinner (James Hay RT)                          6.15
25 Andrew Naylor (Ashfield RC)                           6.33
26 Roy Smith (Team Training FX/www.bike-cellar.com)  at 1 lap
27 Carl Thompson (Elmy Cycles/X RT)
28 Danny Connolly (Fox's Cycles RT)
29 Nick Charlton-Smith (Vectis Offshore CC)
30 Mark Leyland (Horwich CC)
31 Anthony Bailey (Cheltenham & County CC)
32 Colin Miller (Coventry RC)
33 Nic Burridge (Cheltenham & County CC)
34 Anthony Morris (Bike Treks)
35 Geoff Giddings (VC Excel)
36 Hugo Hocknell (St Ives CC/Richardsons)
37 Ben Oliver (Leisure Lakes RT)
38 Terry Tiffen (Cestria CC)
39 Frank Bradley (Matlock CC/Wards Shoes/Clarks)
40 Andrew Grier (RATS)
41 Philip Bromwich (Individual Member)
42 Ian Jenkins (Abergavenny RC/Govilon)
43 Nigel Roberts (Red Kite Cycles)
44 Peter Giddings (University of Bath MTB Club)
45 Paul Welsby (Zodiac CRC)
DQ Jody Crawforth
 
Women
 
1 Victoria Wilkinson (Science in Sport.com)             42.50
2 Helen Saunders (James Hay RT)                          2.16
3 Hazel Wakefield (Eastern Region Velo/Bianchi)          2.58
4 Nikki Harris (Pearce Cycles RT)                        3.27
5 Amy Hunt (Giant RT)                                    3.58
6 Brenda Pennell (Army CU)                               4.18
7 Claire Lines (Abergavenny RC/Govilon)                  5.02
8 Viv Cox (Cyclo-cross.com)                              6.35
9 Susan Carter (Terry Dolan.com)                     at 1 lap
10 Liz Slater (John Lloyd Racing Events/Kona/Clarks)
11 Bethan Edwards (VC Lincoln/TMS/Impsport)
12 Sarah Collins (Hinckley CRC)
 
Veterans
 
1 Andy Key (Ashfield RC)                                40.43
2 Michael Bell (London Fire Brigade CC)                  1.14
3 Martin Eadon (Ace RT/TerryDolan/Impsport)
4 Nigel Hay (De Montfort Rage On)
5 Paul Gilbert (Universal CC/Obar)
6 Martin Booth (Team Bradgate)
7 Roy Hunt (Rock Lobster)                                1.16
8 Andy Reid (De Montfort Rage On)                        1.51
9 Peter Harris (Pearce Cycles RT)                        1.59
10 Robert Wood-Anderson (Individual Member)              2.07
11 Peter Hargroves (Hargroves Cycles/Trant/Next)
12 Carl McDonagh (Brixton Cycles)
13 Mick Rowson (Rutland CC)                              2.31
14 Malcolm Cross (Hargroves Cycles/Trant/Next)           2.38
15 Steve Barron (VC Lincoln/TMS/Impsport)                2.54
16 Barrie Mitchell (MI Racing/Peugeot/Thule/Fuji)
17 Graham Edwards (Abergavenny RC/Govilon)               2.55
18 Peter Mooney (Rugby Velo)                             3.05
19 Chris Gooch (James Hay RT)                            3.14
20 Steve Jones (Pedal-on.co.uk/Martins Audi)             3.16
21 Andrew Roberts (Evans Cycles RT)                      3.35
22 Joseph Rowe (Wyre Forest CC/Fabricolor)               3.35
23 Vic Barnett (Welland Valley CC)                       3.37
24 Adge Last (Matlock CC/Wards Shoes/Clarks)             3.57
25 Mick Ives (MI Racing/Peugeot/Thule/Fuji)              4.25
26 Clifford Featherstone (Derwentside CC)                4.36
27 David Smith (Derby Mercury RC)                        4.44
28 Bob Pisolkar (Finsbury Park CC)                       4.50
29 Phil Bibby (Science in Sport.com)                     5.01
30 David Garrett (Rugby Velo)                            5.01
31 Robert Burns (Wolverhampton Wheelers CC)              5.01
32 Peter Parkes (Coventry RC)                            5.30
33 Mike Adams (Red Kite Cycles)                          6.01
34 Malcolm Wilson (Wolverhampton Wheelers CC)            6.11
35 David Perry (VC Xcel)                                 6.45
36 David Leyland (Horwich CC)                        at 1 lap
37 Robert Smith (Ipswich BC)
38 Michael Webb (Royal Sutton CC)
39 Peter Bromwich (West Midlands Cyclo-X League)
40 Stephen Osborn (Rockingham Forest Wheelers)
41 Mike Parkins (Fenland Clarion)
42 John Dowell (Gainsborough Aegir CC)
43 Ian Poole (Mildenhall CC)
44 Trevor Brown (Eastern Region Velo/Bianchi)
45 Stuart Hocknell (St Ives CC/Richardsons)
46 John Carr (Cleveland Wheelers)
47 Nick Barnett (Coventry CC)
48 David Rutter (Individual Member)
49 John Griffin (Elizabethan CC)
 
Junior
 
1 Ian Bibby (Science in Sport.com)                      38.39
2 Ben Crawforth (Evans Cycles RT)                        0.31
3 Ian Legg (Principia RT)                                0.47
4 Matthew Roach (Rugby Velo)                             1.26
5 Ian Field (San Fairy Ann CC)
6 Paul Cox (Melton Olympic CC)                           2.12
7 William Thompson (Individual Member)                   2.36
8 Alex Atkins (Evans Cycles RT)                          2.59
9 Mark Thwaites (Science in Sport.com)
10 Robert Whenman (Team Darenth)                         3.18
11 Euan Adams (Red Kite Cycles)                          3.21
12 Alex Billington (Bromsgrove Olympique CC)             3.50
13 William Goulbourne (Bromsgrove Olympique CC)          3.51
14 Matt Lee (Bikes 51 RT)                                3.55
15 Chris Edwards (TeamTraining FX)                       4.23
16 Andrew Bramham (Seacroft Wheelers)                    4.47
17 Nicholas Jones (Team Keyne/Trek)                      5.14
18 Ross Dingley (Bromsgrove Olympique CC)                6.35
19 Steven Griffiths (Lee Valley Youth CC)            at 1 lap
20 Matthew Winston (James Hay RT)
21 Joe Dodd (Bromsgrove Olympique CC)
 
Youth
 
1 Tom Last (Matlock CC/Wards Shoes/Clarks)              30.23
2 Jack Hibberd (Halesowen ACC)                           0.05
3 Martin Beech (VC Lincoln/TMS/Impsport)
4 David Wood (VC Deal)                                   0.08
5 Andrew Griffiths (Lee Valley Youth CC)                 0.49
6 Alex Wise (Welland Valley CC)                          0.53
7 Tom Smart (VC Deal)                                    1.01
8 Andrew Nightingale (James Hay RT)                      1.08
9 Alex Paton (VC Deal)                                   1.25
10 Darren Tiffen (Cestria CC)                            1.47
11 Robert Burns (Wolverhampton Wheelers)                 1.55
12 Harry Penn (Lichfield City CC)
13 Stephen Adams (RATS)                                  2.05
14 James Jackson (Lee Valley Youth CC)                   2.06
15 Jamie Harris (Pearce Cycles RT)                       2.26
16 Gareth Dickinson (Team Luciano)                       2.36
17 Scott Thwaites (Science in Sport.com)                 2.37
18 Luke Allen (Cyclo-cross.com)                          3.14
19 Ben Roach (Rugby Velo)                                3.25
20 Philip Bramham (Seacroft Wheelers)                    3.32
21 Thomas Hibberd (Halesowen ACC)                        3.52
22 Amy Thompson (Bike Plus)                              4.24
23 William Penn (Lichfield City CC)                      4.30
24 Michael Butler (VC Deal)                              4.39
25 Ralph Connolly (Holy Family)                          5.11
26 Chris Dales (Wolverhampton Wheelers CC)               5.36
27 Jack Oelmann (Lee Valley Youth CC)                    5.53
28 Adam Towers (Lee Valley Youth CC)                     5.58
29 Joseph Perrett (Lee Valley Youth CC)                  6.23
30 Timothy Rowson (Sheffield Phoenix CC)                 7.36
31 Craig Talbot (Halesowen A & CC)                       8.19
32 John Price (Lee Valley Youth CC)                      8.24
33 Rebecca Thompson (Bike Plus)                      at 1 lap
34 Sarah Farnell (Pearce Cycles RT)
35 Oliver Claydon (Halesowen A & CC)