Michael R. Rabe Midwest Cyclocross Championships - C3
Rochester Hills, MI, USA, October 4, 2003
Powering to victory in Michigan's first UCI 'cross
Jacob Stechmann (Alan Factory Team) puts down the power to chase down eventual winner Jeremy Powers
Photo: © Paul Schoening/Euromedia Group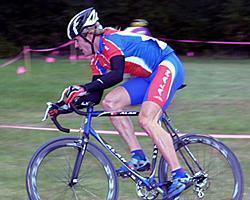 Michigan got its first taste of international cyclo-cross racing on Saturday with the Michael R. Rabe Midwest Cyclo-Cross Championships. Promoted by Robert Linden of Tailwind Enterprises, the first-time UCI event saw racers come from Minnesota, Illinois, Indiana, Ohio, Kentucky, North Carolina, and Massachussetts. To make it a true international event, riders even came from as far as Halifax, Nova Scotia, Canada.
The Jr. Men's event saw a tightly fought battle among the top three. Konrad Lebas (Richard Sachs) had to take a change early on due to a problem with his rear wheel, but was able to hold on for the win. Behind, Wynn Roberts (Baraboo Sharks) was going toe to toe with Derek Laan (Gopher Wheelmen) and was finally able to shake him off to take second.
In the Women's race, it was a local affair as Anne Schwartz (Flying Rhinos) took on Alicia Mayer (Orbea). The two women had gone head to head just one week earlier with Mayer taking the best of Schwartz, but it was clear that Anne had other goals for today. Schwartz was able to use her experience and take the win along with the first place UCI points.
The Elite Men took to action at 3 PM. With valuable UCI points on the line to the top five finishers, it was clear that it wouldn't be an easy day. Local favorites Jeff Weinert (Tailwind.net/Cane Creek) and Jon Card (Tailwind.net/Cane Creek) would have their hands full as out of town riders had their minds on those points too.
The race saw a fast start that was won by Adam Hodges Myerson (Cycle-Smart). It was a little chaotic to make it to the first narrowing section with riders bumping each other around. By mid lap, a strong group had been formed containing Hodges Myerson, Weinert, Card, Mike House (CSK America), Jacob Stechmann (Alan Factory Team), and Phil Noble (Airborne). It was a tough group that would test each other for the lead.
Behind, Jeremy Powers (NCC/BikeReg.com) had crashed and was needing to get to the pit. Hodges Myerson, who has been Powers' coach, saw this and went to the front to try and control things until Powers could get back on. Powers did manage to make contact and the group was seven strong.
The next two laps would see attack after attack with nothing getting clear. Some riders were using the course design to try and break things up by creeping into the corners, then punching it out the other side. Still nothing. Finally at the 30 minute mark, there was a lull in the action. Powers saw this as his opportunity and laid down a hard acceleration. Hodges Myerson was sitting second wheel and let him roll up the road. The rest of the field was still in recovery mode and no one else made a counter.
Just behind the field, Paul Martin (West Virginia) was chasing like mad after having a poor start. Martin arrived late to the race and was not able to warm up at all. He was making ground, but it would be tough to latch on to the group. With three to go, Powers was still away and Jacob Stechmann was trying to pull him in, but alas, the group would have none of it. The group was still intact and on the start of the sixth lap, Martin was finally able to make contact, but it was now clear that Powers was going to stay away.
Barring any mechanical mishap, Powers was looking to collect his first victory at the Elite UCI level. Once the group got the bell, Mike House tried a last lap attack that was covered by Hodges Myerson with Martin trying to block for House. The group tried little attacks here and there, but they were all covered with no one countering. It was looking like a good sprint was on the cards.
On the backside of the course just before the finish, Card spilled to the ground causing Nobel and Stechmann to lose contact. Card wouldn't regain either as his wheel had shifted in the dropout. Down to four now, Hodges Myerson attacked into the barriers opening a small gap going into the last corner. Weinert was holding his wheel, but couldn't come around in the sprint. Martin and House rounded out the top five.
Photos
Images by Paul Schoening/Euromedia Group