Guadelupe Canyon Cyclocross - C3
Redwood City CA, October 19, 2003
Thomas, Hall, Wells tops at Guadalupe Canyon
By Tom Simpson
Todd Wells didn't put a foot or wheel wrong all day
Photo ©: Russ & Nancy Wright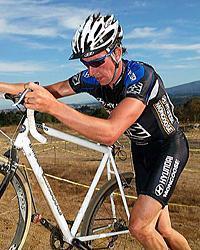 It's been dry and dusty in both Colorado and Northern California this fall during the opening of 'cross season, and Todd Wells saw familiar terrain when he was warming up Sunday at Guadalupe Canyon CycloCross, the second stop on the six-race Bay Area Super Prestige CycloCross series.
A rocky first half of the course presented two run-ups and double barricades that provided plenty of challenge. The second half of the 5:30 lap featured an off-camber downhill traverse through heavy oak mulch and a dry eucalyptus grove before starting the 500 yard paved climb home. Wells didn't put a foot or wheel wrong all day when he exploited flats and a spill that cost the Clif Bar team a chance at the title. Jackson Stewart and Andy Jacques-Maynes were matching Wells until first Andy hit the deck and lost contact and then Stewart had to hoof it to the pits for a new bike. A 45 second gap opened and Wells drove right through it and finished just over a minute faster than Stewart and two minutes on Justin Robinson. After his spill, Jacques-Maynes maintained a dogged pursuit until the last lap where he caught Mark Noble to snag the last podium position.
A second trip this season south from his Olympia, WA home also paid dividends for Tucker Thomas as he added 25 more UCI points in the Junior Elite race to his burgeoning account. Running his score to four victories in five events in 2003, Thomas finished about a minute and a half ahead of the only rider to beat him this season - Oregon's Andy Brooks. November will see Jim Brown take his Rad Racing junior team to New England to gage the talent and then prepare for Nationals and a possible trip to the World Championships.
The Women's event rounded up the usual suspects - the four NorCal women who raced for the US in Monopoli, Italy at the World Championships. On lap 1, Clif Bar's Hall and D'Aluisio immediately plotted their strategy to keep Rachel Lloyd in check. Hall jumped to a 10 second lead on the second lap that she never relinquished, while Lloyd had to contend with D'Aluisio hovering on her rear wheel. Carmen pounced during the final two laps and secured another 1/2 finish for Clif Bar.
Next stop on the Bay Area Super Prestige circuit will see fairly smooth crushed shell paths at Palo Alto's Byxbee Art Park on November 9 - another course set right on the edge of San Francisco Bay. A 40 yard run-up on packed dirt starts every lap with three barricade sets to create additional dismounts.
Photography
Images by Ruben Villarreal
Images by Sabine Dukes/www.velobella.org
Images by Russ & Nancy Wright/www.Abbiorca.com
Results

Elite Men
 
1 Todd Wells (USA)                       1.01.08
2 Jackson Stewart (USA)                     1.09
3 Justin Robinson (USA)                     2.14
4 Jason Moeschler (USA)                     2.32
5 Andy Jacques-Maynes (USA)                 2.41
6 Mark Noble (USA)                          2.55
7 John Funke (USA)                          3.21
8 Aaron Odell (USA)                         4.12
9 Bryan Miller (USA)                        4.44
10 Aaron Kereluk (USA)                      5.16
11 Bobby Williamson (USA)                   5.31
12 Brian Verner (USA)                       6.06
13 Lance Doherty (Canada)               at 1 lap
14 Christopher Pietrzak (USA)
 
Lapped before the final lap
 
15 Joshua Snead (USA)
16 Simon Vickers (USA)
17 Michael Telega (USA)
18 Mike Matthews (USA)
19 Cameron Falconer (USA)
20 Jason Fernschuss (USA)
21 Dave Carr (USA)
22 Phil Roberts (USA)
23 Rob Evans (USA)
24 Ben Dodge (USA)
25 Chris Daugherty (USA)
26 David Hejduk (USA)
27 Kaley Parkinson (USA)
28 Tetsya Tokutake (Japan)
 
Riders lapped before the final lap are not eligible for UCI placings or prizes.
 
Elite Women
 
1 Gina Hall (USA)                          43.47
2 Carmen D'aluisio (USA)                    0.18
3 Rachel Lloyd (USA)                        0.44
4 Christine Vardaros (USA)                  2.34
5 Sarah Kerlin (USA)                        3.54
6 Stella Carey (USA)                        5.09
7 Hillary Daniels (USA)                     6.38
8 Hollie Mcgovern (USA)                     7.10
9 Barbara Howe (USA)                        7.43
10 Erin Kassoy (USA)                    at 1 lap
 
Lapped before the final lap
 
11 Clair House (USA)
12 Melodie_E Metzger (USA)
13 Sheila Moon (USA)
 
Juniors
 
1 Tucker Thomas (USA)                      42.09
2 Andy Brooks (USA)                         1.41
3 Adam Switters (USA)                       3.43
4 Chance Noble (USA)                        5.18
 
Lapped before the final lap
 
5 Todd Norwood (USA)
6 Lars Holmgren (USA)
 
Riders lapped before the final lap are not eligible for UCI placings or prizes.
 
Master Men 35+
 
1 Thomas Hayles (Lakewood Racing Team)     42.30
2 Rob Meighan (Clif Bar)                    0.02
3 Chris D'aluisio (Clif Bar)                0.05
4 Michael Matthews (Buy-Cell.com)           0.25
5 Scott Fifield (Bike Warehouse)            0.44
6 Jonathan Owens (Missing Link)             1.41
7 Pat Schott (Black Market)                 1.54
8 Mark Howland (Blackmarket)                1.56
9 James Coats (Soulcraft)                   1.59
10 Daniel Mcnally (DFL)                     3.07
11 Steve Ouzounian (Missing Link/Bianchi)   3.35
12 Gannon Myall (Mako/Galaxy Granola)       3.41
13 Scott Lynch (Berkeley Bike Clb)          3.49
14 Charles Hess (Bicycle Trip)              4.05
15 Mike Morgan (Sycip Racing)               4.09
16 Gary Dialuisio (Onyx)                    5.08
17 Tom Feix                                 5.12
18 Joe Staron (SGW)                         5.27
19 Patrick Dolden (Family Cycling Cntr)     5.42
20 Ron Gutierrez (Sycip)                    6.16
21 Richard Sangalli (Bianchi USA)           6.18
22 John Kammeyer (Ritchey)                  6.32
23 Drew Landers (DFL)                       7.20
24 Brad Koester (DFL)                   at 1 1ap
25 Keith Packard (Johnson Bicycle)
26 David Gill (Team Santa Cruz)
27 Ruben Villareal (Velo Pro)
28 Philip Sims (SCCC/ABS)
29 Patrick Myall
30 Gregory Phipps (Black Market Racing)
31 Spencer Kenner (DBC)
32 Fred Huxham
33 Joe Ornelas (Riverdale Bike Works)
34 Raymond Mendoza
35 Vance Russell (Davis Bike Club)
36 Dan Soverign (SGW/City Bike)
37 Eric Bustos (LGBRC)
38 Dick Van_Der_Luit (East West)
39 Shawn Miller (Davis Bike Club)
40 Jon Geary
41 Russ Wright (Missing Link)
42 Paule Bates (Roaring Mouse Cycles)
43 Darrel Brokeshoulder Lgbrc
44 Michael Lock
45 Johnny Stallings
46 Larry Van Zant (Echelon Santa Barbar)
47 David Anthony (Valley Spokesmen)
48 Willy Dommen
49 Mark Kurashige (LGBRC)
50 Dennis Mcgovern (Sycip)             at 3 laps
 
Master Men 45+
 
1 Larry Hibbard (Family Cycling)           41.57
2 Mark Abele (Rivendell)                    3.01
3 Randy Denton (LGBRC)                      4.09
4 Anton Mcgready (Clif Bar)                 4.52
5 Chris Allen (Clif Bar)                at 1 lap
6 Brain Starr (Team Tailwinds)
7 Jon Suzuki (Missing Link)
8 Doug Hatfield (GGBC)
9 John Royson (DFL)
10 John Brown (Family Cycling Cntr)
11 Kem Akol (Bike Trip)
12 Robert Kurosawa (Clif Bar)
13 David Samples (Cal Giant)
14 Chuck Scarpelli (Gianni)
15 Tom Sullivan (Amsterdam Bicycles)
16 Nicho Ybarra (Missing Link/Bianchi)
17 Frank Cuaresma (Cal Giant)
18 Joseph Crabtree (Open Air Cycles)
19 Fred St. Goar (Equipe Le Matin)
20 Jim Beuselinch (East West)
21 Wayne Smith (SCCC)                  at 2 laps
22 Bob Malheiro (SCCC)
23 David Puglia (LGBRC)
24 Steven Seaweed (107.7 The Bone)
25 Mike Macdonald
26 Michael Gomez                       at 3 laps
27 Ron Yamamoto
 
B Men
 
1 Dan O'sullivan (Eden Bicycles)           43.23
2 Joe Walsh (Buy-Cell.com)                  1.31
3 Mansur Narullah (Clif Bar)                1.44
4 Jeremy Sarrow (SyCip)                     1.56
5 Josh Bennett (Kelly Bike Co)              2.02
6 Eric Muensterman (Huangoche)              2.28
7 Ari Benderly (Cocktoaster Racing)         2.30
8 Jason Rahlwes (Fox Racing Shox)           2.34
9 Gen Kogure (3BRT/Cyfac)                   2.52
10 Preston Tucker                           3.03
11 Martin Suro (Truvatiu)                   3.12
12 Joseph Ball (Big Swingin Cycles)         3.17
13 Gustavo Jimenez                          3.23
14 Nick Llewellyn (Santa Cruz Spokesman)    3.28
15 Jesse Mayberry                           3.46
16 Mark Christian (Napa Valley Velo)        4.05
17 Tom Feix (Pen-Velo)                      4.07
18 Henry Kramer                             4.16
19 Heath Maddox (Team Santa Cruz)           4.18
20 Michael Cleary (Stanford)                4.21
21 Eric Russell                             4.40
22 Aron Bonar (Solano Ave Cyclery)          4.40
23 Michael Martin (Team Santa Cruz)         4.57
24 Brian Bruckner (Big Swingin Cycles)      5.10
25 Patrick Rocchi (Norcal Velo)             5.37
26 Billcarlslay (Missing Link/Bianchi)      5.56
27 Todd Paulelti (Solano Ave Cycling)       6.11
28 Robert Nelson (Missing Link/Bianchi)     6.16
29 Jay Buenaventura (3rd Rail CC)           6.22
30 Alex Weissman (Berkeley High School)     6.39
31 Norman Field                             6.48
32 Page Hadden (Sycip)                      7.00
33 Brendon Lydon (Rocknasium)               7.24
34 Chris Jourdan (DFL)                  at 1 1ap
35 Jason Montano (Robinson's)
36 Reed Maxwell (Missing Link)
37 Rick Lambert (Sycip)
38 Robert Luttrell (Cocktoaster Racing)
39 Kevin Calzia (C&C Racing)
40 Johannes Schmidt (Redline/Richey)
41 Joe Digiovanni (Cisco Systems)
42 Michael Foley (Unattached)
43 Joe Ernst (Solano Ave Cyclery)
44 Joe Champion (Big Swingin Cycles)
45 Eric Pavelka
46 Scott Huddleston
47 Bruno Colchen
48 Bo Berry (Soulcraft)
49 Andrew May (Bianchi USA)
50 Chris Coffey (Redline/Ritchey)
51 Joe Mulligan (Pen-Velo/Kondra)
52 Andy Anglemeyer
53 Joseph Fortino
54 Brian Rogers (Sycip)
55 Eliot Logan (Webcor/Alto Velo)
56 Sean Morrissey
57 Adam Tracy (3BRT)
58 Karl Etzel (Redline/Ritchey)
 
C Men
 
1 Steve Scott Woo (Fusion Sport)           41.55
2 Peter Libby (Missing Link)                1.09
3 David Ambrose                             1.38
4 Erio Brown (Huanoche)                     1.41
5 Steve Wilbur                              1.55
6 Robert Mau                                2.56
7 Robert Soperbery                          3.26
8 Mark Slavonia                             3.37
9 Albert Reinhardt                          4.03
10 Jeffrey Bramlett                         4.53
11 Rocco Holloway (VSRT)                    5.33
12 David Dick                               5.48
13 Neil Meister (US Coast Guard)            5.49
14 Robert Barber                            6.53
15 Scott Starling (MVV)                 at 1 1ap
16 David Pedersen
17 Alex Abbas (Genentech)
18 Steven Woo (LGBRC)
19 Matt Taini
20 Brian Mckie (Team Valley)
21 David Charles
22 Josh Johnson (Johnson Bicycles)
23 Geoff James
24 Eric Lafferty
25 Gary Davis (LGBRC)
 
Beginners
 
1 Eric Risley                              38.06
2 Jonathan Grant                        at 1 1ap
3 Jay Warner
4 Michael Schaller
5 James Amano
6 Chuck Fimbres
7 Keith Adams (LGBRC)
 
B Women
 
1 Fiona Sander (Cisco Systems)             39.46
2 Shauna Potocky (Family Cycling)           0.10
3 Kathleen Meyer (Team Wrong Way)           0.39
4 Sarah Bamberger (SYCIP)                   0.57
5 Juli Hamilton (Redline/Richey)            1.03
6 Karen Kefauver (Velo Bella)               3.30
7 Alyse Weyman (Solano Ave Cyclery)         4.13
8 Julie Brothers (Team Walthour)            6.10
9 Mary Perez (UCSC)                    at 2 laps
 
C Women
 
1 Diane Hayford                            32.06
2 Julie Brown (Team Wrong Way)              1.12
3 Nancy Vallance (Olympic Club)             2.14
4 Torey Pratt                           at 1 lap
5 Valerie Mangin
6 Jenny Feix (Velo Girls)
7 Gina Lucas (Velo Girls)
8 Elizabeth Warren (Velo Girls)
9 Mary Hoover (Velo Girls)
10 Anna Tong (Velo Girls)
11 Michelle Lambert (SYCIP)
12 Christina Dong
13 At 2 1Aps (Rosemary La Puma)
 
Master Women 35+
 
1 Marguerite Meyer (Olympic Club)          37.38
2 Andi Mackie (Velo Bella/Moots)            1.15
3 Celeste Mccartney (Missing Link/Bianchi   4.22
4 Natalie Mcmahon (SJSU)                    8.25