Recently on Cyclingnews.com
El Palo Alto CycloCross - C3
San Mateo, CA, USA, November 9, 2003
D'Aluisio & Brown take San mateo 'cross
By Erin Alders
Clif Bar's Carmen D'Aluisio & Gina Hall
Photo ©: Sabine Dukes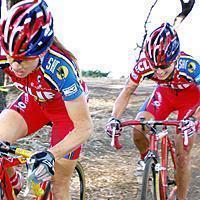 Of the nation's top CX racers who lined up at the Pilarcitos SuperPrestige Cyclocross Race in San Mateo, California, Carmen D'Aluisio from Team Clif Bar, and Travis Brown from Team Trek/Volkswagen, showed to be in excellent form as they took the victories.
The Coyote Point race course utilized a three kilometer circuit, running through dirt, pavement, and flat sections, while also snaking through a multi-pitch climb, barriers, and a descent.
Women
In the Elite Women's race, D'Aluisio, Ann Knapp, Gina Hall, and Rachel Lloyd opened an early gap in the first lap, and held it through the duration of the race.
"The gaps occurred naturally because of the course. It seemed I was opening a gap on the climb and through the barriers, but the others were making up time on the technical descent," said D'Aluisio. On the third lap, a gap started to open between Knapp and the group, and Knapp dropped back. "When Rachel caught back up to me, I noticed she was having difficulty at the top of the climb, so I tried to punch it over the top, and keep the pressure on," continued D'Aluisio.
After cresting over the top of the climb, D'Aluisio settled into a rhythm, pulling away five seconds in one lap, and then fifteen in the next. Despite mechanical problems and a bike change, D'Aluisio held her position and finished in first place, three seconds in front of teammate Gina Hall. Lloyd rode in for third place, Knapp in fourth place with one minute behind the leader, and Howe took fifth place by winning the sprint in the next group of riders.
Men
Travis Brown (TreK/VW),
Photo ©: Russ & Nancy Wright

In the Elite Men's race, Jacques-Maynes, Gullickson, Brown, Wells, and Stewart made an early break in the first lap, and continued to stay away.
The hill proved to be the primary obstacle of the course, and the group remained together until Stewart was gapped off on the climb, halfway into the race. "With three laps to go, Todd attacked hard on the climb, and Travis dropped back, only to catch back on at the bottom of the descent. When he caught up, he blew by us, and kept going. The gap widened, and at first no one responded. Then we started to chase in the last two laps, and we caught Travis close to the finish," said Jacques-Maynes.
In the final sprint, Brown won by a quarter of a wheel's length, with Wells in second, and Jacques-Maynes close by in third. Gullickson was seconds behind for fourth place, and Stewart maintained his gap of a minute and twenty seconds to take fifth place.
Photography
Images by Sabine Dukes/www.www.velobella.org
Images by Russ & Nancy Wright/AbbiOrca.com
Images by Ruben Villarreal
Results

Elite Men
 
1 Travis Brown (USA)                          57.11
2 Todd Wells (USA)                             0.01
3 Andy Jacques-Maynes (USA)                    0.02
4 Marc Gullickson (USA)                        0.05
5 Jackson Stewart (USA)                        1.21
6 Ben Jacques-Maynes (USA)                     1.51
7 Bryan Miller (USA)                           2.27
8 Mark Noble (USA)                             2.32
9 John Funke (USA)                             2.41
10 Brent Prenzlow (USA)                        2.47
11 Aaron Odell (USA)                           3.44
12 David Yeater (USA)                          3.59
13 Perry Paolini(U23) (USA)                    4.07
14 Justin Robinson (USA)                       4.18
15 Joshua Snead (USA)                          4.19
16 Aaron Kereluk (USA)                         4.20
17 Brian Verner (USA)                          4.50
18 Michael Telega (USA)                        5.00
19 Jason Moeschler (USA)                       5.39
20 Bobby Williamson (USA)                      6.17
21 Dave Carr (USA)                             6.27
22 David Hejduk (USA)                          6.33
23 Steven Cozza(U23) (USA)                     6.41
24 Mike Matthews (USA)                         7.11
 
One lap behind
 
25 Phil Roberts (USA)                              
26 Simon Vickers (USA)                             
27 Jeff Herring (USA)                              
28 Rick Hunter (USA)                               
29 Matt Young (USA)                                
30 Mansur Nurallah (USA)                           
31 Charles Ehm (USA)                               
32 Jeffrey Hantman (USA)                           
33 Ben Dodge (USA)                                 
34 Joe Augustine (USA)                             
35 Rob Evans (USA)                                 
36 Brent Chapman (USA)                             
 
Elite Women
 
1 Carmen D'Aluisio (USA)                      42.35
2 Gina Hall (USA)                              0.03
3 Rachel Lloyd (USA)                           0.38
4 Anne Grande (USA)                            1.00
5 Barbara Howe (USA)                           3.58
6 Erin Kassoy (USA)                                
7 Stella Carey (USA)                           4.01
8 Hollie McGovern (USA)                        4.31
9 Hillary Daniels (USA)                        4.36
10 Melodie Metzger (USA)                       4.40
11 Helene Drumm (USA)                          4.56
12 Dorothy Wong (USA)                          5.22
13 Sarah Kerlin (USA)                          6.35
14 Anya Hinkle (USA)                           8.05
15 Anne Cigan (USA)                            8.18
 
One lap behind
 
16 Sheila Moon (USA)                               
 
Juniors
 
1 Adam Switters (USA)                         45.41
2 Andy Brooks (USA)                            1.15
3 Collin Shamaan (USA)                         2.51
4 Chance Noble (USA)                           3.41
5 Mario Wilson (USA)                           9.49
 
One lap behind
 
6 Dylan Markell (USA)                              
 
Master Men 35+
 
1 Chris D'Aluisio (Clif Bar)                  41.28
2 James Coats (Soulcraft)                      0.02
3 Rich Maile (Clif Bar)                        0.12
4 Michael Matthews (Buy-Cell.com)              0.17
5 Rob Meighan (Clif Bar)                       0.18
6 David Eastwood (GS Reno)                     0.35
7 Thomas Hayles (Lakewood Racing Team)         1.32
8 Henry Kramer (Power Bar)                     1.37
9 Tom Feix                                     1.49
10 Jeff Caton (Napa Valley Velo)               2.17
11 Nick Llewellyn                              2.26
12 Mike Donahue                                2.29
13 Charles Hess (Bicycle Trip)                 2.33
14 Daniel McNally (DFL)                        2.35
15 Sam Giles (Clif Bar)                        2.42
16 Greg Regan (Bicyclery HMB)                  2.44
17 Steve Ouzounian (Missing Link/Bianchi)      2.58
18 Rod Hernandez (Cal Giant)                   3.05
19 Greg Talbert                                3.32
20 Mark Howland (Black Market/Family)          3.36
21 Gary Dialuisio (Onyx)                       3.43
22 Ron Gutierrez (Sycip)                       4.02
23 John Kammeyer (Ritchey)                     4.14
24 Bill Carsley (Missing Link/Bianchi)         4.20
25 Eric Bustos (LGBRC)                         4.28
26 Scott Lynch (Berkeley Bike Clb)             4.33
27 Patrick Myall                               4.57
28 Austin McInerny (Missing Link/Bianchi)      5.11
29 Jeff Stoen (Veo)                            5.34
30 Keith Packard (Johnson Bicycle)             6.06
31 David Anthony (Valley Spokesmen)            6.22
32 Evan Adams (Big Swingin Cycles)             6.24
33 Gregory Phipps (Black Market Racing)        6.27
34 Raymond Mendoza                             6.37
35 Jim Kelleher                                6.45
36 Jeff Hane (Wrong Way)                       7.11
37 Mark Mastoras                               7.12
38 Philip Sims (SCCCC/ABS)                     7.23
39 Richard Sangalli (Bianchi USA)              7.34
40 David Gill (Team Santa Cruz)                7.37
41 Thomas Hoeffel (Steelman)                   8.21
 
One lap behind
 
42 Monty Worthington (Tifosi Wines)                
43 Willy Dommen                                    
44 Joe Ornelas (Riverdale Bike Works )             
45 Darrel Brokeshoulder Lgbrc                      
46 Richard McElman                                 
47 Jeffrey Green                                   
48 Tom Boardman                                    
49 Richard Parks (Davis Bike Club)                 
50 D. Kirkland                                     
51 John Cheethan                                   
52 Tim Brennan (Taylor Bicycles)                   
 
Two laps behind
 
53 Dennis McGovern (Sycip)                         
 
Master Men 45+
 
1 Larry Hibbard (Family Cycling)              42.28
2 Mark Abele (Rivendell)                       2.45
3 Norm Kreiss (Clif Bar)                       2.53
4 Doug Hatfield (Family Cycling Cntr)          2.54
5 Anton McGready (Clif Bar)                    3.01
6 Chris Allen (Clif Bar)                       3.59
7 Jon Suzuki (Missing Link)                    4.35
 
One lap behind
 
8 Jonathan Sek (Team San Jose)                     
9 Brain Starr (Familyh Cycling Cntr )              
10 John Brown (Family Cycling Cntr)                
11 Bob Guglielmelli (Family Cycling Cntr)          
12 Keith Bontrager                                 
13 Richard Stone (Bicyclery)                       
14 Kem Akol (Bike Trip)                            
15 Tom Sullivan (Amsterdam Bicycles)               
16 David Samples (Cal Giant)                       
17 Robert Kurosawa (Clif Bar)                      
18 Joe Fabris (SCCC)                               
19 Nicho Ybarra (Missing Link/Bianchi )            
20 Brian Birch (Berkeley Bike)                     
21 Steve Stewart (LGBRC)                           
22 Frank Cuaresma (Cal Giant)                      
23 Jim Beuselinch (East West)                      
24 Gary Anghinetti (Bike Route)                    
25 Peter Brown (Pedali-Corsa)                      
26 Horace Armour                                   
 
Two laps behind
 
27 Mike Macdonald (Jaeger Wheelmen)                
28 Peter Dahlstrand (Berkeley BC)                  
29 Blake Chenault                                  
 
B Men
 
1 Dan O'Sullivan (Eden Bicycles)              43.10
2 Mark Christian (Napa Valley Velo)            0.19
3 Damon Pettinger (Family Cycling Cntr)        0.46
4 Jeremy Sarrow (SyCip)                        0.48
5 Gen Kogure (BRT/Cyfac)                       0.50
6 Chris Leavell (Fusion)                       0.52
7 Brett Hondorp (Sycip)                        1.01
8 Martin Suro (Truvativ/Ritchey)               1.13
9 Jesse Mayberry                               1.15
10 David Samples (Cal Giant Inc)               1.20
11 Eric Muensterman (Huangoche)                1.32
12 Brendon Lydon (Rocknasium)                      
13 Aaron Beardsley (Big Swingin Cycles)        1.40
14 Joseph Ball (Big Swingin Cycles)            1.49
15 Ari Benderly (Cocktoaster Racing)           1.54
16 Jason Rahlwes (Fox Racing Shox)             1.55
17 Lucas Paz (BRT)                             2.01
18 Aron Bonar (Solano Ave Cyclery)                 
19 Todd Paulelti (Solano Ave Cycling)          2.07
20 Robert Godar (Huangoche)                    2.17
21 Thomas Pham (SGW/City Bike)                 2.19
22 Jimmy Blair (BRT)                           2.20
23 Jeff Wyatt (Solano Ave Cyclery)             2.39
24 Jay Buenaventura (rd Rail CC)               2.40
25 James Connel                                2.53
26 Robert Nelson (Missing Link/Bianchi)            
27 Terry Berry (Big Swingin Cycles)            2.55
28 Eric Russell (Clif Bar)                     2.57
29 John Kammeyer                               3.04
30 David Widmark (BRT/Cyfac)                   3.05
31 Ryan Green (Rossignol)                      3.10
32 Joe Walsh (Buy-Cell.com)                    3.31
33 Hans Kellner (Sycip)                        3.39
34 Chris Coffey (Redline/Ritchey)              3.46
35 Max Spirin (Tieni Duro)                     3.48
36 Josh Hitchcock                                  
37 Bruno Colchen                               3.55
38 Norman Field (Team Santa Cruz)                  
39 Matthew Blick (Hazards/K)                   4.09
40 Chris Jordan (DFL)                          4.16
41 Reed Maxwell (Missing Link)                 4.19
42 Dave Schindehette (Pegasus)                 4.24
43 Joe Champion (Big Swingin Cycles)           4.26
44 Bo Berry (Soulcraft)                        4.27
45 Joshua Rebol (Echelon Santa Barbar)             
46 Johannes Schmidt (Redline/Richey)           4.33
47 Bud Napolio ((CRc))                         5.10
48 Mike Cummer                                 5.49
49 Don Palermini (Stop Arnold!)                6.00
50 Chris Greene (ZG Velo Club)                 6.15
51 Eric Wemhoff (Cal Cycling)                  6.20
52 Andrew May (Bianchi USA)                    6.29
53 Scott Sisto (Pen Velo/Kondra)               6.56
54 Karl Etzel (Redline/Ritchey)                7.37
55 Adam Tracy (BRT)                            7.50
56 Ryan Galdes (Ritchey/Red Line)              7.54
57 Robert Barber                               8.08
58 Erick Theilen (Huangoche)                   8.40
 
One lap behind
 
59 Andy Volk (Redline/Ritchey)                     
60 Robert Russell (FRBC)                           
61 Dan Adkins (BRT)                                
62 Eliot Logan (Webcor/Alto Velo)                  
63 Preston Tucker                                  
64 Andrew Lyndon (Missing Link)                    
65 Joe Mulligan (Pen-Velo/Kondra)                  
 
C Men
 
1 Steve Wilbur                                39.30
2 Mark Slavonia                                0.15
3 Robert Mau                                   0.27
4 Peter Libby (Missing Link)                   0.59
5 Robin Alfred                                 1.03
6 David Ambrose (Eden Bicycles)                1.27
7 Cisco Moren                                      
8 Jim Gothers                                  1.37
9 Jim Long (Berkeley Bike Club)                1.38
10 Robert Barber                               1.40
11 Chris Patterson (Niko Ventures)             1.51
12 Sean O'Connell (Huangoche)                  1.54
13 Mark Kurashige                              2.12
14 Don Daniel                                  2.29
15 Erio Brown (Huanoche)                       2.31
16 Steve Tamanaha                              2.47
17 Robert Soderbery                            3.22
18 Brad Hepler                                 3.54
19 David Pedersen                              4.02
20 Loren Sol                                   4.17
21 Steven Woo (LGBRC)                          4.31
22 Chris Baker                                 4.32
23 Anthony Trujillo                            4.37
24 Eric Risley                                 5.30
25 Paul Kerner (Johnson Bicycles)              5.32
26 Robert Ford (REI Austin)                    7.09
27 Jon Grant                                   7.39
28 Leonard Coe                                 8.07
29 David Charles                               8.21
30 Brian McKie (Team Valley)                  10.47
31 Gary Davis (LGBRC)                         10.53
 
One lap behind
 
32 John Stautter                                   
 
Beginners
 
1 Dirk Rohloff                                33.29
2 Kevin Buckholtz                              0.18
3 Eric Lowe                                    0.20
4 Stephen Carter                               0.24
5 Geoffrey Thompson                            0.49
6 Clifford Lee                                 1.15
7 Jason Warner                                 1.19
8 Teryk Morris                                 1.59
9 Keith Adams (LGBRC)                          3.10
10 Jim Karanas (Alto Velo)                     3.40
11 Kevin Kone                                  4.46
12 Henry Mar                                   6.29
 
One lap behind
 
13 Immanuel Amo                                    
 
Two laps behind
 
14 Ray Mendoza                                     
 
B Women
 
1 Sarah Bamberger (SYCIP)                     34.36
2 Juli Hamilton (Redline/Richey)               0.12
3 Karen Kefauver (Velo Bella)                  3.04
4 Alyse Weyman (Solano Ave Cyclery)            3.45
5 Julie Brothers (Team Walthour)               5.11
6 Mary Perez (UCSC)                            7.17
 
C Women
 
1 Lori Cox (Velo Girls)                       25.46
2 Anne Sylvester (Velo Girls)                  0.48
3 Jeni Udall (Velo Bella)                      1.59
4 Amy Abele                                    2.20
5 Gail Decamp (Velo Bella)                     2.44
6 Gina Lucas (Velo Girls)                      3.29
7 Valerie Mangin                               3.50
8 Elia Meza (Maico/Galaxy Granola)             4.19
9 Anna Tong (Velo Girls)                       5.51
10 Betty Jordan (Valley Spokesmen)             6.09
11 Elizabeth Warren (Velo Girls)               7.29
12 Rosemary La Puma                            8.55
13 Samantha Woodward (Velo Girls)              9.57
14 Christina Dong                             10.11
 
Master Women 35+
 
1 Andi Mackie (Velo Bella/Moots)              33.44
2 Marguerite Meyer (Olympic Club)              0.02
3 Celeste McCartney (Missing Link/Bianchi)     1.21