Recently on Cyclingnews.com
Saturn Classic/Vergegear.com Mid-Atlantic Cyclo-Cross Championship Series #6 - C3
Camp Hill, PA, USA, November 8, 2003
Stover and Trebon score wins at Saturn Classic
By Tammy Ebersole
Todd Wells leads eventual winner Ryan Trebon over the barriers
Photo ©: Don Kessel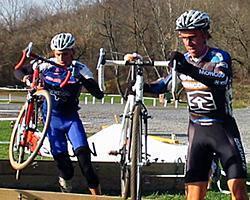 After weeks of racing in unseasonably mild conditions, riders were finally greeted by cold, windy, "cross-like" weather as they arrived in Camp Hill, Pennsylvania for the first day of a Vergegear.com Mid-Atlantic Cyclo-Cross Championship Series double-header weekend.
The Elite races started with a long road prologue that enabled Marianne Stover (Gearworks/Spin Arts) to establish a small gap by the time the Elite women hit the pits for the first time. Sarah Uhl (Saturn) sat in second, a small gap between her and the rest of the field. While Stover and Uhl worried about each other, Anna Milkowski (Gearworks/Spin Arts), Megan Elliott (Saturn), Betsy Schauer (Fort/GPOA) and Amber Itle (Wissahickon) were fighting for third place. Itle, who had moved up through traffic to get the group, was not able to maintain Milkowski's pace and Milkowski pulled away to firmly establish herself in third.
Up front, Uhl had caught Stover but late in the race, Stover attacked hard and dropped Uhl. Stover was able to stay out front and crossed the line first for the win. Four seconds behind, Uhl picked up second place but charging hard behind her was Milkowski, who only needed a few more yards of real estate to catch Uhl. Milkowski claimed third and Itle picked up fourth. Elliott, who trailed Schauer all day, caught her and was able to outsprint her at the line to round out the top five.
In the Elite Men's race, Ryan Trebon (Kona) set a brutal pace from the gun and had the early lead coming off the road. In a familiar scene repeated week after week this season, the only rider capable of staying on his wheel was Mongoose/Hyundai rider Todd Wells. In their wake, riders were strung out with Jeff Weinert (Tailwind/Cane Creek) sitting in third, Frank Mapel (Durango/Coca-Cola) riding strong in fourth and Ben Turner (7Up/Maxxis) in fifth.
Lap after lap, Trebon and Wells came across the line together, extending their lead out to two minutes. On the bell lap, they were still glued to each other's wheel. As they disappeared from view, spectators began running towards the finish line. From the line, the backstretch of the course was visible and as Trebon and Wells reappeared, they were side by side. Both riders then dropped down the final descent, which once again hid them from view. Knowing it was coming down to a sprint, all eyes were waiting to see what helmet appeared first as they crested the hill on the uphill finish. Trebon's helmet came into view slightly ahead of Wells' and Trebon held that advantage in the sprint to the line. Trebon took the win and Wells picked up second. Weinert, Mapel and Turner held their positions to finish third, fourth and fifth respectively.
Sunday, the series moves to the Marysville, Pennsylvania for The Harrisburg City Islanders' Rockville Bridge 'Cross Classic. Racing starts at 9:30am. For race details or additional series details, please go to: www.monkeyhillcs.com/mac.
Photography
Images by Don Kessel
Results

Saturn Classic (UCI) New Cumberland, PA November 8, 2003
 
Elite Men
 
1 Ryan Trebon (USA) Eastern Kona                        57.28
2 Todd Wells (USA) Mongoose/Hyundai                          
3 Jeff Weinert (USA) Tailwind.Net Can-Creek              2.03
4 Frank Mapel (USA) Durang/Coca-Cola                     2.11
5 Ben Turner (USA) 7Up/Maxxis                            2.30
6 Michael Yozell (USA) Wissahickon                       2.51
7 Charles Storm (USA) Fuji                               3.03
8 Jonathan Card (USA) Cane Creek/Tailwind.Net            3.18
9 Sean Groom (USA) Squadra Coppi                         3.21
10 Gunnar Shogren (USA) Fort/Gpoa Cross Racing           2.33
11 Ryan Leech (USA) Fort/Gpoa                            3.43
12 Greg  Ferguson (USA) Wissahickon                      3.45
13 Daniel Doub (USA) Fuji                                4.00
14 Joseph Reynolds (USA) Wissahickon                     4.15
15 Andrew Wulfkuhle (USA) Wissahickon                    4.22
16 Leslie Leach (USA) Wissahickon                        4.42
17 Bill Elliston (USA) Ysg Racing                        4.51
18 Matt White (USA) NCC / Bikereg.Com                    5.09
19 James Driscoll (USA) GMBC                             5.16
20 Bobby Lea (USA) T.E.A.M. Fuji                         5.35
21 Kristopher Auer (USA) Trek/VW                         6.55
22 Joey Thompson (USA) Balance Bar/Devo                  7.08
23 Glenn Turner (USA) Main Line Cycling                  7.24
24 Nathan Chown (Can) St. Catharines/ Fuji Canada        7.46
25 Gregory Wittwer (USA) LSV/Trek                        7.59
26 Nathan Deibert (USA) Faulkner Honda Racing            9.01
 
One lap behind
 
27 Tyler Johnson (USA) CYBC-Richard Sachs                    
28 Joseph Piccillo (USA) Evolution Racing                    
DNF Joseph Alachoyan (USA) Ideal Tile/Brielle Cyclery        
DNF John Hanson (USA) Benidorm/Createx                       
DNF John Verheul (USA) Ideal Tile/Brielle Cyclery            
DNF Jeremy Walker (USA) Cane Creek/Tailwind.Net              
DNF Ryan McKinney (USA) Snowvalley                           
DNF Alistair Sponsel (USA) Colavita-Bolla                    
 
Elite Women
 
1 Marianne Stover (USA) Gearworks/Spinarts              40.44
2 Sarah Uhl (USA) Saturn                                 0.57
3 Anna Milkowski (USA) Gearworks/Spinarts                1.00
4 Amber Itle (USA) Wissahickon                           1.40
5 Megan Elliott (USA) Saturn                             1.57
6 Betsy Schauer (USA) Fort/GPOA!                             
7 Sami Fournier (USA) Velo Bella                         2.13
8 Maryann Martinez (USA) Ccb/Volkswagen                  2.20
9 Erica Miller (USA) Wissahickon                         2.44
10 Pauline Frascone (USA) Arc En Ceil                    2.46
11 Megan Render (USA) Team Snow Valley                   4.04
12 Lisa Most (USA) Wissahickon                           4.15
13 Tina Skelley (USA) LSV/Trek/VW                        4.39
14 Lesley Honsberger (Can) St.Catharines C.C.            4.46
15 Kristy Scheffenacker (USA) Colavilta Bolla            4.54
16 Michelle Suplick (USA) Wissahickon                    5.05
17 Donna Anderson (USA) Evolution Racing                 6.03
18 Erica Allar (USA) Fuji                                7.08
19 Tammy Ebersole (USA) Evolution/ Indy Fab              7.28
20 Kami Tremblay (USA) Ecr                               7.42
 
One lap behind
 
21 Bonnie Stoeckl (USA) Evolution                            
22 Pam Shue (USA) Wissahickon                                
 
Masters
 
1 Eric Schlauch (Somerset Wheelmen)                     40.02
2 Robert Hacker (Team Lite Bites)                        0.12
3 Christopher Long (Independent Fabrication/Gotham)      0.18
4 Martin Jones (Somerset Wheelmen)                       0.25
5 Mike Hebe (Monex)                                      0.39
6 Ej Sigety (Speedgoat/Aca)                              0.49
7 William Alcorn (Speedgoat/Aca)                         1.31
8 Randall Root (Team Snow Valley)                        1.39
9 Kelly Cline (Wissahickon)                              2.21
10 John Lux (First Capital Velo)                             
11 Douglass Gray (First State Velo Sport)                    
12 Fred Handel (Nittany Velo)                            2.31
13 Stephen Caffrey (First State Velo Sport)              2.46
14 Fred Wittwer (Charlottesville Racing Club)            2.49
15 Kirk Reisinger (Wissahickon)                          3.01
16 Robert Lyon (First Capital Velo)                      3.07
17 Kevin Breckenmaker (Team Harrisburg)                  5.06
18 Mark Laser (Yellow Breeches Racing)                       
19 Marc Bechtold (Tri State Velo)                        5.17
20 Charles McDaniel (Wooden Wheels)                      5.29
21 Leo Pizzini (First State Velo Sport)                  5.32
22 Chris Stutz (Susquehanna Valley Velo Club)            5.44
23 Jim Watkins (Somerset Wheelmen)                       5.47
24 Albert Greene                                         5.49
25 Tony Bilotta (Charlotttesville Race Club)             6.16
26 Christopher Houston (Yellow Breeches Racing)          6.25
27 Jeffrey R. Guy (Speedgoat/Aca)                        6.51
28 Steve Heede (First Capital Velo)                      7.09
29 Scott Reynolds (Evolution)                            8.10
30 Jay Downs (AI/Guiness)                                8.32
31 Ronne Irvine (Team Fuji)                              8.38
 
One lap behind
 
32 Gary Dugovich (Allegheny Cycling Association)             
33 Nunzio Dibiasi (Team Harrisburg)                          
34 John Warfel (Christiana Cycling)                          
35 Patrick Leonard (Evolution Racing)                        
36 James Carlson (Potomac Velo)                              
37 Karl Dittebrandt (Kissena Cycling Club)                   
38 Alan Romefelt (LSV - Trek - VW)                           
DNF Rob Frederick (Evolution Racing)                         
DNF Bob Piacine (Guys Bicycles)                              
DNF Mark Elsasser (Wissahickon)                              
 
Juniors 17-18
 
1 Jamey Driscoll (GMBC)                                 40.02
2 Geoffrey Johnson (Portland Vila)                       0.10
3 Gonzalo Escobar (Squadra Coppi/IM Saab)                1.13
4 Chris Ruhl (East Coast Velo)                           3.18
 
One lap behind
 
5
 
Juniors 10-16
 
1 Adrienne Gallagher (Yellow Breeches Racing)           23.15
2 Michael Garretson (Yellow Breeches)                    0.13
3 Mikael Bohn (Yellow Breeches Racing)                   2.05
4 James Wittwer (Charlottesville Racing)                 3.35
5 Eric Helm (Yellow Breeches)                            6.15
6 Drew Stefanic (Unattached)                             8.18
DNF Eric Garretson (Yellow Breeches)                         
 
Men B
 
1 Ben Harper (Verge)                                    40.46
2 Jesse Semanchik (First State Velo Sport)               0.18
3 Jonathan Gantz (Gung Ho Bikes)                         0.37
4 Joseph Auggery (Freddie Fu)                                
5 Chris Samuel (Pro Pedals Bike Shop)                        
6 Chris Mayhew (Fort/Gpoa)                                   
7 Wade Hess (Team Beacon)                                0.45
8 Nick Rinker (First Capital Velo)                       0.50
9 Adam Szczepanski (Nittany Velo Club)                   0.56
10 Todd Cassan (Rocinante)                               0.59
11 Weston Schempf                                            
12 Bruce Freehoff (Beacon)                               1.16
13 Jason Babcock (Nittany Velo Club)                     1.34
14 Thomas Mains (Ready Pac)                              1.58
15 Michael Biegalski (Nittany Velo Club)                 2.09
16 Sean Galegher (Tri-Speed)                             2.14
17 Chris Baker (Thomas/Wmw)                              2.26
18 Theo Procopos (Wissahickon)                           2.31
19 Patrick Cusack (Red Lantern Cycles.Com)               2.40
20 Nate Seymour (Potomac Velo Club)                          
21 Judd Milne (Squadra Coppi/Im Saab)                    2.53
22 Sean Mealey (Gung Ho Bikes)                           2.55
23 Trevor Williams (Guy's Racing)                            
24 Drew Guldalian (Wissahickon)                          3.07
25 Jonathan Jones (Cycling Spoken Here Club)             3.15
26 Alec Riendeau (Highland Park Hermes)                  3.21
27 Christopher Johnson (Nittany Velo Club)               3.38
28 Eric Morgan (Wissahickon)                             3.47
29 Justin Polinski (Skyline Bicycle)                     4.01
30 Pete Smith (Evolution Racing)                         4.27
31 Wayne Scott (First State Velo Sport)                  4.31
32 Jordyn Drayton (Penn State Cycling)                       
33 John Hartpence (Yellow Breeches)                      5.02
34 Craig Callan (Highland Park Hermes)                   5.12
35 Todd Pittman (Unattached)                             5.16
36 Shawn Johnson (Lateral Stress Velo)                       
37 Chris Evans                                               
38 Ray Ignosh (Monkey Hill)                              5.25
39 Kevin Zutell (Aquafina)                                   
40 Chuck Dumke (Magic Cycles )                           5.33
41 Kurt Scheerer (Verge Sport)                           5.51
42 Robert Campbell (Ncvc)                                7.14
43 Ian Sandberg (Evolution Racing)                       7.37
44 John Linvill (Mainline Cc)                            7.39
45 Kevin McCarthy                                        8.15
 
One lap behind
 
46 Cody Woollett (Yellow Breeches)                           
47 Andrew Crooks (If)                                        
DNF Andrew Albright (Aquafina)                               
DNF William Laudien (Sportsbook)                             
DNF Brian Steele (Ncvc)                                      
 
Women B
 
1 Carolyn Popovic                                       35.15
2 Melanie Swartz (Squadra Coppi)                         0.52
3 Adrienne Gallagher (Yellow Breeches Racing)            1.51
4 Tracy Lea (T.E.A.M. Fuji)                              2.38
5 Hollie Kenney (Tri-Speed)                              3.22
6 Tammy Coleman (Gunglto Bikes)                          3.57
7 Christina Lindsey                                      7.38
DNF Marisa Peacock (Potomac Velo Club)                       
DNF Nina Santiago (Liberty Cycle)                            
 
Men C
 
1 Brian Webster (Svvc)                                  33.02
2 Christopher Nystrom (LSV/Trek)                         0.22
3 John Hostetter III (Lateral Stress Velo)               0.55
4 Sean Pfaff (Lateral Stress)                            1.02
5 Donald Pagano (Yellow Breeches)                        1.08
6 Brian Gilmore (Rutgers Cycling)                        1.21
7 David Stauffer (Cycleworks)                            1.28
8 Don Kessel (Holmes Cycling/Team Gus)                   1.30
9 Rob Lea (T.E.A.M. Fuji)                                1.36
10 Roland Peterson  (Hp Hermes)                          1.45
11 Andrew Takubowitch                                    2.11
12 Ron Hermann (Lateral Stress Velo)                     2.42
13 Christopher Stine (Cedar Bike)                        2.51
14 Robert Sands (Evolution Racing)                       2.54
15 Gary Kelly (Yellow Breeches)                          3.01
16 Zachary Kauffman                                      3.57
17 Bill Mc Nally                                         4.39
18 Brian Rife (Faulkner Honda)                           4.55
19 Matt Peterson  (Hp Hermes)                            5.15
20 Todd Eroh (Big Ring Velo)                             6.30
21 Glenn Gurchik (Independent)                           6.49
 
One lap behind
 
22 Mark Vareschi (Hp Hermes)                                 
DNF Robert May (Tailwind)                                    
DNF Kevin Williams (Williams Racing Tech)