Superprestige # 3 Gavere - C1
Gavere, Belgium, November 23, 2003
2002 Results Results Past winners
Super performance from Wellens
Bart Wellens (Spaar Select)
Photo ©: AFP Photo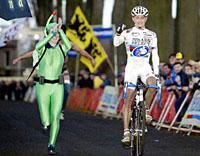 Bart Wellens (Spaar Select) has moved himself to the top of the leaderboard in the Superprestige series after a dominating performance in round 3, held in Gavere. Wellens finished a massive 2'49 clear of his teammate Erwin Vervecken, with Sven Nys (Rabobank) a few seconds back in third place, thoroughly beaten this time by his main rival.
Wellens set up his winning performance when the race hit the barriers on the first lap, as he rode clear of the field. Ben Berden (John Saey-Deschacht) tried to close the gap together with Sven Vanthourenhout, but they could not do it. Then Sven Nys tried on his own, but he too could not prevent the Wellens onslaught, and the World Champion went on to take his 10th season victory.
"I made a twenty metre lead just after the first barrier," said Wellens. "Then I couldn't think any more. I set my mind at zero and began again to give it everything for an hour. If I look at the damage, I think that I can be proud of my second successive victory in Gavere. "
Last week, Wellens was forced to drop out of the World Cup race in St. Wendel, but said that that was not really a motivating factor today. "Absolutely not...I only want to win. That's everything. The fact that the time difference was so big is because of the difficulty of this parcours. But don't exaggerate it. Maybe the day will come that the others will put the same gap into me. Remember St. Wendel. There I also couldn't lose. I'm happy to know that in Germany it was only an accident of the parcours."
Photography
Images by AFP Photo/Yves Boucau
Results
Elite Men

1 Bart Wellens (Bel) Spaar Select                 1.00.30
2 Erwin Vervecken (Bel) Spaar Select                 2.49
3 Sven Nys (Bel) Rabobank                            2.52
4 Ben Berden (Bel) John Saey-Deschacht               3.13
5 Richard Groenendaal (Ned) Rabobank                 3.28
6 Petr Dlask (Cze)                                   3.37
7 Sven Vanthourenhout (Bel) Quick Step-Davitamon     3.50
8 Davy Commeyne (Bel) Palmans-Collstrop              4.14
9 Peter Van Santvliet (Bel) Spaar Select             4.27
10 Vaclav Jezek (Cze)                                4.33
11 Tom Vannoppen (Bel) Palmans-Collstrop             4.45
12 Jan Verstraeten (Bel) Vlaanderen-T Interim        4.50
13 Arne Daelmans (Bel) Vlaanderen - T Interim        5.12
14 Maxime Lefebvre (Fra)                             6.02
15 Wilant Van Gils (Ned) WTC Woerden                 6.19
16 David Seco (Spa)                                  6.38
 
1 lap behind
 
17 Dariusz Gil (Pol)                                     
18 Christian Heule (Swi)                                 
19 Matthew Ellis (GBr) John Saey-Deschacht               
20 Tim Van Nuffel (Bel) John Saey-Deschacht              
21 Tadeusz Korzeniewski (Pol)                            
22 Wim Jacobs (Bel) Spaar Select                         
23 Marek Cichosz (Pol)                                   
24 Thijs Verhagen (Ned)                                  
 
U23 Men
 
1 Wesley Van Der Linden (Bel)                       52.00
2 Bart Aernouts (Bel)                                0.16
3 Enrico Franzoi (Ita)                               0.21
4 Martin Zlamalik (Cze)                              0.37
5 Jan Soetens (Bel)                                  1.01
6 Kevin Pauwels (Bel)                                1.11
7 Krzysztof Kuzniak (Pol)                            1.21
8 Vladimir Kyzivat (Cze)                             1.30
9 Geert Wellens (Bel)                                1.46
10 Martin Bina (Cze)                                 1.55
11 Klaas Vantornout (Bel)                            3.17
12 Jorn Van Der Veken (Bel)                          3.35
13 Sébastien Minard (Fra)                            4.02
14 Tom Van Den Bosch (Bel)                               
15 Stijn Penne (Bel)                                 4.34
16 Nick Sels (Bel)                                   5.02
17 Dieter Vanthourenhout (Bel)                       5.22
18 Eddy Van IJzendoorn (Ned)                         5.48
19 Guus Magielse (Ned)                               5.57
20 Mike Thielemans (Bel)                             6.50
 
1 lap behind
 
21 Frederik Herpol (Bel)                                 
22 Jérôme Boussekey (Fra)                                
23 Jeroen Nietveld (Bel)                                 
24 Daan De Jonge (Ned)                                   
25 Alois Lievens (Bel)                                   
26 Bart Dirkx (Ned)                                      
 
Juniors
 
1 Clement Lhotellerie (Fra)                         43.00
2 Niels Albert (Bel)                                 0.55
3 Thijs Van Amerongen (Ned)                          2.30
4 Bart Verschueren (Bel)                             3.39
5 Maxim Debusschere (Bel)                            3.58
6 Jeroen Dingemans (Bel)                                 
7 Bart Senders (Ned)                                     
8 Jempy Drucker (Lux)                                    
9 Patrick Vliegen (Ned)                                  
10 Enrico Liebe (Ned)                                    
11 Gianni Denolf (Bel)                                   
12 Quentin Berholet (Bel)                                
13 Willem Schwaner (Ned)                                 
14 Ivar Hartogs (Ned)                                    
 
1 lap behind
 
15 Kristof Luyten (Bel)                                  
16 Koen Boelens (Bel)                                    
17 Bart Van Eerdeghem (Bel)                              
18 Stijn Hebben (Bel)                                    
19 Dries Dewit (Bel)                                     
20 Davy Depaepe (Bel)                                    
21 Lorenzo Van Slycke (Bel)                              
22 Konrad Lebas (USA)                                    
23 Valentijn Ponseele (Bel)                              
24 Thomas De Gendt (Bel)                                 
25 Davy Vanderstukken (Bel)                              
26 Jaryd De Mooij (Bel)                                  
27 Sven Pieters (Bel)                                    
28 Tom Broekhuysen (Bel)                                 
29 Tom Lambrechts (Bel)                                  
30 Benjamin Verraes (Bel)                                
31 Koen Bertels (Bel)                                    
32 Steven Van Bael (Bel)                                 
33 John Schotsaert (Bel)                                 
34 Joachim De Maesschalck (Bel)                          
 
Novices
 
1 Jo Pirotte (Bel)                                  29.00
2 Tom Meeusen (Bel)                                  0.45
3 Kristof Zegers (Bel)                               1.07
4 Joeri Adams (Bel)                                  1.20
5 Bjorn De Decker (Bel)                              1.24
6 Dries Govaerts (Bel)                               1.36
7 Jan Van Zeebroeck (Bel)                            1.48
8 Dave De Cleyn (Bel)                                2.13
9 Nivard Van Acker (Bel)                             2.18
10 Steven Wong (Bel)                                 2.26
11 Niels Beelen (Bel)                                2.37
12 Raf Pluym (Bel)                                   2.41
13 Kevin Van Compernolle (Bel)                       2.55
14 Kenny Declercq (Bel)                              3.05
15 Bart Wouters (Bel)                                3.21
16 Thomas Vernaeckt (Bel)                            3.26
17 Jan Van Aert (Bel)                                4.47
18 Stijn Mortelmans (Bel)                                
19 Matthias Moeyaert (Bel)                           5.01
20 Dimitri Stevens (Bel)                             5.21
21 Yannick Wydooghe (Bel)                            5.39
22 Kim Goethals (Bel)                                    
23 Kenny Van Heck (Bel)                              6.30
24 Vincent Bastiaens (Bel)                           8.22
 
1 lap behind
 
25 Atze De Vis (Bel)                                     
26 Timothy Declercq (Bel)                                
27 Kenny Verstrepen (Bel)                                
 
Women
 
1 Anja Nobus (Bel)                                  37.00
2 Hilde Quintens (Bel)                               0.23
3 Loes Sels (Bel)                                    1.30
4 Corine Dorland (Ned)                               2.15
5 Kathleen Vermeiren (Bel)                           3.13
6 Nicole Leijten-De Bie (Bel)                        4.03
7 Aline Parsy (Fra)                                  4.30
8 Cori Page (USA)                                    5.18
9 Katrien Aerts (Bel)                                6.45
10 Linda Dirkx (Ned)                                 7.23
11 Gertje Willems (Bel)                                  
12 Natasja Nobels (Bel)                                  
13 Ilse Temmerman (Bel)                                  
14 Limke Peeters (Bel)                                   
15 Sandie Verriest (Bel)                                 
16 Nancy Bolansee (Bel)                                  

Superprestige standings after round 3


Elite Men
 
1 Bart Wellens (Bel) Spaar Select                      85 pts
2 Sven Nys (Bel) Rabobank                              76
3 Sven Vanthourenhout (Bel) Quick Step-Davitamon       56
4 Ben Berden (Bel) John Saey-Deschacht                 52
5 Richard Groenendaal (Ned) Rabobank                   45
6 Erwin Vervecken (Bel) Spaar Select                   40
7 Tom Vannoppen (Bel) Palmans-Collstrop                39
8 Petr Dlask (Cze)                                     36
9 Arne Daelmans (Bel) Vlaanderen - T Interim           35
10 Peter Van Santvliet (Bel) Spaar Select              30
11 Dariusz Gil                                         27
11 Davy Commeyne (Bel) Palmans-Collstrop               27
13 Maxime Lefebvre (Fra)                               26
14 Vaclav Jezek (Cze)                                  20
15 Wilant Van Gils (Ned) WTC Woerden                   19
16 Gerben De Knegt (Ned) Rabobank                      16
17 Camiel van den Bergh (Ned) John Saey-Deschacht      13
18 Jonathan Page (USA)                                  9
18 Jan Verstraeten (Bel) Vlaanderen-T Interim           9
20 Bjorn Rondelez (Bel) Wincor-Nixdorf                  6
20 Wim Jacobs (Bel) Spaar Select                        6
20 Christian Heule (Swi)                                6
23 David Seco (Spa)                                     5
24 Thijs Verhagen (Ned)                                 2
24 Matthew Ellis (GBr) John Saey-Deschacht              2
26 Michael Baumgartner (Swi)                            1
26 Tadeusz Korzeniewski (Pol)                           1
26 Tim Van Nuffel (Bel) John Saey-Deschacht             1
 
U23 Men
 
1 Wesley Van Der Linden (Bel)                          67 pts
2 Bart Aernouts (Bel)                                  61
3 Klaas Vantornout (Bel)                               56
3 Martin Zlamalik (Cze)                                56
5 Kevin Pauwels (Bel)                                  40
6 Geert Wellens (Bel)                                  38
7 Jan Soetens (Bel)                                    35
8 Jorn Van Der Veken (Bel)                             34
9 Martin Bina (Cze)                                    32
10 Vladimir Kyzivat (Cze)                              31
11 Dieter Vanthourenhout (Bel)                         27
12 Tom Van Den Bosch (Bel)                             26
13 Simon Zahner (Swi)                                  25
14 Radomir Simunek (Cze)                               22
15 Stijn Penne (Bel)                                   21
15 Enrico Franzoi (Ita)                                21
17 Eddy Van IJzendoorn (Ned)                           15
17 Krzysztof Kuzniak (Pol)                             15
19 Guus Magielse (Ned)                                 11
20 David Kasek (Cze)                                    8
20 Mariusz Gil (Pol)                                    8
20 Sébastien Minard (Fra)                               8
23 Dries Devenyns (Bel)                                 6
24 Pirmin Lang (Swi)                                    5
24 Gerben De Vries (Ned)                                5
24 Nick Sels (Bel)                                      5
27 Kevin Van Lierde (Bel)                               4
28 Frederik Herpol (Bel)                                3
29 Adrien Delautre (Fra)                                2
29 Bart Dirkx (Bel)                                     2
31 Mike Thielemans (Bel)                                1
 
Juniors
 
1 Maxim Debusschere (Bel)                              62 pts
2 Jempi Drucker (Lux)                                  56
3 Bart Verschueren (Bel)                               55
3 Niels Albert (Bel)                                   55
5 Thijs Van Amerongen (Ned)                            51
6 Enrico Liebe (Ned)                                   45
7 Jeroen Dingemans (Bel)                               44
8 Clement Lhotellerie (Fra)                            30
9 Kenny Geluykens (Bel)                                23
9 Patrick Vliegen (Ned)                                23
11 Koen Boelens (Bel)                                  17
11 Gianni Denolf (Bel)                                 17
13 Rikke Dijkxhoorn (Ned)                              15
13 Bart Senders (Ned)                                  15
15 René Lang (Swi)                                     14
16 Quincy Vens (Bel)                                   13
16 Ales Broz (Cze)                                     13
16 Willem Schwaner (Ned)                               13
19 Rik Van IJzendoorn (Ned)                            12
20 Jan Aernouts (Bel)                                  11
21 Valentijn Ponseele (Bel)                            10
21 Jan Skamitzl (Cze)                                  10
23 Nick Rafael (Swi)                                    9
23 Jan Verhaegh (Ned)                                   9
23 Qunetin Bertholet (Bel)                              9
26 Dieter Buyens (Bel)                                  8
26 Petr Novotny (Cze)                                   8
28 Ivar Hartogs (Ned)                                   7
29 Kristof Luyten (Bel)                                 6
30 Wim Leemans (Bel)                                    5
31 Krzysztof Wieczorek (Pol)                            4
31 Bart Van Erdeghem (Bel)                              4
33 Harm Vandekerckhove (Bel)                            3
33 Jan Mikkers (Ned)                                    3
33 Koen Van Grootel (Bel)                               3
33 Stijn Hebben (Bel)                                   3
37 Jerry Kallensfels (Ned)                              2
37 Dries Dewit (Bel)                                    2
39 Davy Depaepe (Bel)                                   1 
Past winners
2002 Bart Wellens (Bel) Spaar Select   
2001 Sven Nijs (Bel) Rabobank                             
2000 Peter Van Santvliet (Bel) Spaar Select
1999 Richard Groenendaal (Ned) Rabobank
 
Past winners by Mario Stiehl, www.world-of-cycling.com