Cyclo-Cross World Cup #4 - CDM
Koksijde, Belgium, December 28, 2003
Ben Berden wins big
Ben Berden wins big
Photo ©: Luc Claessen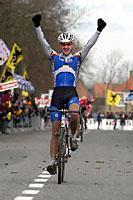 Ben Berden has continued Belgium's run of success in the Cyclo-cross World Cup in Koksijde, taking his first big win of his career against the usual top quality opposition. Berden finished six seconds clear of Richard Groenendaal (Ned) with Erwin Vervecken (Bel) rounding out the podium in third place. Belgians Bart Wellens and Sven Nys were fourth and fifth respectively, meaning that Nys maintained his lead in the World Cup with a 35 point advantage over Berden.
"I was a bit annoyed at the start," said Berden. "In the recent TV reports about sand 'crosses, Paul Herygers said that Erwin Vervecken and Arne Daelmans were the biggest chances because they were specialists. 'And me then?', I asked? That was the stimulus I needed for a big result and for my first big win. That means I've come to the end of a bad period. Broken nose in Kalmthout, crash in Diegem and chasing flat out for half an hour in Zeddam on Friday. But once I was in front with Groenendaal, I quickly knew that I should be able to win. I saw how tough Richard found it in the hard sections. Therefore I knew I had to attack in the last lap."
Groenendaal was satisfied with his second place. "On Christmas Day in Diegem I couldn't get to the front," he said. "I felt so bad that I didn't want to start in Koksijde if Friday in Zeddam was just as bad. But now I'm on the good side again."
Nys and Wellens
Photo ©: Luc Claessen

Sven Nys lost his chances today after a crash. "That happened on the descent after a long section of the course which I never found easy," recalled Nys. "I quickly went to close a gap and thought that I was well past Vanthourenhout, but he chose for the same line and I couldn't avoid him. After that I never saw the front again. A pity, but I'm not really disappointed. You're better off coming fifth and knowing that you had the legs to do much better, than to finish fifth after a race where you've constantly ridden in the red."
Fourth placed Bart Wellens couldn't see the bright side however. He had saved his legs in Hofstade last Friday (6th) in order to do well in Koksijde today, but he was never really in the hunt for the victory. "I already knew it this morning," said Wellens. "The legs weren't so good. And in the race I couldn't go hard, because my heart rate stayed twenty beats below my maximum. Furthermore there was my bad start, which I had feared beforehand. When I hit the front, I tried once to attack. Richard Groenendaal was immediately on my wheel so I didn't want to continue."
Unexpected podium
Photo ©: Luc Claessen

Thus the World Cup ended with an unexpected podium. The race began with an attack by Richard Groenendaal with all six Belgians chasing him. The Dutchman went better each lap, but couldn't prevent Ben Berden, Bart Wellens, Erwin Vervecken and Sven Nys coming back to him, with Sven Vanthourenhout and Tom Vannoppen close behind. When Nys crashed, Groenendaal immediately attacked and Berden was the only rider who could stay with him. In the last lap, Berden attacked Groenendaal and rode away to finish six seconds clear, his fourth season victory.
In the women's race, World Cup leader Hanka Kupfernagel (Germany) proved to be too strong yet again for her opposition, riding to a seven second victory over Maryline Salvetat (France) and Marianne Vos (Netherlands). Kupfernagel now leads the World Cup with 230 points, well clear of Salvetat (180) and Vos (150).
Photography
Images by Luc Claessen/Cyclingnews/actiefotos.be/www.actiefotos.be
Results
Elite Men
 
1 Ben Berden (Bel)                    1.00.36
2 Richard Groenendaal (Ned)              0.06
3 Erwin Vervecken (Bel)                  0.25
4 Bart Wellens (Bel)                     0.32
5 Sven Nys (Bel)
6 Sven Vanthourenhout (Bel)              2.03
7 Tom Vannoppen (Bel)                    2.35
8 Jiri Pospisil (Cze)                    3.03
9 Wilant van Gils (Ned)                  3.13
10 Dariusz Gil (Pol)                     3.33
11 John Gadret (Fra)
12 Franšis Mourey (Fra)                  3.35
13 Christian Heule (Swi)                 3.51
14 Vaclav Jezek (Cze)                    3.55
15 Maarten Nijland (Ned)                 3.57
16 Arnaud Labbe (Fra)                    3.57
17 Martin Zlamalik (Cze)
18 David Derepas (Fra)                   4.12
19 Jonathan Page (USA)                   4.33
20 Ondrej Lukes (Cze)                    4.51
21 Camiel van den Bergh (Ned)            5.01
22 Wesley Van der Linden (Bel)           5.06
23 Roger Hammond (GBr)                   5.35
24 Beat Morf (Swi)                       5.41
25 Jens Schwedler (Ger)                  5.43
26 Michael Baumgartner (Swi)             5.54
27 Kamil Ausbuher (Cze)                  6.19
28 David Rusch (Swi)                     6.24
29 Simon Zahner (Swi)                    6.51
30 Tadeusz Korzeniewski (Pol)            7.08
31 Pawel Cierpikowski (Cze)
32 SÚbastien Minard (Fra)
 
Elite Women
 
1 Hanka Kupfernagel (Ger)               37.55
2 Maryline Salvetat (Fra)                0.07
3 Marianne Vos (Ned)                     0.25
4 Daphny van den Brand (Ned)             0.29
5 Reza Hormes-Ravenstijn (Ned)
6 Nadia Triquet (Fra)                    1.00
7 Laurence Leboucher (Fra)               1.07
8 Corine Dorland (Ned)                   1.46
9 Birgit Hollman (Ger)
10 Gina Hall (USA)                       2.16
11 Hilde Quintens (Bel)                  2.27
12 Loes Sels (Bel)                       2.43
13 Debby Mansveld (Ned)                  3.01
14 Veerle Ingels (Bel)                   3.03
15 Victoria Wilkinson (GBr)              3.24
16 Anja Nobus (Bel)                      3.42
17 Katrin Helmcke (Ger)                  3.52
18 Carmen DĺAlusio (USA)                 4.13
19 Barbora Bohata (Cze)                  4.16
20 Paola Bortolin (Ita)                  4.22
21 Kathleen Vermeiren (Bel)              4.32
22 Nadine Bruun (Den)                    5.01
23 Nancy Bollansee (Bel)                 5.32
24 Helen Saunders (GBr)                  5.48
25 Aline Parsy (Fra)                     6.22
26 Suzie Godart (Lux)                    6.44
27 Francesca Cucciniello (Ita)           7.04
28 Klara Nepustilova (Cze)               7.29
29 Nikki Harris (GBr)                    8.23
30 Amy Hunt (GBr)                        9.11
31 Hazl Wakefield (Gbr)                  1 lap
32 Rachel Heal (Gbr)
 
Espoirs
 
1 Lars Boom (Ned)                       46.38
2 Bart Aernouts (Bel)                    0.10
3 Martin Bina (Cze)                      0.55
4 Krzysztof Kuzniak (Pol)
5 Pieter Ghyllebert (Bel)                1.19
6 Klaas Vantornout (Bel)                 1.23
7 Jorn Van der Veken (Bel)               1.33
8 Kevin Pauwels (Bel)                    2.21
9 Koen de Kort (Ned)                     2.24
10 Vladimir Kyzivat (Cze)                2.27
11 Dieter Vanthourenhout (Bel)           2.34
12 Eddy van IJzendoorn (Ned)             2.40
13 Sebastiaan Langeveld (Ned)            2.53
14 Radomir Simunek (Cze)                 3.44
15 Frantisek Kloucek (Cze)
16 Roger Schuppli (Swi)                  3.50
17 Mike Thielemans (Bel)                 4.16
18 Pirmin Lang (Swi)                     5.08
19 Jef De Boeck (Bel)                    5.58
20 Frank Van Grootel (Ned)               6.04
21 Frederik Herpol (Bel)                 6.18
22 Jeremy Powers (USA)                   6.21
23 Adrien Delautre (Fra)
24 Alois Lievens (Bel)                   6.43
25 David Fleischauer (USA)               1 lap
26 Pieter Duyck (Bel)
27 Pieter Van Loocke (Bel)
 
Juniors
 
1 Niels Albert (Bel)                    41.11
2 Thijs van Amerongen (Ned)              1.03
3 Bart Verschueren (Bel)                 1.50
4 Jan Skartnitz (Cze)                    2.00
5 Jeroen Dingemans (Bel)
6 Roman Kreuziger (Cze)                  2.12
7 Ricardo van der Velde (Ned)            2.38
8 Paul Vos (Ger)                         2.45
9 Ian Bibby (GBr)                        2.49
10 Pieter Vanspeybroeck (Bel)            3.02
11 Stijn Joseph (Bel)                    3.30
12 Rikke Dijkxhoorn (Ned)
13 Valentijn Ponseele (Bel)
14 Quincy Vens (Bel)
15 Bart Senders 3.49 (Bel)
16 Jempy Drucker (Lux)                   4.08
17 Jan Aernouts (Bel)                    4.15
18 Rik van Ijzendoorn (Ned)              4.21
19 Christoph Pfingsten (Ger)             4.26
20 Petr Novotny (Cze)                    4.37
21 Ondrej Bambula (Cze)
22 RenÚ Lang (Swi)
23 Gianni Denolf (Bel)                   4.47
24 Quentin Bertholet (Bel)               4.55
25 Pawel Cieslik (Pol)                   5.01
26 Wim Leemans (Bel)                     5.05
27 Michael Qvindbjerg (Den)              5.12
28 Ebsen Hansen (Den)                    5.17
29 Jan Verhaegh (Ned)                    5.38
30 Lukas Kloucek (Cze)
31 Harm Vandekerckhove (Bel)             5.57
32 Ian Field (GBr)                       6.01
33 Thomas Tucker (USA)                   6.04
34 Dries Dewit (Bel)                     6.09
35 Alex Atkins (GBr)                     6.13
36 Nico Schinker (Lux)                   6.33
37 Sascha Wagner (Ger)
38 Kenny Geluykens (Bel)                 6.40
39 Conrad Lebas (USA)                    7.14
40 Lukas Keller (Ger)                    7.27
41 Philipp Stelter (Ger)                 7.31
42 David Claerebout (Bel)                8.13
43 Tom Lambrechts (Bel)                1 lap
44 Thomas Boeckx (Bel)
45 Tim Ulbrich (Bel)
46 Markus Sudy (Ger)
47 Sven Pieters (Bel)
 
World Cup standings after four rounds
 
Elite Men
 
1 Sven Nys (Bel)                          215 Pts
2 Ben Berden (Bel)                        180
3 Bart Wellens (Bel)                      140
4 Richard Groenendaal (Ned)               140
5 Franšis Mourey (Fra)                    124
6 Sven Vanthourenhout (Bel)               107
7 Tom Vannoppen (Bel)                     103
8 John Gadret (Fra)                       101
9 Jiri Pospisil (Cze)                     100
10 Erwin Vervecken (Bel)                   94
11 Christian Heule (Swi)                   94
12 Petr Dlask (Cze)                        85
13 Martin Zlamalik (Cze)                   74
14 Vaclav Jezek (Cze)                      70
15 Michael Baumgartner (Swi)               53
16 Enrico Franzoi (Ita)                    51
17 Dariusz Gil (Cze)                       49
18 David Derepas (Fra)                     46
19 Wilant van Gils (Ned)                   44
20 Jonathan Page (USA)                     44
21 Arnaud Labbe (Fra)                      39
22 Gerben de Knegt (Ned)                   36
23 Kamil Ausbuher (Cze)                    24
24 Ondrej Lukes (Cze)                      24
25 Maarten Nijland (Ned)                   24
 
Elite Women
 
1 Hanka Kupfernagel (Ger)                 230 Pts
2 Maryline Salvetaat (Fra)                180
3 Marianne Vos (Ned)                      150
4 Reza Hormes-Ravenstijn (Ned)            143
5 Nadia Triquet (Fra)                     133
6 Daphny van den Brand (Ned)              100
7 Laurence Leboucher (Fra)                 92
8 Hilde Quintens (Bel)                     91
9 Victoria Wilkinson (GBr)                 85
10 Katrin Helmcke (Ger)                    76
11 Birgit Hollman (Ger)                    72
12 Anja Nobus (Bel)                        69
13 Corine Dorland (Ned)                    67
14 Kathleen Vermeiren (Bel)                57
15 Debby Mansveld (Ned)                    54
16 Alison Dunlap (USA)                     50
17 Poala Bortolin (Ita)                    49
18 Francesca Cucciniello (Ita)             45
19 Barbora Bohata (Cze)                    44
20 Vania Rossi (Ita)                       37
21 Loes Sels (Bel)                         36
23 Nicole De Bie-Leijten (Bel)             30
28 Nancy Bollansee (Bel)                   18
29 Veerle Ingels (Bel)                     17
 
Juniors
 
1 Niels Albdert (Bel)                     250 Pts
2 Jan Skarnitzl (Cze)                     142
3 Bart Verschueren (Bel)                  129
4 Petr Novotny (Cze)                      115
5 Jeroen Dingemans (Bel)                   85
6 Ales Broz (Cze)                          83
7 Thijs van Amderongen (Ned)               80
8 Jan Arnouts (Bel)                        69
9 Valentijn Ponseele (Bel)                 55
10 Ivar Hartogs (Ned)                      44
11 Karol Wrobel (Pol)                      42
12 Ricardo van der Velde (Ned)             37
13 Quentin Bertholet (Bel)                 36
14 Jempy Drucker (Lux)                     36
15 Jan Vandael (Bel)                       34
16 Kristof Luyten (Bel)                    32
17 Lukas Kloucek (Cze)                     31
18 Gianni Denolf (Bel)                     30
19 Quincy Vens (Bel)                       24
20 Roman Kreuziger (Cze)                   20
21 Jan Verhaegh (Ned)                      19
22 Kenny Geluykens (Bel)                   18
23 Paul Vos (Ger)                          18
24 Dries Dewit (Bel)                       17
25 Tom Lambrechts (Bel)                    17
 
Nations
 
1 Belgium                                  48 Pts
2 Czech Republic                           33
3 France                                   31
4 Netherlands                              30
5 Switzerland                              25
6 Poland                                   16
7 Italy                                    15
8 Slovakia                                  8
9 USA                                       7
10 Germany                                  7
11 Great Britain                            6
12 Denmark                                  1