Irish Cyclocross Championships - NE
Kilruddery Estate, Bray, Ireland, December 6, 2003
2002 Results Results Past winners
Lucky thirteen for Seymour
By Shane Stokes
Robin Seymour gallops home for a record thirteenth win
Photo ©: Shane Stokes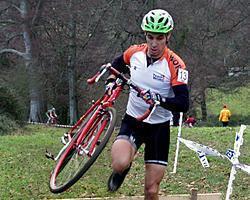 Robin Seymour today dominated the national cyclo cross championships in Kilruddery, Bray, to further extend his remarkable winning sequence to thirteenth consecutive wins.
The Team WORC rider started steadily on what was a cold, clear day, riding within himself for the first two laps but nevertheless pulling clear of the field. By the end of lap one he was slightly clear of Banbridge CC's Roger Aiken, who had showed his good form this season when he won three rounds and the overall in the All Ireland cross league. Aiken was several seconds adrift of Seymour after crossing the finish line but fought back midway through lap two to narrow the gap. However, as he neared the finish line again a dropped chain meant he had to dismount for a few seconds, and so he was unable to bridge the junction.
Despite the mechanical, Aiken was still close to Seymour but the latter then began to push a little harder, opening a sizeable gap as he began to overtake lapped riders. Behind, Apollo's Andy Layhe, Don Travers (Banbridge CC), Glen Kinning (XMTB) and his young team-mate Lewis Ferguson (XMTB) were scrapping it out for third place. Travers drew ahead in the second half of the race but then Ferguson closed down on him again, nipping by and setting up a cliff-hanging fight for bronze.
The 18 year-old made a big effort to go clear on the penultimate lap and succeeded in opening up a good lead, only for Travers to close back up once more. The Banbridge CC rider had taken silver twelve months ago and while Aiken had that sewn up by this stage, bronze would make the long trip down from the North worthwhile.
Ahead, Seymour raced home to add another gold medal to the twelve cyclo-cross (and eleven MTB titles) already to his credit, pointing to his significant race number (13) as he crossed the line. Aiken raced home 2 minutes and 49 seconds later to take silver, while Travers and Ferguson came out of the running section neck-and-neck, ensuring that the final medal would be settled in the last two minutes of the race.
Travers was glued tight to Ferguson's back wheel and looked to be in prime position for the gallop, but the junior rider had other ideas. As the duo entered the final 400-metre drag up to the line, Ferguson kicked hard and surged clear, opening up a nine-second gap by the time he crossed the line. Andy Layhe was a further two minutes and ten seconds behind Travers, netting fifth, while team-mates Glen Kinning and Robert Lamont finished sixth and seventh. Together with Ferguson's bronze, this was enough to ensure the XMTB squad went home with the team prize.
Seymour has spent the year racing in the world's top mountainbike races, climbing to 36th in the UCI rankings and qualifying for the Olympics, and as might be expected, the 32 year old was well clear of the rest of the field in the race. It hurt, though. "I am wrecked, it was a very hard out there', he said.
"Blame the sadist who designed the course", interjected one of his WORC team-mates, with a broad smile. (Seymour's team promoted the race, and it fell to the defending champion to set out a circuit after the original venue of Powerscourt Waterfall fell through.)
"I was taking it steady for the first couple of laps until I got into the flow of things", Seymour continued. "You improve so much in terms of getting on and off the bike and how to handle the course, after a few laps. At the start I rode within myself for a while but still got a bit of a gap over Roger (Aiken). I knew he was running quite close at that stage, but as I was comfortable enough I wasn't too worried. I knew I could lift it when I wanted too."
"It is a bit easier when you feel strong. You can take your time coming into the obstacles, there isn't the same sort of pressure as there might be if you were behind. I raised the pace after a couple of laps and started to get a bigger lead, which is useful if you have any problems."
"I was going for win thirteen and wearing the same race number - that was my mother's idea - but am not superstitious! I wasn't that worried about punctures or mechanicals as I had a second bike and some wheels on standby, just in case. The course is such that you could do half a lap on a flat, if you had too. Besides, there is not a huge distance back to the pits. My biggest worry was breaking a chain or something, but there is not the same pressure as I had at the mountainbike nationals during the year. You can't change your bike or wheels in those races, so it makes things very different."
As anticipated, Roger Aiken's fine form this year saw him run out as Seymour's closest rival today. "I was pretty happy with my ride. I was in sixth place after the start but at the end of the first lap I had moved up to second. I was closing up on Robin but then my chain came off, so I had to stop for a few seconds. He put the hammer down after that, though, and got a big gap."
"I am pleased to ride well today and also with my season - I won on the road, mountainbike and in cyclo-cross... I think I was the only rider in Ireland to do that. The plan for next season is to build on this year, and probably to do the FBD Milk Rás. That will bring me on well."
Third place went to one of the youngest riders in the field, 18 year old Lewis Ferguson, whose tussle with Don Travers ensured a bit of suspense right up to the last moments of the 2003 championship. "I was behind Don after the start but I was slowly reeling him in. All of a sudden I was up to his wheel. I got clear of him on the second-last lap but then he got back up to me. That meant things were close coming towards the finish, but I was able to get clear just before the line."
In the other races held today, Apollo's Alastair McSorley took gold in the under 16 event ahead of Eoin Sheridan and Daniel Wolfe, while Nathan McCormack of the XMTB team beat Ian Galloway to win the under 14 race.
Fergal Kelly of the Bray Wheelers club beat four Sorrento riders - Barry Nolan, John Dorris, Chris Jensen and Gerard Wolfe - to win the MTB support race, held before the main championships.
Photography
Images by Shane Stokes
Results

Elite Men, 9 laps
 
1 Robin Seymour (Team WORC)                  51.34
2 Roger Aiken (Banbridge CC)                  2.49
3 Lewis Ferguson (XMTB)                       3.58
4 Don Travers (Banbridge CC)                  4.11
5 Andy Lahye (Apollo CC)                      6.21
6 Robert Lamont (XMTB)                       1 lap
7 Glen Kinning (XMTB)
8 Andrew McAllister (ECV Racing)
9 Stephen O'Sullivan (Cycleways Lee Strand)
10 Dave Gill (Team WORC)
 
Under 16
 
1 Alastair McSorley (Apollo CC)              28.50
2 Eoin Sheridan (unattached)                    53
3 Daniel Wolfe (unattached)                   1.53
 
Under 14
 
1 Nathan McCormack (XMTB)                    22.25
2 Ian Galloway (unattached)                   0.20
 
Support race for MTB bikes
 
1 Fergal Kelly (Bray Wheelers)               39.30
2 Barry Nolan (Sorrento CC)                   0.02
3 John Dorris (Sorrento CC)                   1.36
4 Chris Jensen (Sorrento CC)                  1.37
5 Gerard Wolfe (Sorrento CC)                  2.21
6 Jamie Popham (Fiat LCV Racing)              3.31
7 Alan Clogher (TC Racing)                    4.01
8 Patrick Semple (Sorrento CC)                5.14
9 Justin May (IMBRC)                          5.41
10 Paddy Daly (Team WORC)                     6.19
 
Final Cyclo-Cross League Standings
 
(today's championship was not part of league)
 
1 Roger Aiken (Banbridge CC)                   107 pts
2 Peter McSorley (Apollo CT)                    87
3 Don Travers (Banbridge CC)                    60
4 Lewis Ferguson (XMTB)                         46
5 Robert Lamont (XMTB)                          42
6 Andy Layhe (Apollo CT)                        30
6 Andrew McAllister (ECV)
8 William Mulligan (Banbridge CC)               28
9 Robin Seymour (Team WORC)                     25
10 Stuart Galloway (Team WORC)                  20
=10 Keith Meghen (Team WORC)                    20
=10 Stephen O'Sullivan (Cycleways Lee Strand)   20

Past winners

2002 Robin Seymour
2001 Robin Seymour
2000 Robin Seymour
1999 Robin Seymour
1998 Robin Seymour
1997 Robin Seymour
1996 Robin Seymour
1995 Robin Seymour
1994 Robin Seymour
1993 Robin Seymour
1992 Robin Seymour
1991 Robin Seymour