Azencross Loenhout (GVA Trofee #5) - C1
Loenhout, Belgium, December 30, 2003
2002 Results Results Past winners
Five out of five for Wellens
Bart Wellens (Spaar Select)
Photo ©: Luc Claessen/CN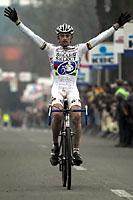 World Champion Bart Wellens (Spaar Select) is all but etching his name on the Gazet van Antwerpen Trofee after winning the fifth round today in Loenhout. Wellens, winner of the previous four rounds, had no problems beating Sven Nys (Rabobank) and Ben Berden (John Saey-Deschacht) by a fairly comfortable margin. Wellens has now vowed to try and win Round 6 of the GVA Trofee in Baal on New Year's Day, also known as the GP Sven Nys.
After the first lap, it became clear that Wellens and Nys were the only two riders in with a chance of winning today as the two put time into a chasing group of eight that included Berden, Vervecken, Van Santvliet, Vanthourenhout, Lefebvre, Daelmans, Frischknecht and Van Gils. But the two champions were much too strong for the opposition and it came down to a two man sprint to decide the winner. Unfortunately for Nys, a steering error in the last corner cost him any chance of the victory and Wellens went onto claim the prize.
Later, Nys explained that his front and back wheels went along two different furrows and he ended up going off course. "Goodbye to the win which I had counted on," said Nys. "Because I was sure that I could have beaten Wellens in the sprint. But OK, that must happen in Baal in front of my home crowd. It's an emotionally important race for me. I am not prepared to give Wellens a new year's present as he wants to win all seven of these races, something that no-one else has done."
Wellens believes he can win in Baal as well. "Winning in the lion's den is the nicest thing for a sportsman," said Wellens. "I will give it everything. Perhaps we'll make the best 'cross of the year on New Year's Day. I didn't have any of the problems that I felt in Koksijde. The treatment on Monday by the chiropractor has yielded the desired result. I'm keen to go to Baal and beat Nys on Thursday."
In the U23 race, Wesley Van der Linden triumphed over Czech pair Martin Zlamalik and Vladimir Kyzivat, while in the women's race it was Hanka Kupfernagel over Daphny Van Den Brand and Hilde Quintens. The juniors race was won by Niels Albert while Dutchman Johim Ariesen won the novices race.
Photography
Images by Luc Claessen/Cyclingnews/www.actiefotos.be
Results

Elite Men

1 Bart Wellens (Bel) Spaar Select                  1.00.52
2 Sven Nys (Bel) Rabobank                             0.10
3 Ben Berden (Bel) John Saey-Deschacht                1.03
4 Erwin Vervecken (Bel) Spaar Select
5 Peter Van Santvliet (Bel) Spaar Select
6 Sven Vanthourenhout (Bel) Quick Step-Davitamon
7 Maxime Lefebvre (Fra)
8 Arne Daelmans (Bel) Vlaanderen - T Interim
9  Thomas Frischknecht (Swi) Swisspower Team          1.15
10 Wilant Van Gils (Ned) WTC Woerden                  1.24
11 Tom Vannoppen (Bel) Palmans-Collstrop              1.29
12 Davy Commeyne (Bel) Palmans-Collstrop              1.39
13 Camiel van den Bergh (Ned) John Saey-Deschacht     1.50
14 Vaclav Jezek (Cze)                                 2.10
15 Roger Hammond (GBr) Palmans-Collstrop              2.18
16 Christian Heule (Swi)                              2.24
17 Michael Baumgartner (Swi)                          2.27
18 Jonathan Page (USA)                                2.30
19 Wim Jacobs (Bel) Spaar Select                      2.51
20 Maarten Nijland (Ned) Heijdens-Ten Tusscher        3.00
21 Jan Verstraeten (Bel) Vlaanderen-T Interim         3.03
22 Richard Groenendaal (Ned) Rabobank                 3.06
23 Kamil Ausbuher (Cze)                               3.20
24 Tadeusz Korzeniewski (Pol)                         3.42
25 Bjorn Rondelez (Bel) Wincor-Nixdorf                4.09
26 David Rusch (Swi)                                  4.18
27 Robert Glajza (Svk)                                4.55
28 Tim Van Nuffel (Bel) John Saey-Deschacht           4.58
29 Marek Cichosz (Pol)                                5.02
30 David Collins (GBr)                                5.10
31 Vaclav Metlicka (Svk)                              5.33
32 Jiri Pospisil (Cze)
 
1 lap behind
 
33 Radoslav Czapla (Svk)
34 Jody Crawforth (GBr)
35 Kevin Bossaerts (Bel)
 
U23 Men
 
1 Wesley Van Der Linden (Bel)                        47.27
2 Martin Zlamalik (Cze)                               0.05
3 Vladimir Kyzivat (Cze)
4 Kevin Pauwels (Bel)
5 Radomir Simunek (Cze)
6 Lars Boom (Ned)
7 Simon Zahner (Swi)
8 Bart Aernouts (Bel)
9 Mariusz Gil (Pol)
10 Nick Sels  (Bel)
11 Jan Soetens  (Bel)
12 Nicky David (Bel)
13 Koen De Kort (Ned)
14 Eddy Van Ijzendoorn (Ned)
15 Klaas Vantornout (Bel)
16 Pieter Ghyllebert (Bel)
17 Geert Wellens (Bel)
18 Jef De Boeck (Bel)
19 Mike Thielemans (Bel)
20 Stijn Penne (Bel)
21 Roger Schüppli (Swi)
22 Dieter Vanthourenhout (Bel)
23 Frantisek Kloucek (Cze)
24 Benoit Gaetan (Fra)
25 Bram Wind (Ned)
26 Rob Peeters (Bel)
27 Marian Hecl (Svk)
28 Jeremy Powers (USA)
29 Alois Lievens (Bel)
30 Jeroen Nietveld (Bel)
31 Steven Roach (GBr)
32 Aaron Meenenberg (USA)
33 Jeroen Thielemans (Bel)
34 Egon Van Kessel (Ned)
35 Stig Geerts (Bel)
36 Coen Sevens (Ned)
 
1 lap behind
 
37 Koen Diels (Bel)
38 Sébastien Durieu (Bel)
39 Patrick Schmid (Swi)
 
Women
 
1 Hanka Kupfernagel (Ger)                            36.43
2 Daphny Van Den Brand (Ned)
3 Hilde Quintens (Bel)                                0.11
4 Gina Hall (USA)                                     0.43
5 Veerle Ingels (Bel)                                 0.46
6 Birgit Hollman (Ger)                                1.14
7 Anja Nobus (Bel)
8 Nancy Bollansee (Bel)
9 Louise Robinson (GBr)
10 Barbora Bohata (Cze)
11 Nadine Bruhn (Den)
12 Victoria Wilkinson (GBr)
13 Nicole De Bie-Leijten (Bel)
14 Kathleen Vermeiren  (Bel)
15 Isla Rowntree (GBr)
16 Helen Saunders (GBr)
17 Anke Wichmann (Ger)
18 Marieke Haverdings (Ned)
19 Klara Nepustilova (Cze)
20 Amy Hunt (GBr)
21 Sofie Goor (Bel)
22 Hazel Wakefield (GBr)
23 Monique Van De Ree (Ned)
24 Mariska Van Beem (Ned)
25 Impke Hartogs (Ned)
26 Rachel Heal (GBr)
27 Veronique Staes (Bel)
28 Kelly Van Eyken (Bel)
 
1 lap behind
 
29 Allegon Smit (Bel)
30 Jo Blanchaer (Bel)
31 Lieselot Sels  (Bel)
32 Caroline Van Petegem (Bel)
 
Juniors
 
1 Niels Albert (Bel)                                 42.05
2 Roman Kreuziger (Cze)                               0.11
3 Petr Novotny (Cze)
4 Jan Skarnitzl (Cze)
5 Davy De Scheemaeker (Bel)
6 Kenny Geluykens (Bel)
7 Lukas Kloucek (Cze)
8 Wim Leemans (Bel)
9 Michael Qvindbjerg (Den)
10 Ondrej Bambula (Cze)
11 Rik Van Ijzendoorn (Ned)
12 Konrad Lebas (USA)
13 Pawel Cieslik (Pol)
14 Bart Van Erdeghem (Bel)
15 Jonathan Benoit (Fra)
16 Anthony Cailleau (Fra)
17 Romain Devos (Fra)
18 Jeroen Dingemans (Bel)
19 Tonsberg Vile Brian (Den)
20 Ivar Hartogs (Ned)
21 Mattijn Motshagen (Ned)
22 Dennis Verhoeven (Bel)
23 Thomas Tucker (USA)
 
1 lap behind
 
24 Tom Broekhuysen (Bel)
25 Matthias Onghena (Bel)
26 Thomas Boeckx (Bel)
 
Novices
 
1 Johim Ariesen (Ned)                                39.10
2 Ben Arnouts (Bel)
3 Tom Meeusen (Bel)                                   0.02
4 Jo Pirotte (Bel)
5 Christopher Janssens (Ned)
6 David Schloesser (Lux)
7 Jim Aernouts  (Bel)
8 Remco Te Brake (Ned)
9 Richard Van Loon (Ned)
10 Kevin Cant (Bel)
11 Joeri Adams (Bel)
12 Bart Hermans (Bel)
13 Steven Wong (Bel)
14 Raf Pluym (Bel)
15 Joeri Lambrechts (Bel)
16 Tim Debusschere (Bel)
17 Jelle Schepers (Bel)
18 Koen Heremans (Bel)
19 Rob Van Der Velde (Ned)
20 Wim Thijs (Bel)
21 Sven Verboven (Bel)
22 Raymond Gaasbeek (Ned)
23 Jonathan Veldhuizen (Ned)
 
1 lap behind
 
24 Frederik Catrysseop (Bel)
25 Kenneth Verhoeven (Bel)
26 Philippe Hutmacher (Lux)
27 Bram Van Turnhout (Bel) 
Gazet van Antwerpen classification after round 5

Elite Men
 
1 Bart Wellens (Bel) Spaar Select                      175 pts
2 Peter Van Santvliet (Bel) Spaar Select               128
2 Ben Berden (Bel) John Saey-Deschacht                 128
4 Arne Daelmans (Bel) Vlaanderen - T Interim           125
4 Sven Nys (Bel) Rabobank                              125
6 Erwin Vervecken (Bel) Spaar Select                   123
7 Maxime Lefebvre (Fra)                                107
8 Richard Groenendaal (Ned) Rabobank                   106
9 Tom Vannoppen (Bel) Palmans-Collstrop                 95
10 Sven Vanthourenhout (Bel) Quick Step-Davitamon       93
11 Vaclav Jezek (Cze)                                   92
12 Davy Commeyne (Bel) Palmans-Collstrop                84
13 Jan Verstraeten (Bel) Vlaanderen-T Interim           71
13 Wim Jacobs (Bel) Spaar Select                        71
15 Gerben De Knegt (Ned) Rabobank                       58
16 Camiel van den Bergh (Ned) John Saey-Deschacht       51
17 Christian Heule (Swi)                                48
18 Wilant Van Gils (Ned) WTC Woerden                    43
19 Petr Dlask (Cze)                                     38
20 Michael Baumgartner (Swi)                            31
21 Tim Van Nuffel (Bel) John Saey-Deschacht             30
22 Roger Hammond (GBr) Palmans-Collstrop                29
23 David Willemsens (Bel)                               25
24 Mario De Clercq (Bel) Palmans-Collstrop              24
25 Tim Pauwels (Bel)                                    23
26 Dariusz Gil (Pol)                                    22
26 Bjorn Rondelez (Bel) Wincor-Nixdorf                  22
26  Thomas Frischknecht (Swi) Swisspower Team           22
29 Matthew Ellis (GBr) John Saey-Deschacht              21
30 David Seco (Spa)                                     13
30 Kamil Ausbuher (Cze)                                 13
30 Jonathan Page (USA)                                  13
33 Ronny Poelvoorde (Bel)                               12
34 Isaac Suarez (Spa)                                   11
34 Kevin Bossaerts (Bel)                                11
34 Maarten Nijland (Ned) Heijdens-Ten Tusscher          11
37 Thijs Verhaegen (Ned)                                10
38 Eddy Van Bouwel (Bel)                                 8
39 Tadeusz Korzeniewski (Pol)                            7
40 Jan Van Doninck (Bel)                                 5
40 David Rusch (Swi)                                     5
42 Robert Glajza (Svk)                                   4
43 Marek Cichosz (Pol)                                   2
44 David Collins (GBr)                                   1
 
U23
 
1 Wesley Van Der Linden (Bel)                           98 pts
2 Bart Aernouts (Bel)                                   86
3 Kevin Pauwels (Bel)                                   74
4 Geert Wellens (Bel)                                   62
4 Martin Zlamalik (Cze)                                 62
6 Radomir Simunek (Cze)                                 53
7 Jan Soetens (Bel)                                     43
8 Nick Sels (Bel)                                       39
9 Klaas Vantornout (Bel)                                36
10 Vladimir Kyzivat (Cze)                               35
11 Lars Boom (Ned)                                      34
12 Stijn Penne (Bel)                                    33
13 Mariusz Gil (Pol)                                    31
14 Nicky David (Bel)                                    23
14 Simon Zahner (Swi)                                   23
16 Eddy Van Ijzendoorn (Ned)                            21
17 Dieter Vanthourenhout (Bel)                          19
18 Jef De Boeck (Bel)                                   18
19 Jorn Van Der Veken (Bel)                             16
20 Krzysztof Kuzniak (Pol)                              10
20 Alois Lievens (Bel)                                  10
20 Mike Thielemans (Bel)                                10
20 Koen De Kort (Ned)                                   10
24 Frederik Herpol (Bel)                                 9
24 Tom Van Den Bosch (Bel)                               9
26 Martin Bina (Cze)                                     8
26 Sebastiaan Langeveld (Ned)                            8
28 Dries Devenyns (Bel)                                  7
28 Pieter Ghyllebert (Bel)                               7
30 Toon Devenyns (Bel)                                   5
30 Slawomir Pituch (Pol)                                 5
32 Gino De Temmerman (Bel)                               4
32 Guus Magielse (Ned)                                   4
34 Vincent Rosseel (Bel)                                 3
34 Lorenzo Van Damme (Bel)                               3
36 Sébastien Durieu (Bel)                                2
36 Stig Geerts (Bel)                                     2
36 Roger Schüppli (Swi)                                  2
39 Dimitri Van Hoolandt (Bel)                            1
39 Dirk Bertels (Bel)                                    1
39 Jeroen Thielemans (Bel)                               1
39 Frantisek Kloucek (Cze)                               1

Past winners
2002 Sven Nys (Bel) Rabobank
2001 Erwin Vervecken (Bel)
2000 Sven Nijs (Bel)
1999 Richard Groenendaal (Ned)
1998 Marc Janssens (Ned)
1997 Adrie van der Poel (Ned)
1996 Adrie van der Poel (Ned)
1995 Paul Herygers (Bel)
1994 Radomir Simunek (Cze)
1993 Marc Janssens (Ned)
1992 Adrie van der Poel (Ned)
1991 Danny De Bie (Bel)
1990 Danny De Bie (Bel)
1989 Danny De Bie (Bel)
1988 Roland Liboton (Bel)
1987 Hennie Stamsnijder (Ned)
1986 Hennie Stamsnijder (Ned)
1985 Roland Liboton (Bel)
1984 Roland Liboton (Bel)

 
Past winners by Mario Stiehl, www.world-of-cycling.com